How do you stargaze in Sedona? Are you planning a trip to Sedona and want to experience the night sky in all its glory? If so, then this article is for you.
I'll guide you through how to stargaze in Sedona, from the best times of year to visit, what equipment you need, and where the best spots are for viewing the night sky.
In this article, you get
An introduction to stargazing in Sedona
Information on the best time for stargazing
Tips on what to bring with you for a night under the stars
Helpful info on the dark skies of Sedona
A list of the best spots for stargazing in Sedona
By the end of this article, I will have answered, "How do you stargaze in Sedona?" and much more!
Let's dive right in.
HOW DO YOU STARGAZE IN SEDONA: INTRODUCTION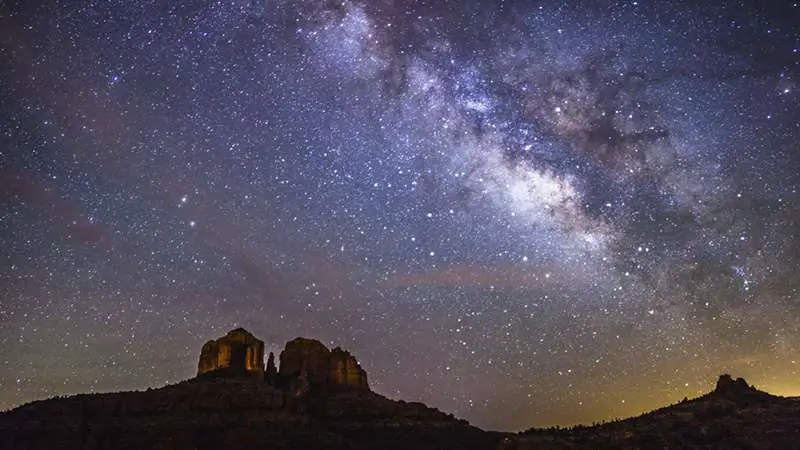 With its dark skies and stunning landscapes, it's no wonder that Sedona has become a prime destination for stargazers.
Without the help of professional astronomers or state-of-the-art equipment, you too can get a closer look at the night sky and learn about the constellations!
If you're looking for a truly unforgettable experience, Sedona stargazing is the perfect way to explore the night sky.
THE BEST TIME FOR STARGAZING IN SEDONA
You're in luck! Stargazing in Sedona is something you can do almost year-round.
The only time it may be difficult to see clear skies is in the monsoon season, which is during the summer months of July and August.
But even then, if you head to the right spot, you can still get fantastic night sky views.
So if you're looking for the perfect time to stargaze, don't let those summer months stop you from planning your Sedona stargazing adventure!
WHAT TO BRING FOR STARGAZING IN SEDONA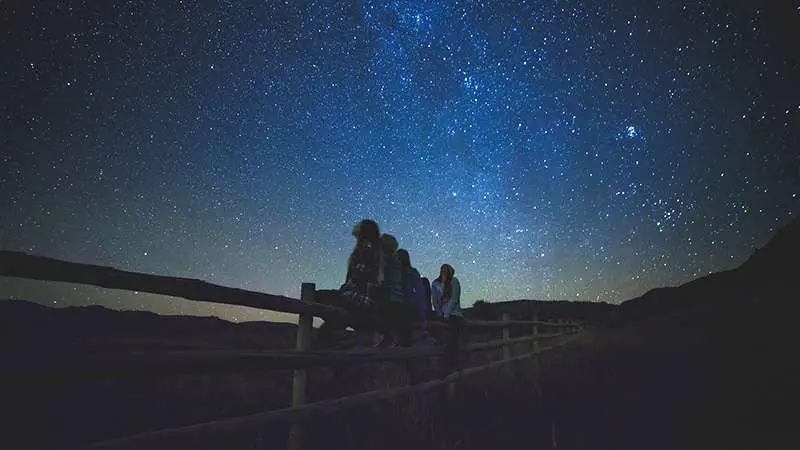 When planning a night of stargazing, ensure you have a comfortable chair or blankets and a telescope or binoculars, although these are optional.
If you don't have a telescope or binoculars, don't worry – you can still make the most of your experience by bringing a flashlight, a map of the night sky, and your smartphone to research constellations and other celestial objects.
Remember to bring your camera and tripod to capture the night sky in all its glory.
Be sure to dress for the weather and bring snacks and water to keep yourself hydrated during your stargazing adventure.
EXPLORE THE BEST STARGAZING SPOTS IN SEDONA
From Merry Go Round Rock to Beaverhead Flat Scenic Overlook and Aerie Trailhead, you'll find plenty of places to sit back and take in the night sky. The Enchantment Resort is also great for staying and experiencing the stars.
For a complete list of the best spots, please read my article on the best stargazing in Sedona.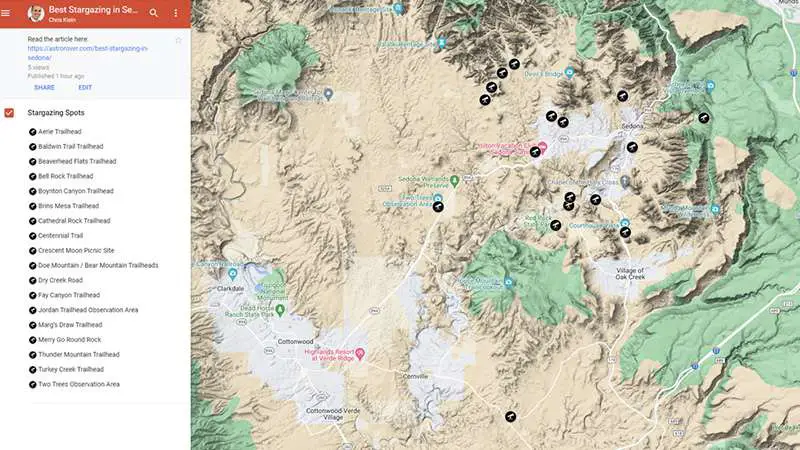 DARK SKIES OF SEDONA
The dark skies of Sedona are some of the best in the world. In 2014, the International Dark-Sky Association designated Sedona a Dark Sky City.
Sedona has some of the clearest viewing spots if you're looking for a romantic evening for two or an educational astronomy lesson with friends and family.
To learn more, read my article Is Sedona AZ a Dark Sky City?
STARGAZING TIPS AND TRICKS
If you want to get the most out of your stargazing experience in Sedona, it's essential to know a few tips and tricks.
RESEARCH THE NIGHT SKY
Before heading out to stargaze in Sedona, you should research the night sky.
Find out which constellations, stars, and planets are visible in the night sky. Apps such as Stellarium or Star Walk 2 can help you find out what is overhead.
With this knowledge, you can plan your stargazing session better and ensure you take advantage of the opportunity to see something extraordinary.
CHOOSE THE RIGHT LOCATION
The best spots are away from the city's light pollution, so it's best to find a place with an unobstructed view of the night sky.
There are plenty of pullout areas for parking and walking away from the roadway in the hills surrounding the city. Some campsites also provide great spots to watch the stars.
TAKE ADVANTAGE OF THE DARK SKIES
If you've already made the journey to Sedona, then you're in luck!
As an International Dark Sky Community, Sedona offers some of the darkest skies on Earth. With the perfect combination of red rocks and dark skies, the stars will be more visible than anywhere else.
HELP YOUR EYES ADJUST
When stargazing in Sedona, it's vital to help your eyes adjust to the darkness. If you need a light source while navigating the dark, use a flashlight with a red filter. Red light is easier on the eyes and won't disrupt night vision.
DRESS FOR SUCCESS
Dress for the occasion by wearing layers and bringing a warm jacket. The desert can be pretty cold at night, and layers are critical for comfort.
CONCLUSION
Happy stargazing!
Sedona offers some of the most breathtaking stargazing opportunities in the world.
The clear, dark skies and minimal light pollution make it the perfect destination for amateur and professional astronomers.
Whether you're gazing through a telescope or just taking in the beauty of the night sky with your own eyes, Sedona's natural beauty and tranquility will leave you in awe.
So, pack your bags, bring your binoculars, and come to Sedona to experience the wonder of the stars.
FREQUENTLY ASKED QUESTIONS
HOW TO SEE THE MILKY WAY IN SEDONA?
If you want to experience the beauty of seeing the Milky Way in Sedona, you'll want to visit one of the many popular stargazing spots.
For a truly remarkable view, consider visiting Merry Go Round Rock, located along Schnebly Hill Road. Here you can enjoy a 180-degree night sky view and see the entire galaxy.
You can also explore Bell Rock, one of the most photographed rocks in Sedona. Another excellent spot for stargazing is the Two Trees Observing Area.
With clear night skies almost all year round, you can experience a stunning view of the Milky Way any time you visit.
WHAT IS SEDONA STARGAZING?
Sedona stargazing is a fantastic experience that you can enjoy in the stunningly beautiful red rock landscape.
With a clear night sky, you can take in the beautiful star-filled sky and watch as the stars twinkle above. You can even join a guided tour to learn more about the stars and constellations and get tips on making the most of your stargazing experience.
With no light pollution and an expansive open landscape, Sedona is the perfect place to take in the breathtaking night sky.