Are you looking for the perfect place to experience the magic of the night sky? Look no further than Sedona. Is Sedona good for stargazing?
Yes, Sedona is good for stargazing. With its high elevation and clear, unpolluted skies, Sedona offers some of the best stargazing opportunities in the world. Nestled in the heart of Arizona's red rock country, Sedona is a haven for outdoor enthusiasts and those seeking a connection with nature.
But it's not just the breathtaking landscape that attracts visitors to this desert oasis – it's also the chance to be awed by the beauty of the stars.
Pack your telescope, bring your sense of adventure, and prepare to be mesmerized by the vast expanse of the universe. The magic of Sedona awaits.
In this article, you get
A look at the benefits of stargazing in Sedona
Some recommended places to stargaze
Tips to ensure you have a successful stargazing experience
A peek at other activities you'll want to consider
By the end of the article, you'll be able to plan your next Sedona stargazing adventure and more.
Let's dive right in.
IS SEDONA GOOD FOR STARGAZING?
Sedona's high-altitude clear skies and minimal light pollution make it an ideal location for stargazing. The desert air and lack of humidity help create clear views of the night sky, resulting in unparalleled views of celestial objects such as stars, planets, and galaxies.
In addition to the stunning visual displays, stargazing in Sedona offers the opportunity to connect with nature and experience a sense of peace and awe.
The immensity of the universe can be humbling and contemplative. It offers a sense of perspective and a view of one's place in the world.
Stargazing can also be a romantic and intimate event, perfect for couples looking to escape the distractions of everyday life and reconnect under the stars.
Stargazing in Sedona has something for everyone, from breathtaking views to opportunities to connect with nature and find inner peace.
Whether you are an experienced astronomer or want to appreciate the beauty of this universe, Night Sky Sedona is the perfect destination.
RECOMMENDED STARGAZING SPOTS IN SEDONA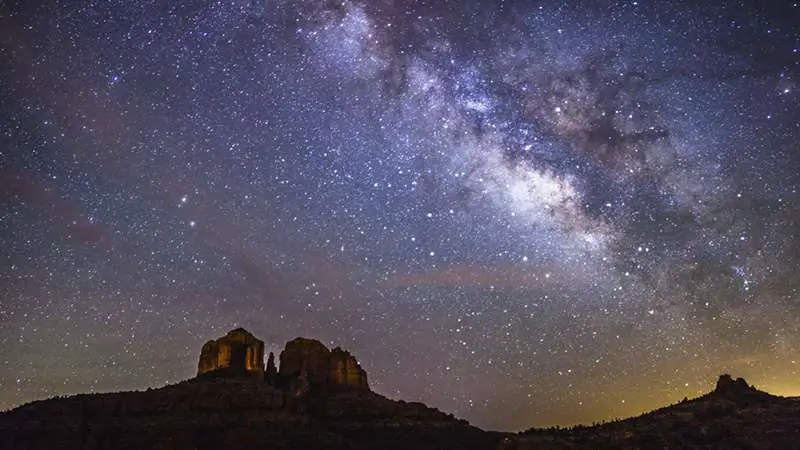 Sedona offers many excellent locations for stargazing, each offering unique features and views of the night sky.
I've listed some top spots below.
To get the full list, read my article on the best stargazing in Sedona.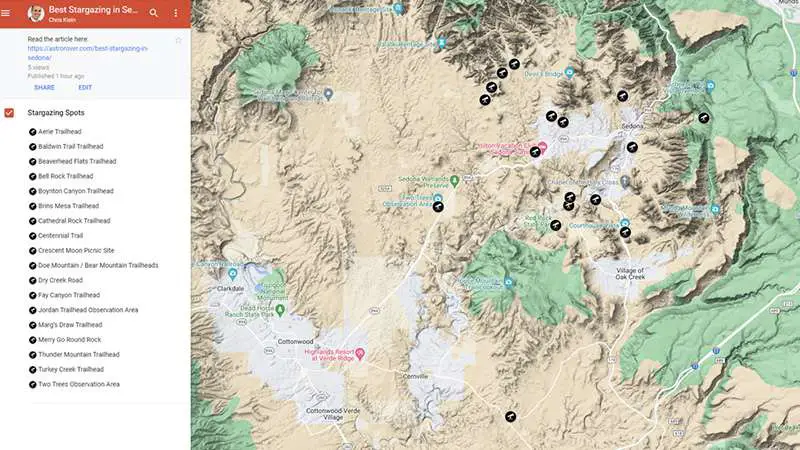 Doe Mountain: Located just north of Sedona, Doe Mountain offers panoramic views of the surrounding landscape and the night sky. With minimal light pollution and clear views of the Milky Way, this spot is perfect for amateur astronomers and photography enthusiasts.
Boynton Canyon: This secluded canyon is located just east of Sedona and offers stunning views of the red rock formations and the night sky. The lack of light pollution makes it an ideal spot for stargazing, and the peaceful surroundings provide a sense of tranquility.
Bell Rock: Located just south of Sedona, Bell Rock is a popular hiking destination and offers breathtaking views of the surrounding landscape. The high elevation and clear skies make it an ideal spot for stargazing, and the rock formations provide a unique and dramatic backdrop.
Cathedral Rock: Located in the heart of Sedona, Cathedral Rock is a popular destination for hikers and photographers. The high elevation and clear skies make it an excellent spot for stargazing, and the views of the red rock formations are truly breathtaking.
THINGS TO KNOW BEFORE STARGAZING IN SEDONA
Before embarking on a stargazing adventure in Sedona, you should keep a few things in mind. I've listed here some tips on how to stargaze in Sedona.
THE WEATHER
Start by being prepared for the weather. Sedona can get very cold at night, especially in the winter, so it's essential to wear layers and bring a warm blanket or sleeping bag.
It's also good to bring plenty of water, as the desert air can dehydrate.
LIGHT POLLUTION
Another important consideration is light pollution. For the best night sky views, choosing a location with the least light pollution is vital.
Avoid stargazing in areas with bright artificial lights, as they can significantly reduce visibility. Instead, choose darker and more hidden locations, such as campgrounds or remote viewpoints.
Are you curious to know if Sedona is a Dark-Sky City?
EQUIPMENT
Finally, it's always a good idea to have the necessary equipment ready.
A pair of binoculars or a telescope can significantly enhance your stargazing experience, allowing you to see celestial objects even closer. If you don't have the equipment, consider renting or borrowing it before your trip.
With the proper preparation and a little luck, you'll have an unforgettable stargazing experience in Sedona.
OTHER ACTIVITIES IN SEDONA
While stargazing is undoubtedly a highlight of any trip to Sedona, there are plenty of other activities to enjoy in this desert oasis.
A popular activity is hiking, as Sedona has numerous trails that offer stunning views of the red rock formations and surrounding landscape. Whether you're an experienced hiker or just looking for a leisurely walk, you'll find a trail to suit your needs.
If you're feeling adventurous, consider trying rock climbing or mountain biking. Sedona is known for its challenging and varied terrain, making it a popular destination for both activities. There are also many guided tours to choose from, from jeep safaris to hot air balloon rides.
Finally, for those looking to relax and rejuvenate, Sedona has numerous spas and wellness centers offering a variety of treatments and services. You'll find many opportunities to relax and pamper yourself during your visit, from massages to acupuncture.
There's so much to see and do in Sedona. It is the perfect destination for travelers looking for a combination of adventure and leisure.
CONCLUSION
Sedona is a genuinely magical stargazing destination.
Sedona offers some of the best night sky views in the world. Whether you're an experienced astronomer or want to enjoy the beautiful starry skies, Sedona won't disappoint.
Sedona isn't just for stargazing. It's also a place of incredible natural beauty and an outdoor enthusiast's paradise.
Pack your bags and head to Sedona. From hiking and rock climbing to spas and wellness centers, there's something for everyone in this desert oasis.
You'll have an unforgettable adventure, relaxation, and a great stargazing experience.
The magic of Sedona awaits.