Acadia National Park is a natural treasure known for its diverse landscapes and stunning vistas. But did you know that it's also an excellent destination for stargazing? With one of the largest dark sky locations on the East Coast, Acadia National Park stargazing offers you a unique opportunity to witness the night sky in all its celestial glory.
In Acadia National Park, you can experience stargazing like never before, thanks to its pristine dark skies and unobstructed views of the cosmos. There's no better way to spend an evening than lying on the park's sandy shores, taking in the breathtaking views of the Milky Way and countless twinkling stars. With a combination of accessible stargazing locations and annual events like the Acadia Night Sky Festival, this park is the perfect place to explore the wonders of the night sky.
In a nutshell:
Acadia National Park provides exceptional stargazing opportunities with its dark skies and unobstructed views.
Various accessible locations within the park make it easy to enjoy stargazing experiences.
The annual Acadia Night Sky Festival further highlights the park's dedication to celebrating its unique celestial assets.
In this article, you get
Essential tips on when and where to stargazing in Acadia National Park
Information about the Acadia Night Sky Festival
Answers to frequently asked questions
By the end of this article, you'll have all the info you need to plan your next stargazing adventure in Acadia National Park.
Let's dive right in.
Acadia National Park Stargazing Essentials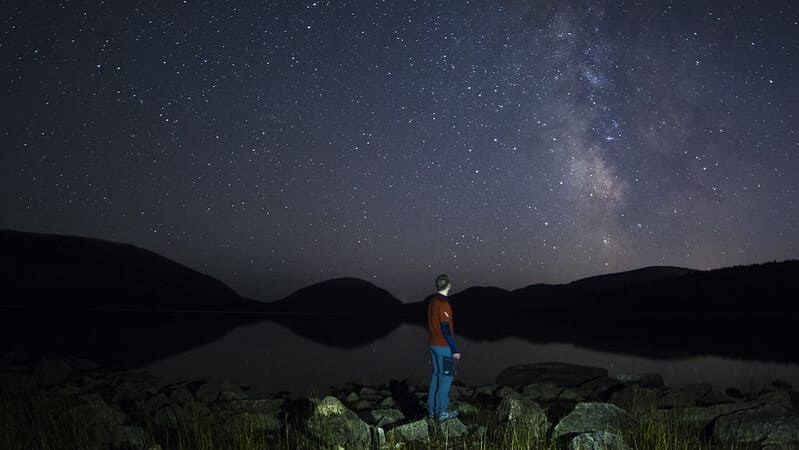 Best Times for Stargazing in Acadia
Stargazing in Acadia National Park is a must-see experience for any amateur astronomer.
The best times to go stargazing in Acadia are during summer, specifically July and August.
Although Acadia National Park is not an official International Dark Sky Park as designated by the International Dark Sky Association, the park boasts one of the largest dark sky areas in the eastern United States, making it a prime location to view the Milky Way and countless stars.
To maximize your stargazing experience, plan your trip during a new moon when the skies are at their darkest.
Stargazing Equipment and Tips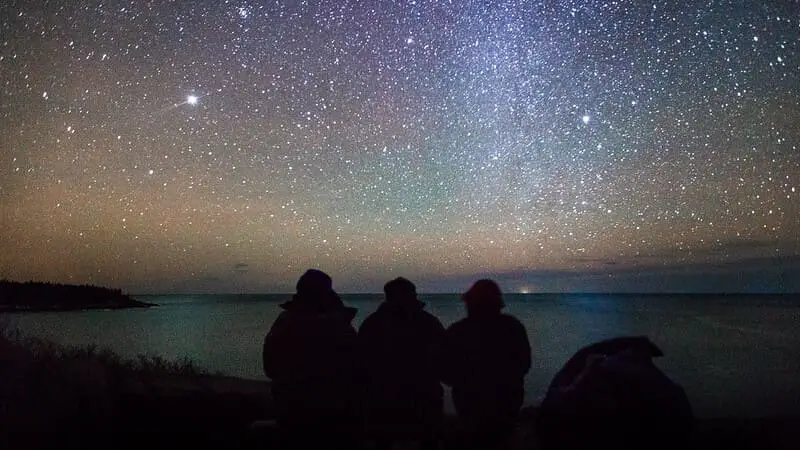 When you head out to stargaze in Acadia, there are a few essential items and tips to keep in mind:
Layers: Acadia National Park can get chilly at night, even in summer. Dress in layers to stay warm and comfortable.
Blanket or Chair: Bring a blanket or chair, as some stargazing spots may have rocky surfaces or limited seating options.
Red flashlight: A red flashlight reduces light pollution and helps preserve your night vision while finding your way in the dark.
Star map or app: Familiarize yourself with the night sky using a star map or stargazing app to identify constellations, planets, and other celestial objects.
Binoculars or telescope: If you have access to a pair of binoculars or a telescope, bring them along to enhance your stargazing experience.
As you explore Acadia National Park's beautiful night skies, respect the environment and minimize your impact by following leave-no-trace principles. With these essential tips in mind, you'll be ready to enjoy the wonders of stargazing in Acadia and start planning your next nighttime adventure.
Best Locations for Stargazing in Acadia National Park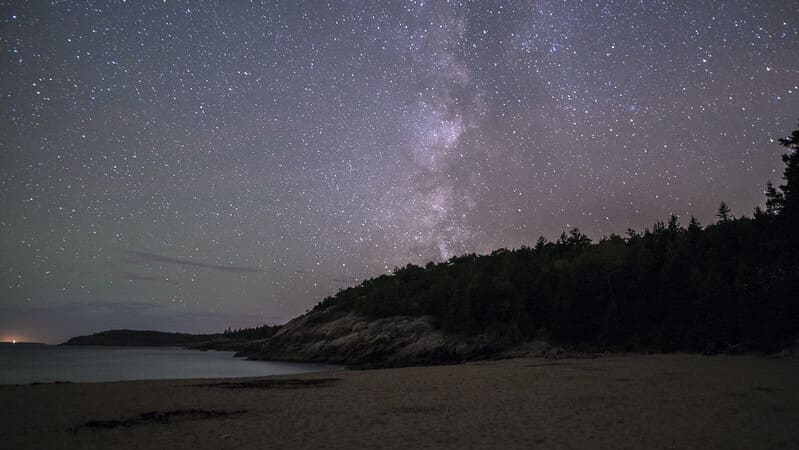 Cadillac Summit
At the top of Cadillac Mountain, you'll find one of the best spots for stargazing in Acadia National Park. However, vehicle access on Cadillac Summit Road is limited to certain months and times. The Park Loop Road closes each night at 10 pm, so plan accordingly. The view from Cadillac Summit is worth the effort, as you'll marvel at the night sky with minimal light pollution.
Jordan Pond
Another fantastic location is Jordan Pond. During the nighttime, park your car at the Jordan Pond House and walk to the shores of Jordan Pond. Here, you can admire constellations reflecting on the water's surface. Remember to bring a flashlight for safety as you walk to the pond.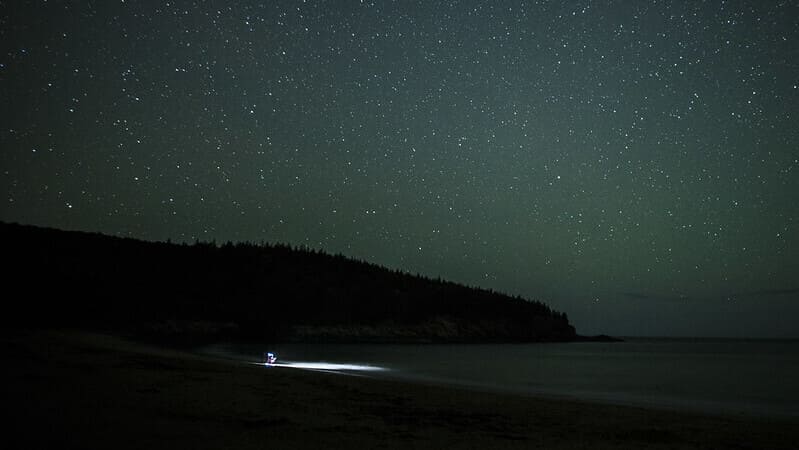 Ocean Path
Explore the Ocean Path for a more dynamic stargazing experience. As you journey along the path, you'll find multiple spots to gaze up at the stars and admire the celestial views. Be aware that it might get chilly near the water, so dress warmly.
Sand Beach
Located on Mount Desert Island, Sand Beach offers a unique stargazing experience. The beach is surrounded by Great Head and Otter Cliffs, which help block light pollution from nearby towns. To maximize your stargazing experience at Sand Beach, sit back, relax, and enjoy the stars twinkling above.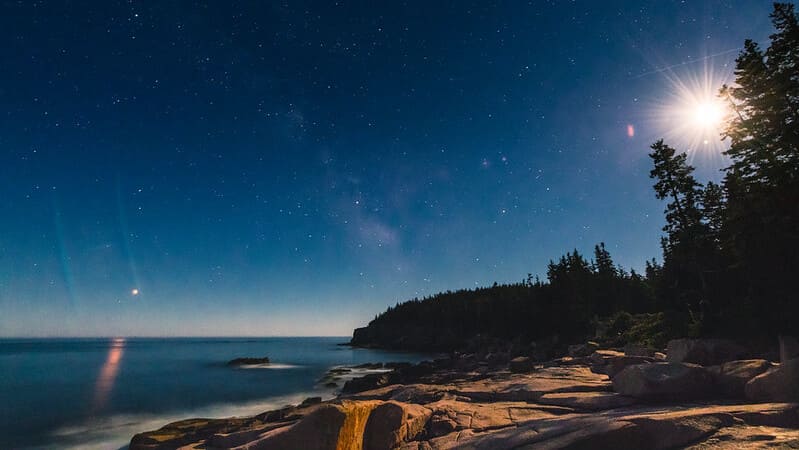 Seawall Picnic Area
Near the Seawall Campground, the Seawall Picnic Area provides a comfortable spot to set up a telescope or lay out a blanket for stargazing. You can access the area by following the Seawall Campground road until you reach the picnic area. Plus, there's ample parking, making it a convenient stargazing location.
Schoodic Peninsula
Lastly, the Schoodic Peninsula offers another breathtaking spot for stargazing in Acadia National Park. Here, you can explore the shoreline and enjoy unobstructed night sky views. Camping is available at Schoodic Woods Campground, so consider extending your stargazing adventure with an overnight stay.
Acadia Night Sky Festival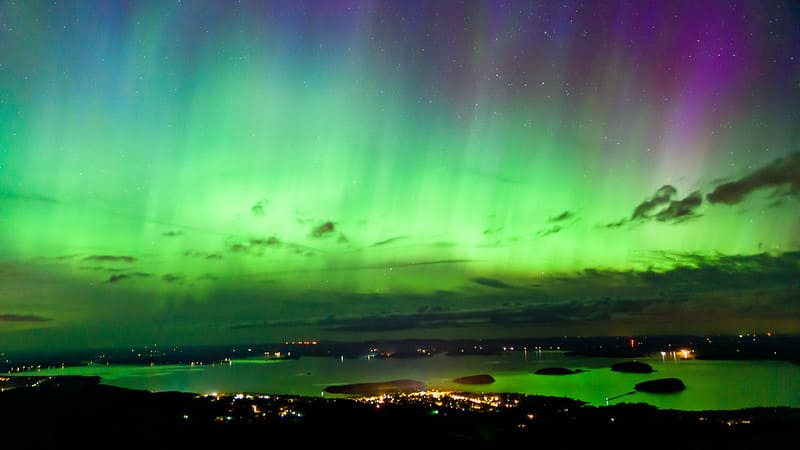 Festival Activities and Programs
At the Acadia Night Sky Festival, you can attend night sky talks, learn about constellations, and participate in ranger programs, perfect for astronomy enthusiasts like yourself.
Amateur astronomers and photography lovers can enjoy astrophotography workshops and star parties under the beautiful cosmos.
You may even glimpse the aurora borealis along the ocean path or over the Atlantic Ocean.
Festival Overview:
Night Sky Talks
Constellation lessons
Ranger programs
Astrophotography workshops
Star Parties
Festival Dates and Admission
The Acadia Night Sky Festival usually takes place in September and requires a park entrance pass for access. The pass covers your private vehicle and can be purchased at the Sand Beach Entrance Station.
During the festival, you'll explore various parts of Acadia National Park, such as Jordan Pond, Thunder Hole, and the famous Sand Beach.
Festival Recap:
Festival Dates: September
Park Entrance Pass required
Pass covers private vehicle
Explore various locations in the park
While attending, bring essentials like insect repellent to ward off mosquitoes, a headlight (red-light preferred for navigating in the dark), a towel to sit on, and your trusty camera. Remember to stay safe and follow posted guidelines at all times.
Finally, remember that though some accessible restrooms are available, there might be certain areas with staircases and limited accessibility.
So, enjoy the Acadia Night Sky Festival, immerse yourself in the beauty of the universe, and take the memories of this celestial event with you as you continue exploring the skies and appreciating the wonders around you.
Frequently Asked Questions
CAN YOU SEE THE MILKY WAY FROM ACADIA NATIONAL PARK?
Yes, you can see the Milky Way from Acadia National Park! The park is known for clear night skies, making it an excellent location for stargazing. The Milky Way is often visible over Eagle Lake, providing a fantastic backdrop for a nighttime adventure. Just be sure to visit during the right season – summer and early autumn are the best times to glimpse this spectacular cosmic view.
CAN I SEE THE NORTHERN LIGHTS IN ACADIA?
It is possible to see the northern lights, or aurora borealis, in Acadia National Park, but there are other guarantees. Your best chance of catching this incredible light show is during winter, particularly on clear nights with high solar activity. Stay updated on solar storm forecasts and keep an eye on the horizon for the best chances of witnessing this mesmerizing phenomenon.
CAN YOU GO INTO ACADIA NATIONAL PARK AT NIGHT?
Yes, you can visit Acadia National Park at night! Many stargazers and nighttime adventurers enjoy the park after sundown. For a breathtaking experience, head to popular spots like Cadillac Mountain or Sand Beach to enjoy the magnificent night skies. Be sure to pack a flashlight and use caution when navigating the park in the dark.
CAN I SLEEP IN MY CAR IN ACADIA?
Sleeping in your car within Acadia National Park is not allowed. If you plan an overnight stargazing trip, booking a campsite or accommodations outside the park is best. There are several campgrounds and lodging options in nearby areas, like Bar Harbor, so you can still experience the park's night skies while having a proper resting place.
Summary: Acadia Stargazing
Thank you for reading my article about Acadia National Park Stargazing.
Acadia National Park is a prime stargazing location, offering spectacular night sky views. The park's dark sky location on the Eastern Seaboard makes it an unforgettable experience for any amateur astronomer. Multiple spots within the park provide excellent opportunities to gaze at the stars, including Sand Beach and Cadillac Summit.
Sand Beach is an ideal spot for stargazing, as it is surrounded by Great Head and Otter Cliffs, which block light pollution from the nearby town of Bar Harbor. Just imagine laying on this beach at night and seeing the twinkling stars as waves crash nearby. Bring a blanket and warm clothes, as nights can get chilly.
When it comes to stargazing in Acadia, Cadillac Summit is another popular location. Remember that vehicle access to the summit is limited to certain months of the year. Park Loop Road operates under a Vehicle Reservation System between May and October, closing each night at 10 pm. Double-check the park's regulations before heading out for your stargazing adventure.
Remember these simple, actionable tips for your Acadia stargazing experience:
Check the weather forecast for clear skies
Bring a blanket, warm clothes, and snacks
Familiarize yourself with park regulations, including road access
Enjoy the view and capture stunning pictures of the night sky
Now that you know what to expect, plan your unforgettable stargazing trip to Acadia National Park. The breathtaking views of the twinkling stars against the park's natural beauty backdrop await you. Make some fantastic memories and share them with your friends and family.
Happy Stargazing!
You may also enjoy reading other articles from my Dark Sky Parks series for stargazing at other National Parks: