With its pristine beaches and lush landscapes, Hawaii is a haven for nature enthusiasts and stargazers alike. With its remote location and minimal light pollution, Hawaii stargazing is an experience, transporting you from the sparkling shores to the stunning night sky. If you're looking for an adventure out of this world, a journey into the Hawaiian night sky will leave you breathless.
Known for its remarkable landscapes and rich cultural history, Hawaii offers some of the best stargazing locations on Earth, making it the perfect destination for amateur astronomers and starry-eyed dreamers. Just imagine peering through a telescope to witness the magic of the cosmos while the waves serenade you in the background. Could there be anything better?
In a Nutshell:
Stargazing in Hawaii is a unique experience due to its remote location and minimal light pollution
Hawaii is home to some of the world's best stargazing locations, perfect for amateur astronomers
Exploring Hawaiian cultural connections to astronomy enriches the stargazing experience in this island paradise
In this article, you get to
Discover Hawaii's Stargazing Haven: Explore how Hawaii's remote location and minimal light pollution create a unique stargazing experience.
Best Stargazing Locations: Uncover the world-class stargazing spots on Hawaii's islands, perfect for amateur astronomers and dreamy stargazers.
Cultural Connections: Learn about Hawaii's rich cultural history and deep astronomy connection, enhancing your stargazing adventure.
Understand Why Hawaii is Ideal: Delve into why Hawaii is an excellent place for stargazing, including its low light pollution and volcanic peaks.
Stargazing Tips: Get equipped with practical advice, like dressing warmly, using your naked eye, and when considering using a telescope.
Best Time for Stargazing: Discover the optimal months to star gaze Hawaii and factors like weather, moon phases, and sunset times.
Top Stargazing Spots: Explore some of the most breathtaking stargazing locations, such as Mauna Kea, Haleakalā, and Diamond Head.
Guided Stargazing Tours: Learn about guided tours with expert astronomers, transportation to prime spots, and opportunities for enhanced learning.
Astronomical Observatories: Gain insights into the impressive observatories on Hawaii's peaks, including Maunakea and Haleakalā, and their significance.
Embrace Hawaiian Culture: Understand the deep-rooted connection between Hawaiian culture and the night sky, adding depth to your stargazing experience.
By the end of this article, you'll be equipped with a comprehensive understanding of stargazing in Hawaii, from its unparalleled locations and practical tips to its cultural significance, enabling you to embark on an awe-inspiring journey through the Hawaiian night sky with confidence and appreciation.
Let's dive right in.
Why Hawaii Stargazing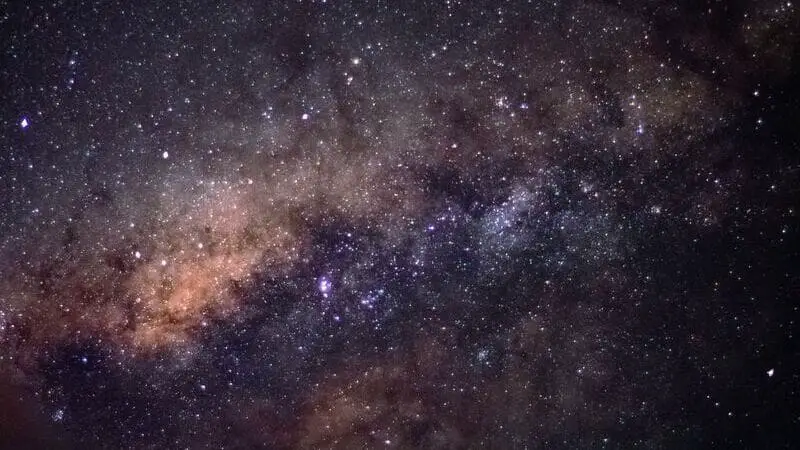 Hawaii is a fantastic place for stargazing, and here's why:
Minimal light pollution: With fewer urban areas, the skies in Hawaii are much clearer. This allows for optimal stargazing conditions as you can better see the stars and constellations.
Volcanic peaks: The Big Island of Hawaii has tall volcanic peaks, such as the summit of Mauna Kea. These elevate you above the clouds, reducing light pollution and providing unique stargazing opportunities.
For all you amateur astronomers, here are some handy tips to follow when you star gaze Hawaii:
Prepare in advance: Bring warm clothing for those nighttime temperatures, and if possible, a blanket or portable chair for comfortable viewing.
Use your naked eye: You don't need fancy equipment to enjoy the beauty of the Hawaiian night sky. Just lie back and take in the celestial display.
Consider investing in a telescope when you feel ready to up your stargazing game. It'll let you see celestial objects in more detail. And for those of you seeking an even more immersive experience, Hawaii has some excellent stargazing tours that provide access to summit viewing areas and expert knowledge.
Remember, stargazing in Hawaii is a fun yet educational experience that will let you:
Connect with the natural world
Learn about stars, constellations, and astronomy
Enjoy peaceful moments away from the hustle and bustle of daily life
Best Time for Stargazing Hawaii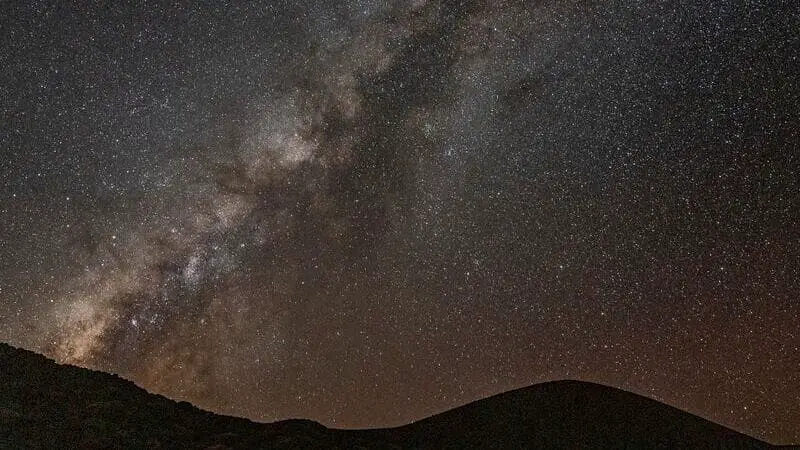 The ideal time to go stargazing in Hawaii is between March and September. During these months, the islands experience less rain and storms, making it perfect for an unforgettable celestial experience. So, pack your telescope and maybe even your lucky star-shaped sunglasses, because you're in for a treat!
To make your stargazing adventure even better, consider these factors:
Weather: Clear skies make for the best stargazing conditions. Check local forecasts and cloud cover maps before planning your night out.
Sunset: Aim to view the stars during the darkest part of the night. Try to arrive at your viewing location at least 30 minutes after sunset to let your eyes adjust to the darkness.
Moon: The brightness of a full moon may wash out faint stars. Aim for dates when the moon is in a new or crescent phase to enjoy the most stunning views.
Now let's explore some top spots for stargazing:
Mauna Kea is a hot spot for stargazing enthusiasts, home to the largest astronomical observatory on the planet.
The Hyatt Regency Maui Resort & Spa offers the famous Hyatt Tour of the Stars, with several shows nightly, weather permitting.
When stargazing in Hawaii, remember to:
Dress warmly: Nights can get chilly, so layer up and bring a blanket to stay cozy while you look at the stars.
Bring a red flashlight: It helps preserve your night vision while allowing you to read maps and see your surroundings.
Stay patient: Relax and let your eyes adjust to the dark. It takes time to spot the constellations and other celestial objects.
With these tips in mind, you're all set to embark on an awe-inspiring stargazing journey in Hawaii.
Best Stargazing Locations in Hawaii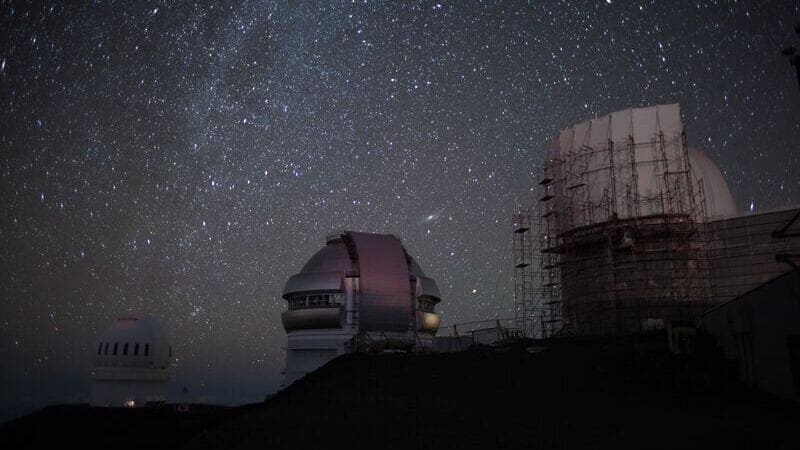 If you're fascinated by the beauty of the night sky, Hawaii is the perfect destination. Stargazing here is magical with its remote Pacific location, clear skies, and low light pollution.
Let's dive into some top spots that offer unparalleled views of the cosmos:
Mauna Kea, located on the Big Island, is home to the world's largest astronomical observatory, making it an awe-inspiring stargazing spot. The Mauna Kea summit sits above the clouds, so crystal-clear skies are perfect for observation. While you're there, stop by the Mauna Kea Visitor Information Station for expert tips and interesting astronomical information.
At Hawaii Volcanoes National Park on the Big Island, there's much more to explore than just fiery lava flows. Campgrounds like Kulanaokuaiki and Nāmakanipaio offer fantastic opportunities to stargaze within the park.
The Kalahaku Overlook in Haleakala National Park, Maui, offers sweeping views of the massive Haleakalā crater and the nightly celestial extravaganza. This spot's elevation also helps reduce light pollution, allowing you to enjoy a fantastic view of the stars.
Oahu's Diamond Head State Monument is home to an ancient volcanic crater and breathtaking stargazing opportunities. Although the gates close at 6 pm, the parking area after hours still provides a great spot to admire the sky, but expect company since it's a popular tourist attraction.
When visiting Kauai, don't forget to stop by Honomanu Bay for amazing celestial views. Located on the east coast, this peaceful black-sand beach is far from city lights and ideal for an unobstructed view of the sparkling nighttime display.
Remember to dress warmly, as temperatures can drop rapidly when the Sun sets in Hawaii. Bring a blanket or portable chair to stay comfy while scanning the sky. Bringing a red light flashlight can also be helpful, as it preserves your night vision while you navigate your surroundings.
Now you're ready to explore some of Hawaii's best stargazing spots. With unforgettable experiences and mesmerizing views, your night beneath the stars will be enchanting.
Best Stargazing on the Big Island of Hawaii
Hawaii Volcanoes National Park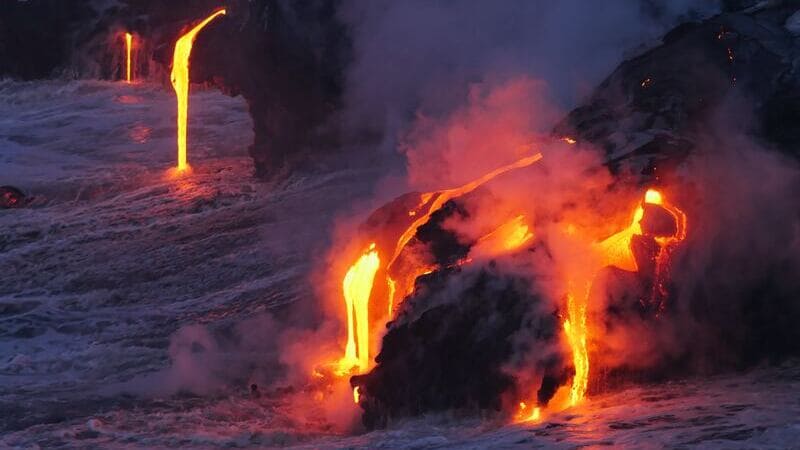 Hawaii Volcanoes National Park is a fantastic spot for stargazing, particularly at campgrounds like Kulanaokuaiki and Nāmakanipaio. Because you're away from light pollution, you'll enjoy clear, dark skies filled with twinkling stars. To make the most of this experience:
Choose a night with minimal moonlight
Bring a blanket or chair to sit on
Use a stargazing app to identify constellations
Mauna Kea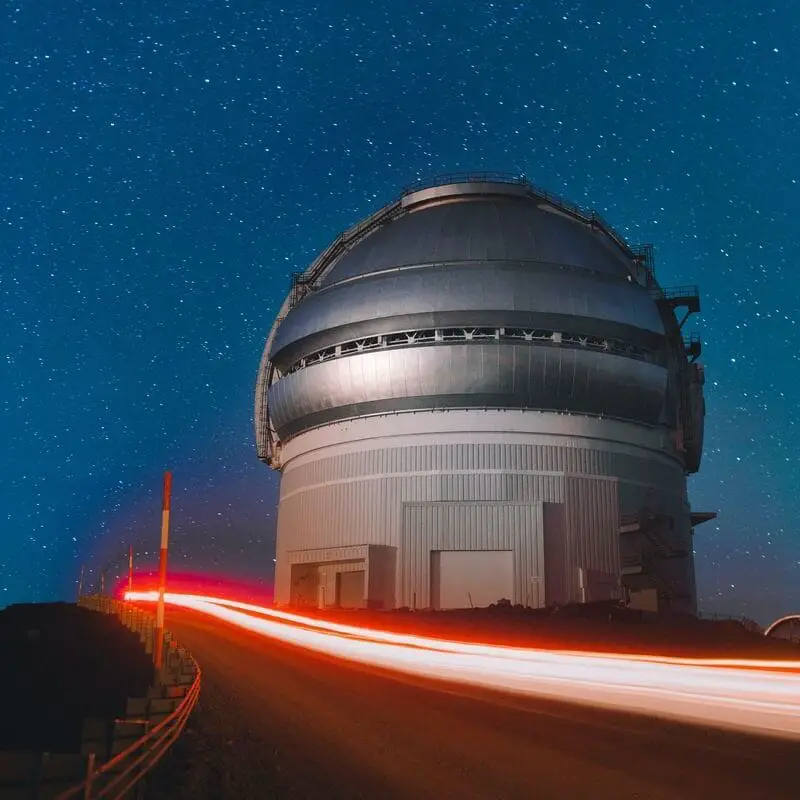 At 13,796 feet, Mauna Kea is the perfect spot to gaze at the heavens on Hawaii Island. Here are some tips for your visit to this fantastic destination:
Prepare for cold temperatures and high altitude
Take a guided tour to reach the summit and enjoy the views
Visit the Maunakea Visitor Center to learn about the observatories and the Hawaiian sky
Mauna Loa
Mauna Loa is another towering peak on the Big Island, and its elevation of 13,678 feet makes it an ideal stargazing location. To enjoy the cosmic beauty at Mauna Loa:
Drive to the summit before sunset to capture breathtaking views
Bring warm clothing and altitude medication if needed
Use red light headlamps to preserve your night vision
Guided Stargazing Tours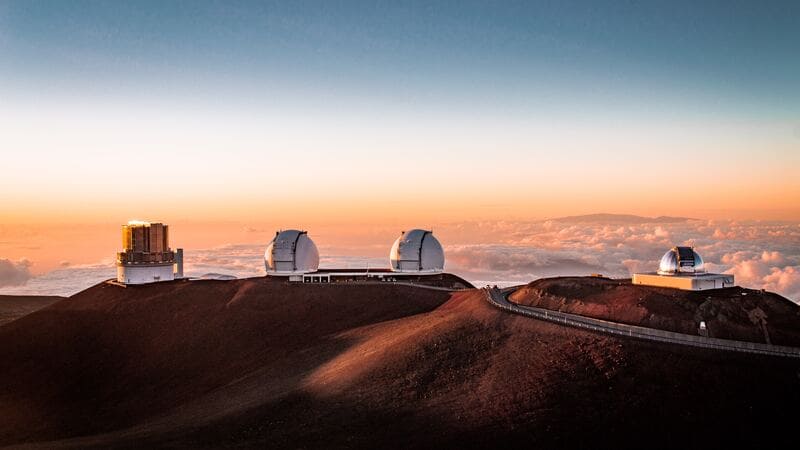 Hawaii is an ideal location for stargazing, and guided stargazing tours can be an unforgettable experience. A tour usually involves a knowledgeable astronomer as your guide, who will show you the wonders of the night sky. You'll be provided with transportation to a prime spot, so all you have to do is enjoy the celestial sights.
There are various stargazing tours available. One option is Stars Above Hawaii, which offers a laser-guided stargazing tour at Ko Olina. On this tour, a NASA Ambassador and expert astronomer will guide you through the sky.
Some reasons to consider taking a guided stargazing tour:
You'll get expert guidance from an experienced astronomer
Transportation to prime stargazing locations is included
Equipment like telescopes provided enhances your experience
You'll learn fascinating facts and information about the cosmos
Tips to make your guided stargazing tour unforgettable:
Dress warmly, as it can get chilly at night, even in Hawaii
Bring a deck chair or blanket to sit on for added comfort
Use a red flashlight to preserve your night vision while navigating around the stargazing site
In short, a guided stargazing tour in Hawaii is an exciting and educational experience. You'll explore the night sky with a knowledgeable astronomer by your side and enjoy some of the best starry views on Earth. So, why not add this unique activity to your Hawaiian vacation plans?
Astronomical Observatories in Hawaii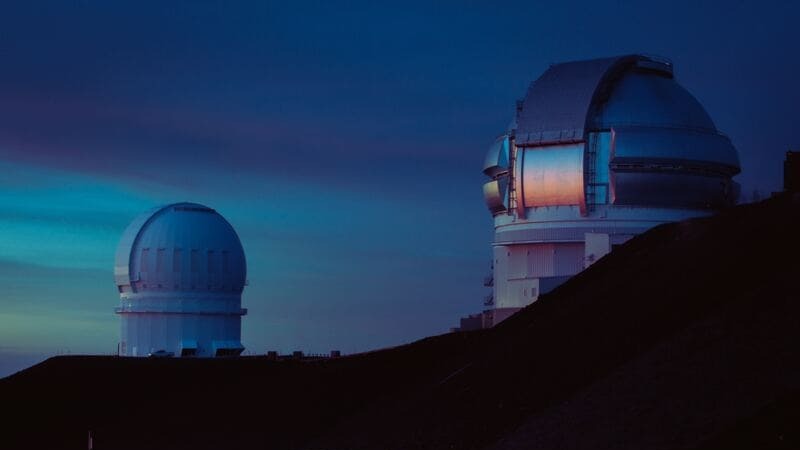 Hawaii offers some of the best stargazing spots in the world, thanks to its pristine skies and high-altitude locations. As an astronomy enthusiast, you'll find numerous observatories at your fingertips to explore and learn.
One of the most famous is the Maunakea Observatory. Located on the Big Island, it houses the largest astronomical observatory on the planet. Standing at 14,000 feet, you'll be amazed by the glittering skies and minimal light pollution. While dry air and stable weather help astronomers peer deeper into the cosmos, it's essential to remember that the altitude can be challenging for some visitors. So, take it easy and make sure to acclimate before heading up.
Another fantastic location to indulge your passion for the stars is the Haleakala Observatory in Maui. Situated at 10,000 feet above sea level, it's one of the world's most critical observing sites. The breathtaking Haleakalā Crater offers an awe-inspiring backdrop to marvel at celestial wonders.
While viewing these observatories, take advantage of other astronomy-related institutions in Hawaii. Here are a few places to visit during your stargazing adventure:
Onizuka Center for International Astronomy Visitor Information Station: Located on the way to Maunakea Observatory, it offers valuable tips and exhibits for those looking to enhance their stargazing experience.
Imiloa Astronomy Center: A fascinating educational facility that combines Hawaiian culture, science, and astronomy, making it an ideal place to learn about the island's connection to the cosmos.
When visiting these brilliant sites, practice some basic stargazing etiquette:
Turn off all unnecessary lights to minimize light pollution.
Bring a red flashlight to preserve your night vision and not disturb others.
Be respectful of the sacred land and observatory staff.
Dress warmly and be prepared for rapidly changing weather conditions.
With these tips in mind, you're set to explore Hawaii's astronomical observatories and experience the wonders of the night sky. Make your visit memorable by soaking in the rich history, star-filled skies, and enchanting landscapes that await you.
Family and Children Stargazing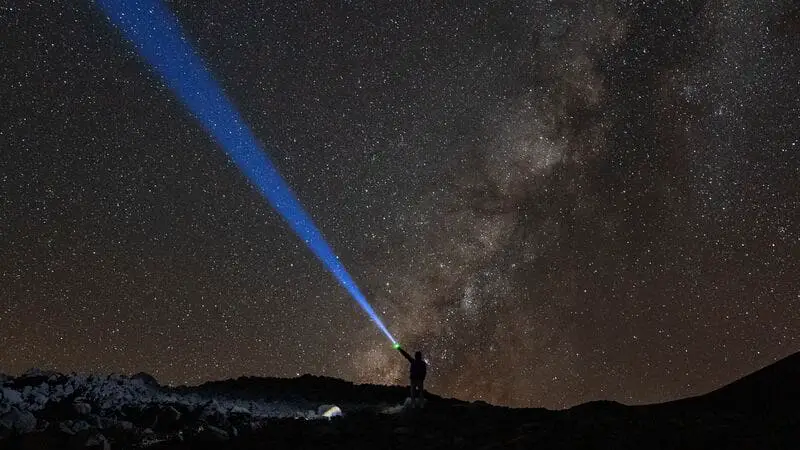 Hawaii offers terrific opportunities for families to enjoy stargazing together. With its remote location and minimal light pollution, you and your loved ones can marvel at the beautiful night sky. Here are some tips to get the most out of your experience:
Involve your children: Explain to your kids the basics of constellations and stars. You can also prepare a simple stargazing activity or game to keep them engaged.
Make it comfortable: Bring blankets, folding chairs, or cushions for everyone to recline. Consider packing some snacks and drinks, but remember to keep the area clean for other stargazers.
Use binoculars: Although not required, the night sky becomes even more fascinating when seen through a pair of binoculars. These are less expensive than telescopes and can provide sharp views of planets, star clusters, and the moon.
To maximize your stargazing experience, follow these tips:
Choose a location with minimal light pollution – dark sky spots like Mauna Kea on the Big Island are ideal.
Check the weather forecast – clear nights are best for stargazing.
Plan your trip during a new moon – the moon's brightness can make it challenging to see fainter stars.
Many stargazing tour companies in Hawaii welcome children as young as five. These tours offer a unique experience and guidance from professional astronomers. Make the most of your Hawaiian stargazing adventure by including everyone in the family and creating unforgettable memories.
Tips for Stargazing
Hawaii offers spectacular stargazing opportunities with its unique night sky and dark sky areas.
To make the most of your experience, follow these tips:
Dress warmly – Nighttime can get chilly in Hawaii, especially at higher elevations. Bring layers, like a coat, hat, long pants, and warm shoes, to stay comfortable throughout the night.
Bring seating and snacks – Since you'll likely be stargazing for several hours, ensure you have something to sit on, like a towel, blanket, chair, or mat. Remember some snacks and a thermos filled with hot chocolate to keep you cozy and energized.
Choose the right telescope – A Celestron telescope is an excellent option for a beginner. If you're more experienced and want to level up your stargazing game, consider a Celestron Schmidt-Cassegrain telescope, which offers superior optics for more detailed viewing.
Before going stargazing, consider the following:
Check the weather: Cloudless skies far from city lights are ideal for stargazing. Use a weather app or website to plan accordingly.
Join a tour or stargazing event: Participating in organized events is a great way to meet fellow enthusiasts and learn from experienced astronomers.
Take pictures: Capture the beauty of the Hawaiian night sky by bringing a camera with a long exposure setting.
Here are some essentials to make your stargazing experience memorable:
A four-wheel drive vehicle may be necessary to reach specific remote stargazing locations in Hawaii.
A red flashlight to help you navigate in the dark without affecting your night vision.
A star map or stargazing app to help identify constellations and celestial events.
With these tips, you're all set for an unforgettable stargazing adventure in Hawaii.
Hawaiian Culture and Stargazing
Hawaii is known for its stunning landscapes and vibrant culture, including a deep connection with the night sky. You'll find that stargazing in Hawaii is both a breathtaking experience and a journey through ancient traditions.
Hawaiian Culture and the Night Sky
In ancient Hawaiian culture, the stars played a significant role in daily life. For example, the Hawaiians were skilled navigators, and they used stars to help them traverse the open ocean. The ho'okele wa'a (canoe navigators) would rely on the guidance of stars, such as Hoku'lea (Arcturus), which means "Star of Gladness" – a fitting name for such an essential guide.
Hawaiian folklore is also intertwined with the night sky. For example, one popular tale tells the story of the demigod Maui who captured the Sun to slow its movement and extend daylight hours. This myth symbolizes the importance of celestial bodies in Hawaiian culture and their connection to nature and the elements.
To better understand the Hawaiian night sky, keep an eye out for these notable features:
The Polynesian triangle: Made up of the three bright stars, Sirius, Procyon, and Capella, which form a distinct triangle, it was central to the ancient Polynesians who relied on the stars for navigation.
Navigational stars: A total of 32 nautical stars, simplifying the night sky and making it easier for the navigators to identify their position.
Here are some tips to help you experience Hawaiian stargazing:
Choose a location with minimal light pollution, such as Haleakalā National Park.
Plan your stargazing trip during the new moon for the darkest skies.
Familiarize yourself with Hawaiian myths and legends related to the night sky.
Embracing the Hawaiian culture and understanding its relationship with the night sky will elevate your stargazing experience and deepen your appreciation for the land and its people. So next time you gaze at the stars in Hawaii, remember to take a moment to appreciate the beauty of its ancient folklore, navigation, and connection to the celestial realm.
Exploring Hawaii Beyond Stargazing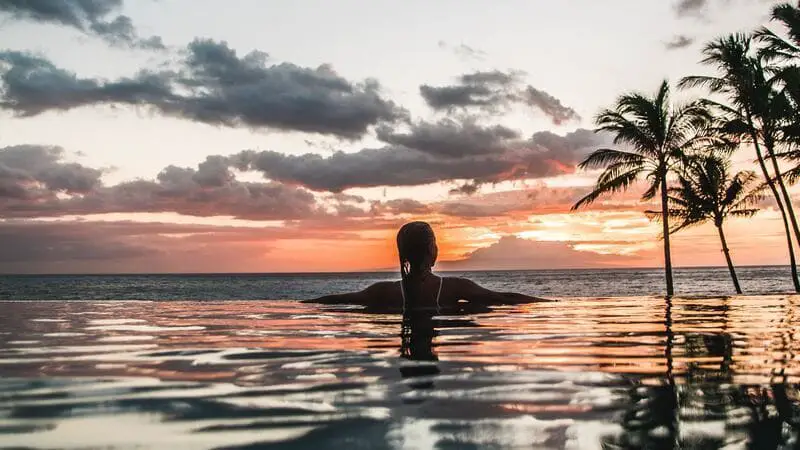 While stargazing is an unforgettable experience in Hawaii, there's much more to explore during the day. From snorkeling to sunbathing, the islands offer plenty of daytime activities to make your trip memorable.
Snorkeling and swimming: Dive into the clear blue waters and discover Hawaii's incredible marine life. You'll be amazed at the colorful fish and corals as you snorkel through pristine bays. The warm Hawaiian waters are perfect for a refreshing dip if you're more into swimming.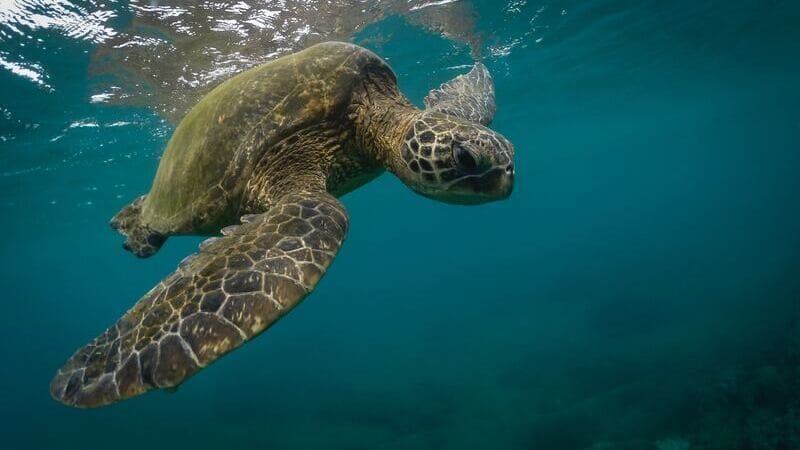 Exploring active volcanic areas: Venture to the Hawaii Volcanoes National Park and get up close with active volcanic areas. Here, you can witness the power of Mother Nature as you hike through surreal landscapes and lava fields.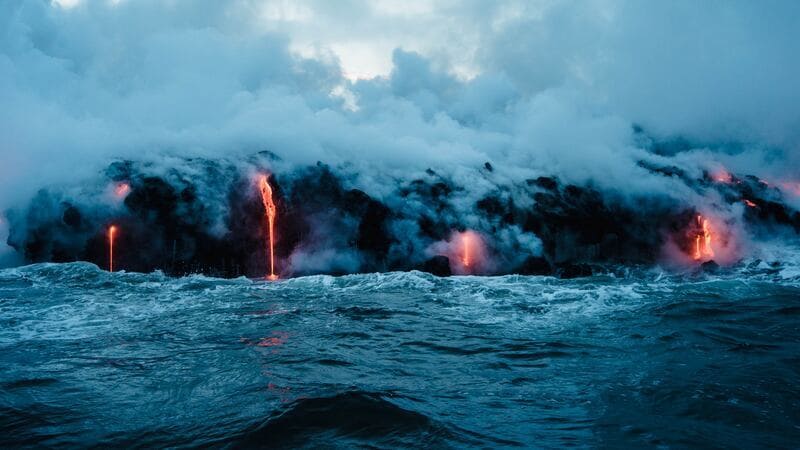 As you plan your Hawaiian adventure, keep these essential tips in mind:
Always apply sunscreen to protect your skin from the Sun's powerful rays.
Bring a reusable water bottle to stay hydrated during your activities.
Wear comfortable shoes for hiking and exploring.
Remember to pack your swimsuit and snorkeling gear.
Sunbathing and relaxation: Hawaii is known for its beautiful sandy beaches, so make sure to carve out some time for sunbathing and relaxation. Lay back on the soft sand, listen to the sounds of the waves crashing, and soak up the tropical ambiance.
Here are some action-packed daytime activities for you to try:
Take a surfing lesson on Waikiki Beach.
Hike to the top of a volcanic crater for breathtaking views.
Paddleboard along the picturesque Na Pali Coast.
Hawaii offers a multitude of experiences for both stargazers and daytime adventurers alike. So immerse yourself in the islands' beauty, and create lasting memories!
Frequently Asked Questions
What is the best time of year for stargazing in Hawaii?
The best time of year for stargazing in Hawaii is during the drier months, from April to September. During this period, you'll experience clearer skies and lower chances of rain, which means better visibility for observing celestial objects. No matter the month, check the weather forecast before heading to stargaze.
Which island offers the best stargazing experience?
The Big Island of Hawaii offers the best stargazing experience as it is home to Mauna Kea, one of the world's premier astronomical observation sites. The high elevation and clear skies create the perfect conditions for viewing stars, planets, and other celestial objects.
Are there guided tours for stargazing on the Big Island?
What can you see at the Mauna Kea Visitor Center?
At the Mauna Kea Visitor Center, you'll find exhibits, informational displays, and knowledgeable staff who can answer your questions about the universe. During evening programs, you can enjoy public stargazing sessions using telescopes provided by the center.
Is it possible to stargaze independently at Mauna Kea?
Yes, you can stargaze independently at Mauna Kea. However, familiarize yourself with the safety precautions and guidelines for visiting the summit. Remember to bring warm clothing, as temperatures drop significantly at night, and check the weather forecast before your visit to ensure clear skies.
How visible is the Milky Way in Hawaii?
The Milky Way is highly visible in Hawaii from April to September. The low levels of light pollution on the Big Hawaiian Island and the clear sky offer stunning views of the Milky Way. So, plan a stargazing trip during these months for the best chance to see our galaxy.
Summary: Stargazing Hawaii
Thank you for reading my article on "Hawaii Stargazing." Hawaii's pristine skies and isolated location in the middle of the Pacific Ocean make it an ideal spot for stargazing. The Big Island is home to some of the world's best observatories on volcanic peaks that dominate the landscape.
To maximize your stargazing experience in Hawaii, consider the following tips:
Choose a location with minimal light pollution, such as remote beaches or elevated viewpoints.
Observe the night sky on nights with clear weather and minimal cloud coverage.
Bring a star chart, a stargazing app, or a book about the constellations to help you identify and learn about the sparkling wonders above.
Stargazing in Hawaii isn't just a visual feast; it's also a cultural experience. The stars played an important role in Hawaiian history, guiding early navigators to the islands and representing gods in their mythology. Maunakea now hosts the largest astronomical observatory on Earth, where massive telescopes capture stunning images and make awe-inspiring discoveries.
With a few simple steps, you can immerse yourself in the glimmering night sky of Hawaii. As you gaze upon the celestial canvas, remember the history and significance of these stars to the Hawaiian culture. Enjoy the serene beauty as you connect with the universe in breathtaking Hawaii.
Happy Stargazing!
Read my other Hawaii stargazing articles: