Stargazing Olympic National Park is truly a mesmerizing experience. The vast Park offers stunning night sky views, free from light pollution in many urban areas. Whether you're an amateur astronomer or seeking solace under the stars, Olympic National Park provides a unique opportunity to gaze at the above celestial wonders.
At Olympic National Park, you can explore the astounding beauty of the night sky, observe constellations, planets, and galaxies, and immerse yourself in the wonders of astronomy. Plan your stargazing adventure during clear weather, as optimal viewing relies on favorable atmospheric conditions. With various outdoor activities and natural attractions, the Park is an ideal destination for individuals and families alike.
In a nutshell:
Olympic National Park offers exceptional stargazing opportunities in a serene environment, away from city lights.
Clear weather is essential for the best viewing experience, so plan your visit accordingly.
Various activities and natural attractions make the Park a perfect destination for all ages and interests.
In this article, you get
Tips and tricks for stargazing in Olympic National Park
The tops spots for enjoying the night sky
Info on the Night Sky Programs offered in the Park
Answers to frequently asked questions
By the end of this article, you'll have all the info you need to plan a perfect stargazing Olympic National Park adventure.
Let's dive right in.
Stargazing Olympic National Park: An Overview
Best Spots for Stargazing
Olympic National Park offers some stunning night sky views. Hurricane Ridge is a popular spot for stargazing in the Park, where you can join a Master Observer for an astronomy evening. If you're looking for a more remote setting, the Deer Park region of the Park provides a fantastic stargazing experience.
Other great spots within the Park include:
Lake Crescent
The wilderness areas of the Park
The Olympic Peninsula coast
Remember to dress warmly for comfortable viewing, as the temperatures can drop at night.
Ideal Timing and Season
To ensure you catch the best view of the stars, consider these factors:
Moon Phase: Plan your visit around a new moon or when the Moon sets early to avoid light pollution from the Moon's surface.
Weather Conditions: Clear skies are necessary for the best stargazing experience. Check the weather forecast before heading out.
Season: Although stargazing is possible all year round, the summer months provide the best opportunity to view the Milky Way and more visible constellations.
When planning your stargazing adventure, remember seasonal road closures and access to some regions of Olympic National Park. As you explore the night sky, you'll create incredible memories of the Park's natural beauty.
The tips in this section will help you get the most out of your stargazing experience.
Astronomy and Viewing the Night Sky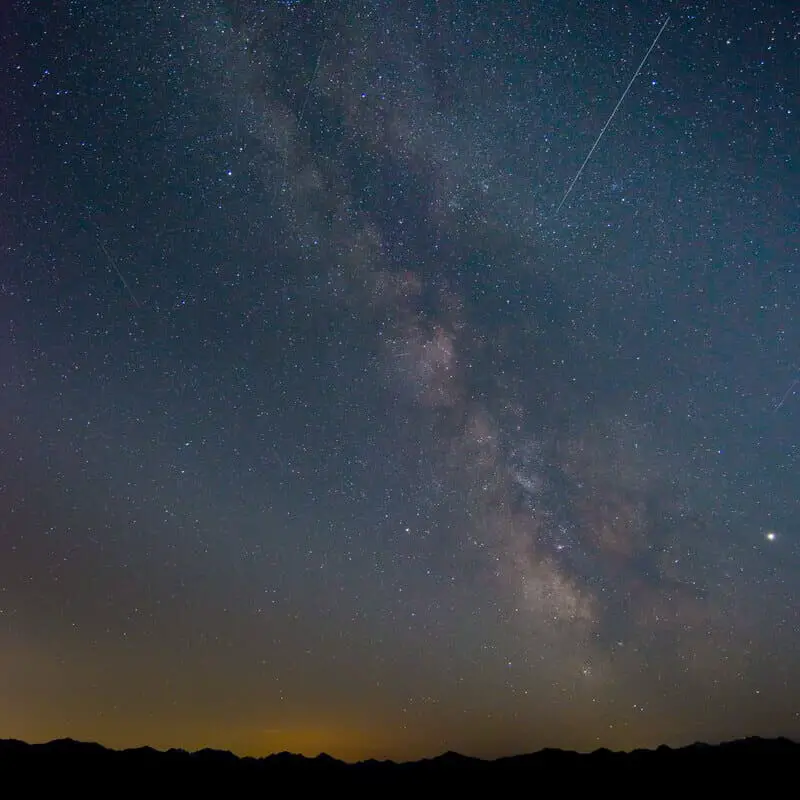 Star Constellations and Celestial Events
At Olympic National Park, you can enjoy the beauty of the night sky and view various constellations on a clear night. You will be amazed to see thousands of stars, galaxies, and nebulae. You might even spot planets such as Mars, Jupiter, or Saturn, especially during a conjunction when they align in the sky.
Orion is a popular winter constellation
Scorpius is best observed in the summer months
Pay attention to celestial events, which can occur at different times of the year:
Meteor showers
Lunar eclipses
Solar eclipses
Telescopes and Equipment
Use telescopes provided at the Hurricane Ridge viewing location to get the most out of your stargazing experience. These telescopes will let you:
Get a closer look at celestial objects like the Moon
Observe planets in detail
Discover deep-sky objects such as the Andromeda Galaxy
Remember to dress warmly for comfortable viewing!
Star Parties and Master Observers
Boost your astronomy knowledge by attending one of Olympic National Park's Night Sky Programs.
These free events are led by Master Observers who can help guide you:
Identify constellations and celestial bodies
Learn about the history and mythology of the night sky
Use telescopes to gain a better understanding of the universe
Remember, stargazing is not only about what you see but also what you learn and experience. So take the time to explore and enjoy the wonders of the Olympic National Park sky.
As you become more familiar with the night sky, you'll find limitless opportunities to explore and appreciate the universe.
Camping and Accommodations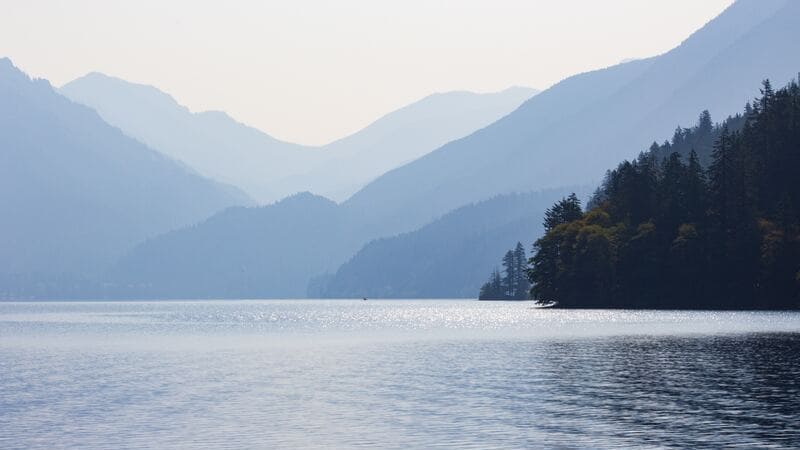 Campgrounds and Campsites
Olympic National Park offers a variety of campgrounds for you to enjoy stargazing and connect with nature.
Some of the campgrounds that accept reservations in summer include:
Fairholme
Kalaloch
Mora
Hoh Rain Forest
To reserve a campsite, visit recreation.gov.
Remember that water access, such as restrooms and water sources, may vary depending on the campsite. Exploring the Park's diverse coastline and lush forests can be a breathtaking experience, especially if you venture to areas like Puget Sound.
Lodges and Resorts
If camping isn't your style, several resorts and lodges offer comfortable accommodations within Olympic National Park.
Some options include:
Lake Crescent Lodge: Located on the scenic shores of Lake Crescent, you can enjoy chalets, cabins, and lodge rooms in this beautiful setting.
Log Cabin Resort: Also situated at Lake Crescent, the Log Cabin Resort offers a range of accommodations, including a campground. Amenities include a cafe, deli, gift shop, and boat rentals.
Sol Duc Hot Springs Resort: This resort offers access to natural hot springs and comfortable lodging in the Park's heart during the summer. Reservations are also available at recreation.gov.
Remember to explore the coastline and try stargazing at Kalaloch Lodge and Lake Quinault Lodge. Both lodges offer cozy accommodations and opportunities to enjoy the stunning views of the Pacific coast.
Natural Wonders and Outdoor Activities
Wildlife and Ecosystems
Olympic National Park in the Pacific Northwest is known for its diverse wildlife and ecosystems.
From temperate rain forests like the Hoh Rain Forest to coastal areas like Kalaloch Beach and Rialto Beach, you'll experience breathtaking beauty.
During your visit, you may see Roosevelt elk, Olympic marmots, and bald eagles.
Hiking and Backpacking Trails
There are numerous hiking and backpacking trails in the Park, catering to different skill levels. Some popular day hiking trails include:
Hall of Mosses Trail
Mount Storm King Trail
For a more extended backpacking trip, consider the Hoh River Trail. Remember, always follow the regulations and guidelines for safety.
Alpine Lakes and Rivers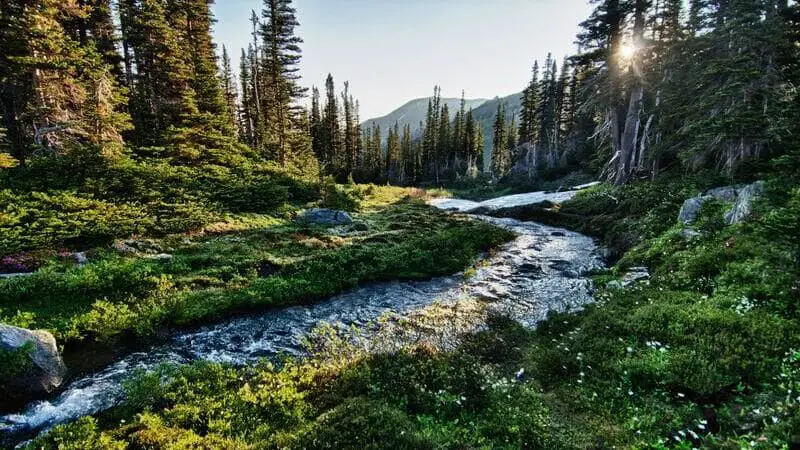 The Park offers stunning alpine lakes and rivers to explore:
Lake Ozette
Lake Quinault
Hoh River
Sol Duc River
These bodies of water provide excellent opportunities for fishing and wildlife viewing. Be sure to check fishing regulations before casting your line.
Coastal Attractions and Tidepools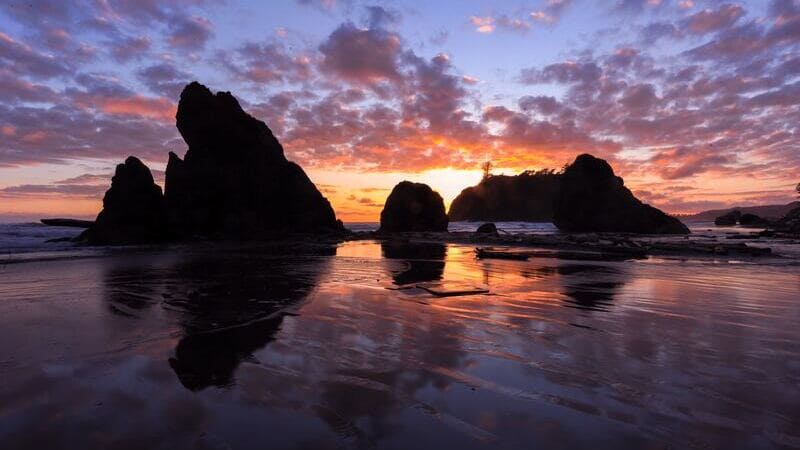 A visit to the Park's rugged coastline along Highway 101 is a must for tidepool enthusiasts. At low tide, you can discover vibrant marine life in the tidepools at locations like Hole in the Wall and Queets. Keep an eye out for whales off the coast as well!
As you continue your adventure, explore nearby attractions such as Bainbridge Island and Port Townsend via a scenic ferry ride.
Visitor Information and Tips
Hurricane Ridge Visitor Center
You can find various resources and services at the Hurricane Ridge Visitor Center. It offers park information, trail maps, and restrooms. You'll drive up the scenic Hurricane Ridge Road, which passes through old-growth forests, offering stunning views and wildlife sightings.
If you plan to visit during winter, remember that the area is perfect for snowshoeing and cross-country skiing. Before heading up, always check road conditions and know that chains may be required.
Stargazing Etiquette and Safety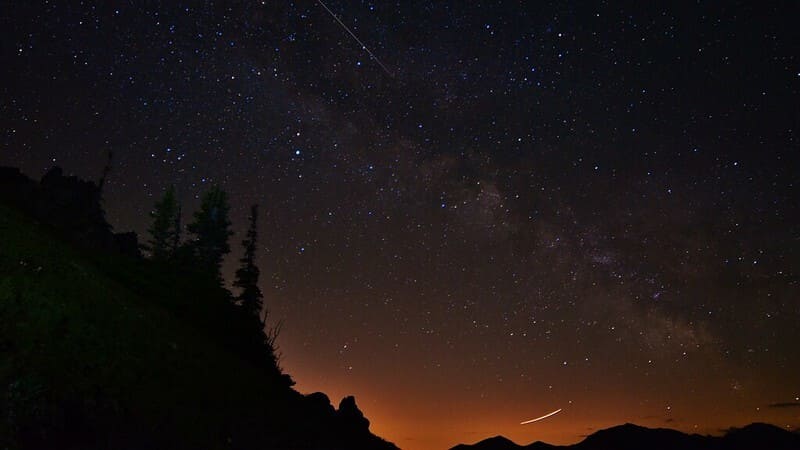 When stargazing in Olympic National Park, follow these guidelines to ensure an enjoyable and safe experience:
Stargazing etiquette:
Reserve & Respect: Popular stargazing spots can get crowded, so arrive early to secure your spot and maintain a respectful distance from others.
Stay on Trails: Stick to the designated hiking trails to avoid damaging the fragile ecosystem and minimize the risk of getting lost.
Minimize Light Pollution: Use red lights instead of white ones, as they are less intrusive to fellow stargazers and wildlife.
Dress Appropriately: Nights can get cold, so layer up and wear proper footwear to stay warm and comfortable.
Safety & Wildlife: Carry a whistle and first aid kit, and educate yourself about the local wildlife to avoid unwanted encounters.
Here are some additional tips for stargazing in the Park:
Plan your visit around the new Moon to take advantage of the darkest skies.
Check the weather forecast before heading out to ensure clear skies.
Bring a folding chair or blanket for a more comfortable experience.
After taking in the breathtaking night sky from Hurricane Ridge, you're ready to explore more attractions within Olympic National Park. Be mindful of your surroundings and practice responsible stargazing etiquette as you discover new sights and wonders in this diverse landscape.
Frequently Asked Questions
Can you see the Milky Way from Olympic National Park?
Yes, you can see the Milky Way from Olympic National Park. On a clear night, you can marvel at the beauty of our galaxy and thousands of stars. For an even better experience, consider joining a Hurricane Ridge Astronomy Program led by a Master Observer. They'll have telescopes for you to get up-close views of celestial wonders, making your stargazing adventure even more exciting!
Is Olympic National Park a dark sky park?
Olympic National Park is not officially designated as an international dark sky park. However, it still offers fantastic opportunities for stargazing due to its remote location and minimal light pollution. So, don't worry – even without the dark sky park title, you can still enjoy the wonders of the night sky at Olympic National Park.
Can you enter Olympic National Park at night?
You can enter Olympic National Park at night! However, driving down from popular stargazing spots like Hurricane Ridge can be more challenging in low-light conditions. It's a good idea to familiarize yourself with the route beforehand and take extra precautions while on the road. Enjoy a mesmerizing night under the stars, but always remember to prioritize safety!
Summary: Olympic National Park Stargazing
Thank you for reading my article "Stargazing Olympic National Park."
Olympic National Park is a fantastic place for stargazing, thanks to its stunning dark skies and minimal light pollution.
Visitors can participate in Night Sky Programs at Hurricane Ridge, where they'll have access to telescopes and guidance from Master Observers. When the night is clear, you can see thousands of stars, galaxies, constellations, and even planets.
To make the most of your stargazing experience, try visiting during the summer, when it's less likely to be cloudy. Dress warmly for comfortable viewing, and consider bringing a blanket or folding chair to sit back and enjoy the breathtaking views.
Some fantastic spots for stargazing include the Hurricane Ridge area and the Deer Park region of Olympic National Park.
While exploring the Park, remember to:
Respect the natural environment
Keep noise levels low to enjoy the tranquility of the night
Take any trash with you when leaving
Olympic National Park offers a unique opportunity to connect with the cosmos and enjoy the beauty of a night sky that's truly out of this world. As you gaze into the vastness of space, you'll be reminded of the wonder and serenity that stargazing can bring.
So, pack up your telescope, bundle up, and head out to Olympic National Park for a night of unforgettable stargazing. You'll leave with memories that will last a lifetime and perhaps a newfound appreciation for the stunning universe we all share.
Happy Stargazing!