Eager to escape the city's glaring lights and immerse yourself in the beauty of a starry night sky?
The challenge lies in finding the ideal stargazing spots and preparing adequately for this awe-inspiring experience.
In this article, I've meticulously curated a list of Arizona's best stargazing locations, with valuable insights and a custom Google Map. By the end of your journey through this article, you'll be well-equipped and motivated to plan your next unforgettable stargazing Arizona expedition.
Let's dive right in.
THE DARK SKIES MOVEMENT
The International Dark-Sky Association has certified 12 Dark Sky Places in Arizona, with 11 Dark Sky Parks and 1 Dark Sky Community.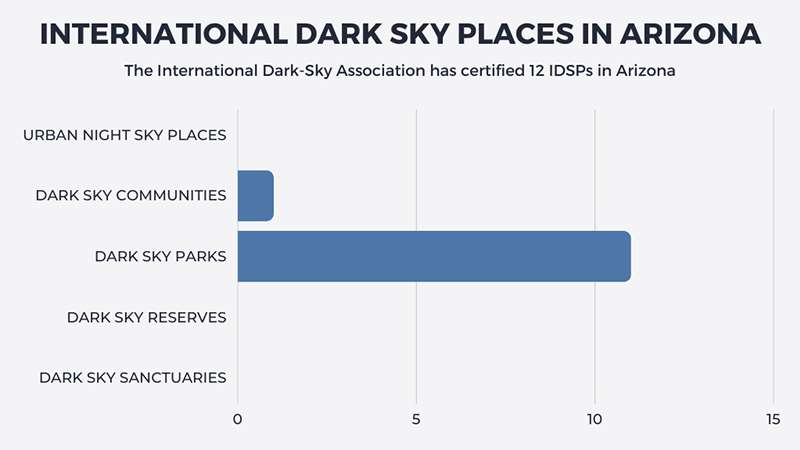 You can't deny the significance of dark skies for an ethereal view of stargazing. Preserving these great dark skies is important because we find solace in stargazing at beautiful dark skies.
The International Dark-Sky Association has its headquarters in Tucson, Arizona.
"Last year, I had the chance to experience the most breathtaking stargazing I've ever seen in Arizona—down in Tucson.
In an absolutely pitch-black night sky, the stars illuminated our world like tiny snowflakes in the middle of a crystal-clear winter day. From galaxies far away to nebulae close by, it was impossible to take my eyes off what nature offered us. With high-quality telescopes and knowledgeable guides available, it was easy to pinpoint individual stars and explore our galaxy in depth.
Besides outstanding views of the Milky Way, there was also an array of stunning meteor showers! If you're looking for a memorable stargazing experience in Arizona, Tucson should definitely be your destination of choice."
Ludovic Chung-Sao, Lead Engineer & Founder, Zen Soundproof
To learn more about why preserving dark skies is essential, you can read my article Light Pollution Effects.
THE BEST STARGAZING IN ARIZONA
I've researched and put together a list of Arizona's 27 best spots for stargazing.
The list is in alphabetical order. Each site is on the free Google Map.
FREE STARGAZING CHECKLIST
My 5-page Stargazing Checklist will enhance your astronomical observations.
Follow this free checklist to navigate the night sky with confidence, clarity, and a sense of preparedness for a rewarding stargazing experience.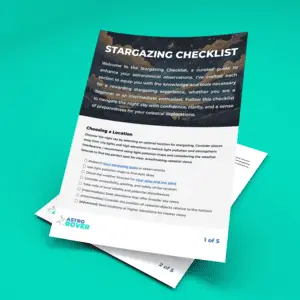 ARIZONA SKY VILLAGE
Arizona Sky Village is one of the world's best destinations for admirers of nature and the amazing outdoors.
Nearly every home in this rural, stargazing-focused development has its Observatory and strictly limits outdoor lights. This Park provides amateur and professional astronomers unobstructed access to clear skies where they can enjoy and share their hobby with like-mind people.
Jack Newton, a leading astrophotographer, chose the location of this village. This village provides an outstanding opportunity to enjoy nature at its best.
Here you can experience the heavenly sight of celestial objects under the canopy of stars.
CHIRICAHUA NATIONAL MONUMENT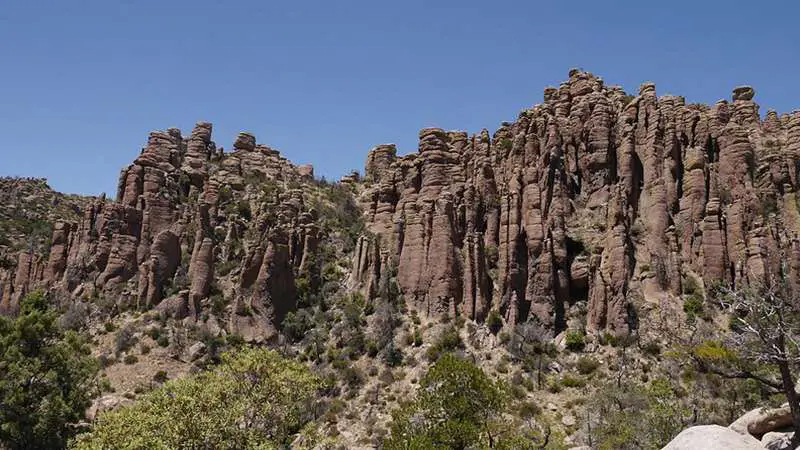 In 2021, the International Dark-Sky Association designated Chiricahua National Monument its 104th International Dark Sky Park (globally).
"Chiricahua National Monument is one of those parks close to us here at IDA headquarters in Tucson. Its remarkable night skies are so accessible that we almost take it for granted."
Ruskin Hartley, IDA Executive Director
The Monument is famous for its unique landscape. A volcano erupted here 27 million years ago, leaving behind tall, thin rock formations.
The best spots for stargazing are the Faraway Ranch and Echo Canyon parking lots, offering unimpeded sky views.
ESTRELLA MOUNTAIN REGIONAL PARK
One great place to experience stargazing is the 20,000-acre Estrella Mountain Park near Phoenix.
The Park is a regional hub for astronomical activity. It hosts various events throughout the year, like family-friendly weekends, including kids' games and crafts.
The Park offers camping facilities and several RV sites.
FLANDRAU SCIENCE CENTER & PLANETARIUM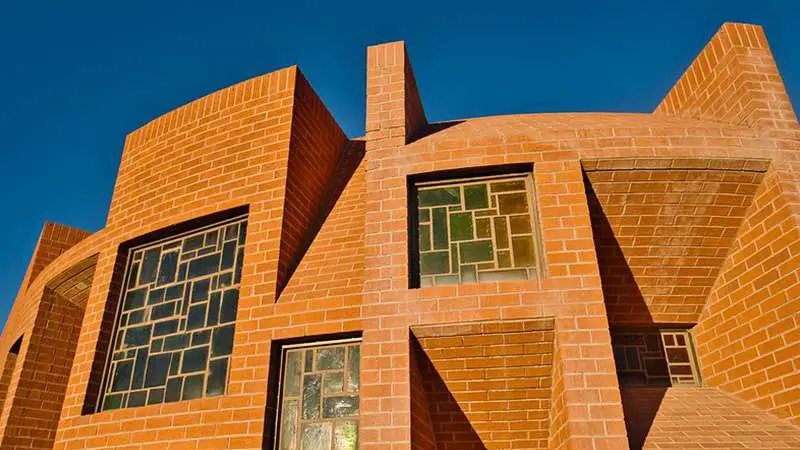 Flandrau Science Center & Planetarium is a popular place in the heart of the University of Arizona that provides educational and exciting space exploration.
The Observatory offers free public viewing. You can see Saturn's rings, the cloud belts of Jupiter, the Andromeda galaxy, and other stunning images that will change how you view our world. The Flandrau observatory features a 16-inch telescope.
FRED LAWRENCE WHIPPLE OBSERVATORY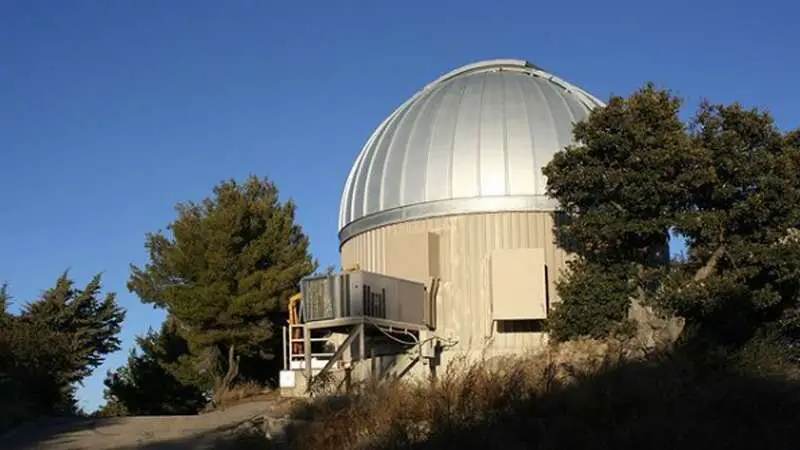 The Fred Lawrence Whipple Observatory is on Mt. Hopkins in southern Arizona.
They offer public astronomy events called Observatory Night series, which are virtual and live-streamed on their Facebook and Youtube channels.
They also offer free public events at the Observatory. View their upcoming events here.
GILBERT ROTARY CENTENNIAL OBSERVATORY
The Easy Valley Astronomy Club manages the Gilbert Rotary Centennial Observatory in the Gilbert Riparian Preserve. The Observatory offers public viewing through its 16-inch telescope on Friday and Saturday evenings.
GRAND CANYON NATIONAL PARK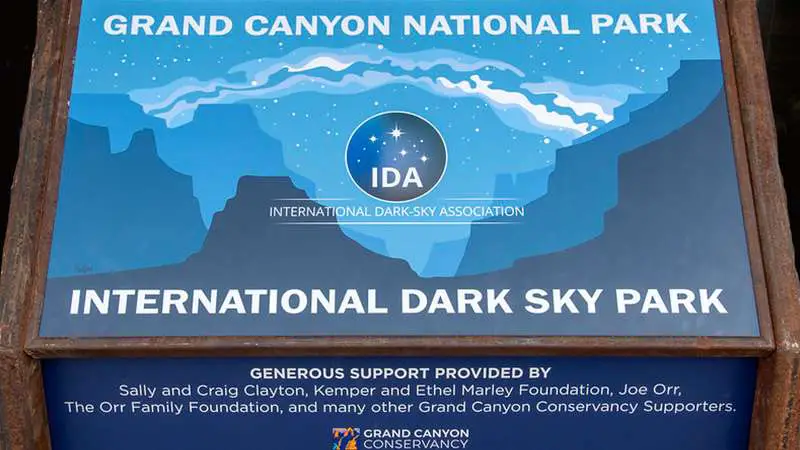 Grand Canyon National Park was designated a Dark Sky Park in 2016 and is a great spot to see the Milky Way. You may visit here anytime as it's open 24 hours a day.
The Park offers free Ranger evening programs, star parties, Night Sky Photography Workshops, and Constellation Talks. You can view their impressive event calendar.
Suppose you're away for a Grand Canyon Star Party. In that case, Yavapai Point and Lipan Point are the two most popular spots for Grand Canyon stargazing. Both are on the South Rim.
Either way, be prepared for an incredible evening of stargazing.
"One of the most popular spots for stargazing in Arizona is the Grand Canyon National Park.
The vast, open skies above and the lack of light pollution make it an ideal spot for amateur and professional astronomers alike. Besides seeing planets, star clusters, and galaxies with the naked eye, you can also use telescopes or binoculars to get a better view of things like nebulae."
Mark McShane, Marketing Director, Birmingham First Aid Courses
KARTCHNER CAVERNS STATE PARK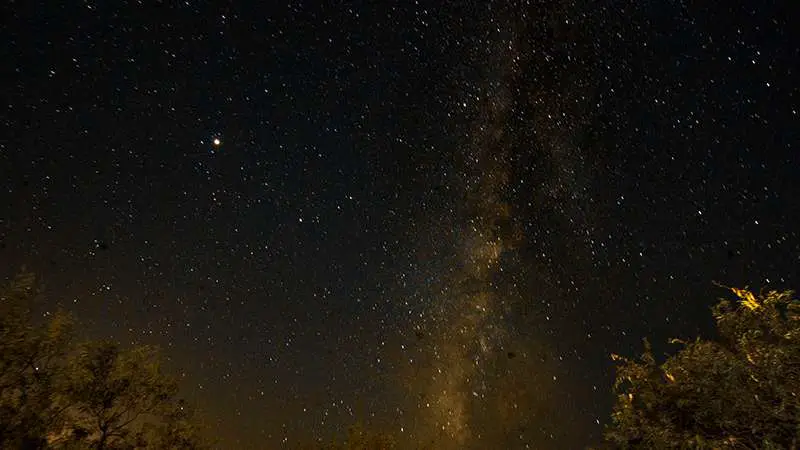 Kartchner Caverns State Park is one of two official Dark Sky State Parks in Arizona.
The Huachuca Astronomy Club of Southeastern Arizona holds occasional star parties here. They provide telescopes where you can view celestial objects, including the rings of Saturn.
The other popular activity at Kartchner Cavers is taking a cave tour.
KITT PEAK NATIONAL OBSERVATORY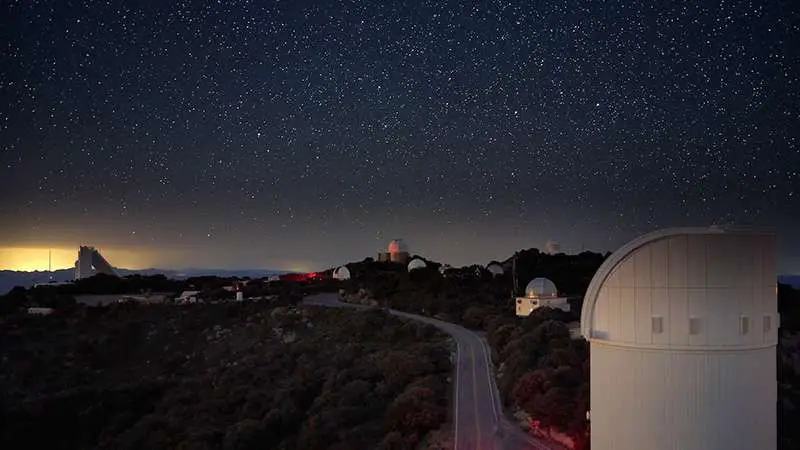 Kitt Peak is nearly 7,000 feet above sea level in the Sonoran Desert and offers a breathtaking panoramic view. The Observatory has three main telescopes. They offer one daytime tour and three nighttime stargazing programs.
"The best place to go stargazing in Arizona is the Kitt Peak National Observatory, near Tucson.
At an altitude of over 6,800 feet and with no recorded light pollution, Kitt Peak offers some of the clearest views of the night sky available.
During clear skies, visitors can expect to see over 3,000 stars, eight planets, and many galaxies and nebulae."
Aviad Faruz, CEO, Faruzo
LOWELL OBSERVATORY
Lowell Observatory is one of the oldest in the United States, located in Flagstaff. The Observatory is famous for discovering Pluto!
They offer evening stargazing events, including opportunities to look through their telescopes.
The Clark Refractor
The Clark Refractor was built in 1896 and used to unfold the first evidence of the expanding nature of the universe. The tour of this Observatory will make you feel full of wonder and grandeur.
The Giovale Open Deck Observatory
The Giovale Open Deck Observatory is a public observing plaza featuring six state-of-the-art telescopes to showcase a wide range of celestial objects.
Suppose you love starry nights and distant galaxies. In that case, you must visit this Observatory, sitting on the top of Mars Hills Mesa.
Known as the Home of Pluto as a nickname, Lowell Observatory is the best place for stargazing in Arizona. It is the location from which astronomer Clyde Tombaugh discovered the planet, Pluto.
You can visit the solar observations and evening stargazing every day. It is also open to the public with day and night programs, especially for families. Even in the daytime, you can use a filtered telescope to see the flares, sunspots, and the Sun up close.
At night, you can see the star clusters, the planets, nebulae, the Moon, and galaxies, especially with a high-powered telescope to see the stunning objects in the sky."
MCDOWELL MOUNTAIN REGIONAL PARK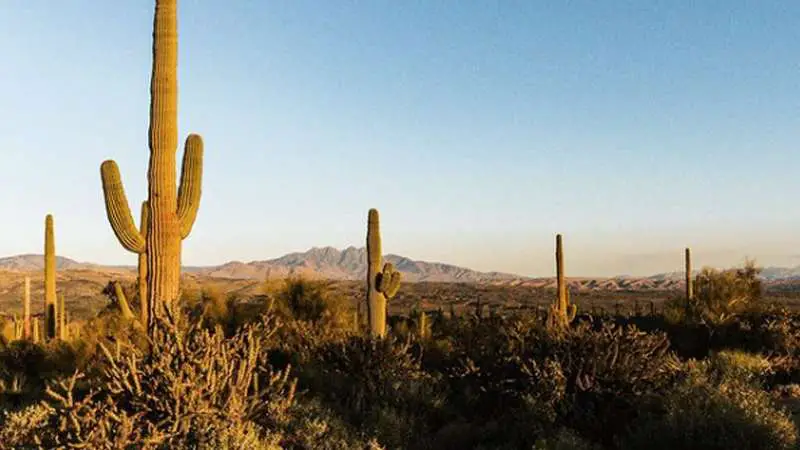 This breathtaking 21,000-acre Park in Scottsdale is a perfect spot for stargazing. Mountain ranges surround the Park.
There are many well-marked camping sites and picnic areas where you can search for your favorite constellations.
Occasional guided moonlight walks are organized should you find yourself there during a full moon.
MONUMENT VALLEY
My wife and I visited Monument Valley on a recent trip through Arizona. We were lucky enough to spend the night.
I captured several excellent photos of the sunset on the iconic formations. I also caught the stars above the Valley. Monument Valley is among the few remaining locations in the United States with naturally dark skies. This Valley is a very unique and majestic place for stargazing.
The best month to visit Monument Valley is the Fall, particularly September. Temperatures are mild during Fall.
You should plan an overnight trip to explore the spellbinding beauty of the stars over Monument Valley.
MOUNT GRAHAM INTERNATIONAL OBSERVATORY
The Mount Graham International Observatory in southeast Arizona houses three telescopes. The visitor center offers weekend tours of the Observatory, and various outdoor activities, including hiking and cross-country skiing.
They also have several campgrounds if you wish to spend the night.
MOUNT LEMMON SKY CENTER OBSERVATORY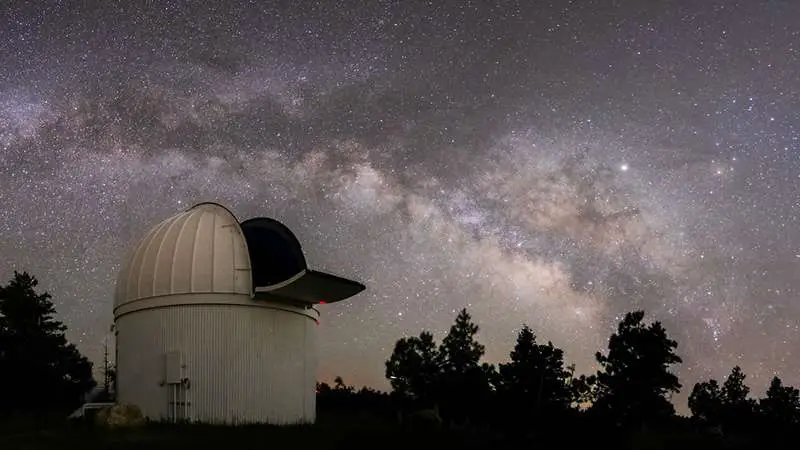 Mount Lemmon Sky Center is one of the best places for stargazing in Tucson. The center is located just over 9,000 feet above sea level.
The Sky Center offers its signature Sky Nights Stargazing Program on Wednesday through Sunday evenings. It's a five-hour program with an astronomy lecture, dinner, sunset viewing, and a guided night sky tour. You'll be able to view through their 24-inch and 32-inch telescopes.
They also offer Astronomer Nights, an overnight program where you can use their telescopes with a professional guide.
ORACLE STATE PARK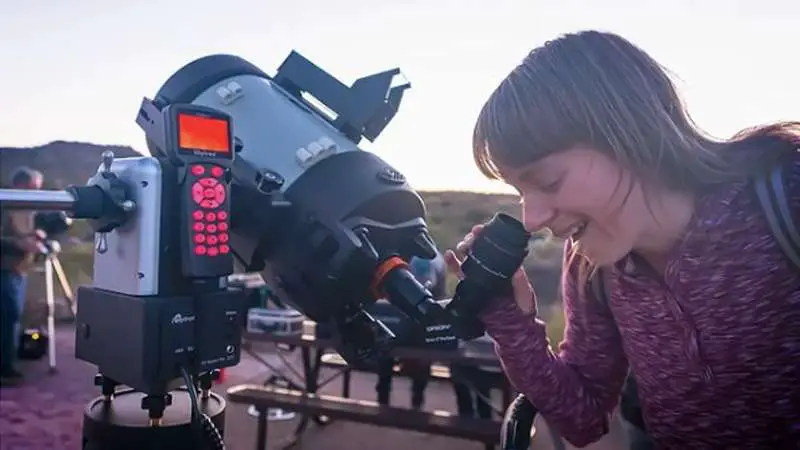 Oracle State Park was designated an International Dark Sky Park in 2014. The Park is a 4,000-acre wildlife refuge far from light pollution. The town of Oracle hosts annual Dark Sky Star Parties at the Park, including lectures and telescope viewing.
"The small town of Oracle, Arizona, is just over 30 miles north of Tucson. However, the state park here is registered as an official Dark Sky location and provides amazing views of the stars.
As the park is also the least-visited park in the state, there will be a minor concern for it being overcrowded or you not getting a suitable spot. With many hiking trails and picnic areas, it's a great place to make a day of it.
And when the stars come out at night, you will be awed. If you have always wanted to see the Milky Way, this is the place for you."
PARASHANT NATIONAL MONUMENT
The Parashant National Monument is on the northern edge of Grand Canyon National Park in Littlefield, Arizona. It was designated an International Dark Sky Park in 2014.
The National Monument offers vibrant vistas, deep canyons, and majestic mountains. The Monument has no light pollution to obstruct stargazing.
PETRIFIED FOREST NATIONAL PARK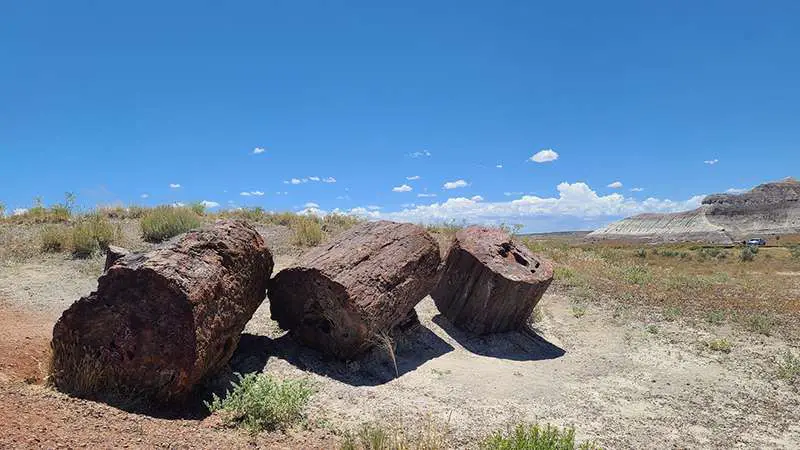 Petrified Forest National Park became a designated International Dark Sky Park in 2018. This Park is located over 200 miles from the large cities of Arizona.
You can view star clusters and the path of the Milky Way on the clear skies at this National Park. The Park offers evening programs several times a year to provide opportunities to stargazers.
They have a Dark Sky Viewing Permit, allowing you to access the Park after dark.
Petrified Forest National Park is a fantastic place to see the stars at night. Its ancient landscape reminds us that the need for nighttime darkness is nearly as old as life on Earth itself. The Park leads the way forward in preserving this crucial but threatened natural resource."
John Barentine, Director of Conservation at IDA
PICKETPOST MOUNTAIN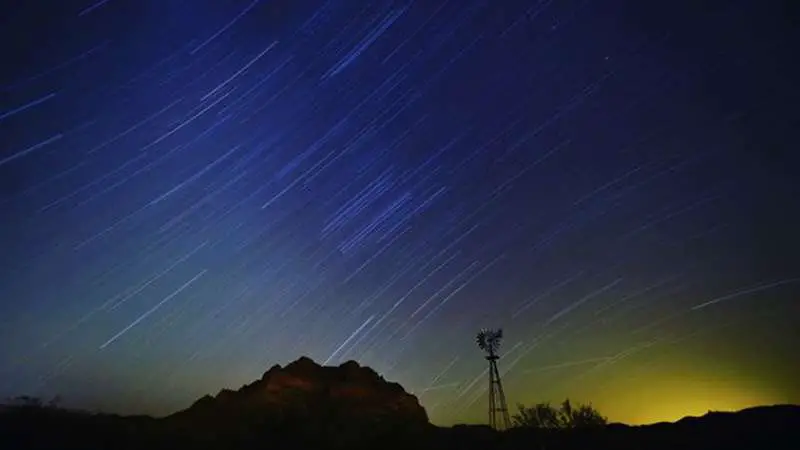 Picketpost Mountain Trailhead is about 20 minutes east of Mesa, Arizona. Most visitors use it as a launching point for the Arizona Trail. Still, you can use your telescope or binoculars to enjoy the fantastic view of the stars.
PIPE SPRING NATIONAL MONUMENT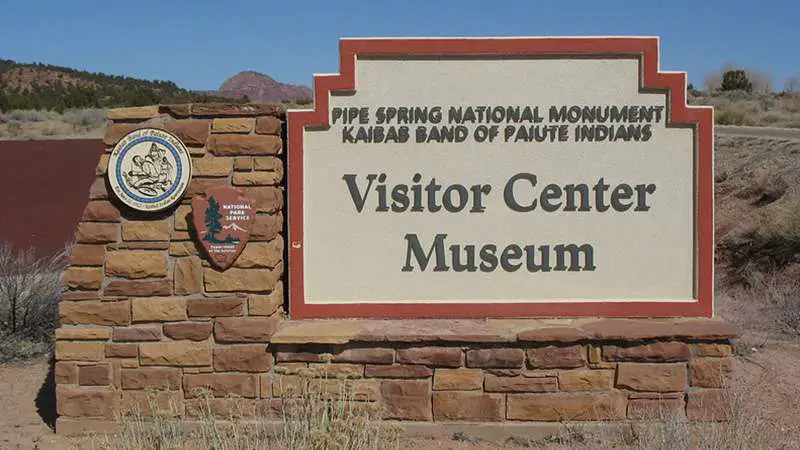 Pipe Spring National Monument earned the status of an International Dark Sky Park in 2021. It is within the Kaibab Paiute Reservation, a certified Dark Sky Community.
The Monument hosts astronomy and dark sky programs with Moon Ranger-guided hikes and annual star parties.
SAGUARO NATIONAL PARK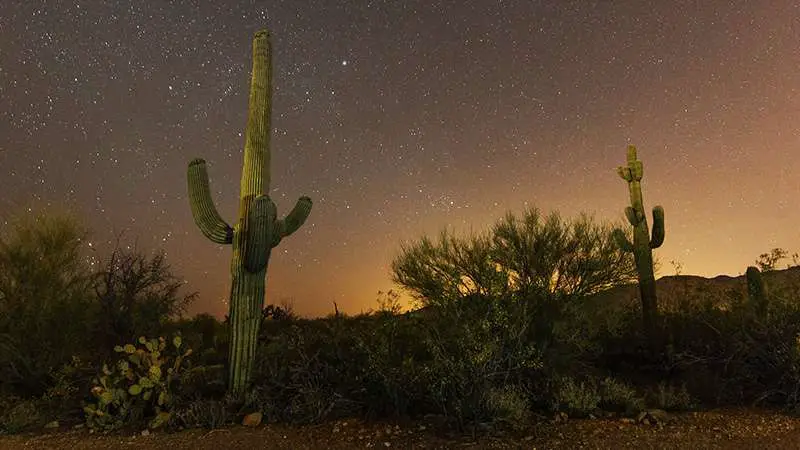 This National Park is famous for its massive cacti species in this desert wonderland. Saguaro National Park is in Southern Arizona, near Tuscon.
This Park divides the city of Tuscon, the only major city situated in the Arizona Upland.
Tuscon is known as the astronomy capital of the world, with exceptional skies and the most extensive collection of research telescopes. It's an excellent place to spend time, particularly at sunset.
SEDONA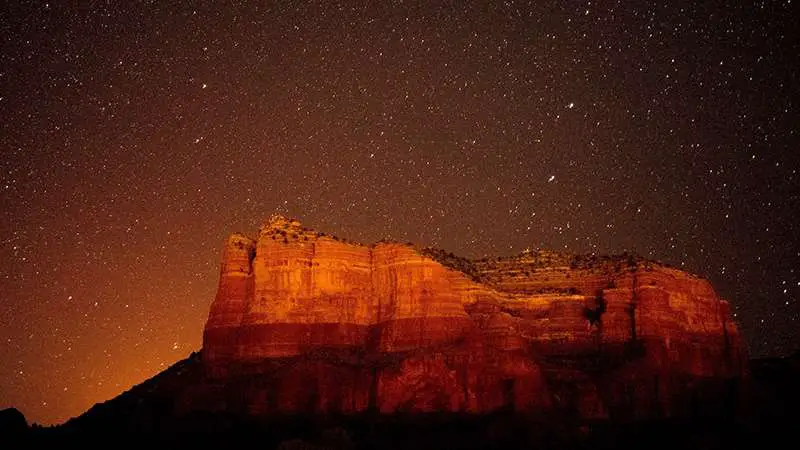 Sedona is a perfect place for the personal and spiritual enrichment of the body and the soul. Sedona is a breathtaking desert city where you should spend at least three days to come close to the divine nature.
The majestic red rock scenery and lush green vegetation are two distinctive features of this place. Sedona has long been considered a place both sacred and mighty. Beware of the monsoon season.
"Sedona is one of those fantastic places to go stargazing and enjoy the region's natural beauty. The town is in the northern part of the state and is known for its stunning landscapes and red rock formations, making for an ideal stargazing setting.
Its low levels of light pollution and clear, dry climate significantly affect the visibility and clarity of the night sky. The city offers many magnificent spots, such as Aerie Trail, Thunder Mountain Trailhead, and Marg's Draw Trail.
Besides, Sedona is home to many observatories and stargazing events, including the Sedona Stargazing Tour, which offers guided stargazing experiences with telescopes and guides. Within a short distance of the city, there are also many breathtaking vantage points, including the Two Trees Observing Area, Crescent Moon Picnic Site, or The Jordan Trailhead Observing Area."
Nina Paczka, Community Manager, Resume Now
If your trip takes you to Sedona, read my article Best Stargazing in Sedona.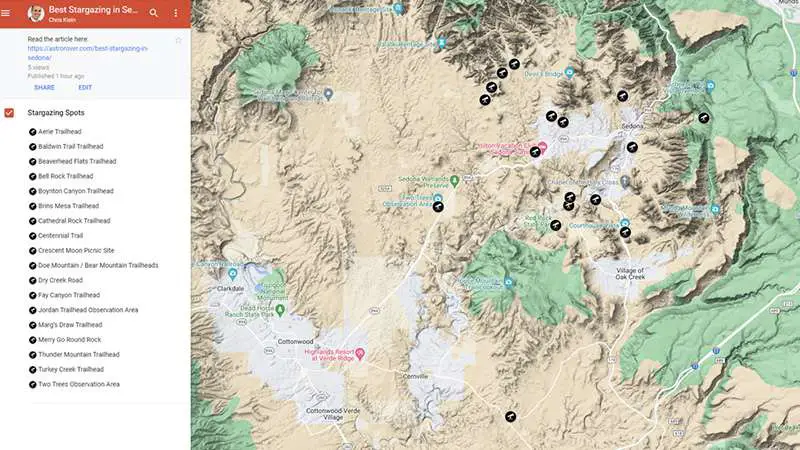 SUNSET CRATER VOLCANO NATIONAL MONUMENT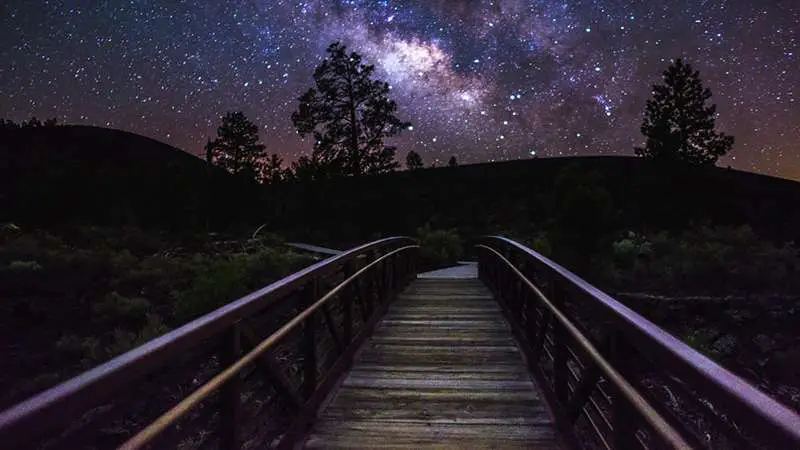 Sunset Crater Volcano National Monument is near Flagstaff. It was designated a Dark Sky Park in 2016.
Lava erupted from the ground a thousand years ago and forever changed the landscape. Today, the Monument offers Summer Night Sky Events and occasional star parties.
Their park rangers and volunteer astronomers will help you identify what you're looking at through their telescopes.
TONTO NATIONAL MONUMENT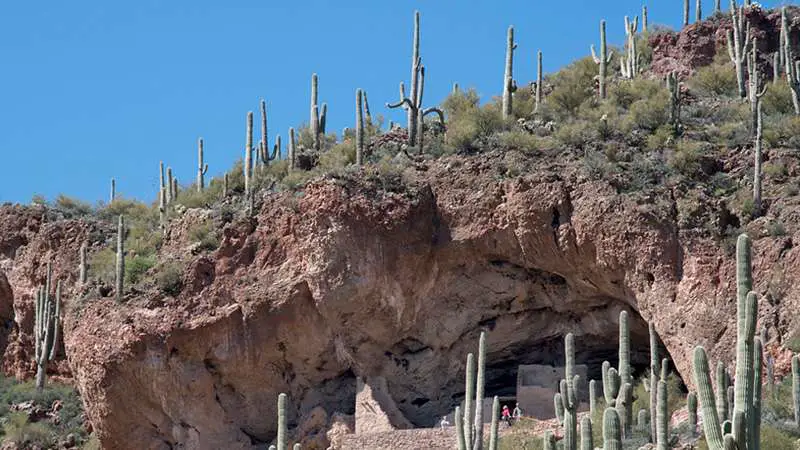 Tonto National Monument is in central Arizona. It was designated a Dark Sky Park in 2019.
Tonto National Monument is working to protect the Night Skies and the astronomical heritage of this location.
The Monument offers you frequent Night Sky Programs from November to April. If you're planning a tour for a better view of distant planets, the brightest stars, or the Milky way, this site is a great place to visit. You'll be able to discuss whether the Milky Way orbits anything.
TUMACACORI NATIONAL HISTORICAL PARK
This historic Park is in the upper Santa Cruz Valley in southern Arizona.
Many times each year, the Park keeps its doors open for visitors beyond regular visiting times. During these hours, you can experience stargazing during the soft light of early morning, twilight, and evening.
The night sky is a treasured landscape resource for people of all ages. It has always been a great source of beauty, inspiring different cultural and religious conceptions about the universe's origin and life on Earth.
VERDE RIVER GREENWAY STATE NATURAL AREA
The Verde River Greenway State Natural Area is a six-mile-long park alongside the Verde River, covering an area of nearly 500 acres.
It's far enough away from any significant light pollution, making it a perfect place for star-lit summer nights. This green area is an ideal spot for those who love outdoor activities.
Fall and Spring with moderate weather are the most suitable times to come here.
WALNUT CANYON NATIONAL MONUMENT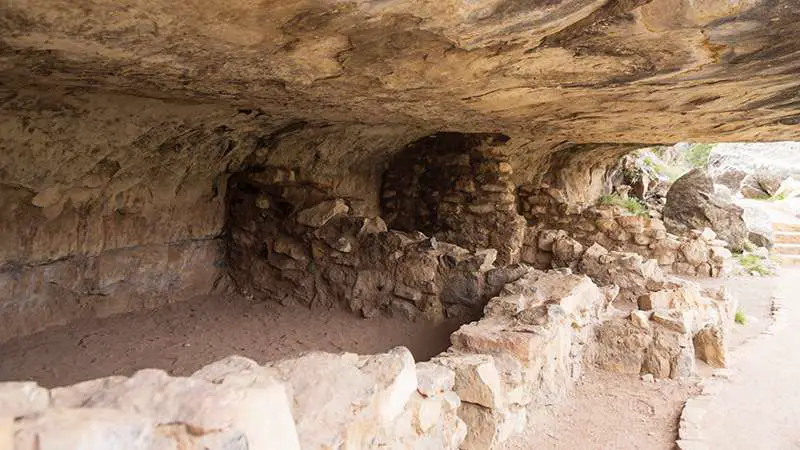 Walnut Canyon National Monument was designated a Dark Sky Park in 2016. The Monument is 10 miles southeast of Flagstaff.
The rim trail lets you view the canyon and the cliff dwellings. The canyon floor is 350 feet lower than the rim, nearly 7,000 feet above sea level.
WUPATKI NATIONAL MONUMENT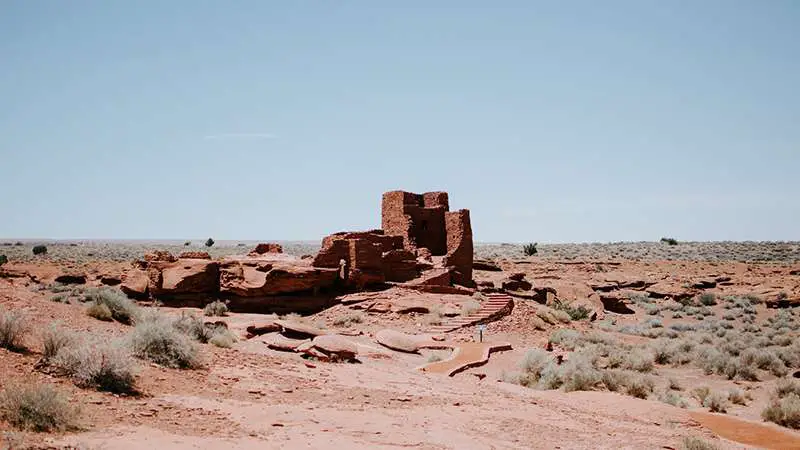 Wupatki National Monument was also designated a Dark Sky Park in 2016. It has almost no light pollution as it is far away from bright city lights. You can see from horizon to horizon due to the lack of trees at this location.
The Monument has many Native American archeological sites. It's close to the Sunset Crater Volcano National Monument, and the Flagstaff Annual Pass allows you entrance into both Monuments.
FREE GOOGLE MAP OF THE BEST STARGAZING IN ARIZONA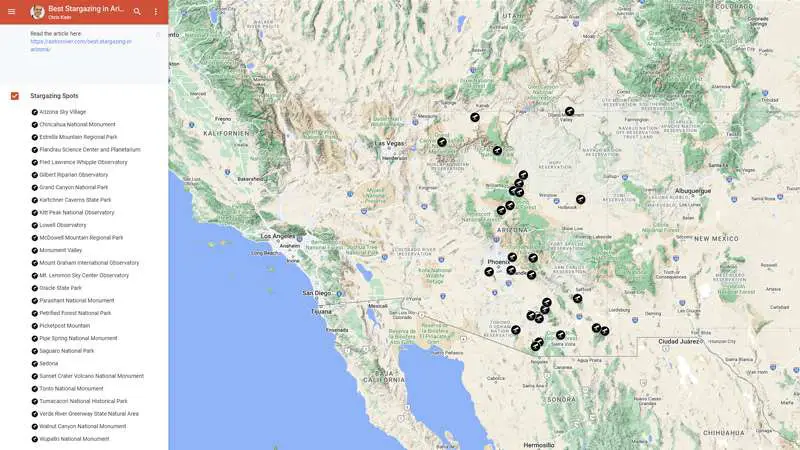 I created this free Google Map of all 27 stargazing spots in Arizona for you to plan your next adventure easily.
CONCLUSION
With so many incredible stargazing spots in Arizona, it's hard to choose just one.
Arizona has something for everyone, whether looking for an urban location where you can see the stars above the city lights or a more rural setting with little light pollution.
This list of the best stargazing spots in Arizona helps you find the perfect place to enjoy the night sky.
Do you have a favorite spot that I didn't mention?
If your travels take you to California, read my articles on the best stargazing in California, Joshua Tree National Park, and Death Valley National Park. If you're headed further West than California, read my articles on the best stargazing on the Hawaiian islands of Oahu, Maui, and Kauai.
If you're headed to Utah or Colorado, read my articles Best Stargazing In Utah, including Moab, and Best Stargazing In Colorado.
And just in case you're also headed to the Space Coast, read my article Best Stargazing In Florida. And for a special stop along the way, read my articles on the best time to go stargazing in Big Bend National Park and Oklahoma star gazing.
FREQUENTLY ASKED QUESTIONS
IS SEDONA A DARK SKY CITY?
Yes, Sedona was designated a Dark Sky Community in 2014 by the International Dark-Sky Association. Sedona enjoys some of the best stargazing in Arizona. Just beware of the Monsoon season.
WHEN CAN YOU SEE THE MILKY WAY IN AZ?
Absolutely! You can see the Milky Way in Arizona at many of its excellent stargazing spots. Arizona has 12 officially designated Dark Sky Places by the International Dark-Sky Association. There are also many more spots far away from bright city lights to enjoy the night sky.
WHAT IS THE DARKEST CITY IN ARIZONA?
The darkest city in Arizona is Flagstaff. The city is home to Lowell Observatory, where they discovered Pluto! It is the world's first International Dark Sky City.
"As someone who lived in Flagstaff for two years, I can confidently say it is the best place in Arizona to go stargazing. 
The first reason is that there is a dark light ordinance. This means that there are few streetlights on at night, and of the streetlights that are on, they are dimly lit. This keeps the city nice and dark while the stars stay nice and bright! 
While Flagstaff is not the only city in Arizona with a dark light ordinance, it is the closest city to the stars in the state because of its elevation of 7,000 feet."
Nick Varga, Chief Riding Officer, ERide Journal