If you love stargazing, then Utah is the place to be!
With its lack of light pollution, you're guaranteed amazing views of our galactic core, which is the central part of the Milky Way.
I researched and put together this list of the best stargazing in Utah. The article includes original photos from Utah astrophotographers and a free map.
In this article, you get
A free custom Google Map of the best stargazing spots in Utah
Information about each Utah stargazing spot
A look at impressive astrophotos from Utah locals and fellow astrophotographers
Information about Utah and the importance of dark skies
By the end of this article, you'll be inspired to plan your next stargazing Utah adventure.
Let's dive right in.
UTAH has Dark Sky Parks
Utah has the world's most significant clustering of International Dark Sky Parks. This includes four national parks, five national monuments, five state parks, and a growing list of official dark sky communities.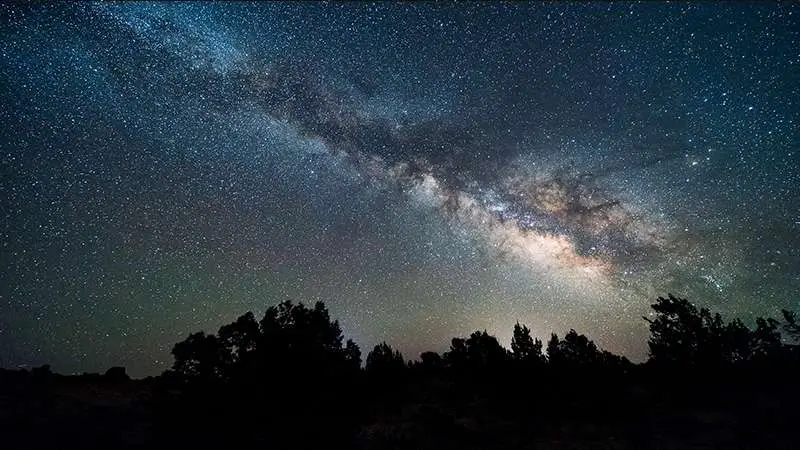 Thanks to the dry winter air in Utah, stars and constellations often appear brighter in winter. This makes winter one of the best times for viewing night skies.
This also means you'll have long nights (and shorter days) during the winter months to maximize your stargazing time.
THE IMPORTANCE OF DARK SKIES
Artificial light at night has become more and more prevalent. This leads to fewer children in the united states and worldwide being amazed and inspired by views of the night sky.
The increasing light pollution is not only impacting our view of the universe but also negatively impacting our environment, energy consumption, and quality of life.
The International Dark-Sky Association has reported that 30% of all light sources in the U.S. are wasted by spilling upwards into the sky. This wastes electricity and negatively impacts plants and animals that depend on the natural cycle of daylight and night time.
For most of human history, we've been able to explore the wonders of the night sky. Unfortunately, natural darkness is becoming rare.
Explore the Utah Dark Sky Map to see a chart of the light pollution across the state.
Join the dark skies movement to help protect the night skies. Visit the International Dark-Sky Association website.
For more info, read my article Light Pollution Effects.
THE BEST STARGAZING IN UTAH
Now for the 35 spots of the best stargazing Utah has to offer.
This list is in alphabetical order. Each spot is on the free Google Map, so you can easily incorporate a stop at one or more of these locations for your next stargazing adventure.
ANTELOPE ISLAND STATE PARK
Antelope Island State Park is an internationally-certified dark sky park just 25 miles north of Salt Lake City. It's become a popular destination for area stargazers looking to escape the city's bright lights.
There are several options for camping on Antelope Island, including family and small groups campsites. Flush toilets and showers are available at specific campsites at Bridger Bay Campground.
Antelope Island stargazing is perfect if you're only going to be near Salt Lake City.
ARCHES NATIONAL PARK
Arches National Park is an International Dark Sky Park. It has been recognized for its quality night skies and commitment to preserving the natural dark. Arches stargazing is one my favorite activities.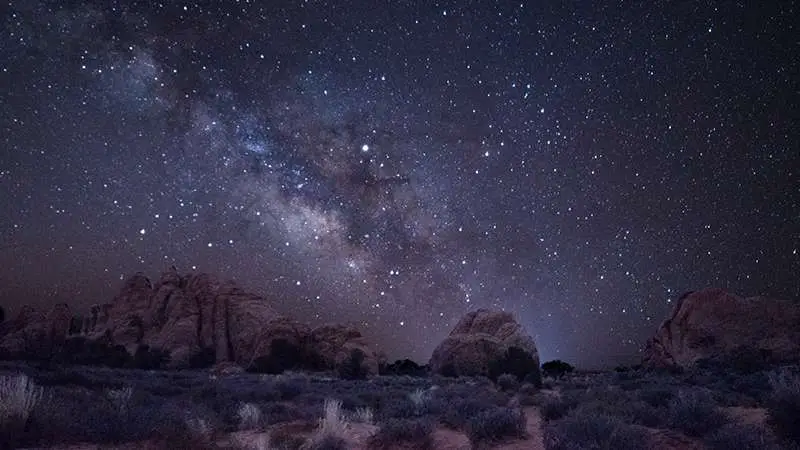 On any clear night, you can see stars and the Milky Way while exploring the park. Areas on the main park road with fewer sky obstructions are best, but if you drive north away from Moab's lights, the night will get darker. For more info about Moab stargazing, read my article on the Best Stargazing in Moab.
My recommendations for the best Arches National Park stargazing spots include:
Balanced Rock Picnic Area
Devil's Garden Campground
The Windows
Garden of Eden Viewpoint
Panorama Point
Stargazing in Arches National Park should be on your bucket list!
ASHCROFT OBSERVATORY
The Ashcroft Observatory is located just outside Cedar Breaks National Monument and is open to the public. Every Monday night, they offer learning opportunities about constellations and the ability to view distant parts of the galaxy. They have an active Facebook group, so check their schedule before planning your visit.
BRIAN HEAD RESORT
This next one on the list is just outside Cedar Breaks National Monument. Still, I wanted to include it here because Cedar Break has limited visitation during winter. As a result, the park service partners with Brian Head Resort to host star parties. They have ranger-led events with telescopes and passionate astronomers.
BRYCE CANYON NATIONAL PARK
Are you wondering, "Is Bryce Canyon Good for Stargazing?"
In 2019 Bryce Canyon National Park achieved International Dark Sky Park (IDSP) certification from the International Dark-Sky Association and National Park Service.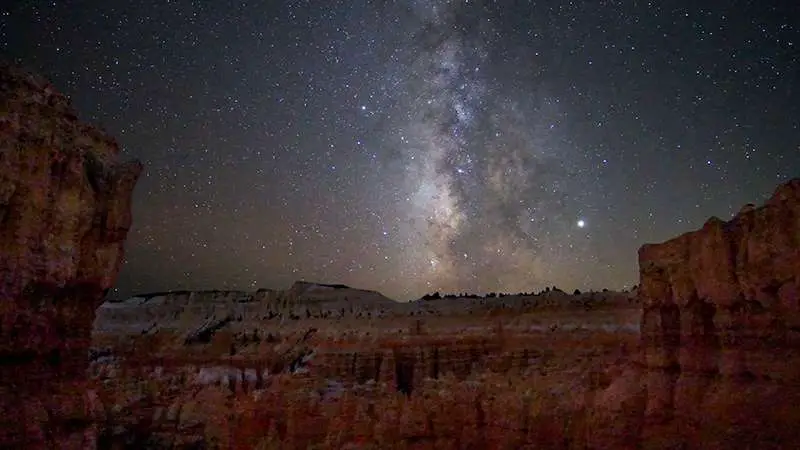 This achievement recognized Bryce Canyon's unforgettable night skies and its 50-year commitment to dark sky advocacy, education, and conservation.
Bryce Canyon stargazing is the ideal way to learn about the splendor of the night sky. The best time to visit is around the new moon when the sky is the darkest.
They have Astronomy Rangers at this park who offer about 100 free and entertaining astronomy programs per year. Their programs range from the life cycles of stars to space exploration missions. Their evening programs are sometimes followed by stargazing programs in partnership with the Salt Lake Astronomical Society.
The park hosts an annual astronomy festival full of daytime events and after-dark stargazing opportunities every summer. A good spot for stargazing Bryce Canyon is Sunset Point.
CANYONLANDS NATIONAL PARK
At Canyonlands, it is easily possible to see the highest concentration of stars with the naked eye.
Under the right conditions and using a pair of binoculars, you can even see the rings of Saturn! Please read my article about seeing Saturn using a telescope. Canyonlands stargazing is truly a unique experience.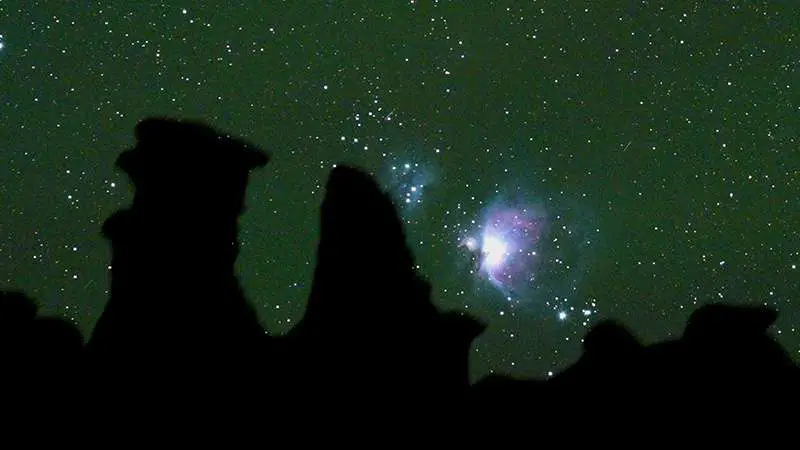 CAPITOL REEF NATIONAL PARK
In 2015, Capitol Reef National Park was designated a Gold-Tier International Dark Sky Park. Today it offers stargazers many opportunities to explore near-pristine night skies.
When you visit Capitol Reef National Park, you will learn about the night sky from a series of astronomy-themed programs. They also have a National Park Service Night Sky Team that brings professional nighttime presentations to Capitol Reef.
CEDAR BREAKS NATIONAL MONUMENT
Cedar Breaks is a place of beauty and inspiration. It's located in one of Utah's most prominent regions of natural darkness.
It is increasingly becoming a popular spot for Astro-tourism enthusiasts (AstroRovers?) due to its proximity to other natural monuments.
The park includes some of the most spectacular geology on Earth. Ancient rivers have carved canyons and cliffs through millions of years of erosion.
CORAL PINK SAND DUNES STATE PARK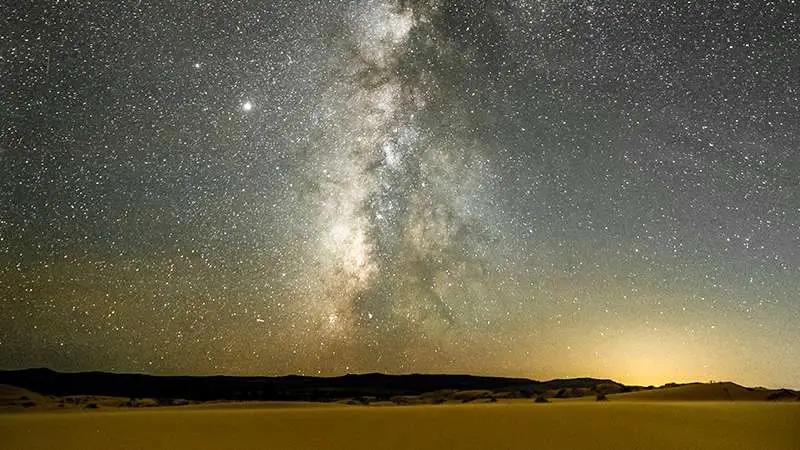 Pink-hued sand dunes, red sandstone cliffs, and panoramic views. These are just a few great things you'll find at Coral Pink Sand Dunes State Park!
High winds passing through the area pick up loose pink-colored sand particles and drop them onto the dunes. The dunes are estimated to be about 15,000 years old.
The park has many uses and benefits, including hiking, camping, off-road vehicle driving, and photography.
DEAD HORSE POINT STATE PARK
Dead Horse Point State Park was recognized as an International Dark Sky Park in 2016. The views of Canyonlands National Park in the distance and the Colorado River below the cliff edge make this one of Utah's top stargazing spots!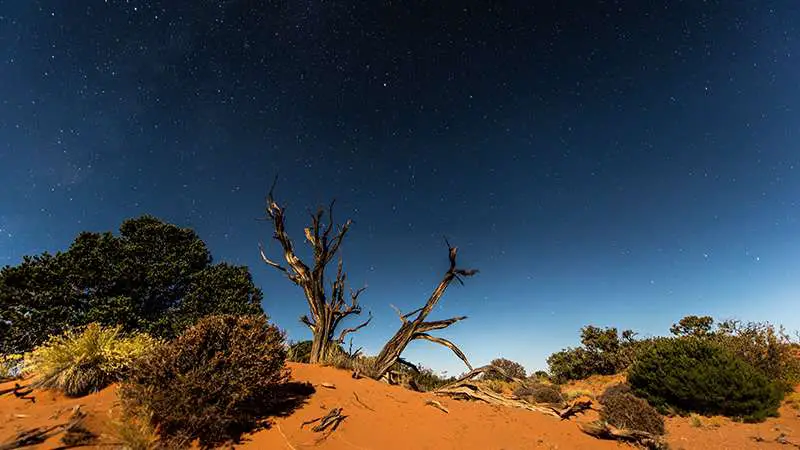 My wife and I stayed here during our last R.V. tour of Utah a few years ago.
What impressed me the most at night was the landscape that made me feel like I was walking on Mars! Unfortunately, the photo above was taken during a full moon, but I still enjoyed exploring under the stars.
This spot was good for us because it has easy access from Moab.
DINOSAUR NATIONAL MONUMENT
Dinosaur National Monument is a U.S. National Monument located in Utah and Colorado. It is one of the darkest places in the U.S.
When you visit, you'll be able to see all the stars of the Milky Way galaxy with startling clarity.
The monument has a designated spot for stargazing in the Split Mountain Campground. Rangers host stargazing programs in the back of the Split Mountain Campground in the summer.
EAST CANYON STATE PARK
East Canyon State Park is an International Dark Sky Park only 30 kilometers northeast of Salt Lake City. It received its designation not too long ago, in 2020, and is an essential source of darkness for stargazers and nocturnal wildlife.
The park staff offers regular night-sky programs in the area. The night sky over covered wagons on display at East Canyon State Park in Utah evokes the trepidation the pioneers felt as they passed through this area hundreds of years ago.
ESCALANTE PETRIFIED FOREST STATE PARK
The Petrified Forest State Park is located in Escalante, Utah. It's just over an hour from Grand Canyon National Park and offers some of the best stargazing in all of Utah.
This unique desert park was designated a UNESCO World Heritage Site in 1986.
It contains striking examples of fossilized wood that were once alive and still are today. Petrified trees, fossils, and other geological formations are displayed at this park. In addition to being beautiful to look at, these remains also hold essential information about what life was like millions of years ago when they were alive.
FREMONT INDIAN STATE PARK AND MUSEUM
If you like petroglyphs and pictographs, this is the place for you.
The museum has exhibits about Native American tribes who lived in Utah during prehistoric times, as well as early settlers. And, like most spots on this list, Fremont Indian State Park is a certified International Dark Sky Park.
Fremont Indian State Park is located deep in Clear Creek Canyon. The mountain range surrounding the canyon acts as a light pollution buffer. This gives the area some of the darkest skies in the U.S.
When you come to the park to observe the night sky, you carry forward an ancient tradition of communing with the cosmos. Carvings on canyon walls suggest that's what early inhabitants used to do.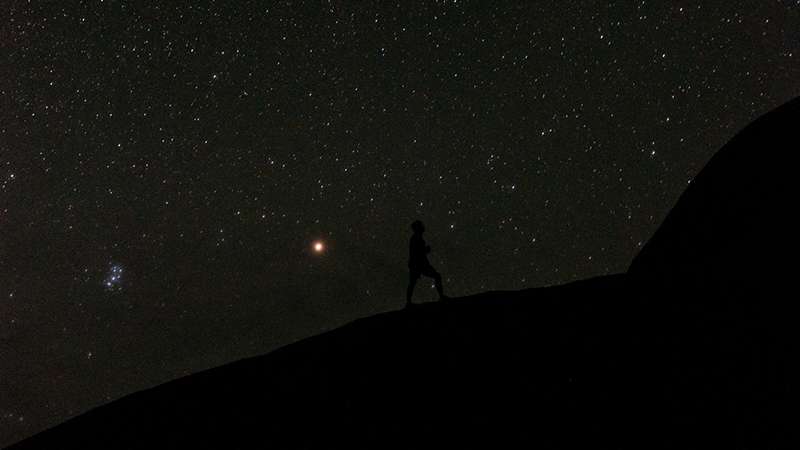 GLEN CANYON NATIONAL RECREATION AREA
Glen Canyon National Recreation Area is a designated Dark Sky Sanctuary by the International Dark-Sky Association. It encompasses 461 miles of high desert from the Grand Canyon in Arizona to the Orange Cliffs in southern Utah. It's filled with spectacular views and evidence of 10,000 years of human history.
GOBLIN VALLEY STATE PARK
In Goblin Valley, you'll experience some of the world's clearest, darkest night skies.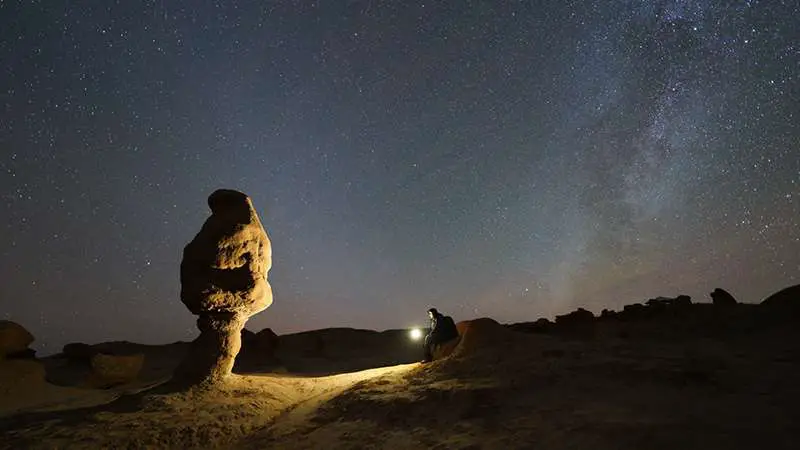 This area of the San Rafael Desert is home to thousands of pillars made into shapes resembling mushroom caps that look like "goblins," which give the park its name.
The park contains several formations formed over millions of years from ancient lava flows. These include hoodoos, buttes, fins, and monoliths.
Depending on when you visit, you can participate in any of the various nighttime activities that Utah park rangers put on.
GOOSENECKS STATE PARK
Goosenecks State Park is amazing! It's perfect for people who want to take in the terrestrial and celestial magnificence of the Earth. You can see 300 million years of Earth's geological history and a 360-degree view of the stars.
Throughout the year, they host special events like dark sky parties and interpretive programs to help you understand what you're looking at when you gaze up at the stars.
The park was certified as an International Dark Sky Park in March 2021.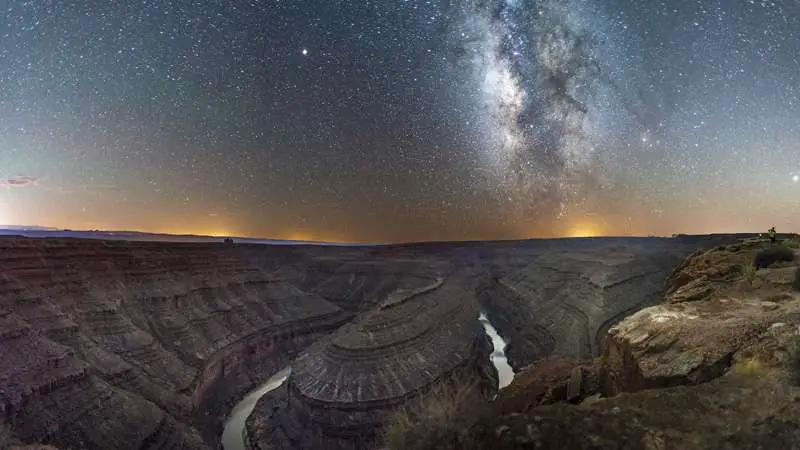 HOVENWEEP NATIONAL MONUMENT
The ancestral Puebloans stargazed some 800 years ago. One of the many stories says several structures and rock panels seem designed to mark major celestial events such as the summer and winter solstices. While this is essentially conjecture, the open skies of Hovenweep certainly draw one's attention.
Fortunately, the night sky is about as dark as it was 800 years ago. If your visit isn't during Summer, be warned that temperatures may reach below-freezing at night. However, stargazing in this International Dark Sky Park is a must!
You can stargaze from your campsite or the visitor center parking lot. Trails are closed after sunset.
JORDANELLE STATE PARK
Jordanelle State Park stargazing must be on your list. The Park is located in a wilderness area of Utah, near communities like Park City, Midway, and Heber City. This area has some of the darkest skies in the state, which helped make it a popular place for hosting dark-sky events. Jordanelle State Park was certified as an International Dark Sky Park in January 2021.
KODACHROME BASIN STATE PARK
Kodachrome Basin State Park is one of the darkest places in Utah, thanks to its distance from urban areas and excellent air quality at high elevations.
The park is a 20-mile drive from the nearest city lights and is surrounded by apricot-colored cliffs. It's a perfect place for viewing intricate details in the Milky Way.
Depending on when you visit, you can see the Orion nebula, Andromeda galaxy, meteor transits, and other winter constellations. Thanks to their constellation tours, you can receive astronomy lessons and view many deep-sky objects.
NATURAL BRIDGES NATIONAL MONUMENT
Natural Bridges National Monument stargazing is some of the best in Utah! The Monument is the first International Dark Sky Park certified by the International Dark Sky Association in 2007.
Natural Bridges State Park is open 24 hours a day. Stargazing and exploring the night sky are allowed virtually anywhere in the park, including all trails and overlooks, parking lots, campgrounds, or roads. During spring and summer nights, you can join ranger-led stargazing night hikes.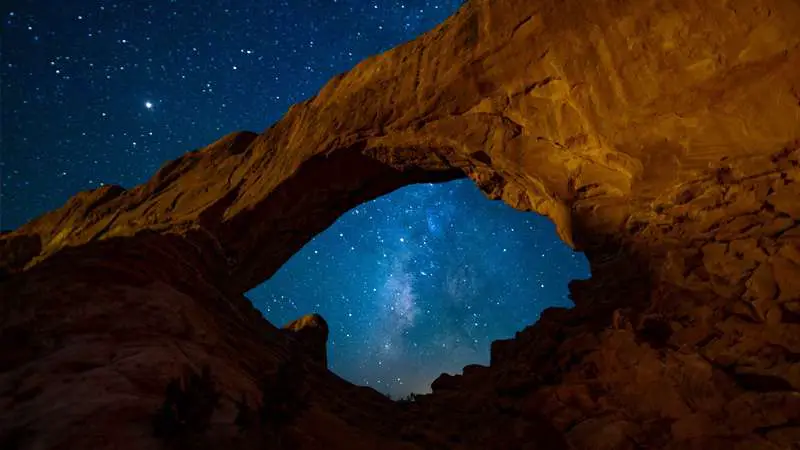 NAVAJO LAKE
The Navajo Lake Campground offers opportunities for boating, camping, fishing, hiking, and watching the stars at night. Formed when an ancient lava flow dammed one side of the valley, Navajo Lake rests on a bed of limestone and drains through underground tunnels. Surrounded by the Dixie National Forest, Navajo Lake is perfect for dark skies reflected in a forest lake.
NORTH FORK PARK
North Fork Park is a great place to go stargazing. This International Dark Sky Park offers a unique dark sky experience a short drive from an urban center. It remains wild and rustic and provides a dark refuge for stargazers and wildlife alike.
PAROWAN GAP
Parowan Gap is a natural passageway that ancient Native Americans once used. It's also known for its hundreds of American Indian rock carvings (petroglyphs).
Beyond the petroglyphs, Parowan Gap offers a dark area perfect for stargazing just 20 minutes from Cedar City. In addition to deep sky observation, there are interpretive programs and solar events at Parowan Gap throughout the year.
These events are part of the summer and winter solstices and spring and fall equinoxes.
RAINBOW BRIDGE NATIONAL MONUMENT
About an hour east of Las Vegas, you'll find Rainbow Bridge National Monument in the southeast Utah desert. Rainbow Bridge is a natural arch 275 feet high and 290 feet long, forming a bridge-like structure over narrow valleys on its way toward Dead Horse Ranch.
The sandstone formation has been carved into beautiful patterns by wind erosion over time; these patterns are visible at night when viewed through telescopes or binoculars from this location.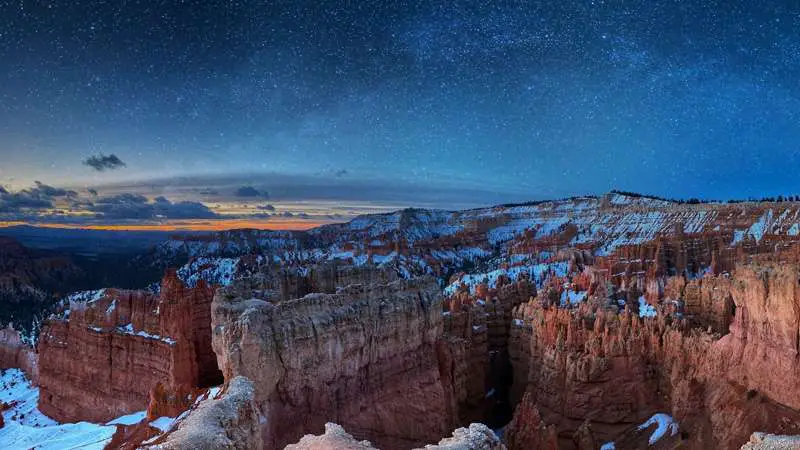 ROCKPORT STATE PARK
At Rockport State Park, you can learn about the importance of dark skies and the protection of animals and other wildlife. Their famous night sky educational program includes information about nighttime practices and how they benefit wildlife.
Once you reach the 6,000 feet elevation in Rockport State Park, you'll be in a valley between two impressive mountain ranges. These natural boundaries block light pollution from the urban area to the west.
SNOW CANYON STATE PARK
The natural beauty that surrounds Snow Canyon will leave you speechless. The park offers free naturalist-led tours of the cosmos, where you can gaze up at galaxies and nebulas. You should bring a blanket to lay on the sandstone as you take in the vastness of space.
SOUTH PHYSICS OBSERVATORY
The University of Utah's South Physics Observatory offers free public star parties every Wednesday.
You can visit our vast universe and see galaxies, nebulae, stars, moons, planets, and clusters. You are encouraged to ask questions about the universe, science, or what you see.
They also offer lectures, demos, and assistance for those looking to practice using telescopes.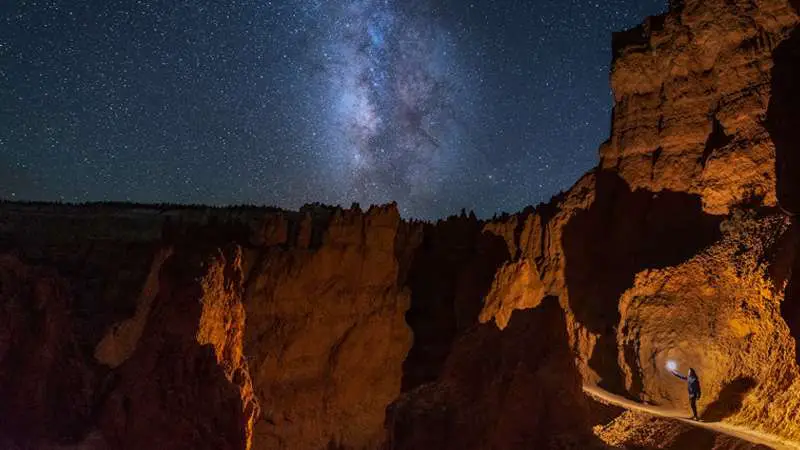 STANSBURY PARK OBSERVATORY COMPLEX
The Salt Lake Astronomical Society manages the observatory, and it is open to the public throughout the year.
Four of the largest telescopes in Utah are housed here! One of them is the world's largest publicly accessible telescope, so you can enjoy a night of stargazing without traveling far.
If you visit during the summer, you will have a chance to see the night sky through one of their permanent telescopes. You can also access dozens of portable telescopes during one of their occasional stargazing programs.
STEINAKER STATE PARK
Steinaker State Park was recognized as an International Dark Sky Park in 2018. Their night sky programs attract as many as 200 participants, including telescope viewing and full moon hikes.
THREE PEAKS RECREATION AREA
Three Peaks Recreation Area provides an excellent outdoor recreation location in southern Utah. The area is close to Cedar City.
It offers the best dark skies for astronomical events like camping, picnics, and photography. Three Peaks offers campsites, fire pits, tables for picnics, and outhouses.
The only downside is that it doesn't provide good shading from the eastern sky, so most astrophotography has to be done straight up or towards the west.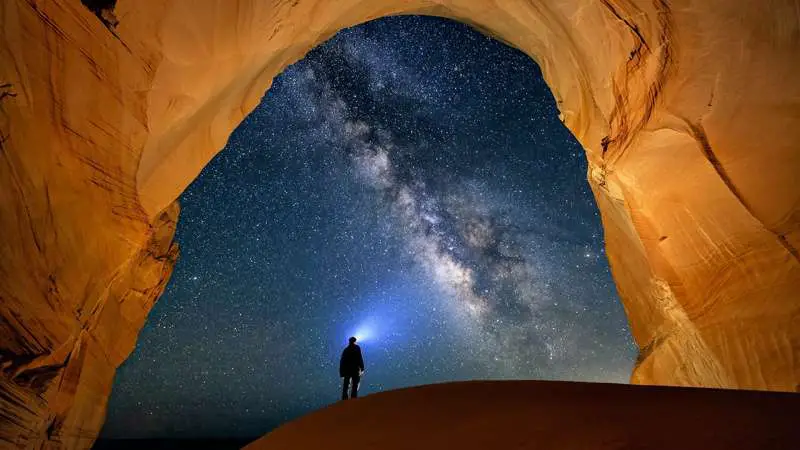 TIMPANOGOS CAVE NATIONAL MONUMENT
In 2020, the International Dark-Sky Association certified Timpanogos Cave National Monument as an Urban Night Sky Place. The certification signifies the park's dedication to public education and the protection of the night sky with its use of more energy-efficient, sustainable lighting.
Here you can take an educational and informative tour through three caves and learn about the natural world.
TORREY
Torrey is located adjacent to Capitol Reef National Park. In 2018, it became the first International Dark Sky Community in Utah. This designation means that Torrey came together as a community and worked to protect its nighttime skies. They retrofitted dark sky-compliant outdoor lights for optimal stargazing conditions.
VALLEY OF THE GODS
Valley of the Gods is a very scenic area in southern Utah. The scenery is similar to that of nearby Monument Valley.
With towering pinnacles, buttes, and open spaces that seem to go on forever, Valley of the Gods is a hidden gem worth visiting for stargazing or astrophotography.
ZION NATIONAL PARK
Stargazing Zion National Park is a great place to reconnect with the night sky.
Visit Zion during Milky Way Season to get the best views.
Zion does an excellent job of protecting its darkness by not lighting the night. However, this means that after sunset, Zion can be very dark! Read my article about Zion's Dark Sky Park designation in 2021.
The park features a lot of places that are good for stargazing, like the Watchman Campground and Hidden Canyon, which are both reachable from the main road. You can also find some good spots along the East Rim Trail with stunning views of the desert nightscape.
CLARK PLANETARIUM
This one is not officially on my list of stargazing locations in Utah, but I wanted to include it in case this info might help you. For 50 years, the Clark Planetarium has been the go-to destination for visitors who wish to learn more about space and science.
Their mission is to inspire and engage curious minds by connecting people to the wonder of the universe. The Planetarium offers 10,000 square feet of exhibit space, a fantastic full-dome theatre, and cosmic laser light shows every weekend evening.
FREE GOOGLE MAP OF THE BEST STARGAZING IN UTAH
Here's your free Google Map of Utah's 35 best stargazing spots.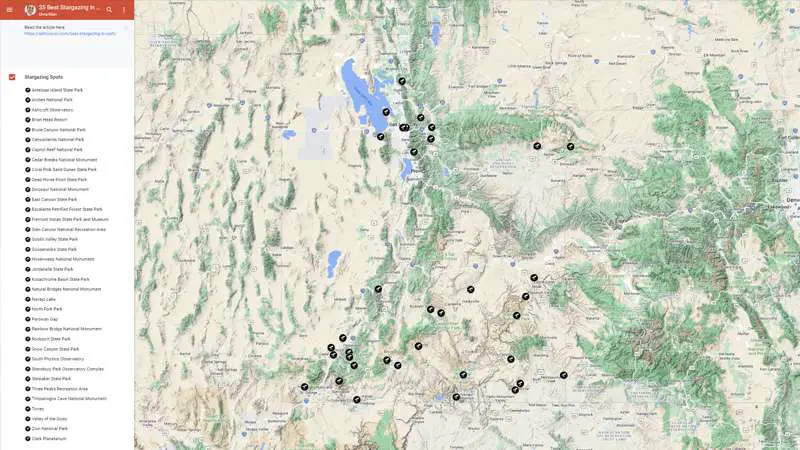 FREQUENTLY ASKED QUESTIONS
WHAT TIME CAN YOU SEE THE MILKY WAY IN UTAH?
The Milky Way is best seen in Utah during the summer months. From June to August, the sky is typically clear enough to see the Milky Way Galaxy with the naked eye. The best time to view the Milky Way generally is around 2 am.
IS MOAB A DARK-SKY CITY?
Yes, Moab is a dark-sky city! Its night sky is clear and dark, making Moab one of the best places in Utah for stargazing. There are several great spots for stargazing in Moab, including Arches National Park, Canyonlands National Park, and Dead Horse Point State Park.
WHAT IS THE BEST TIME TO STARGAZE AT ARCHES NATIONAL PARK?
The best time to stargaze at Arches National Park is during the new moon phase. This is when the night sky is at its darkest, making it easier to see stars and other celestial objects. The new moon phase typically lasts 3 days, so plan your trip accordingly!
SUMMARY: Utah Stargazing
Thank you for reading my article on the best stargazing in Utah! What do you think of my list of the best places to stargaze in Utah?
With its lack of light pollution, Utah is one of the best places to catch a glimpse of our galaxy. The Dark Sky Map Utah has a lot of dark areas on it!
If this article inspired you to go out and stargaze in Utah or you have any questions, please comment below. If you're interested in more Utah stargazing, read my article Where is the Big Dipper in the Utah Sky?
If your travels take you to Colorado or California, please read my articles Best Stargazing In Colorado or Best Places for Stargazing in California. If interested in California, read my articles on stargazing in Death Valley and Joshua Tree.
If your travels take you to Florida, please read my article on the Best Stargazing in Florida.
If, by chance, you're headed through Texas or Oklahoma, read my articles on the best time to go to Big Bend National Park for stargazing and the best stargazing in Oklahoma.
Or, for an amazing experience, read my articles about stargazing the Hawaiian islands of Oahu, Maui, and Kauai.