Do you dream of star-filled skies and breathtaking views? Of getting away from the city lights to take in the beauty of the night sky?
A trip to Death Valley National Park for stargazing should be at the top of your bucket list! From stunning sunsets to unrivaled views, I've rounded up the best stargazing Death Valley offers.
In this article, you get
A Death Valley guide to stargazing in this amazing National Park
Top things to visit in Death Valley, whether you're with or without your family or kids
A look at a tour from Las Vegas and an overnight Camp where everything is taken care of for you
By the end of this article, you'll have all the information you need to plan your California trip to Death Valley for fantastic stargazing and more!
Let's dive right in.
DEATH VALLEY NATIONAL PARK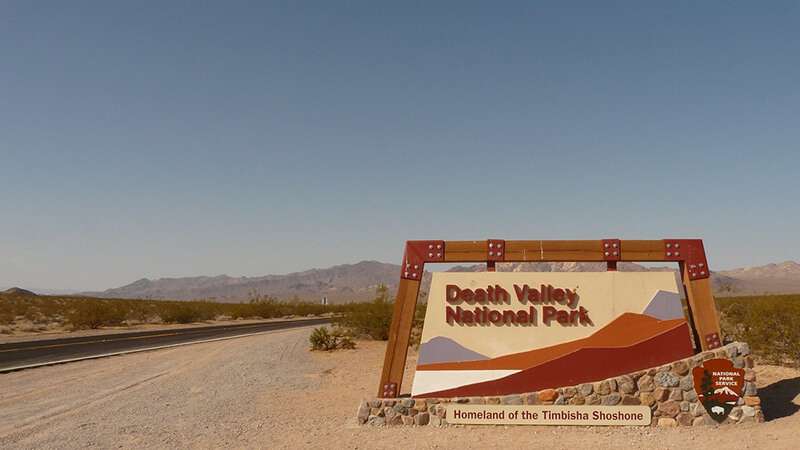 Death Valley is the perfect place for stargazing. It has some of the darkest night skies in the United States and was the third International Dark Sky Park in the world.
The National Park was certified as a Gold Tier Dark Sky Park by the International Dark-Sky Association in 2013, meaning its night skies are among the clearest in North America.
Entrance fees are $30 per vehicle for seven days. Keep in mind that the Park is 3.4 million acres, and phone reception is spotty, so make sure you plan your journey accordingly.
The best time to visit is from October through April, when temperatures are more moderate. There are ranger-led stargazing events in the winter and spring months with various astronomy organizations.
Outside of these months, Furnace Creek Visitor Center is the only visitor center in the Park, and it's open daily from 8 am to 5 pm.
Finally, don't forget to bring plenty of water, as Death Valley is the driest place in North America!
KNOW THE RULES AND REGULATIONS FOR STARGAZING IN DEATH VALLEY
Before enjoying the stunning view of the night sky in Death Valley, you should familiarize yourself with the rules and regulations for stargazing.
It is important to note that you must respect wildlife and remain on established trails, including not using excessive artificial light.
As a courtesy to others, you should avoid loud noises that could disrupt the peaceful atmosphere. Campfires are only allowed in designated areas.
Following these simple guidelines can maximize your Death Valley star gazing experience.
BEST TIME FOR DEATH VALLEY STARGAZING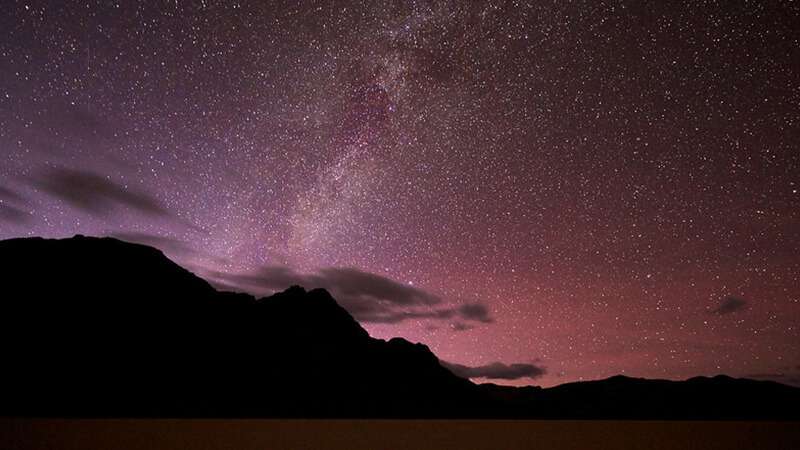 Timing is critical if you're looking for the best time to experience stargazing in Death Valley. The Park is known for its night sky; depending on the season, you can experience different views of the stars.
From spring wildflowers to summer Milky Way views and cooler temperatures in fall, you can find the perfect time to explore the night sky in Death Valley. During this time you can ponder what lies at the center of the Milky Way.
To maximize your stargazing experience, you should visit during a new moon with no moonlight in the sky.
Winter months also offer a great opportunity for stargazing as the stars will be brighter in the darker skies.
If you're new to stargazing, read my article What Do You Need To Go Stargazing?
SPRING: CLEAR SKIES AND MILD TEMPERATURES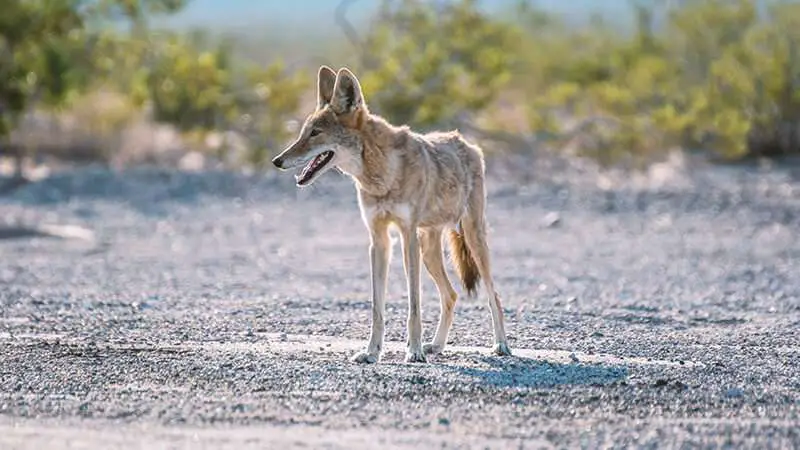 If you're looking for clear skies and mild temperatures, the ideal time for stargazing in Death Valley is during spring.
During this time, you'll get to enjoy warm days and chilly nights, perfect for a night under the stars. Plus, you'll get to experience seeing some of the fantastic views of the Milky Way too!
The temperatures are bearable, and the skies are usually very clear, providing the perfect conditions for some quality stargazing.
SUMMER: AMAZING VIEW OF THE MILKY WAY
The combination of clear skies and warmer temperatures makes Summer the perfect time for camping and stargazing.
With little light pollution, the night sky is full of thousands of stars and galaxies. And with a Milky Way season from March to early October, you can also see the Milky Way in its full glory.
Here you can take in the full beauty of the night sky without additional equipment. So remember to pack your telescope when stargazing in the Park during summer!
FALL: COOLER TEMPERATURES AND CLEAR SKIES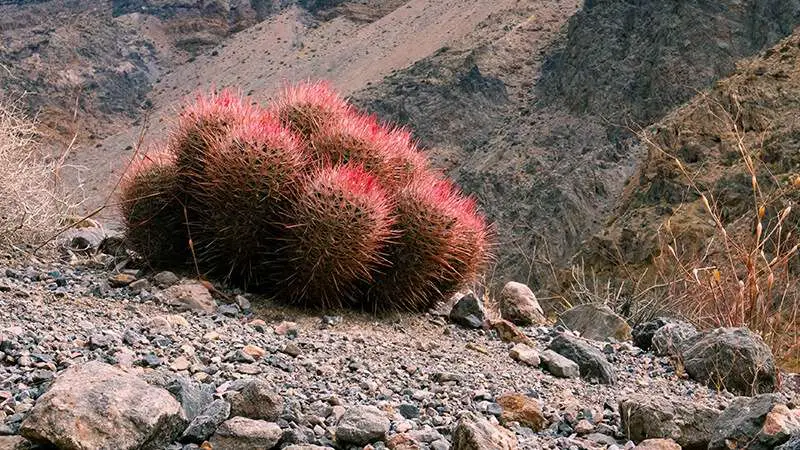 Fall is an ideal time for stargazing in the Park.
The temperature cools off at night, and the stars become even more apparent. The daytime temperatures usually range from the mid-60s to mid-80s, making it an ideal time to explore the Park during the day.
With cooler temperatures and clear skies, you can enjoy a night of stargazing without getting too hot or uncomfortable.
WINTER: DARKER SKIES WITH CLEARER STARS
Winter is the perfect time for a Death Valley stargazing experience. The colder temperatures mean clearer skies and a better view of the stars.
During the winter months, the nights are longer, making it easier to spot constellations and galaxies. From December through February, you can enjoy some of the darkest skies in the country and take in an incredible show of stars.
DEATH VALLEY STARGAZING IN DECEMBER
December is one of the best months for stargazing in Death Valley, with clear, dark skies and temperatures ideal for outdoor activities. The park rangers also organize stargazing events during this time of the year, with different astronomy organizations participating.
THE BEST STARGAZING DEATH VALLEY OFFERS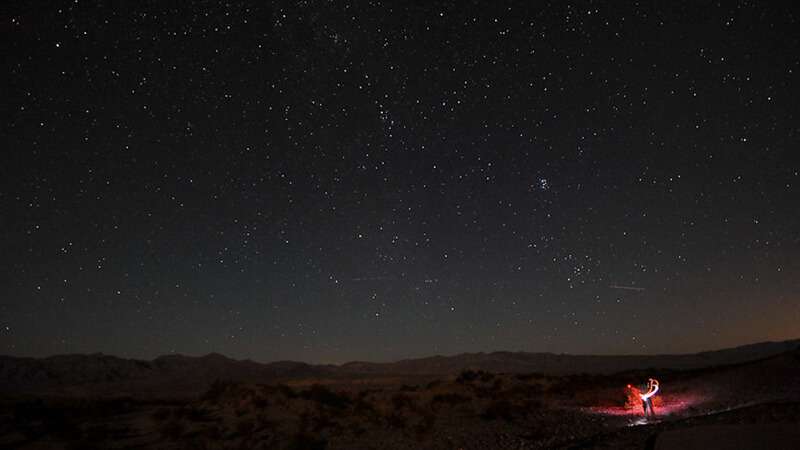 With its remote location and lack of light pollution, Death Valley offers one of the best places for stargazing in the USA. When it comes to stargazing in Death Valley, you'll be hard-pressed to find a better location.
While there are many great spots for stargazing in the Park, the top three are Mesquite Flat Sand Dunes, Badwater Basin, and Harmony Borax Works.
All three of these locations offer dark skies and clear night sky views. Whether you're an experienced astronomer or just beginning to explore the night sky, these locations provide excellent views of stars, planets, nebulae, and galaxies.
I share the best spots for stargazing in the Park in this section.
AGUEREBERRY POINT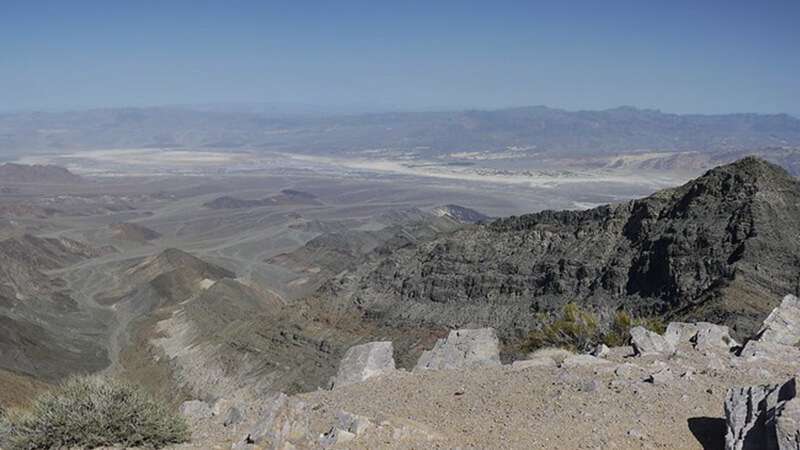 Situated on the West of the Valley in the Panamint Mountain Range, Aguereberry Point is 6,433ft in elevation and 1000 feet higher than Dante's View.
It is a beautiful spot for a scenic viewpoint, offering a spectacular view of Death Valley with its dazzling display of colors and light.
To get there, take Highway 190 past Stovepipe Wells, up Emigrant Campground, and then turn onto a quiet gravel road. Along the way, you will be able to explore a canyon, a pass, an old mining town, and "The Great Aguereberry Point."
This viewpoint provides stunning 360-degree views of the Valley and is perfect for stargazing and milky way photography.
BADWATER BASIN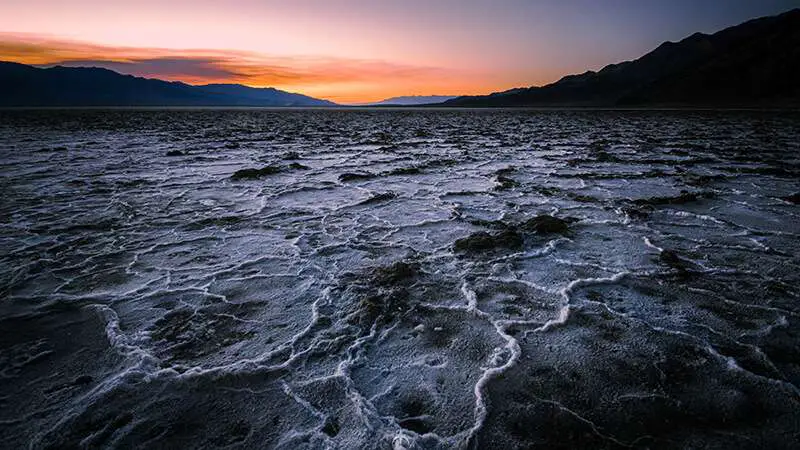 Badwater Basin is a must-see for any nature lover! It is the lowest point in the Western Hemisphere, at 282 feet below sea level. Surrounded by mountains, this vast expanse of salt flats is a unique and stunning sight.
The best time to visit is in the early morning when you can witness the sun slowly rising and reflecting off the white salt flats – it's truly a breathtaking experience!
Located just 17 miles south of Badwater Road, this spot offers some of the best stargazing conditions. The combination of clear, dry air, high elevation, and lack of light pollution makes for a truly remarkable experience.
You'll be able to see the Milky Way, and even if nearby mountains slightly obstruct the area, you'll still have plenty of the sky to explore.
HARMONY BORAX WORKS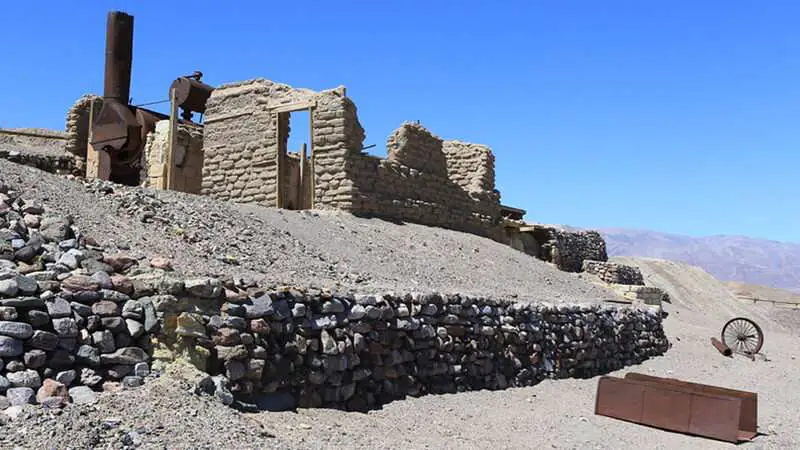 Harmony Borax Works is an excellent option if you're looking for a great spot to stargaze in the Park. Located near the Furnace Creek Visitor Center, it's easy to get to and provides a great night sky view.
The area is also popular amongst astrophotographers due to its expansive open views and dark skies. Although it's around a 30-minute drive from Furnace Creek, the stunning Milky Way view is well worth the effort.
The Harmony Borax Works is a great place to learn about the mining history of the Valley. The place contains the processing plant's remains and a museum dedicated to the men and mules who worked in Death Valley between 1883 and 1888 to mine borax.
It is also the site that opened up Death Valley and made the Furnace Creek area famous. A 0.4-mile loop trail nearby offers an easy route to explore. A visit to this place will be a great experience!
MESQUITE FLAT SAND DUNES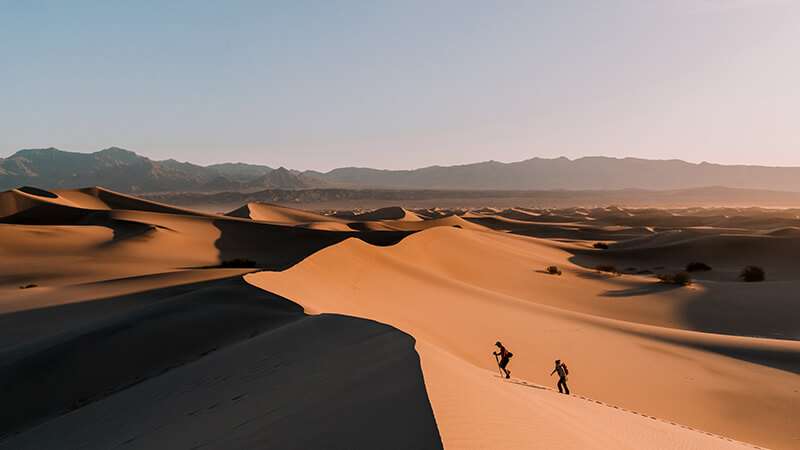 Here you can explore a seemingly endless golden dune field, with the ripples and edges standing out in more excellent contrast during sunrise and sunset.
On your 2.8-mile out-and-back hike, you'll experience pristine sands, animal tracks, and a peaceful atmosphere. After a night of stargazing, watch the sun paint the dunes and appreciate the area's beauty.
You can make your hike as long or short, arduous or easy as you wish, as there is no official trailhead or maintained trails. You're free to explore and make your path!
Be sure to bring some food and water, especially if you plan to spend a night star gazing on the dunes.
UBEHEBE CRATER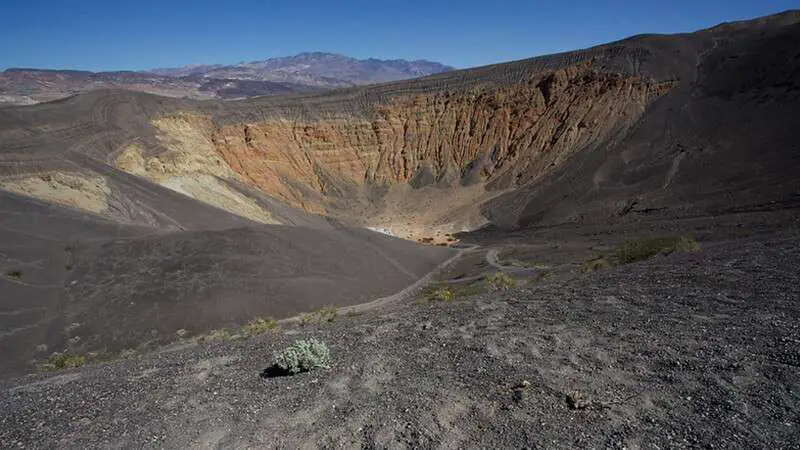 Ubehebe Crater is a fantastic sight to behold! Located in the northern part of the Park, this giant crater is 600 feet deep and half a mile across.
It was created not by a meteor strike but by volcanic activity – magma converted groundwater into steam, resulting in a phreatic eruption two to seven thousand years ago!
You'll be amazed by this stunning testament to Death Valley's violent volcanic past – the perfect place to take in the breathtaking views and appreciate nature's power!
The Ubehebe Craters consist of an isolated group of overlapping maars formed during eruptions of alkali basalt along a fault, making it an excellent place to explore the power of maars volcanoes.
ZABRISKIE POINT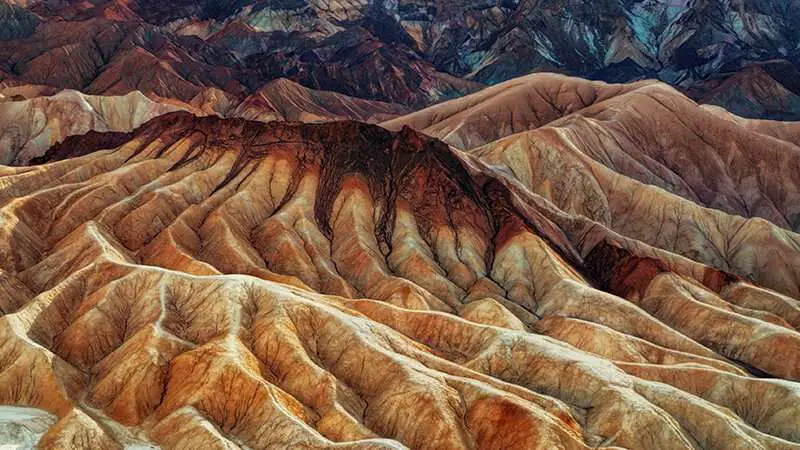 This spectacular spot is the perfect place to view a stunning sunrise, sunset, or night full of stars. It's located just 4.5 miles from the Furnace Creek Visitor Center, so it's easy to access.
The overlook gives you a unique view of colorful gullies and mud hills at the edge of the Black Mountains.
The area offers little ambient light, allowing you to see the Milky Way and thousands of stars with stunning clarity. Bring your camera or binoculars to capture the views, and remember to take in the shimmering arc of the Milky Way stretching high in the sky.
STARGAZING TOUR DEATH VALLEY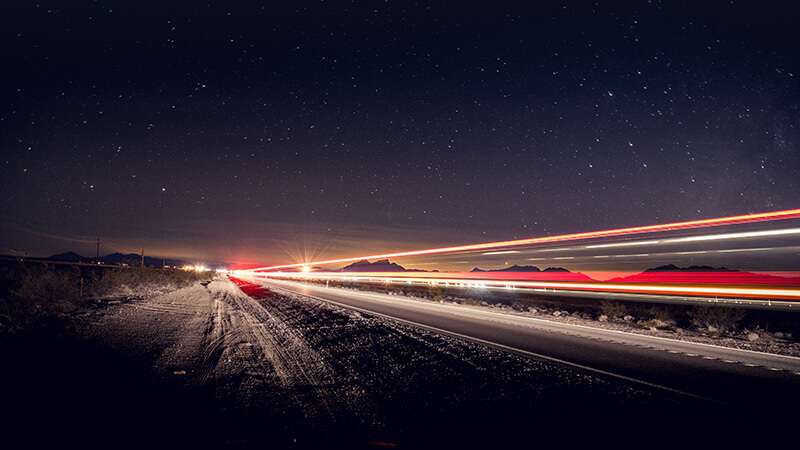 If you're staying in Las Vegas and looking for an easy way to see the sights mentioned above, a stargazing tour of the Park is the perfect way to get up close and personal with the night sky.
This 11-hour tour includes round-trip transportation from your Las Vegas hotel. The tour includes the park entrance fee and unlimited bottled water!
Let the tour guide travel the long highway to the Park while you sit back and relax.
DEATH VALLEY STARGAZING CAMP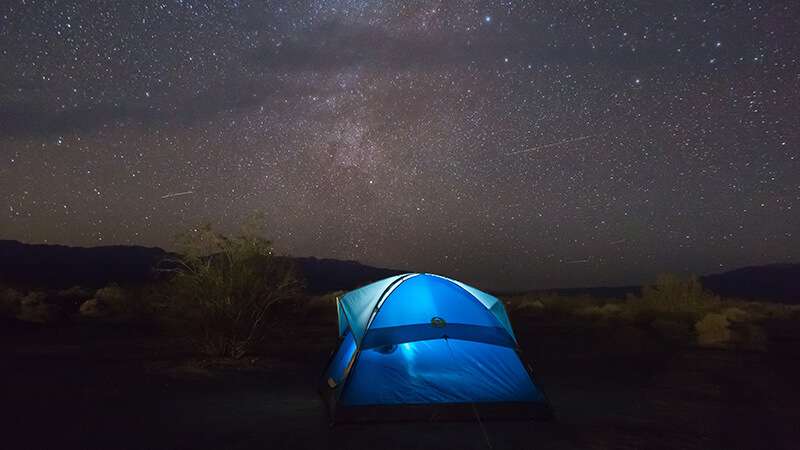 Death Valley Stargazing Camp is ideal for those looking to marvel at the night sky. Located in the heart of Death Valley National Park, this campground provides an excellent opportunity to take in the bright stars and galaxies that fill the sky.
The area is known for its clear and dark night skies, making it a perfect spot for exploring the universe. With minimal light pollution, the night skies in Death Valley provide the perfect backdrop for stargazing.
During the summer months, there are ranger-led stargazing events, as well as a variety of educational programs available to visitors. If you're looking for an adventure of a lifetime, Death Valley Stargazing Camp is the perfect place to make your dreams come true.
FREQUENTLY ASKED QUESTIONS
WHEN CAN YOU SEE THE MILKY WAY IN DEATH VALLEY?
Death Valley is one of the best places to view the Milky Way. The desert air and lack of light pollution make it an ideal viewing location. From mid-May through mid-August, the night sky is full of stars, and the Milky Way is visible in all its glory. On a clear night, with no moonlight or other light pollution, you can experience the awe-inspiring sight of the Milky Way stretching across the night sky.
WHAT SHOULD I NOT MISS AT DEATH VALLEY NATIONAL PARK?
There are plenty of attractions to explore within the Park, from the historic Scotty's Castle to the iconic Badwater Basin. You should also take in the incredible views from Dante's View and Zabriskie Point. Hiking and camping are popular activities in Death Valley, with numerous trails to explore. The area is known for its extreme temperatures, so you should bring plenty of water and prepare for the heat.
Summary: Death Valley Stargazing
You can't go wrong if you're looking for the best stargazing in Death Valley.
With its remote location and high elevation, Death Valley National Park is one of the best dark-sky destinations in the world.
The best time to go stargazing is during the new moon when the night sky is pitch-black and full of stars. You can also catch a breathtaking sunrise at Zabriskie Point or take a stargazing tour.
You can create a magical night in Death Valley with the right clothes, some torch lights, and a bit of planning.
For more stargazing in California, read my articles Best Time To Go To Joshua Tree For Stargazing and Best Stargazing in California.
If you're travels take you East, read my articles on the best stargazing in Arizona, including Sedona; best stargazing in Utah, including Moab; and best stargazing in Colorado, and Florida.
If you're headed West, read my articles on the best stargazing on the Hawaiian islands of Oahu, Maui, and Kauai.