Oregon offers nature lovers and stargazers a cosmic treat with its expansive night skies and minimal light pollution. Its diverse landscapes, ranging from the stunning Oregon Coast to the serene high desert, set the stage for some of the most awe-inspiring stargazing experiences in the US. With plentiful options for outdoor recreation, from camping in the state parks to exploring the remote Oregon Outback, the stars are never too far away in the Beaver State.
Whether you're a seasoned stargazer or a novice to the celestial realm, embracing the Oregon sky at night will leave you in awe of the beauty of our universe. Oregon's skies reveal the wonders of the cosmos in all their splendor, with each location offering its own star-studded extravaganza.
In a nutshell
Oregon's diverse landscapes provide a superb backdrop for an unforgettable stargazing experience.
Light pollution is minimal in many areas of the state, allowing for unobstructed cosmic displays.
Exploring various locations for stargazing, ranging from the state parks to the Oregon Outback, will enrich your overall experience.
In this article, you get to
Discover the wonders of Stargazing Oregon.
Uncover the best locations for awe-inspiring night skies.
Explore expert astronomy tips for optimal stargazing experiences.
Learn how Oregon's diverse landscapes provide a superb backdrop for stargazing.
Understand how minimal light pollution in many areas allows unobstructed cosmic displays.
Explore various stargazing locations, from state parks to the Oregon Outback.
Discover engaging stargazing activities like star parties and guided tours.
Gain insight into the importance of choosing the right equipment for stargazing.
Learn about the impact of light pollution and weather conditions on stargazing in Oregon.
Get practical tips and advisories for a successful and memorable stargazing experience.
By the end of this article, you'll have a comprehensive guide to the top stargazing spots in Oregon, equipped with expert tips, essential equipment knowledge, and a deep appreciation for the celestial wonders awaiting you in the Beaver State's magnificent clear night skies.
Let's dive right in.
Stargazing Oregon Introduction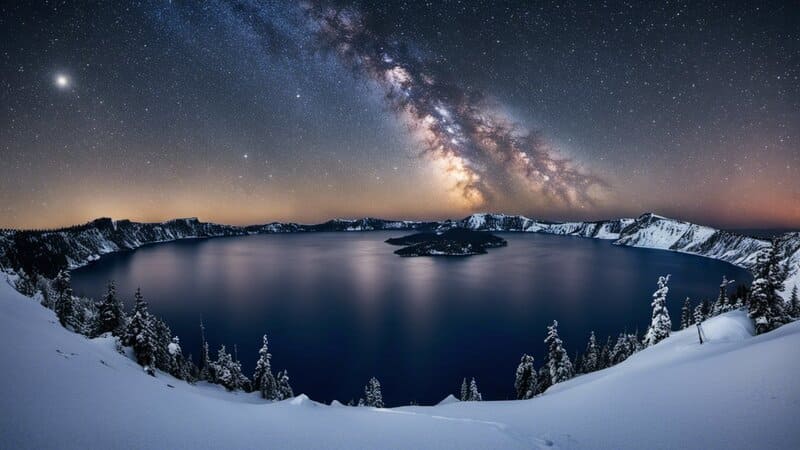 Oregon is a premier destination for stargazing thanks to its vast, open spaces and minimal light pollution. Whether you're an experienced astronomer or just starting out, the Beaver State offers plenty of opportunities to gaze at the night sky.
Dark Skies and Clear Skies In Oregon, the wide-open landscapes away from city lights make for excellent stargazing. The International Dark Sky Association has recognized many areas for their exceptional night skies. Unimpeded by pollution and bright city lights, these designated dark sky areas provide an optimal environment to observe the stars, moon, and other celestial bodies.
Stargazing Locations Some popular stargazing spots in Oregon include the Alvord Desert in the shadow of Steens Mountain and Oregon's first Dark-Sky Park in Prineville, Central Oregon. These Dark Sky Place locations offer minimal light pollution, clear skies, and stunning stargazing opportunities. In addition to these spots, much of the state is enveloped in darkness away from urban areas, so you don't have to venture too far to enjoy the night sky.
Stargazing Activities Here are a few stargazing activities to try during your Oregon adventures:
Attend a star party: Local astronomy clubs often host gatherings to share their knowledge and enthusiasm for the night sky.
Take a guided tour: Companies like Wallowa Lake Clear Kayak Night Tours offer unique experiences to explore the night sky from the water.
Embark on a camping trip: Enjoy the stars from the comfort of your campsite at one of Oregon's many state parks or campgrounds.
Remember, the key to an incredible stargazing experience in Oregon is finding a location away from city lights, having clear skies, and taking time to truly appreciate the beauty of the cosmos. So grab your telescope, binoculars, or just a blanket, and prepare for an awe-inspiring night under the stars in the Pacific Northwest.
31 Best Stargazing Oregon Locations
I've compiled a list of the 31 best stargazing spots in Oregon. Each of these locations offers a distinct opportunity to connect with the cosmos. In the following sections, I briefly describe each spot's location in the State and what makes it ideal for stargazing.
Acker Rock Lookout
Alvord Desert
Broken Top
Cannon Beach
Cascade Lakes Highway
Christmas Valley
College Hill Reservoir
Crater Lake
Dee Wright Observatory
Dexter Reservoir
Dixie Butte
Green Lakes
Hart Mountain
High Rocks
John Day Fossil Beds National Monument
Lost Lake
Malheur National Wildlife Refuge
Marys Peak
Old McKenzie Highway
Oregon Badlands Wilderness
Oregon Dunes National Recreation Area
Pickett Butte Lookout
Pine Mountain Observatory
Prineville Reservoir State Park
Spencer Butte
Steens Mountain
Summer Lake
Sunriver Nature Center & Observatory
Trillium Lake
Worthy Hopservatory
Zumwalt Prairie Preserve
Acker Rock Lookout (Umpqua National Forest)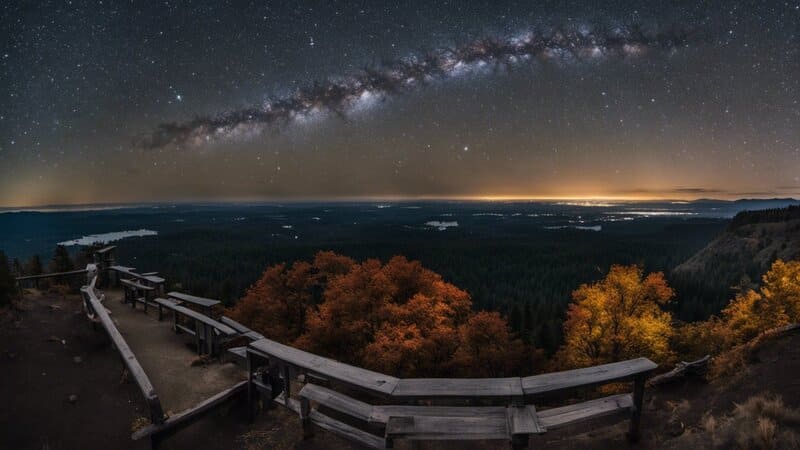 Acker Rock Lookout is a fantastic spot for stargazing in Oregon. As you stand in the Umpqua National Forest, enjoy the impressive night sky views.
During the day, explore the history of this fire-lookout spot amidst the surrounding forests. When night falls, you'll be treated to minimal light pollution, allowing for clear views of celestial wonders like the Milky Way.
Alvord Desert (Near Steens Mountain)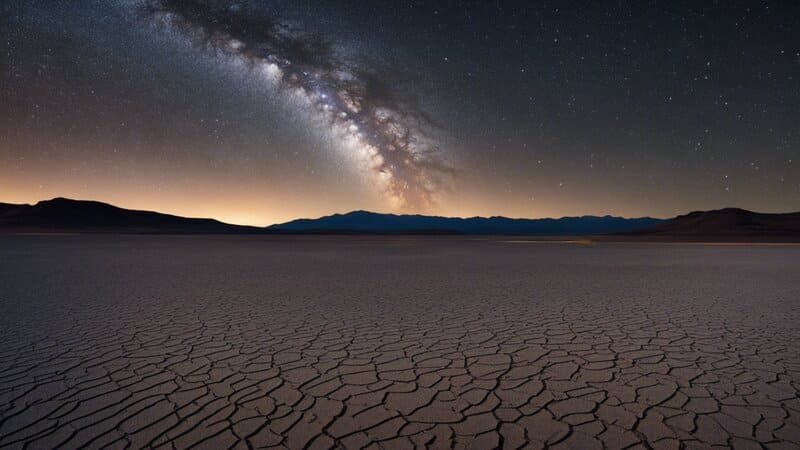 At the Alvord Desert, you've found an ideal low-light stargazing location nestled in the shadow of Steens Mountain. This unique desert provides an experience beyond compare, with vast, flat expanses that seem to stretch as far as the cosmos. Witness stars without interference from city lights, making your stargazing adventure unforgettable.
Broken Top (Cascade Range)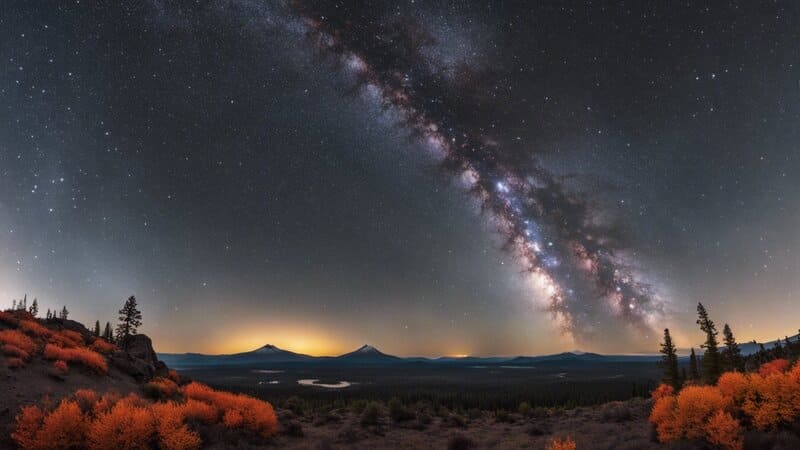 Broken Top, situated in the Cascade Range of Central Oregon, offers both daytime and nighttime delights.
Explore rugged mountain landscapes and stunning alpine lakes during the day. As darkness blankets the sky, the absence of light pollution makes it an ideal spot to observe stars and glimpse the majestic Milky Way.
Cannon Beach (Oregon Coast)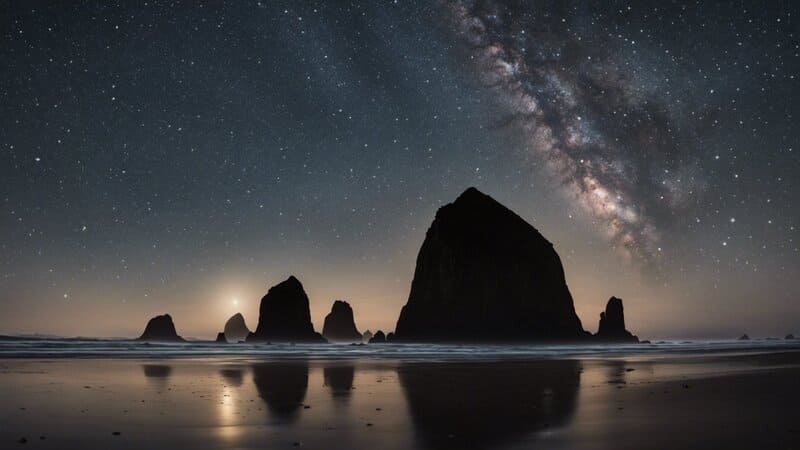 On the Oregon Coast, Cannon Beach invites you to witness Haystack Rock and the night sky in all their glory. As the sun sets, the vast expanse of the beach becomes a canvas for stargazing. Prepare to witness celestial events against the backdrop of the Pacific Ocean and be mesmerized by the beauty of the Milky Way.
Cascade Lakes Highway (Deschutes National Forest)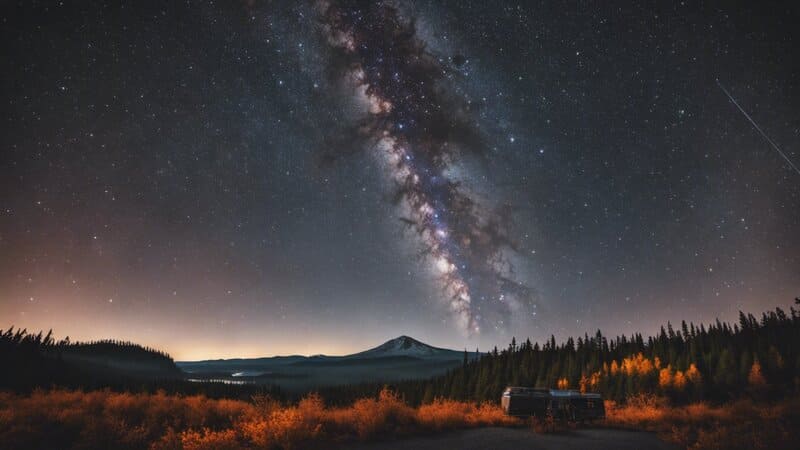 Just west of Bend, the scenic Cascade Lakes Highway within Deschutes National Forest offers a journey through Central Oregon's natural wonders.
Discover the beauty of this backpacker's haven and relish the clear skies and low light pollution, perfect for stargazing after a day of exploring lakes and landscapes.
Christmas Valley (Oregon Outback)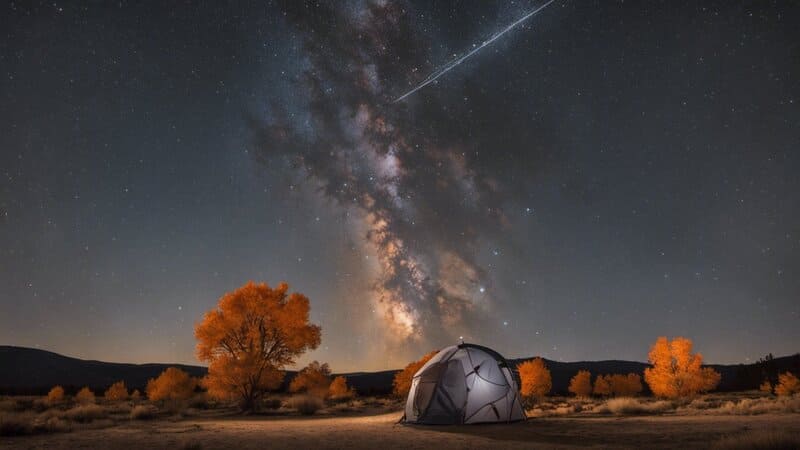 In the heart of the Oregon Outback lies the serene Christmas Valley, an excellent stargazing location free from light pollution. This remote oasis presents incredible views of the night sky and unique geological features for daytime exploration. Experience the tranquility of this spot as you observe the stars and the Milky Way.
College Hill Reservoir (Eugene)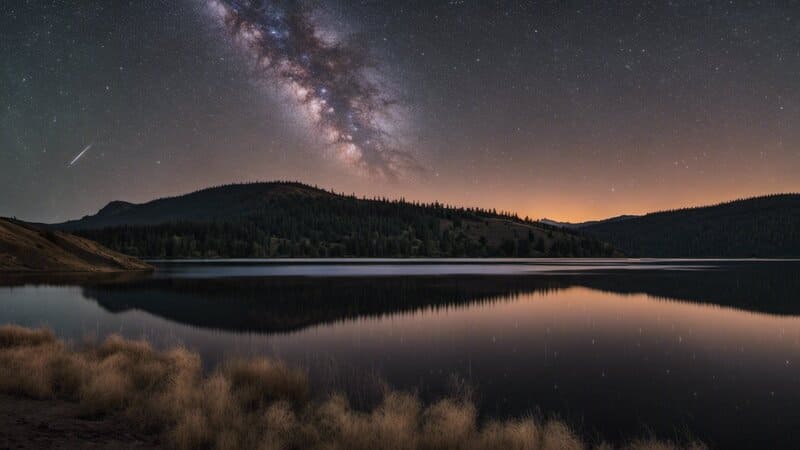 When you're in Eugene, embrace urban stargazing at College Hill Reservoir. The elevated position of the reservoir offers exceptional views of the night sky. By day, the surrounding trails and natural beauty provide the perfect backdrop to your stargazing adventure.
Crater Lake National Park (Crater Lake)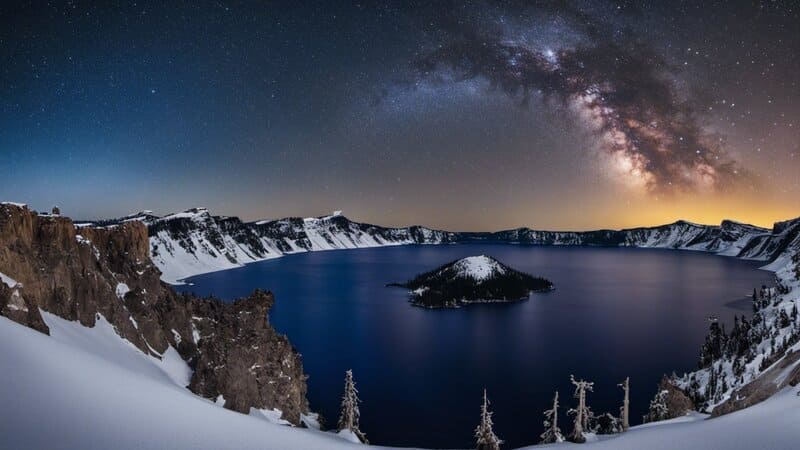 Prepare for mesmerizing stargazing at Crater Lake National Park, home to the deepest lake in the United States. The park's elevation and pristine skies create an ideal setting for observing the night sky. As daylight unveils the crystal-clear lake, the nighttime unveils a vivid starscape, making every moment a breathtaking experience.
Dee Wright Observatory (McKenzie Pass)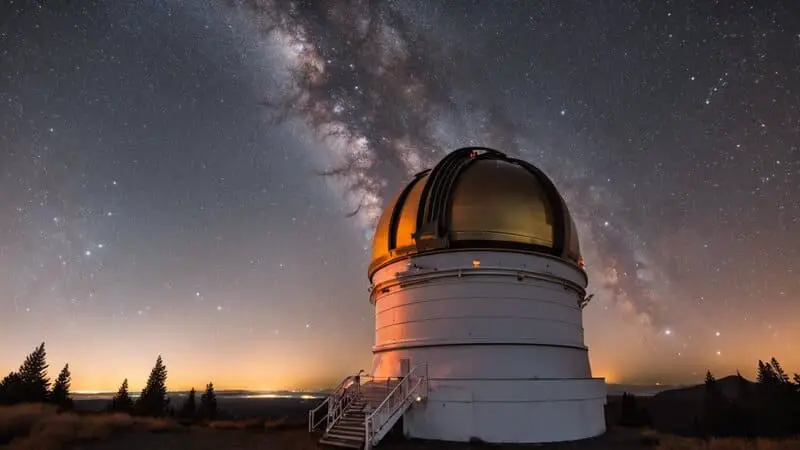 Perched upon the lava fields of McKenzie Pass, the Dee Wright Observatory showcases Central Oregon's volcanic landscape by day and offers a stellar stargazing spot at night. With minimal light pollution, indulge in the exceptional views of the Milky Way and other celestial wonders that await.
Dexter Reservoir (Near Eugene)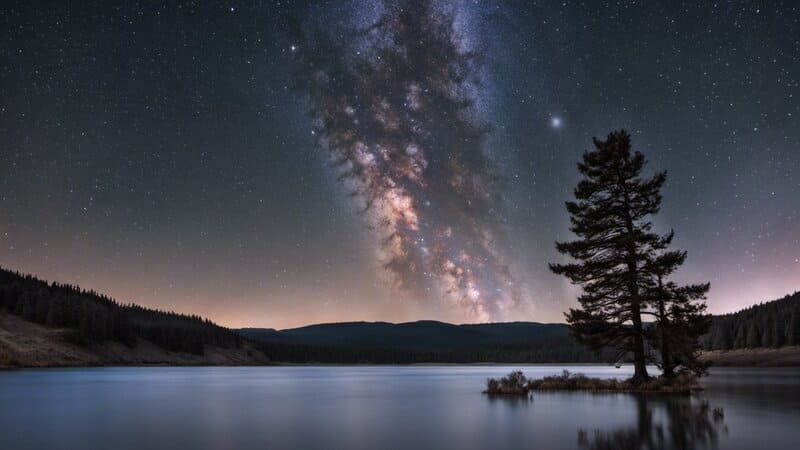 Dexter Reservoir is a short drive from Eugene, promising a serene stargazing experience. The still waters mirror the night sky, enhancing the magic of this spot. During the day, embrace the lake and its surrounding forests as you prepare for a night of celestial wonders.
Dixie Butte (Blue Mountains)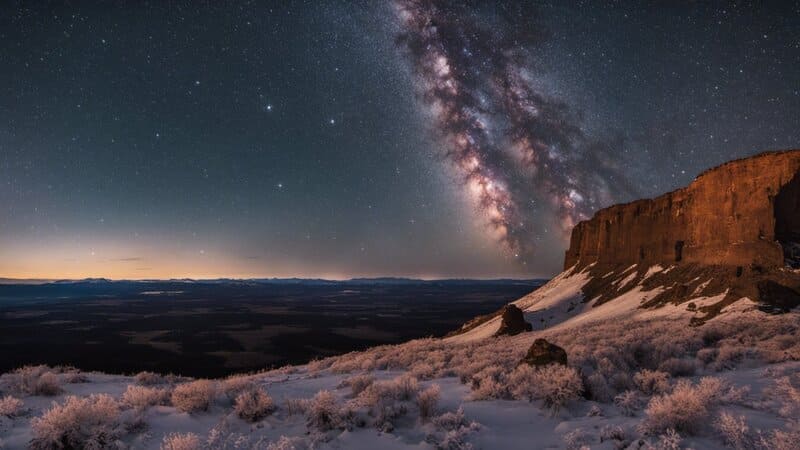 Discover the natural paradise of Dixie Butte, nestled in the Blue Mountains of Eastern Oregon. This fire lookout spot grants you expansive views of valleys, forests, and mountains during the day. As night falls, prepare to be captivated by the spectacle of stars against the picturesque backdrop.
Green Lakes (Three Sisters Wilderness)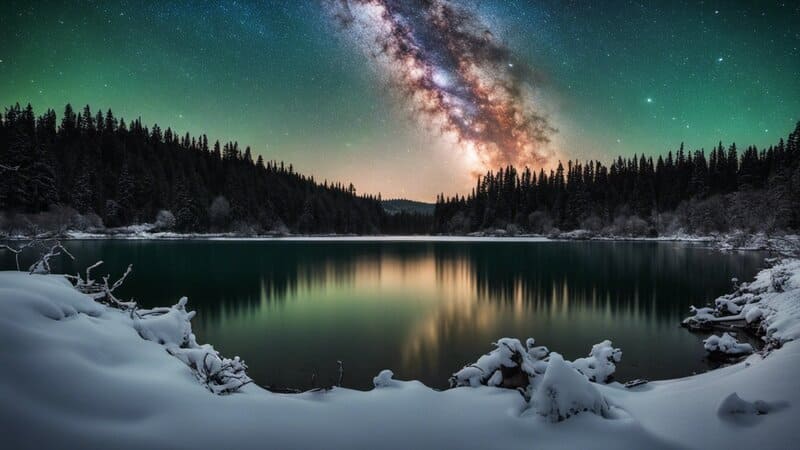 In the heart of the Three Sisters Wilderness within Deschutes National Forest, Green Lakes offers a dual experience of backpacking and stargazing.
Begin your adventure from the Cascade Lakes Scenic Byway and enjoy spectacular views of the Milky Way at night. Revel in the day's beauty as you explore the Green Lakes region before turning your gaze skyward.
Hart Mountain (Southeastern Oregon)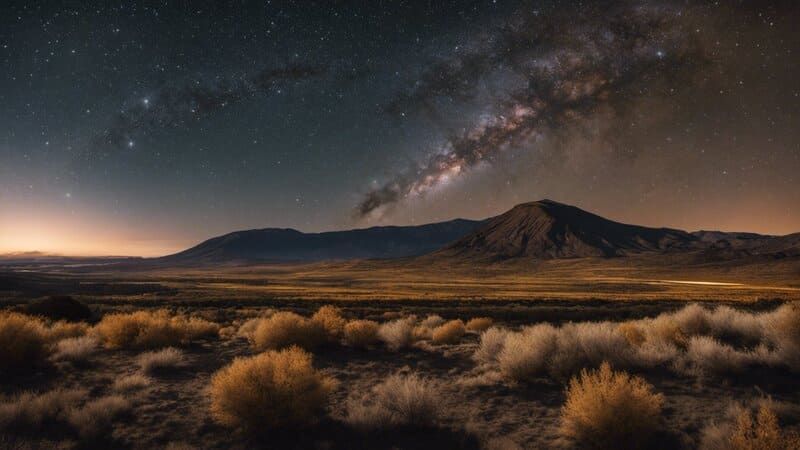 In the southeastern part of Oregon, Hart Mountain is a remote natural wonderland with vast stargazing potential. Minimal light pollution makes this a prime spot for observing the night sky. Explore rugged terrain, hot springs, and wildlife during the day, and witness celestial wonders by night.
High Rocks (Near Sisters)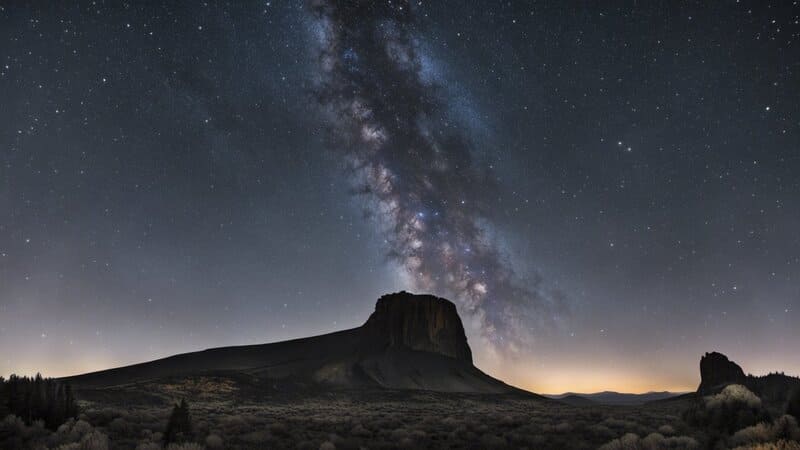 High Rocks, near Sisters in Central Oregon, invites you to a stargazing haven with minimal light pollution.
During the day, be captivated by panoramic views of surrounding mountain peaks, including the iconic Three Sisters. As darkness falls, the sky transforms into a canvas of stars that will leave you awe-inspired.
John Day Fossil Beds National Monument (Eastern Oregon)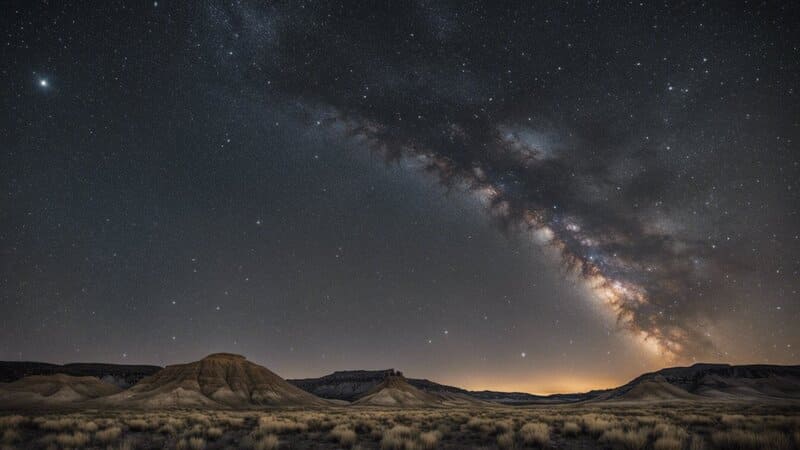 The John Day Fossil Beds National Monument is located in Eastern Oregon and showcases geological wonders and a rich paleontological history.
Explore natural and historical marvels during the day. As night descends, the low-light sky unveils its beauty, providing a perfect setting for stargazing.
Lost Lake (Mt. Hood National Forest)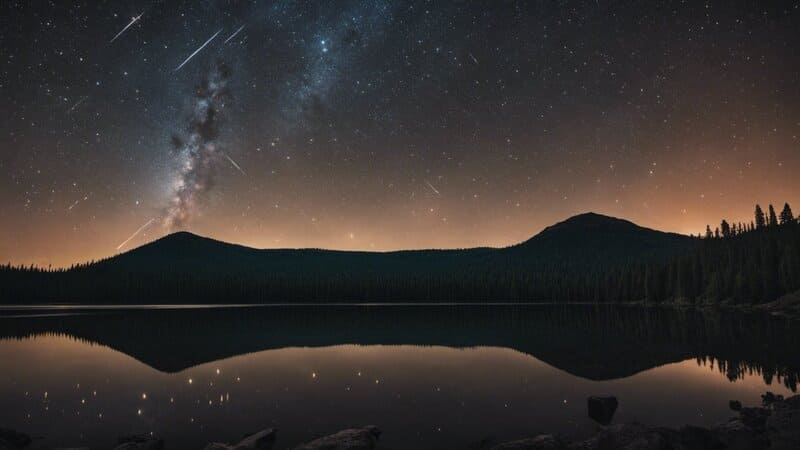 Lost Lake is a hidden gem for stargazing in the Mt. Hood National Forest. The calm waters mirror the night sky, creating a serene atmosphere.
During the day, explore the surrounding forest and glimpse the distant Mt. Hood. As night blankets the sky, prepare to be enchanted by the stars.
Malheur National Wildlife Refuge (Eastern Oregon)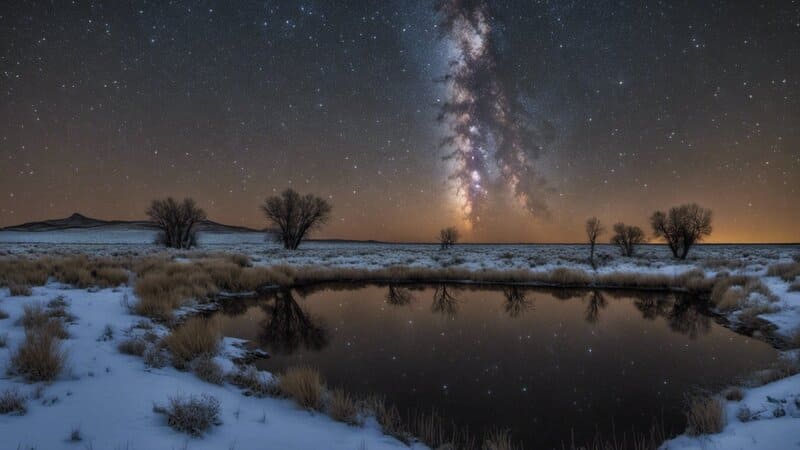 Malheur National Wildlife Refuge, situated in Eastern Oregon, offers the chance to witness abundant wildlife and spectacular stargazing. The refuge's remote location ensures minimal light pollution, providing remarkable celestial vistas at night. Spend your days exploring the diverse ecosystem before gazing at the stars above.
Marys Peak (Coast Range)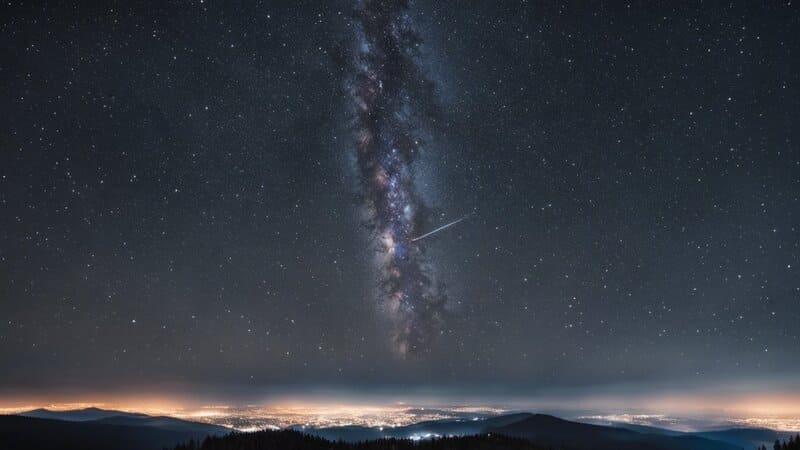 Marys Peak is the tallest point along the Oregon Coast Range, offering incredible day and night views. The summit's elevation and lack of light pollution create an ideal spot for stargazing. Take in panoramic vistas during the day and transition to stargazing as the night unfolds.
Old McKenzie Highway (Cascade Range)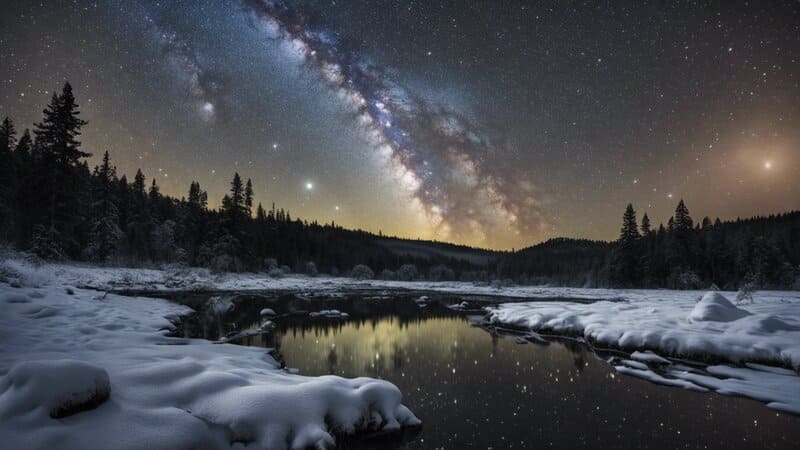 Journey through diverse landscapes and geological wonders on the Old McKenzie Highway, Oregon Route 242. Stop at various viewpoints to admire the scenery by day, and at night, immerse yourself in the beauty of the starry night sky.
Oregon Badlands Wilderness (Near Bend)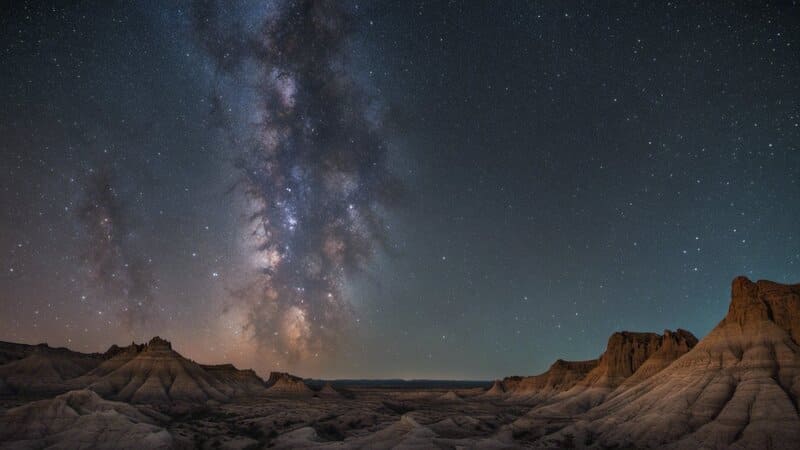 East of Bend, the Oregon Badlands Wilderness welcomes you to a high desert oasis for stargazing. With limited light pollution, this volcanic landscape becomes the perfect backdrop for observing the night sky. During the day, explore unique geological features and sagebrush-covered plains.
Oregon Dunes National Recreation Area (Oregon Coast)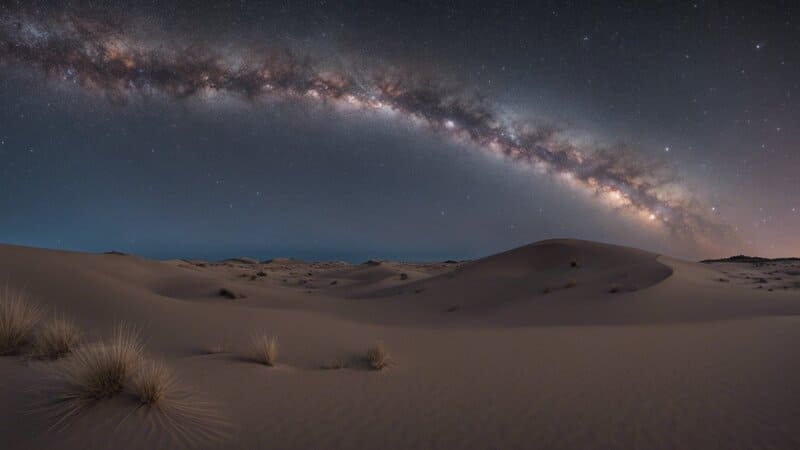 Coastal beauty meets celestial wonder at the Oregon Dunes National Recreation Area.
Wander through forested dunes during the day and venture to the beach at night to witness stars above the Pacific Ocean. Experience the magic of the night sky in this unique seaside setting.
Pickett Butte Lookout (Umpqua National Forest)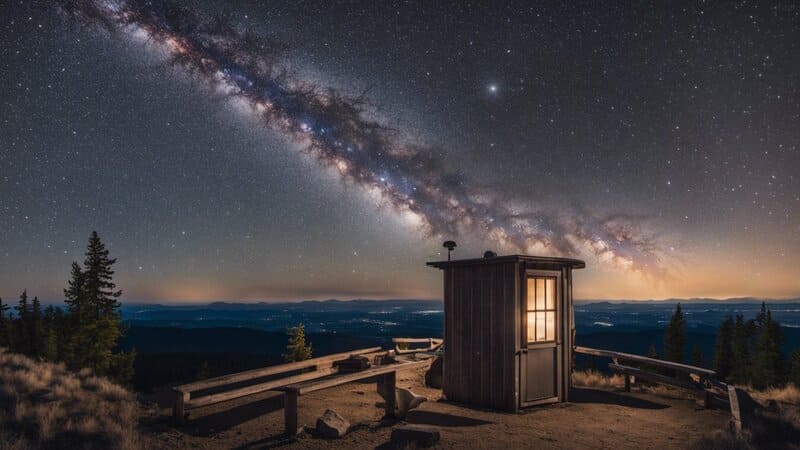 Pickett Butte Lookout, nestled in the Umpqua National Forest, offers a prime stargazing location. This former fire lookout station provides a secluded spot to gaze at the stars away from city lights. During the day, absorb panoramic views of surrounding forests and mountains.
Pine Mountain Observatory (Deschutes National Forest)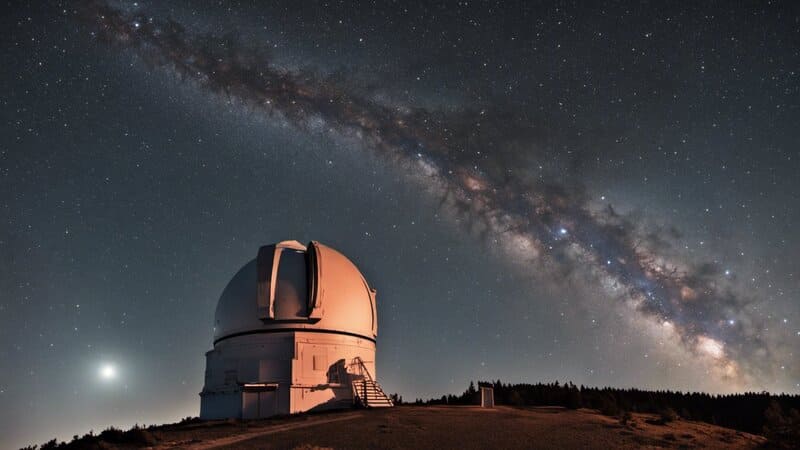 Located just 35 miles southeast of Bend within Deschutes National Forest, Pine Mountain Observatory awaits. Explore beautiful forests during the day and delve into celestial exploration at night. With telescopes and minimal light pollution, this observatory offers fantastic views of the moon, planets, and stars.
Prineville Reservoir State Park (Central Oregon)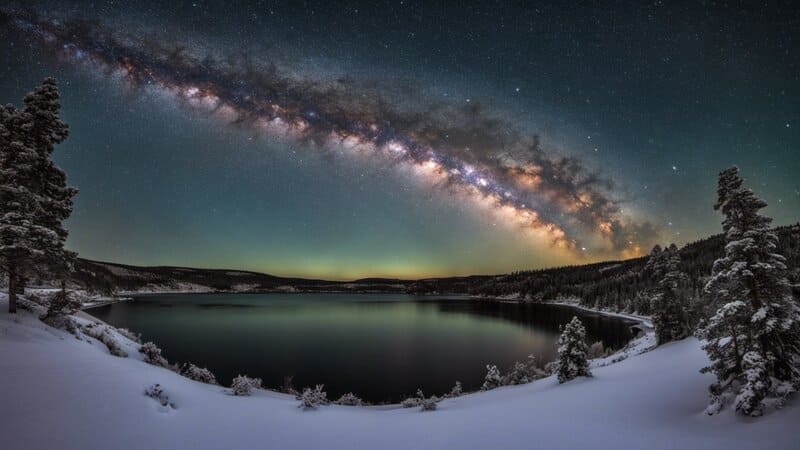 In the high desert of Central Oregon lies Prineville Reservoir State Park, offering clear skies and stunning Milky Way views. Engage in daytime activities such as fishing, boating, and hiking. At night, embrace the starry spectacle by camping under the open sky.
Spencer Butte (Near Eugene)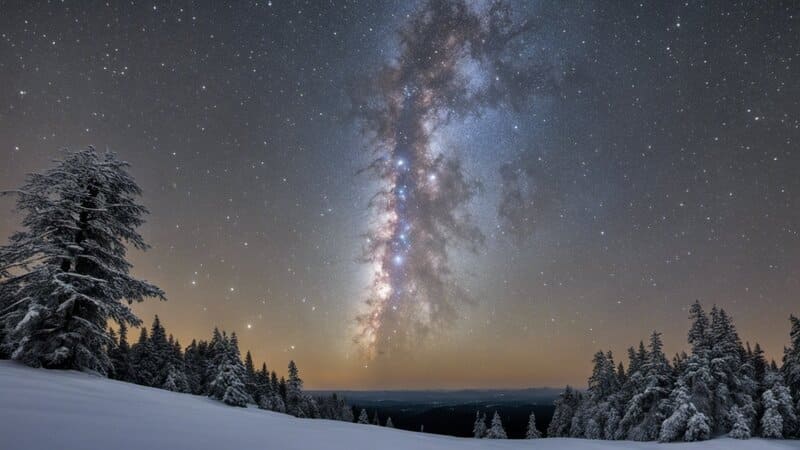 Spencer Butte presents a convenient stargazing spot just a short drive from Eugene. The hike to the summit provides excellent daytime activity, and as night descends, you'll be rewarded with a spectacular view of the night sky.
Steens Mountain (Southeast Oregon)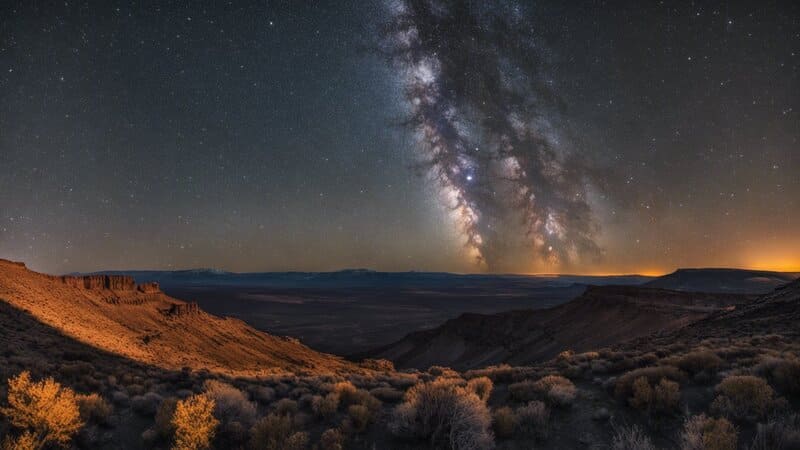 Steens Mountain serves as an all-encompassing stargazing destination. It's a highly recommended Oregon gem with scenic beauty and ample camping spots. Located in the southeast part of the state, Steens Mountain boasts clear skies and minimal light pollution for optimal stargazing experiences.
Summer Lake (Southern Oregon)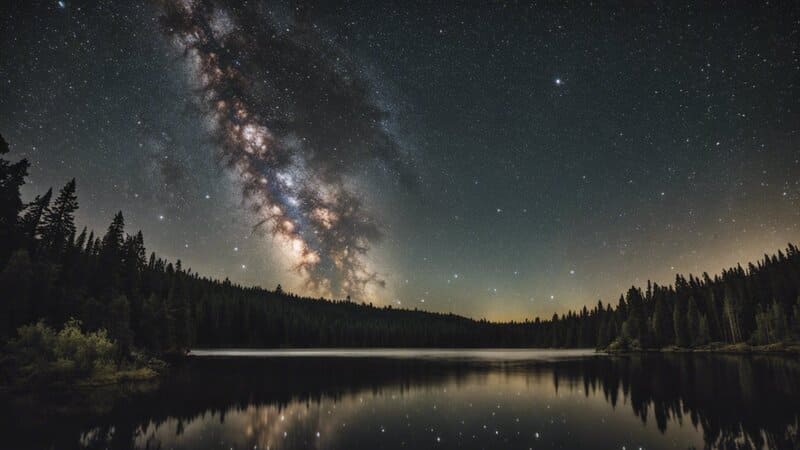 Summer Lake, in Southern Oregon, sets the stage for a serene stargazing adventure.
During the day, enjoy wildlife watching, hot springs, and scenic drives. As night unfolds, the remote location and dark skies make it an idyllic setting for observing celestial wonders.
Sunriver Nature Center & Observatory (Central Oregon)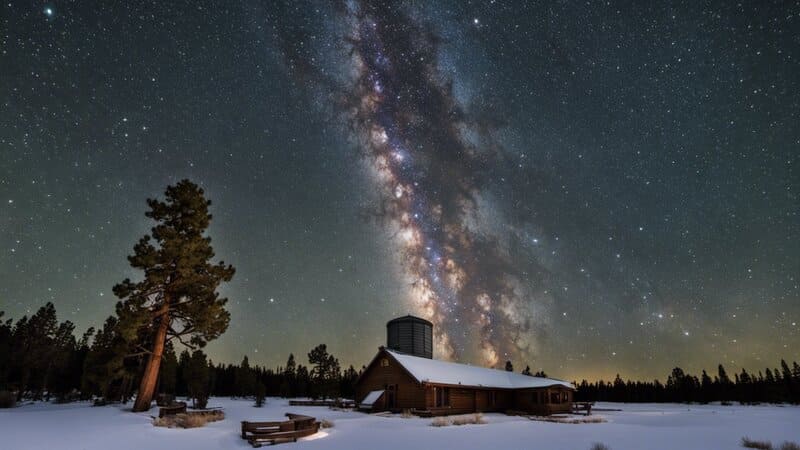 Sunriver Nature Center & Observatory, 15 miles south of Bend in Central Oregon, offers education and exceptional stargazing.
Equipped with various telescopes and knowledgeable staff, you can delve deep into the universe. Special stargazing events throughout the year enhance the experience.
Trillium Lake (Near Mt. Hood)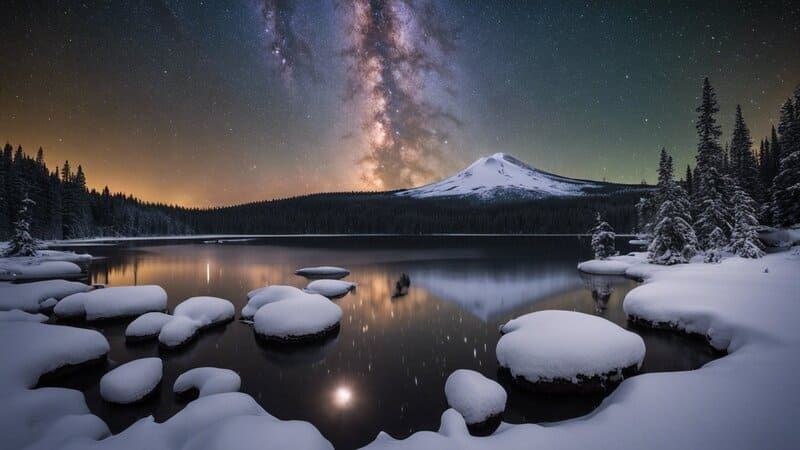 Trillium Lake, near Mt. Hood, provides a unique opportunity to stargaze against a picturesque backdrop. The tranquil lake and stunning mountain view make it an ideal place to spend the day. When night falls, feast your eyes on the stars above, their brilliance reflecting off the calm waters.
Worthy Hopservatory (Bend)
In Bend, Worthy Hopservatory blends two pleasures: craft beer and stargazing. Enjoy delectable brews during the day and ascend to the rooftop observatory by night. With Cascade Mountains as your backdrop, this experience is a true delight for stargazing enthusiasts.
Zumwalt Prairie Preserve (Eastern Oregon)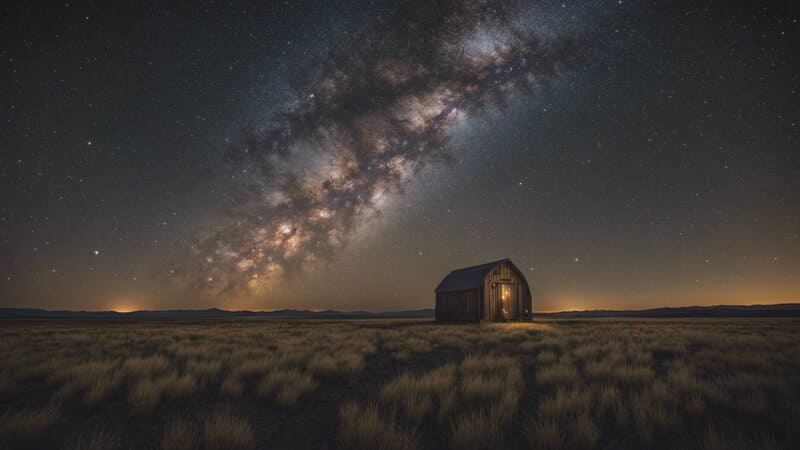 In Eastern Oregon, Zumwalt Prairie Preserve boasts one of North America's largest intact grasslands. This unique landscape provides breathtaking vistas and a stunning canvas for the night sky. Its remote location and unspoiled beauty make it a prime choice for stargazing in the Beaver State.
Oregon Stargazing Equipment and Essentials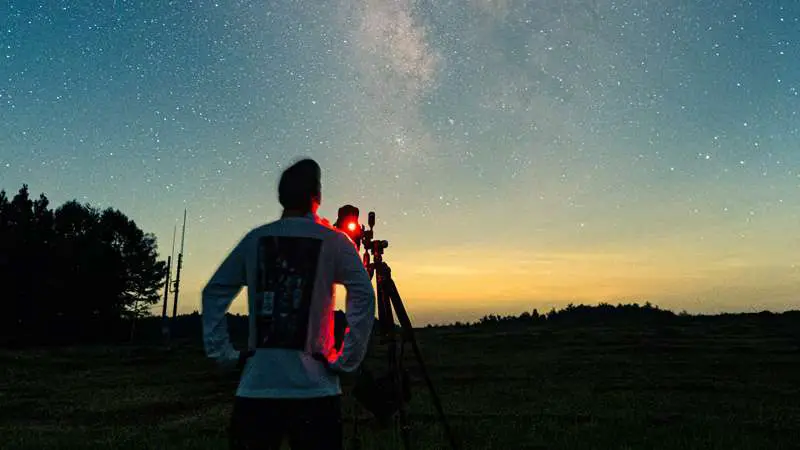 When stargazing in Oregon, having the right equipment ensures a memorable experience.
Here's a list of essentials to help you make the most of your night sky observations:
Telescope: A basic telescope can significantly enhance your stargazing experience, revealing planets, moons, and even distant galaxies with more detail.
Camera and tripod: If you want to capture some stunning celestial photographs, invest in a camera with manual settings, a wide aperture lens, and a sturdy tripod.
Headlamps with red-light setting: A red-light setting will help maintain your night vision while providing sufficient light for tasks like setting up equipment.
Ten essentials: As with any outdoor adventure, bring along the classic ten essentials: compass, extra clothing, firestarter, flashlight, food, map, shelter, sunglasses, sunscreen, and water.
Paper map and compass: Even if you have a stargazing app on your phone, a paper map and compass are crucial for navigation, especially in remote areas with limited cell service.
Before you head out to Oregon's beautiful night sky, download a stargazing app to help identify stars, constellations, and other celestial objects.
Here are some popular apps:
Remember to dress warm, practice good stargazing etiquette, and follow the Leave No Trace principles. You will surely have an unforgettable Oregon stargazing experience with the right equipment and preparation!
Considering Oregon's Light and Weather Conditions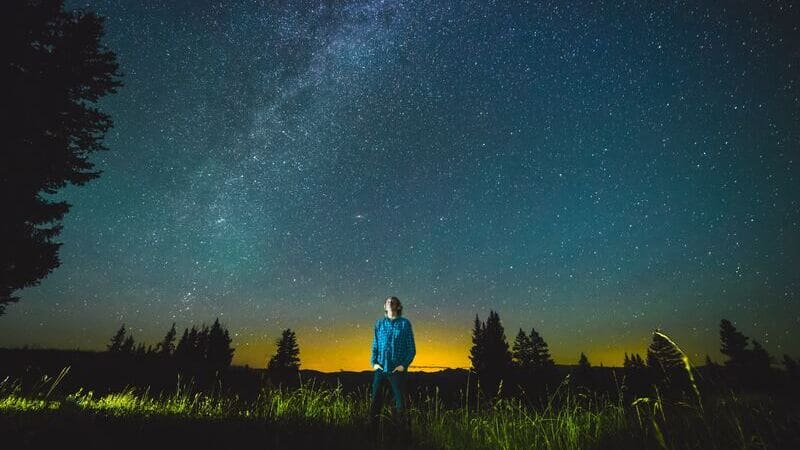 Consider light pollution and weather conditions when planning a stargazing trip in Oregon. Light pollution is prevalent in cities like Portland, Salem, Bend, Eugene, and Medford, so seeking out more remote locations will provide a better night sky view.
Here are some tips to help you choose the perfect stargazing spot:
Avoid city lights: Move away from major urban areas to reduce light pollution.
Check the forecast: Look for clear skies and dry weather conditions for the best stargazing experience.
You can use apps and websites that display stargazing forecasts, such as Good To Stargaze, which offers current conditions and a 3-hour forecast for free. If you're planning further ahead, you can subscribe for extended forecasts, with up to 15-day hourly forecasts available for professional subscribers.
Remember, the clearer the sky and the less light pollution, the better your Oregon stargazing experience will be. Keep these factors in mind as you choose your perfect starry night destination.
Practical Tips and Advisories for Stargazing in Oregon
When planning your stargazing adventure in Oregon, it's crucial to consider a few practical tips to ensure a memorable experience. First, check the weather forecast before heading out to avoid heavy cloud cover that might obstruct your views of the stars.
In remote areas of Oregon, be prepared for limited facilities such as restaurants and restrooms. Bring food, water, and a portable toilet to ensure a smooth and comfortable experience. Some must-visit remote areas for stargazing include Three Sisters Wilderness and Broken Top.
While stargazing, make sure to follow these tips:
Dress warmly, as the temperature may drop during the night
Bring a foldable chair or blanket to sit on
Use a red flashlight to preserve your night vision
Turn off your phone to avoid distractions and light pollution
Oregon state parks offer incredible stargazing opportunities. Park rangers often lead informative, entertaining, stargazing sessions at unique locations like amphitheaters. Some parks may even host astronomy-themed events where you can learn more about the night sky and how to navigate the stars from experts.
Stay overnight at a campground or nearby accommodation to maximize your stargazing experience. This will allow you to witness the celestial beauty at different times of the night and even catch an awe-inspiring sunrise to wrap up your adventure.
Remember that Oregon's dark-sky parks, such as Prineville State Park, have program schedules and availability that vary depending on the time of year. These stargazing programs typically run from Memorial Day to Labor Day, during Friday, Saturday, and Sunday nights.
Always respect the environment and the wildlife while enjoying your star-filled nights: leave no trace, and practice responsible stargazing by reducing light pollution and noise levels. This way, you'll have an unforgettable Oregon night sky experience while preserving the beauty of nature for future generations to enjoy.
Experiencing Oregon's Natural and Human Elements
Oregon's landscape boasts a diverse range of outdoor activities for stargazing enthusiasts. Pair your nighttime adventures with daytime activities like hiking, biking, fishing, and paddling to fully appreciate the region's beauty.
In Oregon, you can find fault-block mountains that offer incredible geology and scenic vistas. Visit places like the Mt. Hood National Forest to explore its picturesque surroundings. During Memorial Day weekend, this forest becomes a hub for outdoor lovers eager to experience nature's wonders.
Wildlife Encounters:
Eagles soaring above rivers and forests
Local wildlife in small communities along hiking trails
Birdwatching in various natural habitats
Not only will you discover stunning landscapes, but you also have the opportunity to immerse yourself in the local culture of small communities. Meet friendly locals, learn about their way of life, and swap stargazing stories with fellow adventurers.
Here are some activities you can try during your stay:
Hiking through lush forests or arid deserts
Biking along scenic routes and discovering lesser-known trails
Fishing in rivers, lakes, and reservoirs teeming with various fish species
Paddling across serene waterways, admiring the star-streaked skies reflected in the water
Whether you're an amateur astronomer or a seasoned stargazer, Oregon offers a unique blend of natural wonders and human elements to enhance your experience. So, pack your telescope, lace up your hiking boots, and embark on an unforgettable journey under Oregon's vast, starry skies.
Stargazing Accommodations in Oregon
You'll have plenty of accommodation options when planning your stargazing trip in Oregon. Whether you prefer camping, backcountry camping, lodging, cabins, RV sites, or even hot springs, Oregon has you covered.
Camping is popular for stargazers, and many campgrounds offer RV sites and cabins.
Some top campgrounds for stargazing include:
Alvord Desert: A destination with minimal light pollution, perfect for gazing at the stars.
Prineville: Home to Oregon's first dark-sky park, attracting stargazers from all over.
Wildhorse Lake: A remote area offering dark skies and fantastic stargazing opportunities.
For those who enjoy backcountry camping, venturing into Oregon's wilderness will reward you with spectacular night sky views. Remember to adhere to the Leave No Trace principles and be prepared with the right gear.
If you prefer lodging, plenty of cozy cabins and vacation rentals are available throughout Oregon. One option is the Yurt at Rainbow Ranch, located just outside Bend. This luxurious yurt offers comfortable amenities and is surrounded by open land, providing excellent stargazing opportunities.
Hot springs may not be the first thing you think of for stargazing accommodations but imagine soaking in the warm water and gazing at the stars above. Breitenbush Hot Springs and Crystal Crane Hot Springs are a couple of choices that offer both lodging options and camping spots in case you prefer to stay overnight.
When planning your trip, locate nearby gas stations to ensure a smooth stargazing adventure. Most towns in Oregon will have a gas station, but it's always good to double-check their locations beforehand.
Free Google Map of the Best Oregon Stargazing Spots
Here is your free Google Map of the best Stargazing Oregon offers.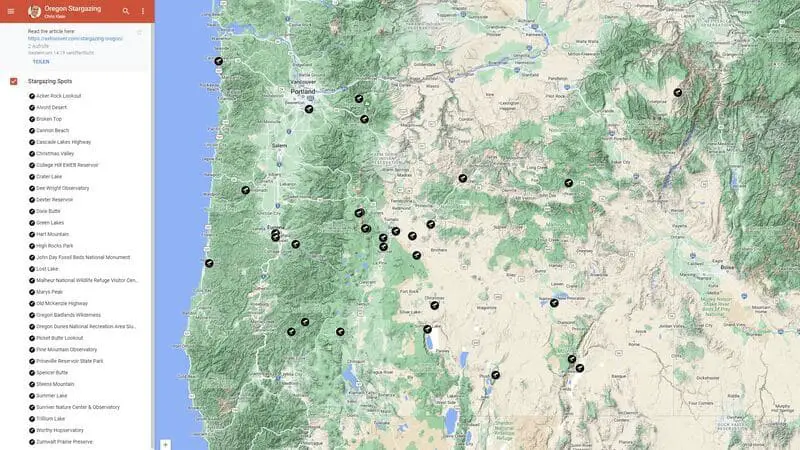 Frequently Asked Questions
Where can I find dark skies in Oregon for stargazing?
To find dark skies in Oregon for optimal stargazing, look for locations with minimal light pollution, like Prineville State Park, Oregon's first Dark-Sky Park, or the vast environments of Alvord Desert and Broken Top. Oregon boasts plenty of options for stargazers, with large swaths of night sky free from light pollution.
What are the best stargazing spots near Eugene and Salem?
Some of the best stargazing spots near Eugene and Salem include Fern Ridge Reservoir, just west of Eugene, and Basket Slough National Wildlife Refuge near Salem. These locations offer minimal light pollution and are known to provide excellent night sky views, making them ideal for stargazing.
When is the optimal time to see the Milky Way in Oregon?
The optimal time to see the Milky Way in Oregon is during the summer months, from June to August. This is when the Milky Way's galactic core is most visible in the night sky. Plan your stargazing adventures for clear nights. Remember that the sky should be free of excessive moonlight, which can influence visibility.
Are there any stargazing campgrounds in Oregon?
Yes, there are stargazing campgrounds in Oregon. Many campgrounds offer clear, dark skies, but some popular options include campgrounds at the Alvord Desert or dispersed camping among the desert flats near Broken Top. These remote locations provide excellent stargazing opportunities due to low light pollution.
How is Cannon Beach for stargazing?
Cannon Beach can provide beautiful stargazing opportunities, especially if you can find a spot away from city lights. The coastal location offers stunning views of the night sky over the ocean, adding an intriguing backdrop to your stargazing experience. However, be mindful of weather conditions, as coastal clouds and fog may obscure the stars.
Is Crater Lake a good location for observing the night sky?
Absolutely! Crater Lake is an excellent location for observing the night sky, thanks to its high elevation and remote location. The dark skies and unique landscape provide breathtaking views of constellations, meteor showers, and other celestial events. Participate in the annual Crater Lake Star Party for a guided stargazing experience.
Summary: Best Stargazing in Oregon
Thank you for reading my article on stargazing Oregon.
If you want to experience an unforgettable night under Oregon's beautiful starlit sky, some top recommendations include the Alvord Desert, Steens Mountain, various state parks in Bend, the gorge, and the Willamette Valley.
These spots are known to have low light pollution, making them perfect for admiring the universe above.
As you embark on your stargazing journey, remember to bring warm clothes, a comfortable chair or blanket, and your favorite snacks. Remember your binoculars or a telescope to enhance your viewing experience.
With the right gear and a perfect location, your nighttime adventures will become a cherished memory.
So, grab your friends or family and head out to these beautiful stargazing locations in Oregon for that incredible cosmic show you won't forget.
Happy Stargazing!