California is home to many great sites for stargazing.
The night sky offers an incredible show that's always free. Let this article be your North Star if you're an amateur astronomer or a professional photographer. It will help you navigate to the best dark night sky locations in California to take in the majesty of the stars.
As you can see in the below infographic, there are a number of stargazing sites in California per Bortle Class.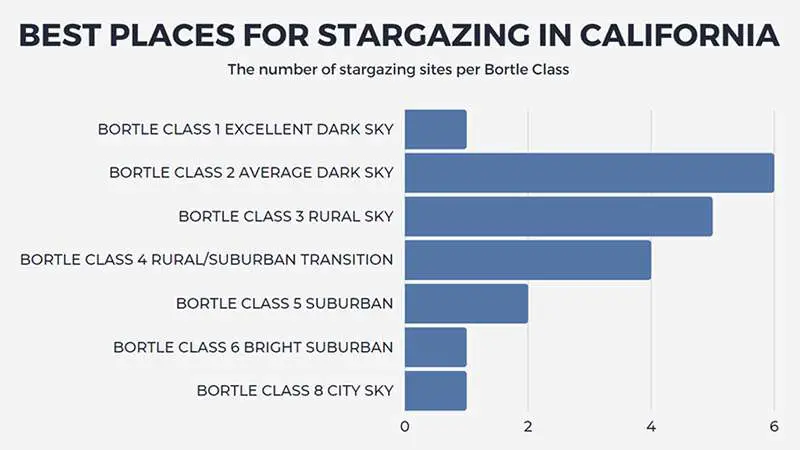 If you don't know about the Bortle Scale, then don't worry, I'll cover that in this article. By the end, you'll be able to decide for yourself which one is the best place for you.
You can enjoy clear skies on most nights at one of the 23 best spots featured in this article. You won't miss catching a glimpse of the milky way, nebula clusters, or Sirius, the brightest star. You'll be able to ponder the gravitational pull of the Milky Way.
In this article, you get
A free Google Map of the 23 best places to stargaze in California
Tips on where to stay – a complimentary stargazing experience
A quick look at California's light pollution map
A detailed summary of the best stargazing in California
By the end of this article, you'll be able to start planning your next California road trip!
Let's dive right in.
DARK SKY MAP CALIFORNIA
Dark skies are areas with little light pollution, making them ideal for stargazing. The further away you are from big cities, the better your chances of finding a dark sky. One way to find a good spot is to consult a California Light Pollution Map.
With a little planning and preparation, you can have an amazing experience stargazing in a beautiful dark sky location.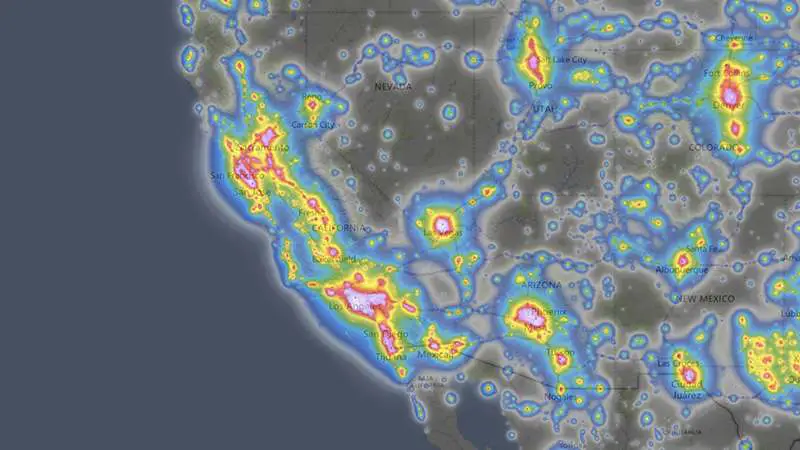 Light pollution maps show you how much light pollution there is in an area. This way you can pick an ideal spot with little to no light pollution from nearby cities for the best viewing of the night sky.
As you will see, Dark Sky California includes the Sierra Nevada Mountains, the Mojave Desert, State Parks, and some of the best National Parks in the United States.
More than anything, protecting our skies from light pollution is vital for reminding us of our place in the universe. The night sky reminds us of how vibrant our planet is, urging us not to take it for granted, but to protect it and care for it.
Tiffany Francis
BORTLE SCALE MAP CALIFORNIA
The Bortle Dark-Sky Scale was developed by John Bortle. It is based on nearly 50 years of observation experience to describe the amount of light pollution in a night sky. The Bortle scale is a nine-level numeric scale that measures the night sky's brightness in a particular location.
A Bortle Class 1 is an excellent dark-sky site. A Bortle Class 9 is an Inner-city sky. This is where the only objects to observe are the Moon, the planets, bright satellites, and a few of the brightest star clusters.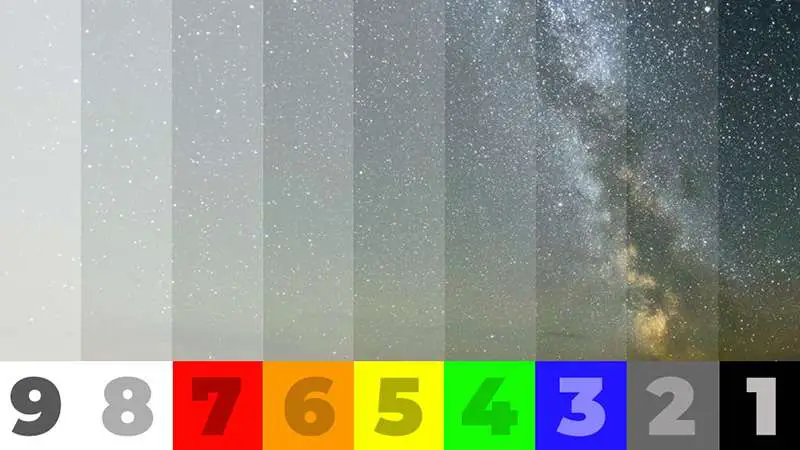 If it's a clear night, the Milky Way is visible if you're in an area that is yellow or better. This means it's a Bortle class 5 or less (yellow). The Milky Way becomes extremely detailed if you're at a Bortle class 4 or better (green). Read my article What months can you see the Milky Way in California?
For more info about light pollution, read my article Light Pollution Effects.
THE 23 BEST PLACES FOR STARGAZING IN CALIFORNIA
I've separated the 23 best places to see stars in California into 3 main areas: Northern, Eastern, and Southern. Each area has between 5 and 12 stargazing sites to help you plan your trip. The first area is Northern California. Let's get started.
NORTHERN CALIFORNIA STARGAZING
You'll find the first 5 great sites by stargazing Northern California!
LITTLE RIVER INN STARGAZING PACKAGE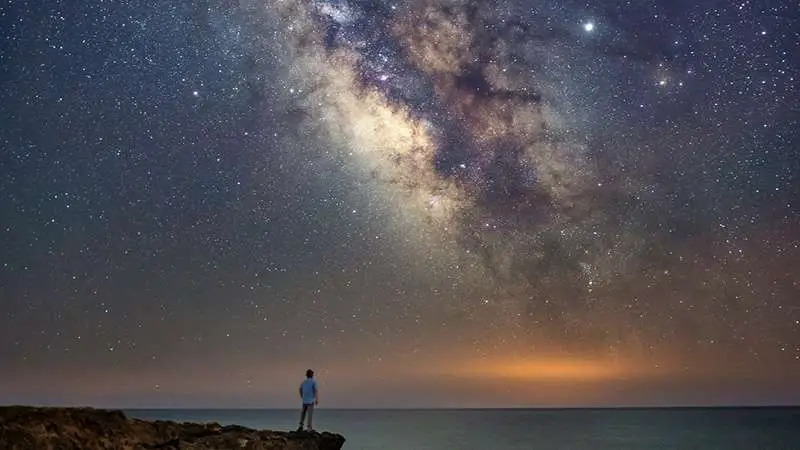 The Little River Inn is situated at sea level on the Mendocino Coast, just north of Sonoma County. This Victorian inn with cottages features a 9-hole golf course, a driving range, and a putting green. Additional amenities include tennis courts, a day spa, a charming restaurant and bar, and complimentary parking.
Their Stargazing Package for two includes:
Two-night stay in an ocean-view room
A stargazing kit, consisting of special binoculars, a star map, a star guide, and a flashlight
A travel blanket, hot chocolate, and 2 bags of popcorn
To make a reservation, call 707.937.5942 or 888.INN.LOVE.
MOUNT DIABLO STATE PARK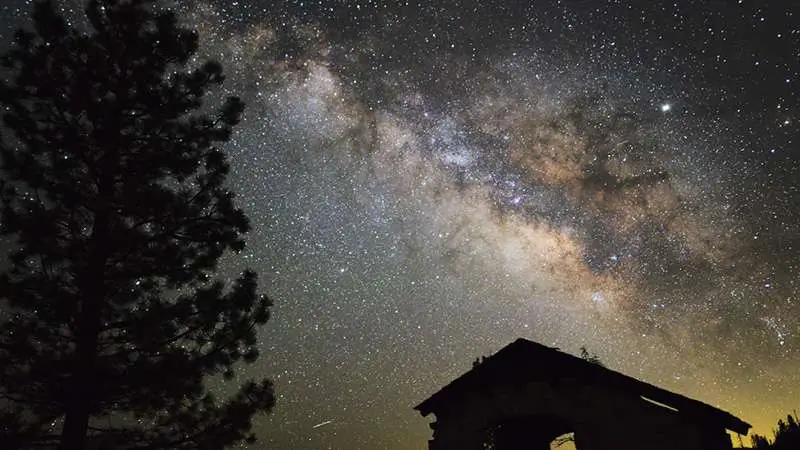 Mt. Diablo is the highest public observatory in the Bay Area. If you're looking for Bay Area stargazing, Mount Diablo is a good place to go. They have a public observatory that has unobstructed views of the Bay Area. It's one of the best places to stargaze in Northern California.
The Mount Diablo Observatory offers public stargazing programs through the Mount Diablo Observatory Association. On clear evenings, visitors to the observatory atop Mt. Diablo can enjoy a perfect night sky view.
These events are sponsored by Mt. Diablo State Park and its sister organization, Mount Diablo Astronomical Society, under the MDOA's Public Astronomy Programs. This program is now in its 28th year!
LICK OBSERVATORY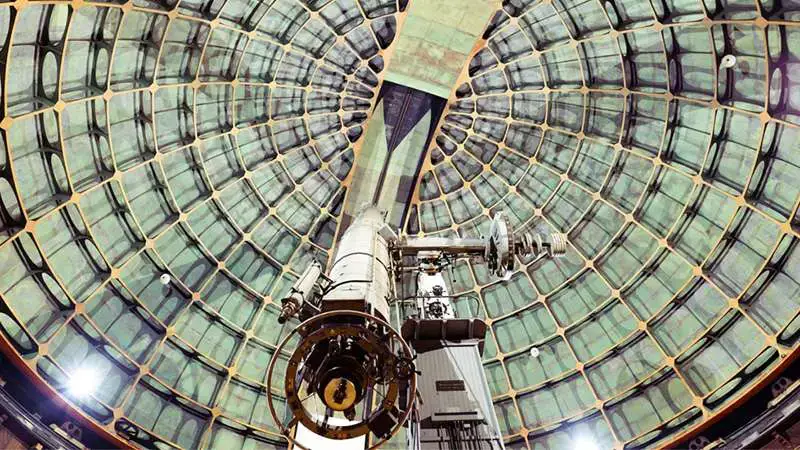 It's incredible how the Lick Observatory was built without any paved roads. Everything was hauled up there in horse-drawn carts at the time! The first new moon of Jupiter to be identified since Galileo's time was discovered at this observatory.
It is on the summit of Mount Hamilton, in the Diablo Range just east of San Jose. You are permitted to visit Lick Observatory at night by purchasing a ticket to the Summer Series from June through September. The Evenings with the Stars programs are held annually as part of their Summer Series.
Each year they bring world-renowned astronomers to the summit of Mount Hamilton for a night with the "stars" you won't forget! To be sure the sky will be clear for you, head over to their Clear Sky Chart. It is an astronomer's forecast, predicting when Mount Hamilton will have good weather for astronomical observation.
Do you know what is the brightest star in the sky in California?
PIGEON POINT LIGHTHOUSE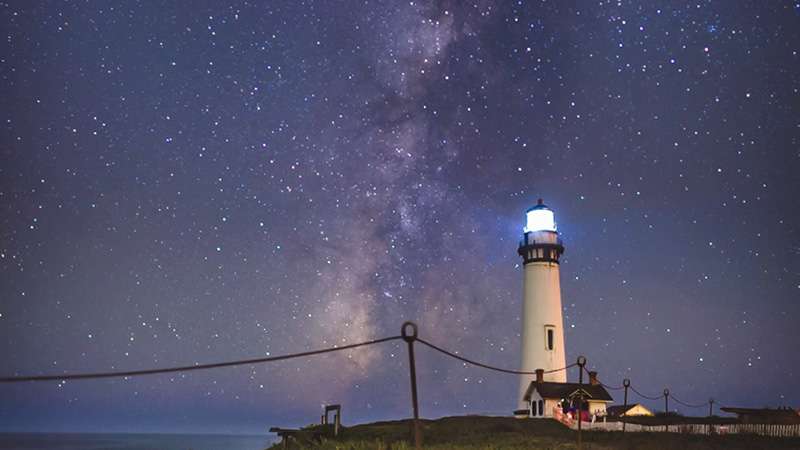 The special thing about this site is that all of its outdoor lights face the ground, and all the bulbs inside and out are either amber, yellow, or red. This helps to reduce light pollution. It makes this a good place during the new moon for amateur astronomers, assuming of course you have clear skies.
Perched on a cliff on the central California coast, 50 miles south of San Francisco, the 115-foot Pigeon Point Lighthouse is one of the tallest lighthouses in America. It has been guiding mariners since 1872. The Santa Cruz Astronomy Club holds stargazing parties at this location. Be sure to check with them to see if they're planning any events for when you might be in the area.
BIG SUR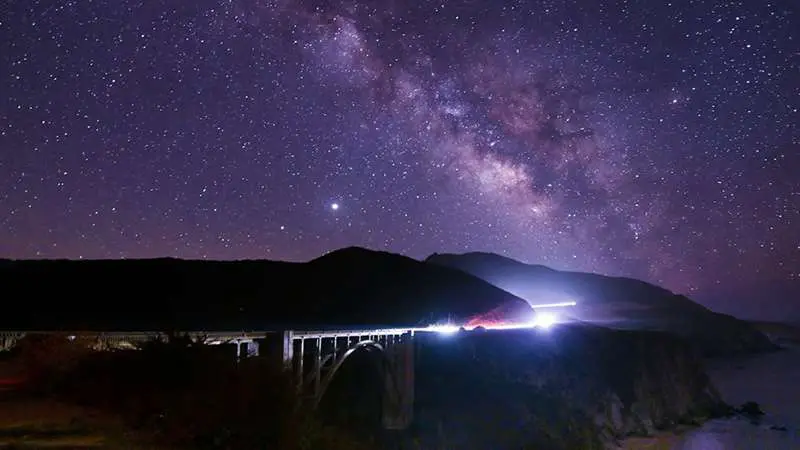 Big Sur has some of the darkest skies in California! It stretches up and down the coast from Piedras Blancas State Marine Reserve to Limekiln State Park. Big Sur is where you can drive along the coast and take in the views of the stars above the ocean.
This region is perfect if you're looking to escape contact with others and experience nature. The key to this amazing experience is to get just far enough away from the coastal area. This will help you avoid the dense fog that might cover the sky at night during your trip.
There are many Big Sur stargazing sites in the area, including Pfeiffer Big Sur State Park, Point Lobos State Natural Reserve, and Bixby Bridge. With a Bortle Scale Number of 2, you'll easily be able to make out the complex structure of the Milky Way.
Big Sur is one of the best places to see the Milky Way in California.
EASTERN CALIFORNIA
These next 6 great stargazing sites are in Eastern California!
LAKE TAHOE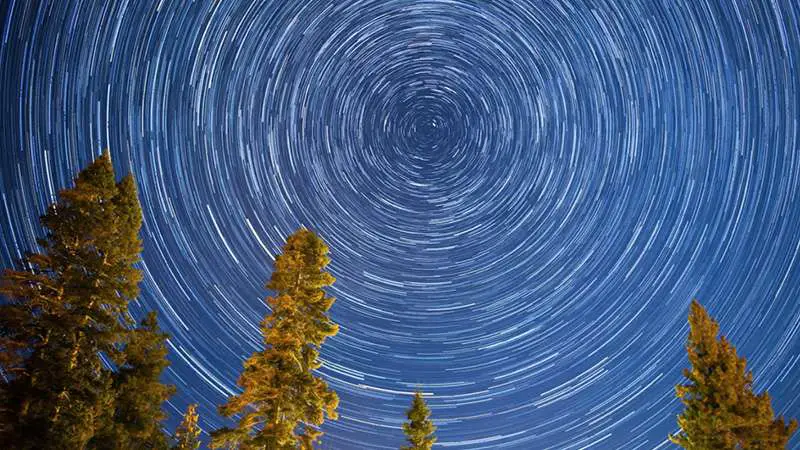 Lake Tahoe enjoys up to 300 clear nights each year. Dry air, combined with the western onshore marine airflow pattern makes the region ideal for observatory-quality viewing of planets, stars, galaxies, and other celestial wonders. It also has low atmospheric turbulence, making it a prime destination for astrophotography.
Each beach in North Tahoe offers a unique experience. Sand Harbor faces south and is perfect for sunsets before the stars come out. Bring some grub for an evening filled with serene stargazing opportunities! Or head north to Secline Beach to enjoy views of the entire lake and unobstructed starry skies, thanks to the nearby trees blocking much of the light pollution.
YOSEMITE VALLEY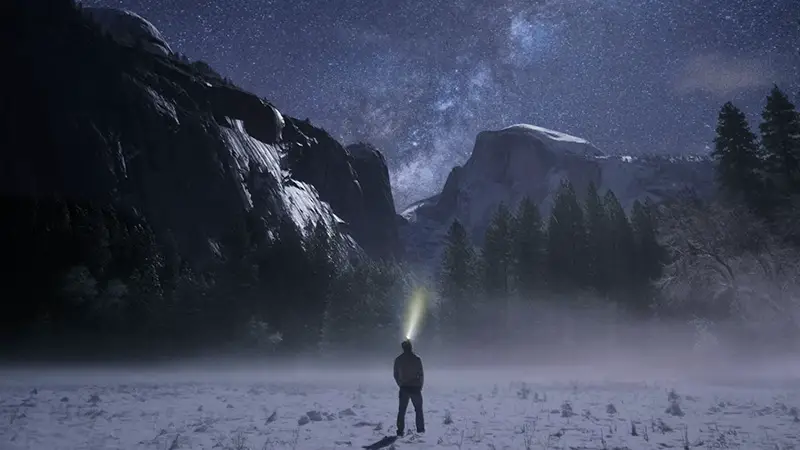 Yosemite National Park isn't just one of the most beautiful places in the world, it's also a great place for budding astronomers and curious night sky watchers to come. Any list about stargazing California wouldn't be complete without mentioning Yosemite.
The remote location of this national monument protects some of the darkest night skies in the country. It allows you to easily see planets, stars, galaxies, and more!
Yosemite Valley, Tuolumne Meadows, and Wawona offer you astronomy walks or talks. The Milky Way core is visible in the northern hemisphere during the summer months. So if you plan your Yosemite Valley stargazing trip between April and October, you'll have a good chance of seeing it.
GLACIER POINT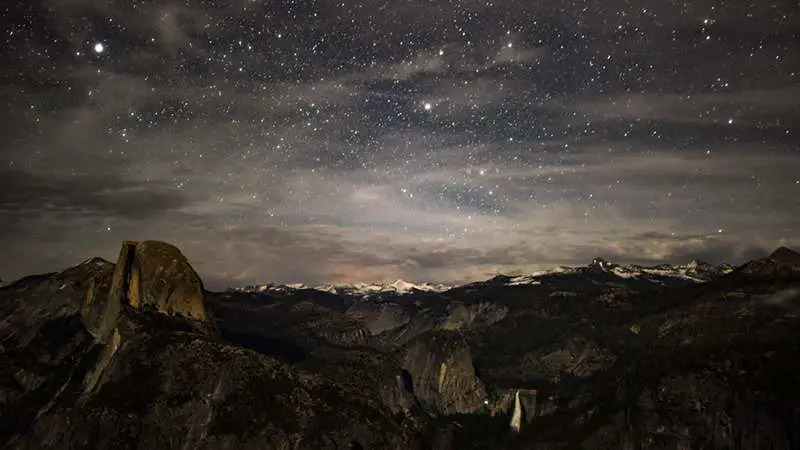 Looking for a great place to view the stars during summer? Check out Glacier Point. It's located in Yosemite Park, miles away from any city lights. You'll be able to see the sky as it was meant to be seen – very dark.
Bring along your star chart to look for constellations. Or, through binoculars, observe our planetary neighbors. Saturdays are often when amateur astronomers set up their telescopes at Glacier Point.
BENTON HOT SPRINGS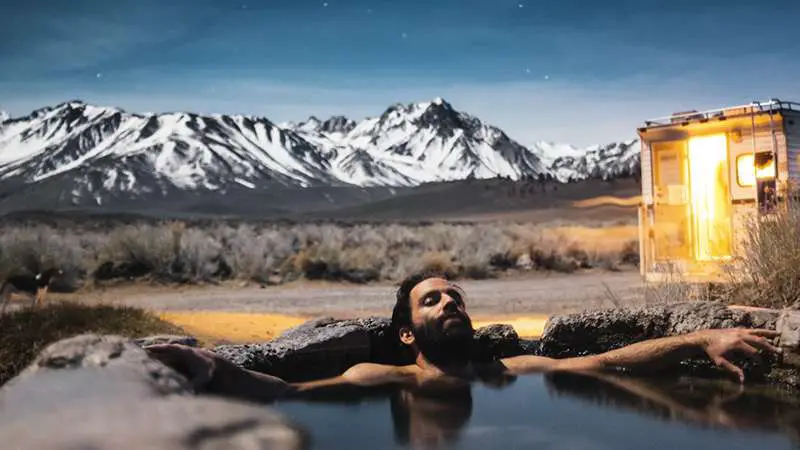 You're lucky because Benton Hot Springs is one of the best places in the world for star-gazing.
This little hot springs town is located in the White Mountains, which is north and west of Reno, Nevada. For this reason, it's one of the least light-polluted areas in America. The Inn at Benton Hot Springs has campsites with outdoor hot tubs, so you'll have the option to avoid going inside altogether.
ALABAMA HILLS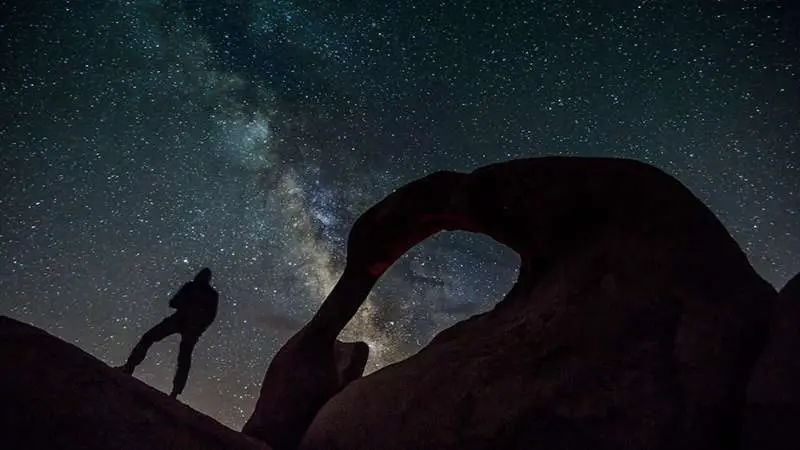 The Eastern Sierra has some of the darkest skies in California. A few miles west of Lone Pine is the Alabama Hills recreation area, which has a stunning view of Mt. Whitney. You can see this towering peak through a natural rock arch named the Mobius Arch.
No matter the season, The Alabama Hills offer a charming and different landscape to marvel at. In the fall, cottonwoods change color and in the winter, snow-capped mountains can be seen. As summer approaches, on a moonless night, you'll easily be able to see the majestic Milky Way.
MESQUITE FLAT SAND DUNES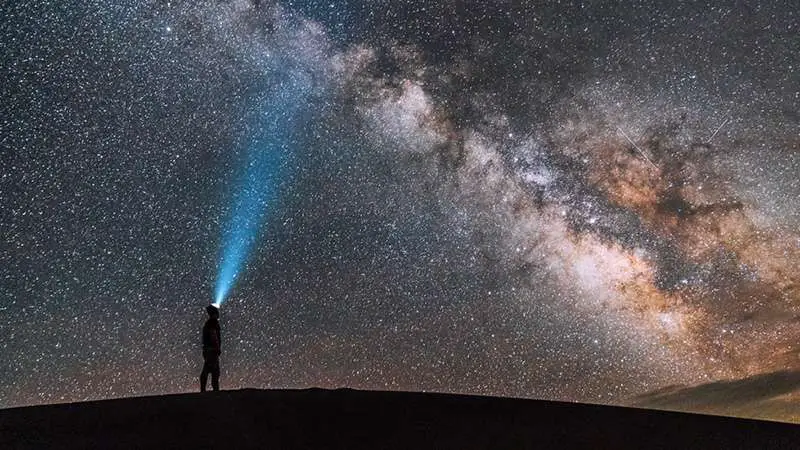 This place is a photographer's dream. Be sure to catch the dunes during sunset or sunrise.
Death Valley National Park is one of the best places to see the stars in California. With its vast open spaces and lack of artificial light, you'll be able to see a clear night sky full of stars.
You might see the strange phenomenon, known as "gegenschein," a brightening of the sky opposite the Sun. The planets and the Milky Way will seem annoyingly bright! Also, the coyotes will perform for you throughout the night. This place is a must on your stargazing bucket list; it's perfect.
STARGAZING SOUTHERN CALIFORNIA
The remaining 12 sites offer the best stargazing in Southern California.
You might be wondering, Can you see the Milky Way from Los Angeles?
I don't blame you, but you might be surprised.
GRIFFITH OBSERVATORY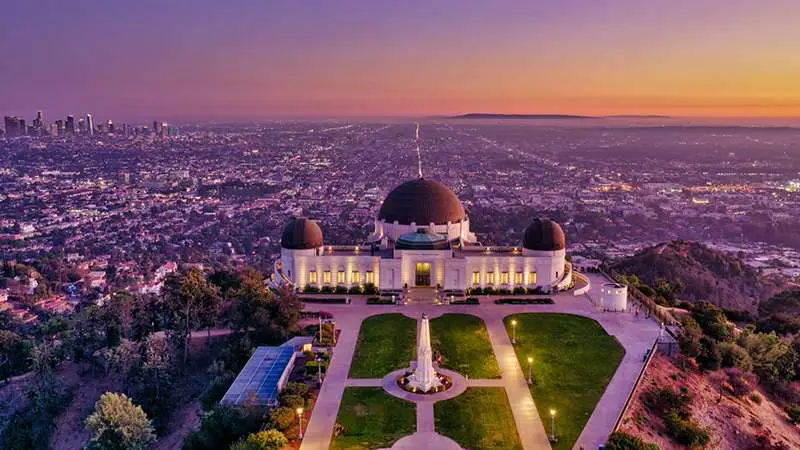 The Griffith Observatory is Southern California's gateway to the cosmos! You can look through telescopes, explore exhibits, and enjoy spectacular views of Los Angeles. They offer a monthly Griffith Observatory Sky Report where you can read about what you can observe in Los Angeles.
The observatory is on the south side of Mount Hollywood, which is inside Griffith Park. Admission to the observatory and exhibits is free. Some shows have an entrance fee. The exhibits in the museum are very engaging and thought-provoking and you'll get to see them for free just by walking through.
MALIBU CREEK STATE PARK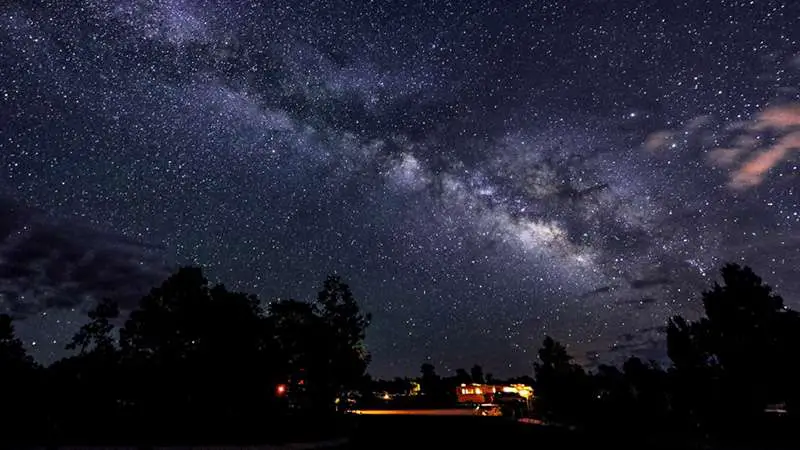 Malibu Creek State Park is located just 25 miles away from downtown Los Angeles. It's named "The Yosemite of Southern California" due to its amazing natural beauty. The 360-degree views of the dark sky at Malibu Creek State Park are spectacular.
After a pink and gold Santa Monica Mountains sunset, you can watch the night deepen around the hillsides. The park closes at 10 pm, but there are many parking spots from which you will find a good vantage point in any parking lot.
MOUNT WILSON OBSERVATORY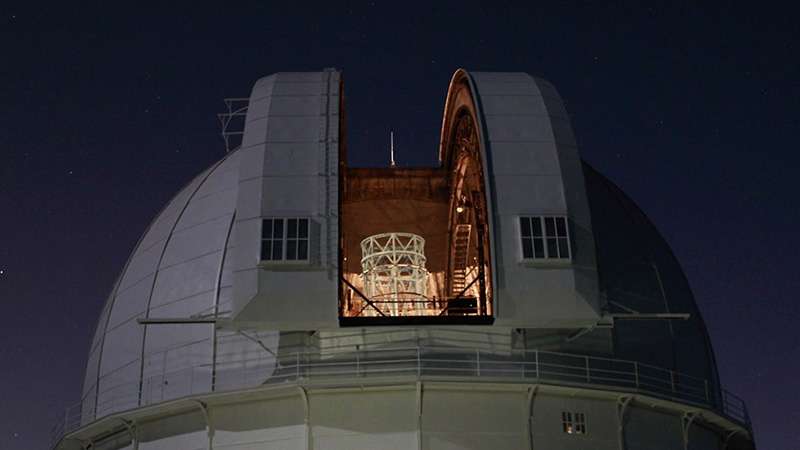 A so-called "inversion layer" above Los Angeles prevents smog from filtering up high into the atmosphere. This phenomenon gives Mt. Wilson Observatory an unobstructed view of the night sky, despite being only about 33 miles away from Los Angeles. Mount Wilson Observatory and the Los Angeles Astronomical Society host occasional free public star parties at the observatory.
Dr. Edwin Hubble stepped foot on Mount Wilson Observatory in 1919, which is roughly around the time when the largest telescope in the world at that time was completed – the 100-inch Hooker Telescope. At that point, most astronomers widely believed that the Milky Way galaxy was the only thing in the universe.
Astronomy is something like the ministry.
No one should go into it without a call. I got that unmistakable call, and I know that even if I were second-rate or third-rate, it was astronomy that mattered.
Dr. Edwin Hubble
KELSO DUNES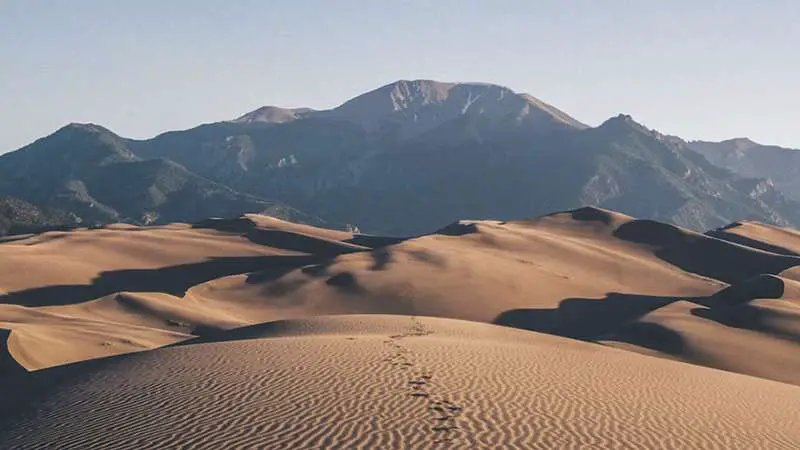 The Kelso Dunes in the Mojave National Preserve are some of the most photographed sites in California's high desert. Kelso Dunes has a lot to offer for daytime activities and nighttime stargazing. The dunes were built from sand blown by west winds from the Mojave River's sink at Soda Lake.
The rolling dunes in the area are similar to those seen in Egypt's Great Sand Desert. The area is full of awe-inspiring and quiet beauty, including lava beds. Virtually no airplanes fly over this location, which makes it the perfect spot for taking long-exposure photographs that capture detail at night, or for watching the Perseid meteor shower. The 45 square mile dunes rise 650 feet over their surroundings.
PALOMAR OBSERVATORY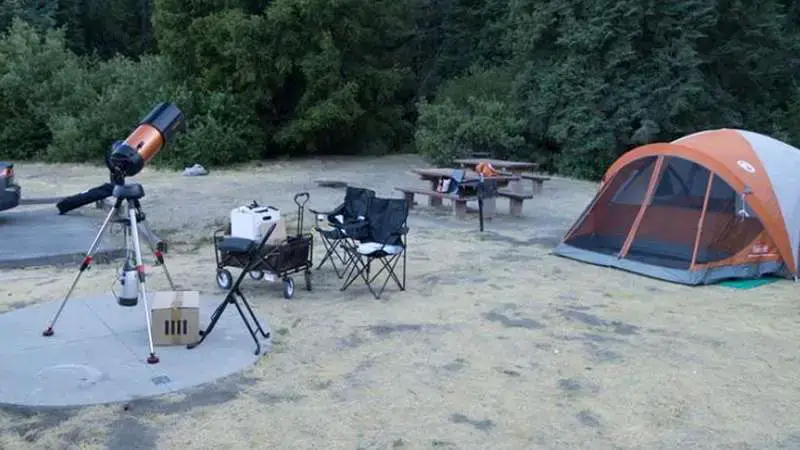 The Explore the Stars Program takes place one weekend a month, from April through October, at the Observatory Campground in the Cleveland National Forest on Palomar Mountain.
Experienced amateur astronomers set up their telescopes for you to look at real-time images of breathtaking views of the universe. Saturday nights feature a free program at dusk by experts.
Stargazing in San Diego would not be complete without a visit to Palomar Observatory. Unfortunately, as of this writing, Palomar Observatory remains closed to the public. No date for reopening has been announced.
OBSERVER'S INN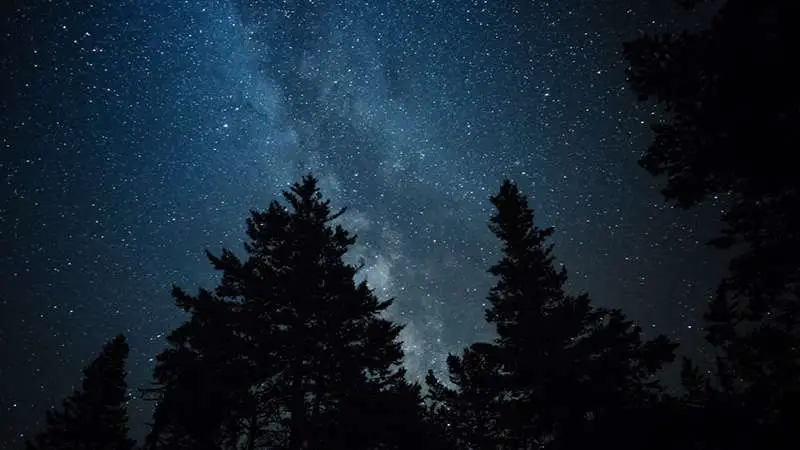 If you're looking for an escape into nature, the Observer's Inn could be what you need. The Inn is located in the beautiful Julian Mountains in northeast San Diego County, close to the Cleveland National Forest.
Read my article about Stargazing in Julian, home of the annual Starfest.
Join one of their star tours. They start with a laser-guided tour of the night sky under the stars and include a brief explanation of how telescopes work. The tour is filled with fascinating information about the stars and constellations. It will give you a new perspective on the universe.
ANZA-BORREGO DESERT STATE PARK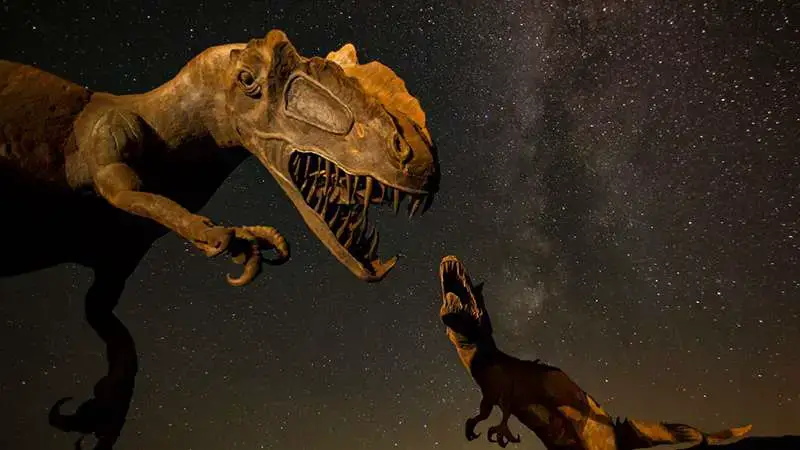 Anza-Borrego offers regular night sky programming to help you learn about the features of the night sky and the importance of darkness. Every month, the visitor center offers monthly stargazing and moon-watching programs. These give you a chance to learn more about saving dark skies.
Anza-Borrego Desert State Park is one of the most breathtaking places to go stargazing in California, and many would say it's one of the best locations in the world!
You are lucky because the International Dark-Sky Association has classified it as an International Dark Sky Park. This means you'll have an excellent chance of seeing a good night sky with plenty of colorful stars and distant galaxies.
BORREGO SPRINGS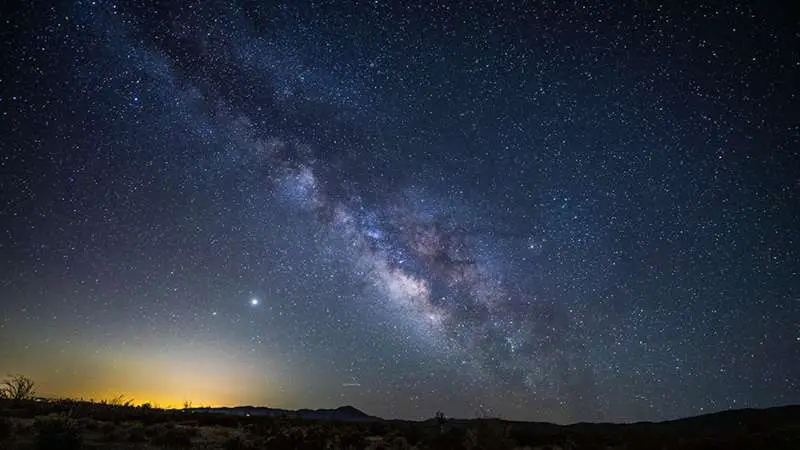 Borrego Springs was the first International Dark Sky Community in California! It earned that designation by taking measures to restrict and modify lights on public streets, outside of businesses, and even on residents' front porches. Borrego Springs is the perfect place to stargaze.
You can use your telescope to enjoy the night sky or you may attend one of the special scheduled star parties led by an educator. Star parties feature dinner and drinks followed by presentations and guided stargazing. For a list of all the international dark sky communities in the US, head over to DarkSky.org.
SALTON SEA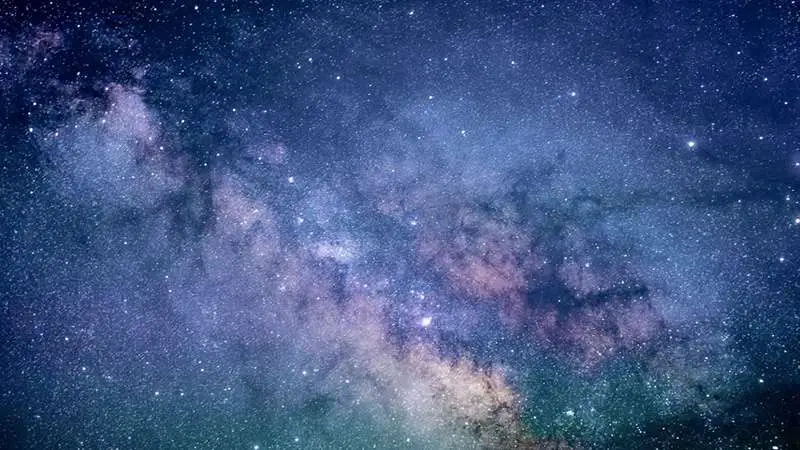 Visitors to this California State Recreation Area won't find that they're limited to just day use: the park is open 24 hours a day. That means you don't have to commit to camping to enjoy the night skies here.
Quiet spots can be found up and down the shore, some of them with concrete pads — a boon for those with tripod-mounted scopes. And best of all, the State Recreation Area is far enough from the bigger cities of Coachella and Imperial Valley, which means the skies here get very dark.
PALM SPRINGS RITZ-CARLTON RANCHO MIRAGE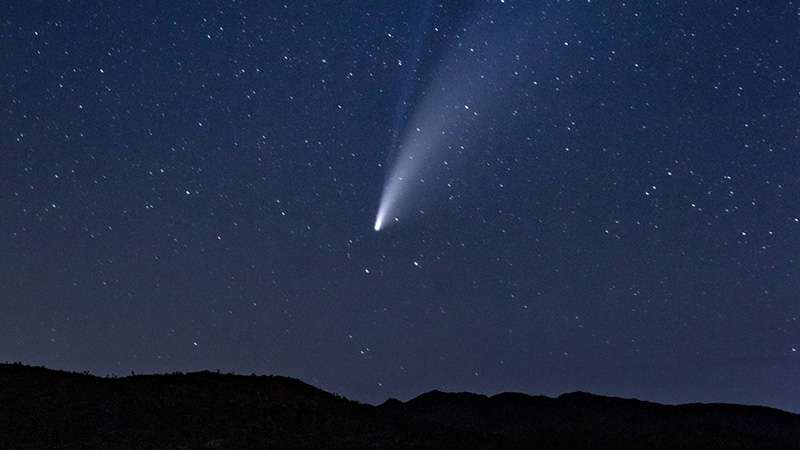 Palm Springs is not just for horseback riding. Here you can see the sky like never before! The Ritz-Carlton Rancho Mirage hosts Saturday Stargazing sessions using an 11-inch computerized telescope that creates stunning images and displays with a magnification power of up to 140 times larger than the naked eye.
You can get up close with different constellations and planets, including Saturn, Mars, Jupiter, Venus, Sirius, and the Orion Nebula. Year-round, you will experience moments of discovery as you view intricate details of the craters on the moon and discover what you may never have seen before.
Joshua Tree National Park: COTTONWOOD CAMPGROUND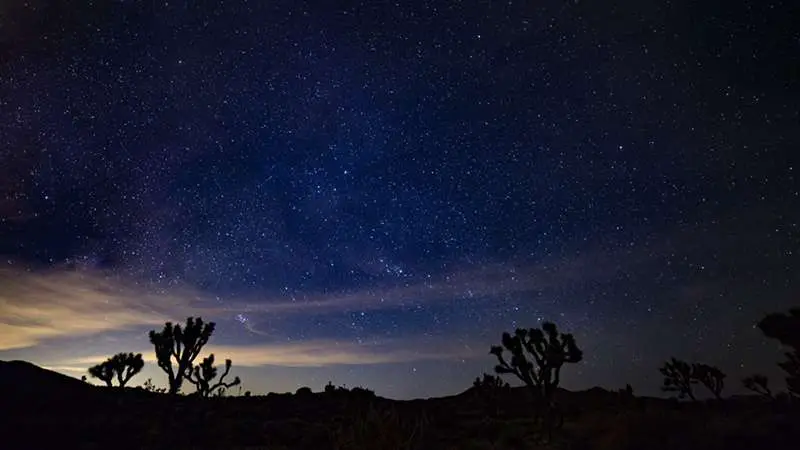 Joshua Tree National Park is arguably the best place to stargaze in California's low desert. In fact, it's such a good place, I wrote a whole separate article on the best time to go to Joshua Tree for stargazing.
Filled with spectacular views, astonishing desert ecosystems, and vast open lands, this national park is a true marvel that is worth the drive from Los Angeles.
The best time to visit is during the ranger-guided events happening at this popular destination! They'll provide you with plenty of opportunities to enjoy the night sky. Cottonwood Campground Amphitheatre is where there usually are week-long events with high-powered telescopes in April. A complete list of events can be found on the park's website.
MIDLAND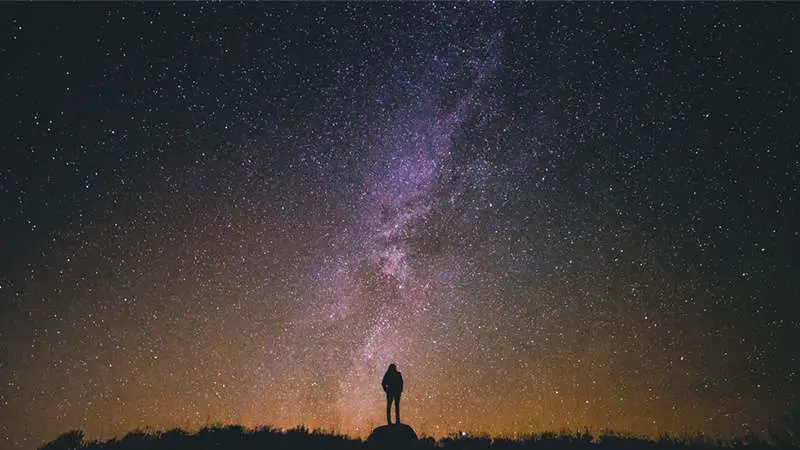 If you're looking for an all-inclusive desert camping experience, this Midland ghost town is the place to go, even during daylight hours.
With plenty of campsites and dark skies, it's the perfect spot to stargaze in Southern California. Detox from the city at this old mining town. I promise it will be worth your while. The Colorado River Astronomy Club holds popular meetups at this location.
For more info on stargazing in Southern California, read my article on the best stargazing in Orange County.
Bonus: Templin Highway Stargazing Area
There's one more spot in Southern California that I recently wrote an article about. It's the Templin Highway Stargazing Area. This spot is just north of Los Angeles, in a class 4 Bortle Scale area. Read the article to learn more about this excellent spot close to L.A.
FREE GOOGLE MAP OF 23 BEST PLACES FOR STARGAZING IN CALIFORNIA
You can now access my free Google Map of the 23 Best Places For Stargazing In California. I hope it will help you to plan your next adventure. These are some of the best stargazing destinations in North America, for good chances to observe the night sky.
This is the best stargazing California offers.
Many of these locations are far from city lights. You'll be able to get an unobstructed view of the sky. The map includes links to each location to help you determine how far away it is from wherever you will be in California.
You can incorporate one or more of these stops into your next road trip itinerary. Your family will thank you for showing them the wonders of the night sky.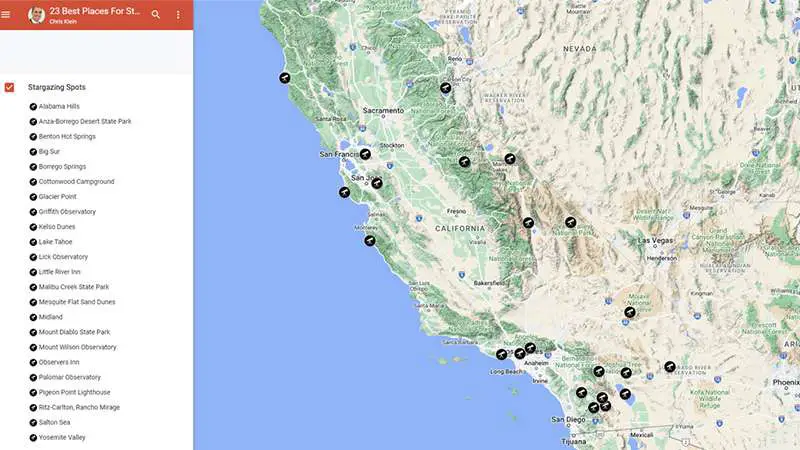 Head out to one of these excellent stargazing spots on the free Google map of California!
Which one is your best place to see stars in California?
FREQUENTLY ASKED QUESTIONS
WHERE IS THE BEST PLACE TO SEE THE MILKY WAY IN CALIFORNIA?
Joshua Tree National Park is one of the darkest parks in Southern California, and it received the honor of being designated an International Dark-Sky Park by the IDA. This means that many visitors can view the Milky Way for the first time.
WHEN CAN YOU SEE MILKY WAY IN CALIFORNIA?
The Milky Way is visible on dark nights, but it's only visible from March – July. It appears horizontal in the sky.
IS THE MILKY WAY VISIBLE IN YOSEMITE?
Absolutely, but only from March through July. If you visit Glacier Point, you'll be able to see many beautiful things in the night sky such as constellations, nebulae, and planets. Other than that, with a telescope, you might also be able to see celestial objects like galaxies and star clusters.
CAN I ENTER JOSHUA TREE AT NIGHT?
Yes, the park gates are open 24/7 year-round. Anyone can drive in or out of the park, no matter where they're staying.
CAN YOU SEE MILKY WAY WITH THE NAKED EYE?
The Milky Way is a hazy form of stars that the naked eye can easily detect. You can see it all year, no matter where you are in the world. Just as long as your sky is clear, and the light pollution is minimal, you'll be able to see it.
WHAT IS THE BEST MONTH FOR STARGAZING?
Autumn, Winter, and Spring are the best times to stargaze. Many astronomers refer to this period of time as the 'observing season'. You can start looking as early as October when clocks go back an hour (making nights longer). This will continue until March when clocks go forward an hour (making nights shorter).
HOW DO YOU KNOW IF IT'S A GOOD NIGHT FOR STARGAZING?
The best time for stargazing is when it's dark enough to see without any natural light. Keep an eye out for a full moon, you'll want to avoid this since there will be too much light in the sky. If there's no moon, visibility should still be good and you might be able to see the Milky Way.
WHAT TIME SHOULD I GO STARGAZING?
If there is a moon visible in the sky, it will wash out the light from many stars or meteor showers. However, as the Earth rotates through the night and before sunrise, you'll see new stars and planets start to become visible.
HOW LONG AFTER SUNSET DO YOU STARGAZE?
For the 48 contiguous states, it typically takes anywhere from 70 to 100 minutes for true darkness to arrive after sunset. The further South you are, the sooner it gets darker after sunset.
CONCLUSION
Thank you for reading my article on the best places for stargazing in California. The night sky is an amazing free show that everyone should experience.
With a clear view and some patience, you can see stunning meteor showers and stars. If you're interested in experiencing the night sky, all you need is a dark night without a full moon.
So consult your light pollution map California, grab a blanket, go to your chosen best place to see the stars in California, and enjoy the show!
Looking up at the night sky is an incredibly humbling experience. To think that we are just a tiny speck in the vastness of space is both terrifying and awe-inspiring. The next time you have a clear night, take some time to go outside and enjoy the free show that nature has to offer.
No matter whether you're stargazing Los Angeles or stargazing Lake Tahoe, be sure to dress warmly and bring plenty of snacks and drinks!
Joshua Tree might be the best stargazing California offers. Do you agree? Which are your best places to see the stars in California?
If your travels take you West, read my articles on stargazing the Hawaiian islands of Maui, Oahu, and Kauai.
And if your travels take you East, read my articles on the best stargazing in Arizona, Utah, Colorado, Oklahoma, and Florida.
For a special stargazing places East of California, read my articles on stargazing in Sedona, Moab, and Big Bend National Park.