Are you an aspiring photographer wondering, "How do you photograph the Milky Way in Florida?"
With its clear skies and dark sky preserves, Florida is an ideal place to take photos of the Milky Way. Using the right equipment and choosing the correct settings will result in amazing shots of the Milky Way.
In this article, you get
A list of the required equipment for wide-angle shots of the Milky Way
A look at light pollution and the importance of choosing the right location
Tips on the recommended camera settings for long-exposure astrophotography
Framing the shot and setting up your equipment for the best results
A quick look at the best time to capture the Milky Way galactic center
By the end of this article, you'll have all the info you need to photograph the Milky Way in Florida and more!
Let's dive right in.
HOW DO YOU PHOTOGRAPH THE MILKY WAY IN FLORIDA?
You will need some essential equipment to capture the Milky Way adequately.
It doesn't need to be modern or new. I recommend getting started with whatever you already have.
If you don't have these fundamental items, ask some friends or colleagues to see if you could borrow theirs.
A camera
A wide-angle lens
A sturdy tripod to avoid any unnecessary camera shake
A shutter release cable
These items are all you need and are essential for Milky Way photography.
Once you know this is a hobby you want to get into, then investing in quality equipment will make more sense.
CAMERA
Before you can begin capturing the stars in the Florida sky, you'll need a camera that's up to the task.
You're all set if you have a DSLR or mirrorless camera with high ISO capabilities and the ability to capture RAW files. You'll also need a wide-angle lens.
WIDE-ANGLE LENS
A wide-angle lens is the most suitable to capture the Milky Way, as it can take in the entire sky in one shot.
If your lens only opens up to f/4, then shoot at f/4. However, if your lens opens up wider, like an f/2.8 or even f/1.4, that would be ideal as it can capture more light and create sharper, more detailed images of the night sky.
TRIPOD
A solid tripod is essential for capturing the Milky Way. It must be sturdy enough to hold your camera steady for long exposures, including minimizing any effects from the wind.
My recommendation for the tripod is to keep it low to the ground. The lower its center of gravity, the less vibration it will introduce into your system.
SHUTTER RELEASE CABLE
A shutter release cable will ensure that the slightest movement created by pressing the shutter button does not shake up the stars.
Vibration can ruin the shot when taking long-exposure shots of the night sky.
Your camera probably has a timer delay feature if you don't have a shutter release cable. You can set the timer delay to 5 seconds so that any vibration you cause will have time to settle down before the shutter is automatically released.
CHOOSE THE RIGHT LOCATION
Once you have all the necessary equipment, it's time to choose the perfect location.
When capturing the Milky Way, it is essential to find a place that is dark and free from light pollution. Consult a Florida Dark Sky Map to find a good spot near you.
Fortunately, Florida has some great dark sky locations where you can go to get a clear view of the night sky.
For a complete list of the best spots, read my article on the best stargazing in Florida.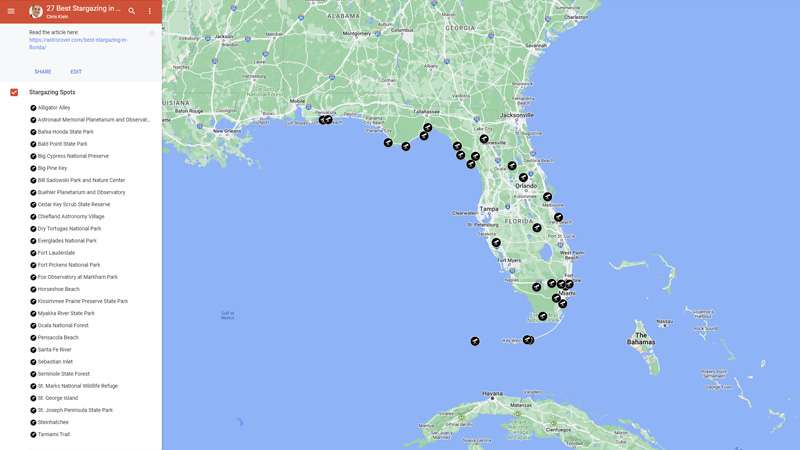 UNDERSTAND LIGHT POLLUTION
Light pollution can be a significant issue when photographing the Milky Way in Florida, so it's vital to understand what it is and how to avoid it.
Light pollution is caused by artificial lights, making it difficult to see stars and other celestial objects.
Luckily, tools can help you identify dark sky locations with minimal light pollution. LightPollutionMap.info is an excellent resource for finding nearby dark skies that are ideal for Milky Way photography.
CAMERA SETTINGS
You must use the correct camera settings to capture the Milky Way in all its glory.
USE WIDE APERTURE
The wider your aperture is open, the smaller the number.
I consider f/2.8 the minimum, but if your lens only opens up to f/4, shoot at f/4. Keep in mind that the wider your aperture is, the easier it is to pick up more stars and details in the night sky.
SET THE RIGHT ISO
Using a high ISO is a vital Milky Way setting as it tells your camera how sensitive it needs to be when collecting light during a shot.
Typically, you should use an ISO of 1600-6400 for Milky Way photography but remember that the higher the ISO, the more noise you will get.
Even at a wide-open aperture, you will likely need to set your ISO between 3200 and 6400 during the darkest nights.
SHUTTER SPEED
Set your shutter speed to 30 seconds. Thirty seconds will help maximize the light collected in each frame.
However, depending on your focal length, the stars may begin to trail. To avoid this, keep your shutter speed at 30 seconds or lower.
Consider using a star tracker to eliminate star trails if you need a longer shutter speed.
FACE SOUTH
Once your equipment is ready and in the perfect location, it's time to face south, the direction of the Milky Way in Florida.
Make sure to find an area where trees or buildings do not impede your view and where you have a clear view of the night sky.
FRAME YOUR SHOT
For wide-angle photography, adding something interesting in the foreground is best to give your shot more depth and context.
TIMING IS EVERYTHING
Timing is everything when it comes to capturing the Milky Way in Florida.
Milky Way Season in Florida is from April to August, when the Milky Way galactic center is visible longest in the night sky.
Plan your trip around moon phases to ensure you get the best photos. A new moon will give you the darkest skies, while a crescent moon will provide enough light to add a compelling element to your photos.
Make sure to research the weather forecast and plan to shoot when it is clear and cloudless.
CONCLUSION
Capturing the beauty of the Milky Way in Florida is an enriching experience.
It requires an understanding of photography techniques and a deep appreciation and connection to the natural world.
When you venture into the Florida wilderness, find the perfect spot and remember to take your time. Enjoy the moment!
With a bit of practice and perseverance, you'll be able to capture stunning images of this celestial wonder that will inspire and amaze you for years to come.
FREQUENTLY ASKED QUESTIONS
CAN A PHONE CAPTURE THE MILKY WAY?
Yes, it is possible to capture the Milky Way with a smartphone. With the most recent phones, it is possible to take long-exposure photographs with night mode enabled. Smartphones also offer raw image data which can provide more color information and help recover dark or bright regions. A cheap tripod and a smartphone holder will help to keep your phone steady for the best results.
WHAT KIND OF CAMERA DO YOU NEED TO TAKE A PICTURE OF THE MILKY WAY?
To take a picture of the Milky Way, you will need a DSLR or mirrorless camera with a fast lens. A fast lens has an aperture rating (f/number) of f/2.8 or faster, and a wider lens is easier for beginners (24mm or less).