Did you know that Hawaii is home to some amazing observatories? While many of these facilities are on the Big Island and Maui, you might wonder, "Can you visit the observatory on Oahu?" Let's dive into the world of stargazing and find out.
Unfortunately, there isn't a major astronomical observatory on Oahu that you can visit. However, the good news is that some excellent observatories, such as Maunakea Observatories on the Big Island and Haleakala Observatory on Maui, offer spectacular night sky views. You might also consider visiting the ʻImiloa Astronomy Center on the Big Island, which provides a unique blend of culture, science, and education.
In the meantime, if you're on Oahu and are passionate about stargazing, try visiting some local spots with less light pollution or joining a local astronomy club. This way, you'll still be able to enjoy the beauty of the cosmos from your backyard.
In this article, you get
A direct answer about visiting observatories on Oahu
Information about other observatories in Hawaii
An opportunity to find some fantastic free stargazing on Oahu
By the end of this article, you'll have all the info you need about visiting observatories in Hawaii and stargazing on Oahu.
Let's dive right in.
Visiting Observatories in Hawaii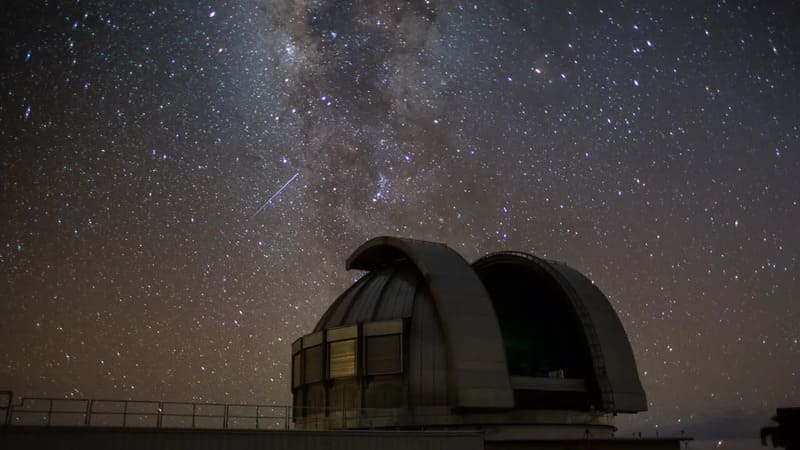 While you won't find an observatory on Oahu, don't fret! I have some excellent news for you. The beautiful islands of Hawaii offer unique astronomical experiences. Allow me to guide you toward special educational programs and tours available at the observatories in Hawaii.
Public Tours
ʻImiloa Astronomy Center on the Big Island provides unforgettable public tours. They offer fascinating exhibits, planetarium shows, and special presentations. During these experiences, you'll explore and learn about the wonders of our universe.
The Haleakalā Observatory might tickle your stargazing fancy if you're on Maui. Although they don't offer guided tours, their website provides helpful resources to plan a self-guided adventure. Trust me, the view from the Haleakalā Summit is worth every effort!
School Programs
Schools visiting the ʻImiloa Astronomy Center can use various hands-on learning opportunities. Their educational programs connect students to Hawaiian culture, modern astronomy, and navigation techniques. Plus, they provide engaging lessons for different grade levels.
For an immersive educational experience, consider visiting the Bishop Museum on Oahu. They offer a wide range of school programs, promoting natural and cultural history in Hawaii. It's not an observatory but a fantastic source of knowledge and fun for students!
Stargazing on Oahu
Although there are no observatories you can visit on Oahu, you can still enjoy the night sky!
Go to one of the 21 best stargazing spots on Oahu. In my article, I provide a free Google Map to help you discover each location.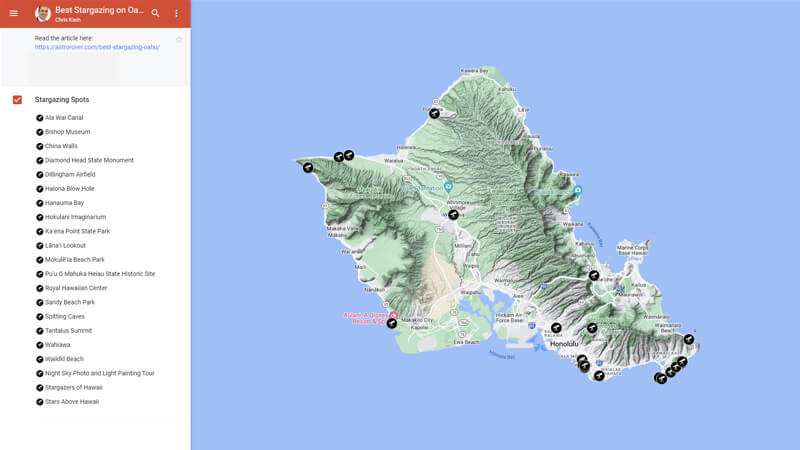 FREE STARGAZING CHECKLIST
My 5-page Stargazing Checklist will enhance your astronomical observations.
Follow this free checklist to navigate the night sky with confidence, clarity, and a sense of preparedness for a rewarding stargazing experience.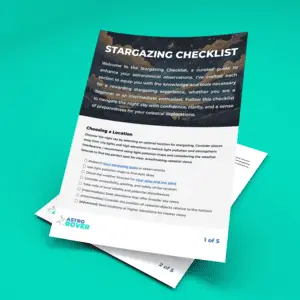 Observatory Facilities and Features
Hawaii is home to some world-class observatories located on the islands of Maui and Hawaii. Let's explore the facilities and features offered by those observatories.
Telescopes and Equipment
While you won't find an observatory on Oahu, Maui hosts the Haleakalā Observatory with state-of-the-art telescopes and equipment. Meanwhile, the summit of Mauna Kea on the Island of Hawaii is home to the Maunakea Observatories, the world's largest astronomical observatory.
These observatories boast powerful telescopes that astronomers from around the world use to peer into the universe. You'll find that their equipment facilitates groundbreaking research and discoveries.
Research and Discoveries
Due to their advanced technologies, the Haleakalā and Maunakea observatories have contributed to numerous significant research findings. For instance, they've discovered stars, galaxies, and black holes.
Both observatories support projects such as asteroid tracking and research into the early universe. If you ever get the chance to visit Maui or the Island of Hawaii, check out these observatories for an unforgettable experience in stargazing.
Events and Special Programs
While Oahu doesn't have a large observatory like those on the Big Island, you can still enjoy some astronomy events and programs. Visit the Planetarium at Bishop Museum for various shows and events open for public viewing. They offer add-on experiences to their general admission, special evening planetarium shows, and programs during multiple events.
When you're on the Big Island, consider exploring the Maunakea Observatories. Though primarily for research purposes, many observatories offer yearly special events and open houses. These events provide an excellent opportunity to witness advanced astronomy equipment up close and learn more about the cosmos from experts.
There are several valuable tips to enjoy amateur astronomy on your own.
Invest in binoculars or a small telescope to view the night sky from your backyard.
Attend local astronomy clubs' meetings and star parties to connect with other enthusiasts, as they'll indeed have valuable advice and recommendations for beginners.
Remember to check weather conditions and find a dark sky location away from city lights for the best stargazing experience.
Remember, patience is essential. With time, you'll discover the universe's wonders!
Supporting the Observatories
Seeing the stars from the comfort of your home through a telescope is an enriching experience. But I suggest supporting astronomical research and education to appreciate cosmic beauty truly. While you can't visit an observatory on Oahu, supporting the observatories in Hawaii, like Maunakea or Haleakalā, is still an option.
Your support can come in several forms. For example, attend a Kama'āina Observatory Experience – a free monthly event for Hawaii residents. By participating, you'll learn more about the observatories' history and significance, spread the knowledge to others, and inspire future generations of astronomers.
Another way to help is by raising social media awareness about these observatories' vital role in scientific research. Share news articles or events related to the observatories, and use your voice to emphasize their importance.
Summary
Thank you for reading my article "Can You Visit the Observatory on Oahu?"
Visiting an observatory can be an unforgettable experience, especially in a beautiful location like Oahu. Unfortunately, there isn't a public observatory on the island, but fear not! I have a few suggestions for you to get your astronomy fix still.
If you are feeling adventurous, you can take a trip to one of the neighboring Hawaiian islands, Maui. There you'll find the Haleakalā Observatory, which the University of Hawai'i operates. Remember that this observatory is primarily for research and may not be open for public visits.
Another option is to check out the Kama'āina Observatory Experience, a free monthly event on the Big Island. The events allow Hawaiian residents to explore Maunakea Observatories and learn about astronomy and the cultural significance of Maunakea.
Are you looking for something local? Oahu's beautiful night skies still offer great stargazing opportunities. Grab a telescope or a pair of binoculars and head to a location with little light pollution. You'll be amazed by the stars you can see on the island. Perhaps you're curious, Can you see the Big Dipper in Hawaii?
So, even though there isn't an observatory to visit on Oahu, don't let that dampen your astronomy enthusiasm. The Hawaiian Islands provide incredible stargazing opportunities, and whether you travel to a neighboring island or stay on Oahu, the skies will surely leave you starstruck.