Stargazing in Sedona Arizona is the perfect place because of its clear, dark skies.
The city's exceptional dedication to reducing light pollution makes it one of the best places in the United States to see the milky way at night.
Sedona is also home to some of the most powerful telescopes in the world, making it a great place to learn from expert astronomers with years of experience in astronomy. Their telescopes offer some of the best stargazing in Sedona.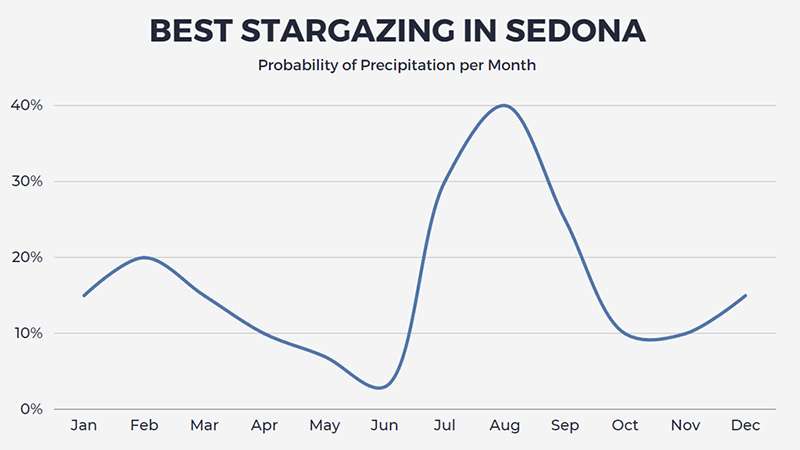 In Sedona, you can stargaze all year long except during the summer months. The monsoon season lasts from July to August and brings turbulent weather with it. The best time for stargazing Sedona Arizona is anytime other than the Monsoon season.
In this article, you get
A free Google Map showing the location of the best Sedona stargazing spots
A list of the 19 best stargazing spots in Sedona
Tips on Sedona Stargazing Tours
A map of Dark Sky Sedona
A detailed summary of each Sedona Arizona stargazing site
Stargazing Arizona Sedona photos
By the end of this article, you'll be able to pick your favorite best place to stargaze in Sedona!
Let's dive right in.
SEDONA DARK SKY
Sedona is a preferred location for professional astronomers, and this isn't by accident.
The International Dark-Sky Association designated Sedona an International Dark Sky Place. Only five other Arizona communities have earned this prestigious dark sky community designation: Flagstaff, Big Park (Village of Oak Creek), Cottonwood, Fountain Hills, and Thunder Mountain Pootseev Nightsky.
The dark-sky preservation movement is a growing effort to protect night skies from artificial light pollution. This includes light pollution from city lights, car headlights, streetlights, and other manmade sources. The movement aims to preserve dark skies for future generations to enjoy the beauty of the stars and planets.
For more info, read my article Light Pollution Effects.
SEDONA LIGHT POLLUTION
The Sedona night sky is one of the darkest in the country, making it a prime destination for stargazing.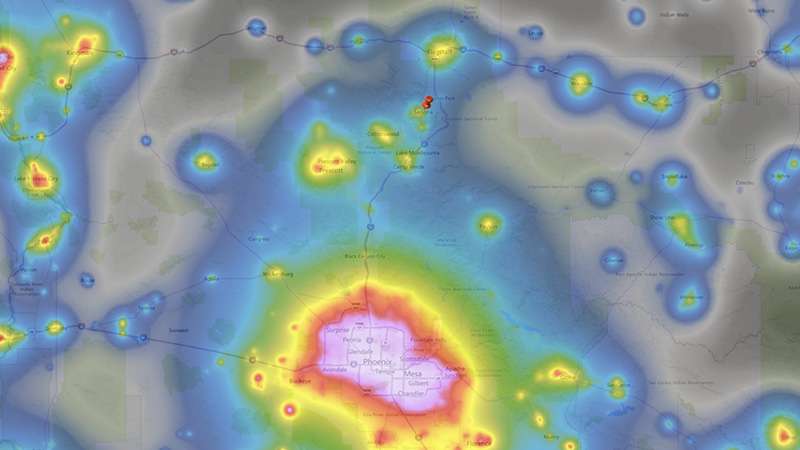 Light pollution from nearby cities can impact the quality of the stargazing experience. The effects of light pollution on stargazing are two-fold.
Light pollution decreases the contrast between stars and the background sky, making it more difficult to see faint stars
Light pollution creates a glare that can wash out the sky, making it harder to pick out individual stars
Fortunately, there are a few ways to mitigate the effects of light pollution when stargazing in Sedona.
Try to view the sky away from city lights
Use binoculars or a telescope to get a closer look at the stars
Give your eyes time to adjust to the darkness by avoiding bright lights before stargazing
By following these tips, you can enjoy the night sky Sedona offers, despite light pollution. To learn more, read my article How do you stargaze in Sedona?
Pro Tip
Make sure you check the moon phase before heading out. When there's a full moon, it will also cause some light pollution.
Can you see the Milky Way in Sedona? Absolutely. The Sedona Milky Way is most visible without moonlight. The best time to stargaze in Sedona is during a New Moon.
WHERE TO STARGAZE IN SEDONA
Now for the good stuff, the best places to stargaze in Sedona. Let's get started.
A Word of Caution
In case you're planning your trip during Sedona's monsoon season, which lasts from June to August, please check the weather forecast and pack accordingly. Flash floods can happen on trails and the road, so it's important to stay safe during your Sedona AZ stargazing trip.
AERIE TRAILHEAD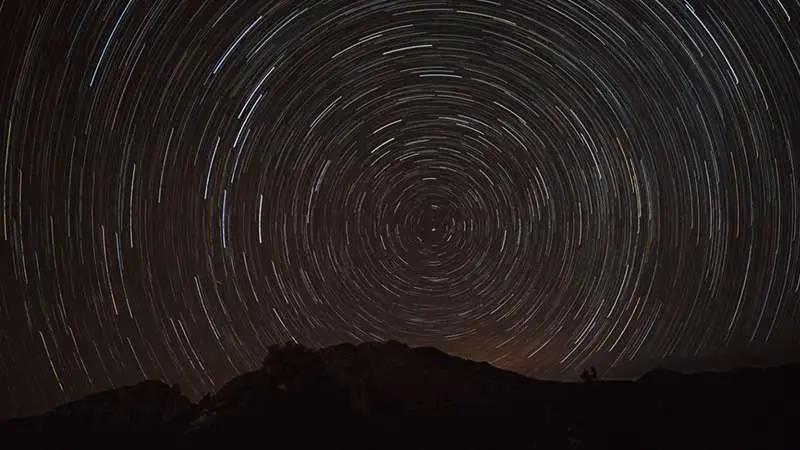 The Aerie Trailhead is located at 340 Aerie Rd, Sedona, AZ 86336. This spot, about a 20-minute drive from the Doe Mountain trail, is perfect for a night-time outing when you're looking for a spectacular view of the stars. During the day, mountain bikers enjoy this loop trail so beware if you arrive before sunset to watch the changing landscape.
BALDWIN TRAIL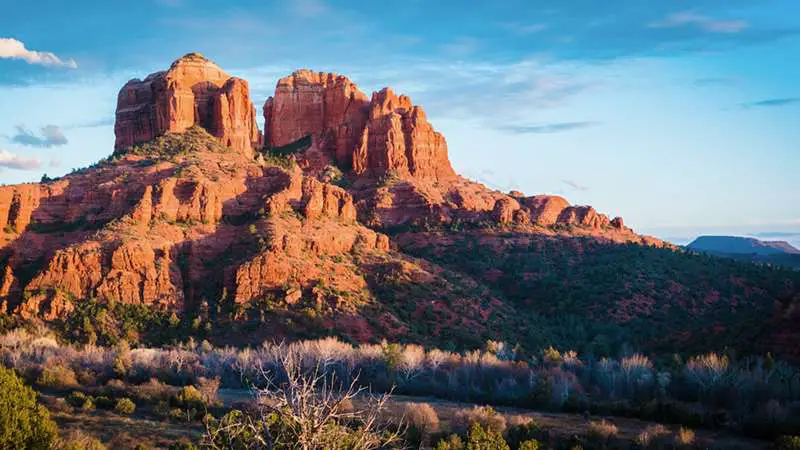 The Baldwin Trailhead and parking area are located on Verde Valley School Road beyond Turkey Creek Trailhead. Park your car at the trailhead parking lot and walk to the left for about a 10-minute walk.
This trail only gains 100 feet in elevation, but the views of the stars against the backdrop of iconic Cathedral Rock make it one of the best spots for Sedona star gazing. When you arrive, spread out a chair or blanket, and take in this incredible landmark all night.
BEAVERHEAD FLAT TRAILHEAD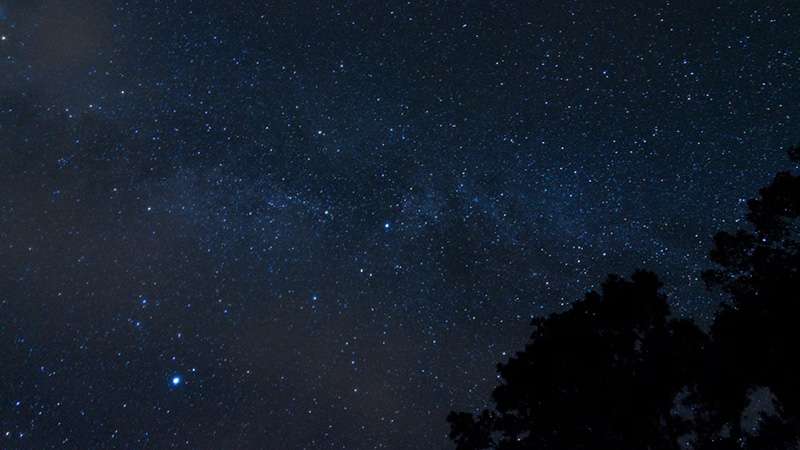 The Beaverhead Flat Scenic Overlook is one mile west of the Beaverhead Flat Road exit of State Route 179. Turn right into the entrance, cross the cattle guard and then turn right to the parking lot. This seldom-used scenic overlook is a great spot for stargazing near Sedona to get a clear view of the night sky.
BELL ROCK TRAILHEAD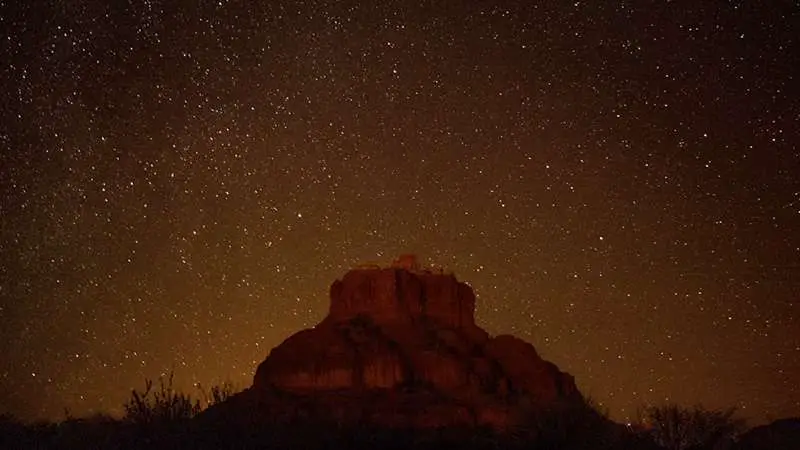 Bell Rock is a featured attraction about 15 miles north of the Sedona city limits. From the parking lot, Bell Rock blocks all the nearby lights, making this a stop on your stargazing Sedona tour. Perhaps a romantic evening under clear skies? Plus, it boasts panoramic views.
BOYNTON CANYON TRAILHEAD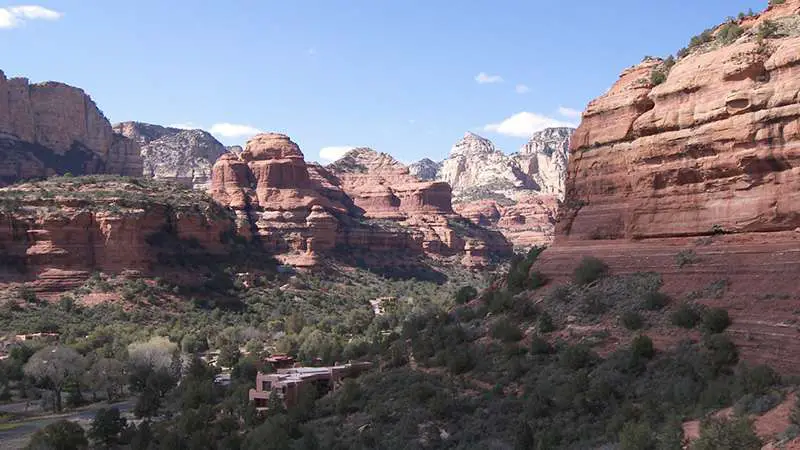 The Boynton Canyon Trailhead is in West Sedona. To get there, take Dry Creek Road to Boynton Pass Road and turn left. The trailhead is on the right side after 1.7 miles, shortly before the road ends at Enchantment Resort.
This place is known as a spiritual mecca and energy vortex power spot. Enchantment Resort offers a plethora of ways for guests to take in the night sky.
BRINS MESA TRAILHEAD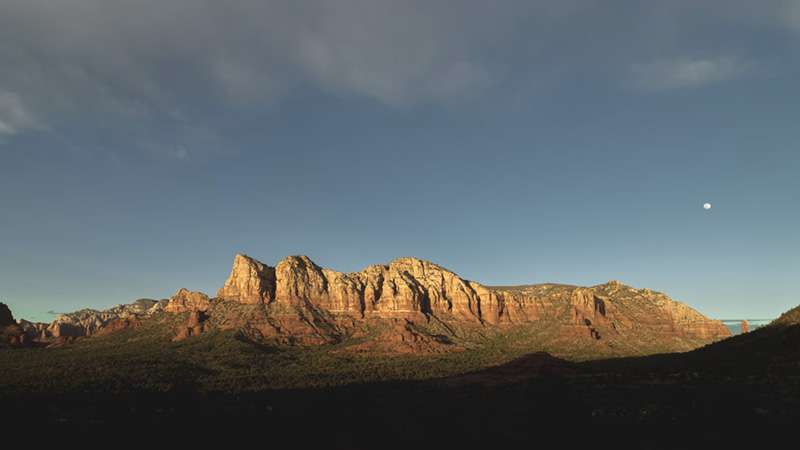 The Brins Mesa Trailhead is just a stone's throw away from uptown Sedona, but you'll be far enough away from any ambient light to have fantastic views of the night sky. When there's a full moon, you'll be able to see the outline of the red rocks in the background.
CATHEDRAL ROCK TRAILHEAD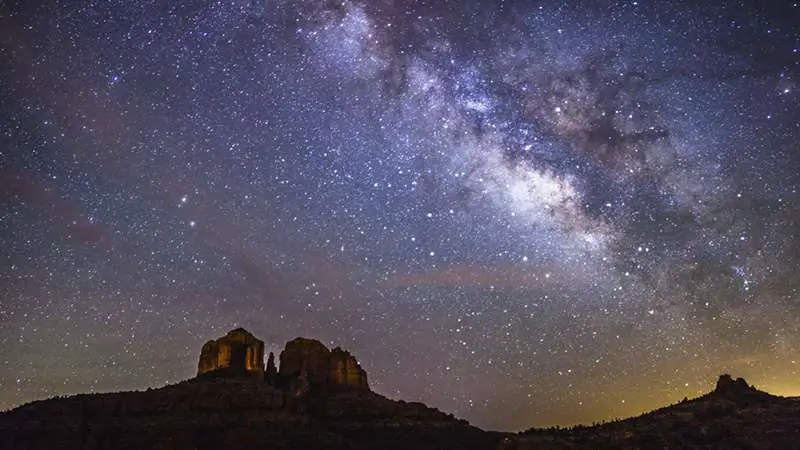 The Cathedral Rock Trail leads you right up to the top of the red rock formation where there are fantastic views.
Cathedral Rock is one of the best places in Sedona for an incredible evening of stargazing. The view of the rocks and red mountains is both magnificent and awe-inspiring and it's a favorite of visitors to Sedona.
Beware, Cathedral Rock is the most photographed landmark in Sedona.
CENTENNIAL TRAIL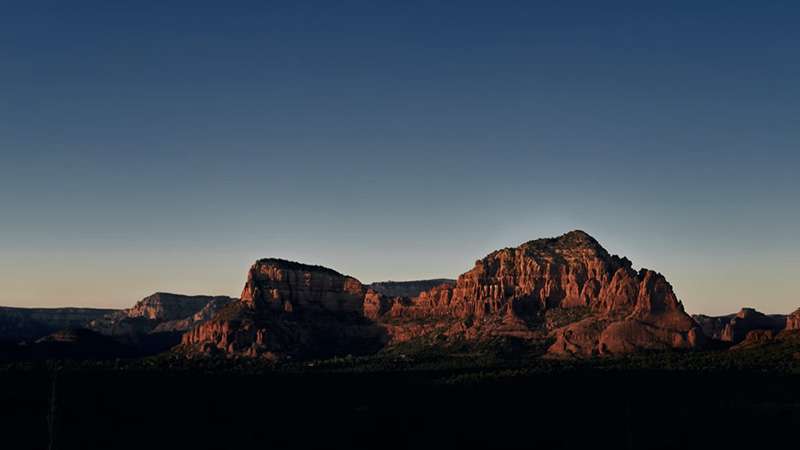 Centennial Trail is one of the easiest hikes you can do at night because the trail is only 1 mile long. This paved path is as bold as it is beautiful. As you head down the trail, you'll find a stunning combination of earthly and celestial views.
Come before sundown and you'll also get to experience a beautiful Sedona vista.
CRESCENT MOON PICNIC SITE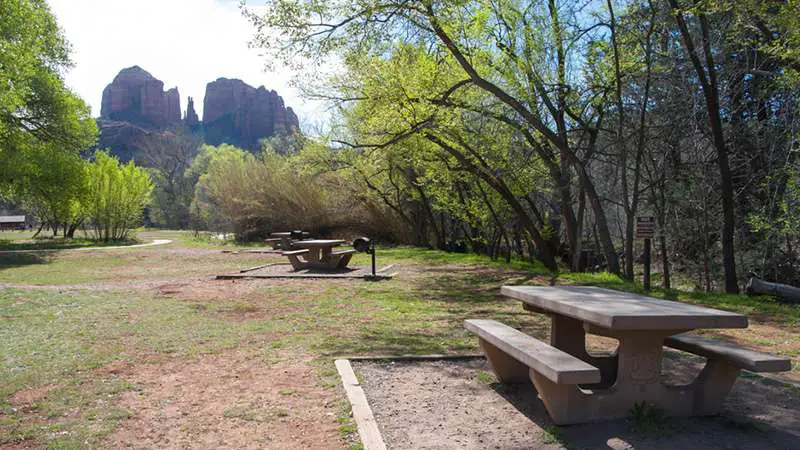 The Crescent Moon Picnic Site is located at 333 Red Rock Crossing Rd, Sedona, AZ 86336. Crescent Moon Picnic Site offers beautiful views of the night sky with little to no light pollution.
This is the best place in Sedona to see the sunset! I recommend coming a little early to get your camera ready for the golden hour.
Then explore the many trails to find your perfect spot for stargazing!
DOE MOUNTAIN / BEAR MOUNTAIN TRAILHEADS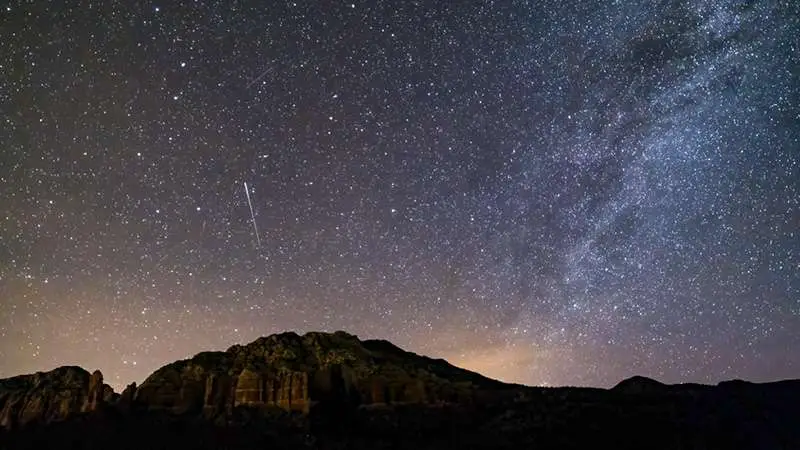 The Bear Mountain Trail begins across the street from the Doe Mountain – Bear Mountain Trailhead on Boynton Pass Road. You can park at the large trailhead parking lot. You'll have plenty of space to enjoy some views and stargazing with red rocks in each direction from the trailhead lot.
DRY CREEK ROAD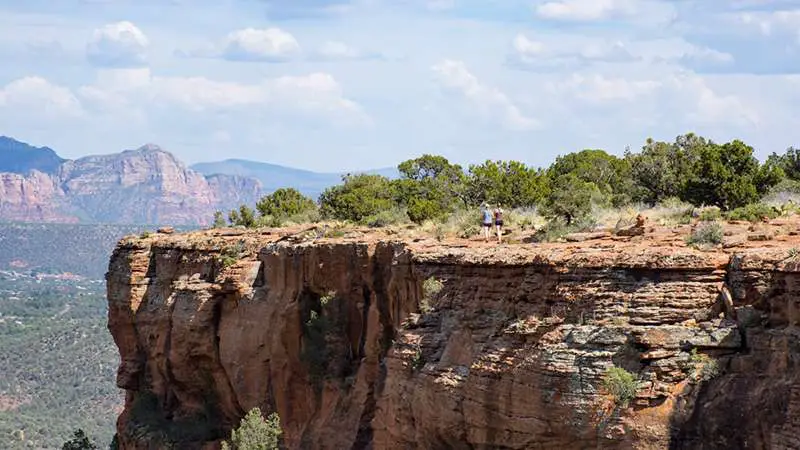 Dry Creek Road is a long road in west Sedona. While there are no stargazing spots, it's a great road to get away from the city lights. Popular trails, like Devil's Bridge and Brins Mesa, start at Dry Creek Road.
There are plenty of places to park along the side of the road, and a few parking lots where you can base yourself from. This might be some of the best stargazing Sedona has to offer.
FAY CANYON TRAILHEAD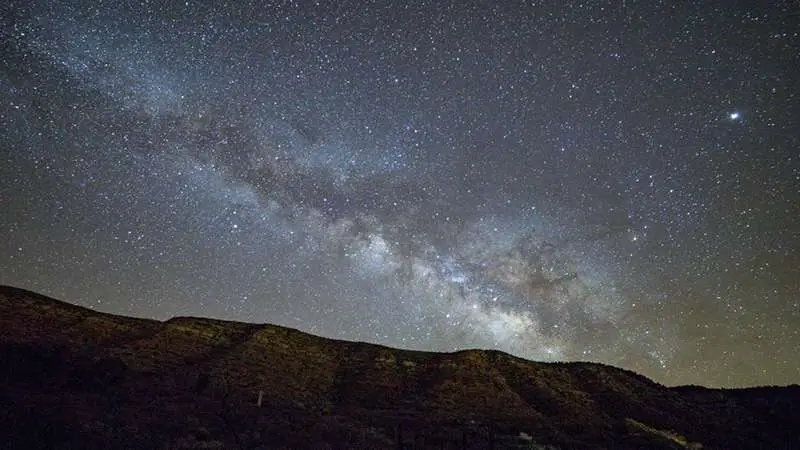 The Fay Canyon Trailhead is located off Boynton Pass Road. After passing through the tree-lined entrance, you'll arrive at an opening into the vast night sky perfect for spotting shooting stars! There's not much to see on the trail itself due to the tree coverage, so it's best to stay near the trailhead.
JORDAN TRAILHEAD OBSERVING AREA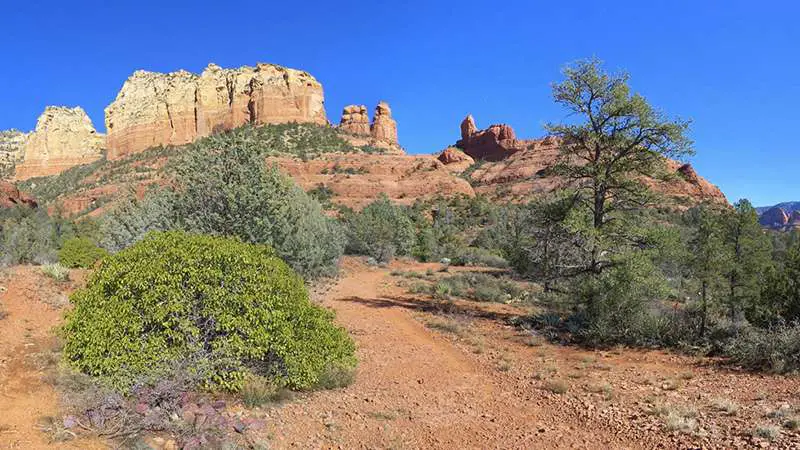 The Jordan Trailhead Observing Area is located at the end of West Park Ridge Drive. It's a dirt road that is usually passable, but can be washed out or sandy at times. At the end of the road, there is a parking area with a big field where you can set up to enjoy the stars.
This spot might be the best place to see stars in Sedona.
MARG'S DRAW TRAILHEAD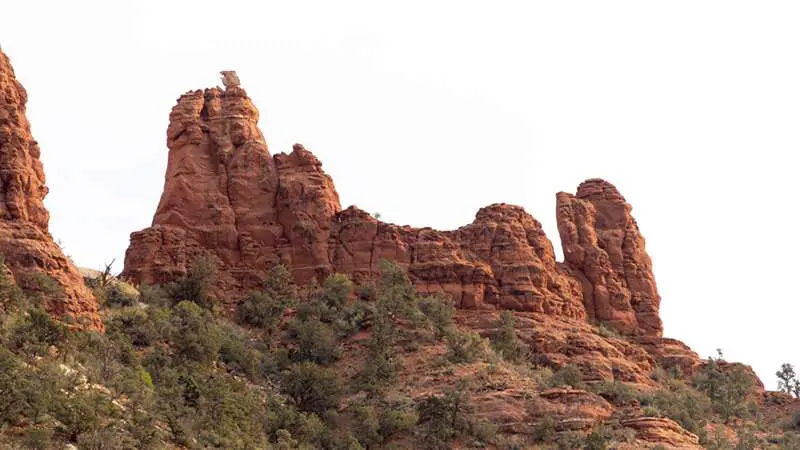 Marg's Draw Trailhead is a short out-and-back trail that runs through the Munds Mountain Wilderness. You'll notice Snoopy Rock catching fantastic late evening sun thanks to its location.
As the trail tapers off toward the North, you'll run into Huckaby Trail and Broken Arrow Trail. After midnight, this is an excellent location for views of the stars.
MERRY GO ROUND ROCK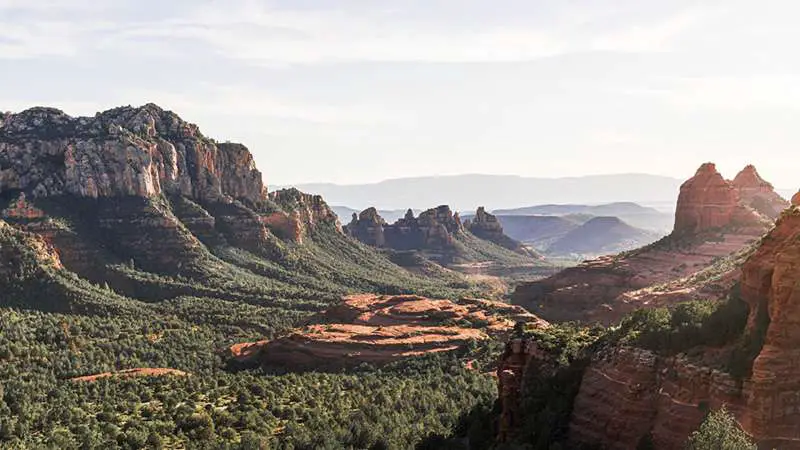 You will find Merry Go Round Rock off Schnebly Hill Road way up in the mountains. It's a great place to go to escape the lights found in Sedona.
Make sure you bring a flashlight so you can make your way around without getting lost. It's one of the best places around to stargaze!
THUNDER MOUNTAIN TRAILHEAD
The Thunder Mountain Trailhead is at the end of Thunder Mountain Road in West Sedona. Most tourists come here to watch the sunset, but it's a great place for stargazing.
From here, you can also see views of Amitabha Stupa and Peace Park, a 24-acre park that offers a place for meditation amid Sedona's iconic red rocks
You'll come for a captivating sunset at Thunder Mountain, but you'll stay for the unforgettable 360˚ view of the Sedona starscape.
Jennifer Wesselhoff, Sedona Chamber of Commerce & Tourism Bureau (2002-2020)
TURKEY CREEK TRAILHEAD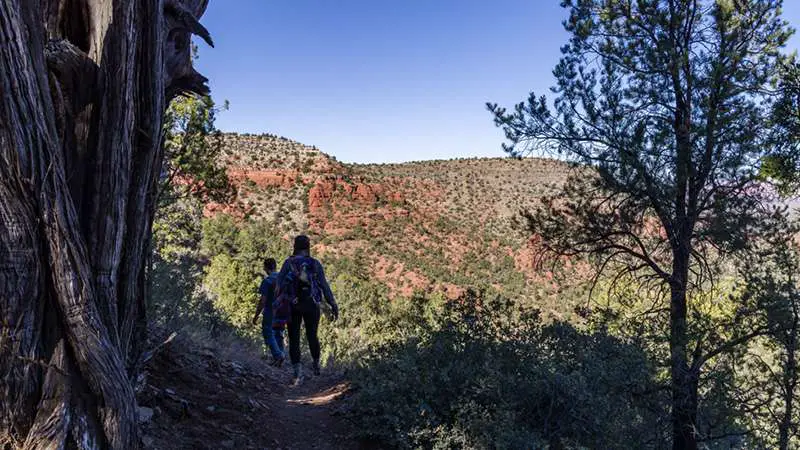 The Turkey Creek Trailhead is located on Verde Valley School Road just south of Sedona, near Red Rock State Park. This seldom-used trail offers rare views and interesting geology.
It can get steep in some sections, so you're best to avoid getting stuck in the dark. My advice would be to enjoy the stargazing from the trailhead.
TWO TREES OBSERVATION AREA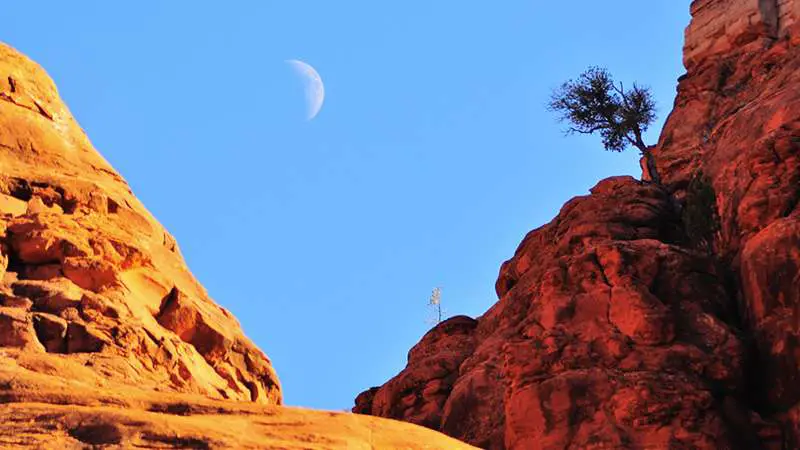 The Two Trees Observing Area is just off State Highway 89A, near the intersection of Forest Road 525A and Forest Road 761B, roughly 10 miles southwest of downtown Sedona.
Two Trees Observing Area stargazing offers you one of the best places for free star gazing in Sedona.
SEDONA STARGAZING TOURS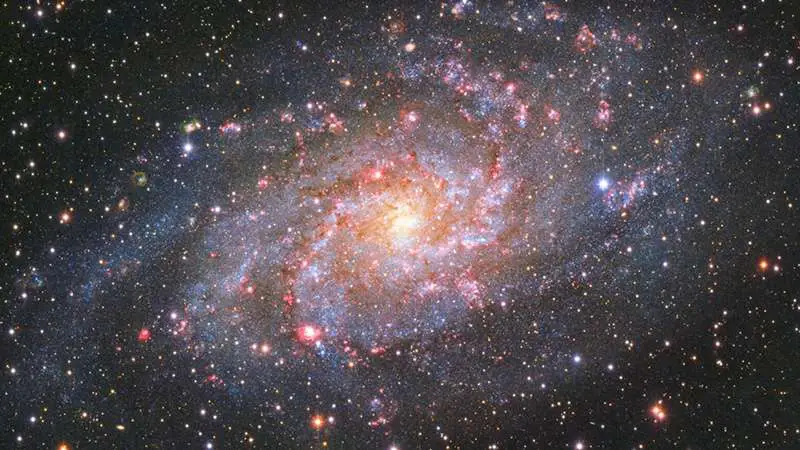 Sedona Stargazing offers an evening sky tour by professional astronomers with decades of experience.
This Sedona star gazing tour uses a large state-of-the-art telescope and high-powered laser pointers to guide you around the night sky. They point out things like star clusters, double stars, interstellar gas clouds, and other celestial objects.
This Sedona astronomy tour makes for a great combination tour after a visit to nearby Grand Canyon National Park. It's the best stargazing tour Sedona offers.
FREE GOOGLE MAP OF BEST STARGAZING IN SEDONA
You can now access my free Google Map of the Best Stargazing in Sedona. I hope it will help you to plan your next adventure.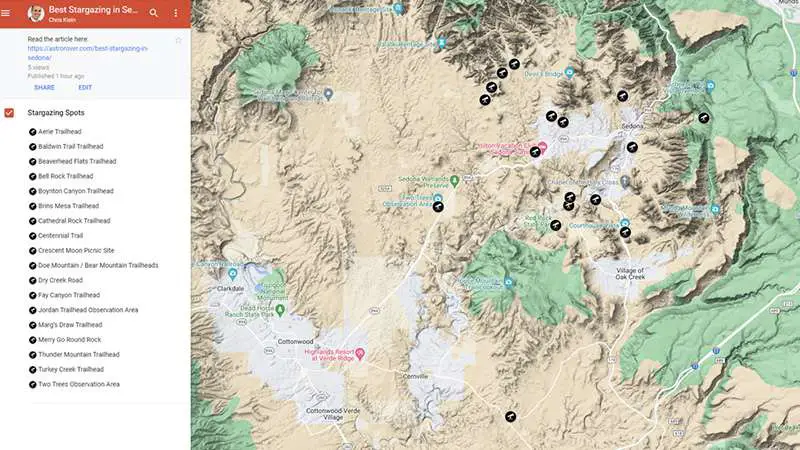 This map includes the best star gazing Sedona offers. Head out to one of these excellent Sedona stargazing locations to explore the night sky in Sedona!
CONCLUSION
You now have all the info you need to answer the question "Is Sedona Good For Stargazing?"
If you want dark skies (and great food), then Sedona is the place, thanks to its exceptional dedication to reducing light pollution. No wonder the International Dark Sky Association named Sedona an official International Dark Sky Place.
When you go out star gazing Sedona, bring extra layers and a flashlight. A sweater and insect repellant are also good ideas, depending on when you plan to go. And, of course, make sure your cell phone battery is fully charged.
Could you make Sedona a stop on one of your upcoming trips? With so much free stargazing in Sedona, it's hard to imagine you wouldn't. You won't be disappointed if you stargaze Sedona!
If you are going to be in other places in Arizona, read my article Best Stargazing In Arizona.
What's up next? Pick your adventure!
If your trip takes you to Utah or Colorado, read about the Best Stargazing In Utah, including Moab, or the Best Stargazing In Colorado.
If your trip takes you to California, then be sure to check out my articles on the Best Places for Stargazing in California, the Best Time To Go To Joshua Tree For Stargazing, and the best stargazing Death Valley has to offer.
If, on the other hand, your travels take you to the East Coast, then read my article on the Best Stargazing in Florida. If, by chance, your road trip takes you through Texas, read about the best time to visit Big Bend National Park for stargazing.
FREQUENTLY ASKED QUESTIONS
WHERE CAN I SEE THE MILKY WAY IN SEDONA?
The Jordan Trailhead Observation Area and the Two Trees Observation Areas are easy places to see the Milky Way in Sedona. They are both used by Sirius Lookers, a popular local astronomy association, and the perfect place for some Sedona astrophotography.
IS SEDONA A GOOD PLACE TO STARGAZE?
Yes, Sedona is a good place to stargaze. In Sedona you can stargaze all year long except during the summer months. The monsoon season lasts from July to August and brings turbulent weather with it. Arizona is hit by big storms every year during monsoon season.
IS SEDONA A DARK SKY CITY?
Yes, Sedona is one of only 38 communities in the world certified for being a Dark Sky Community. This means there's an amazing opportunity to stargaze and see thousands of stars with very little light pollution.
WHAT MONTHS CAN YOU SEE THE MILKY WAY IN ARIZONA?
When is the Milky Way visible in Arizona? The best time to see the Milky Way is between February and October. Generally speaking, it is best seen between midnight and 5 am on a night with a new moon.
WHERE IS THE BEST PLACE TO SEE THE SUNSET IN SEDONA?
A popular spot for sunsets is the Airport Mesa in Sedona. It's popular for sunsets because it's accessible by car and provides stunning panoramic views. It's also known as one of many vortex areas where you can tap into the earth's energy.