Are you an aspiring astronomer or just a night sky enthusiast? If so, then Moab, Utah, is the place for you! Its wide open spaces and lack of light pollution make it the perfect destination for stargazing.
In this article, you get
A guide to stargazing Moab, Utah
Details about the International Dark-Sky Association's Gold-Tier designation
A deep-dive into two not-to-miss stargazing spots in Moab
A quick look at two more locations just down the road
By the end of the article, you'll have all the information you need to plan your perfect getaway to the best stargazing Moab offers, and beyond.
Let's dive right in.
A GUIDE TO THE BEST STARGAZING MOAB OFFERS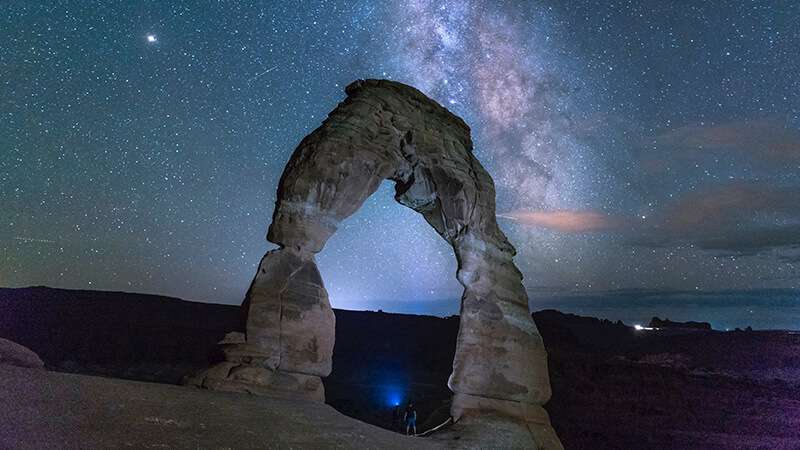 Moab is a popular tourist destination due to its proximity to two national parks: Arches and Canyonlands. Moab attracts mountain bikers who enjoy the extensive network of trails, including the famous Slickrock Trail, and off-roaders who come for the annual Moab Jeep Safari.
The city has a long history, dating back to the Old Spanish Trail and the Elk Mountain Mission and being home to a former Civilian Conservation Corps camp.
Moab's stunning red rock formations and incredible hiking trails are well known.
But many people don't know that Moab is also one of the best spots in the U.S. for enjoying the wonders of the night sky. Moab is ideal for you, with clear skies, low light pollution, and minimal cloud cover.
Whether you're a beginner or an experienced stargazer, Moab has many spots to explore the stars. If you're new to stargazing, read my articles What Do You Need To Go Stargazing? and Is Stargazing Safe?
PICK THE RIGHT PLACE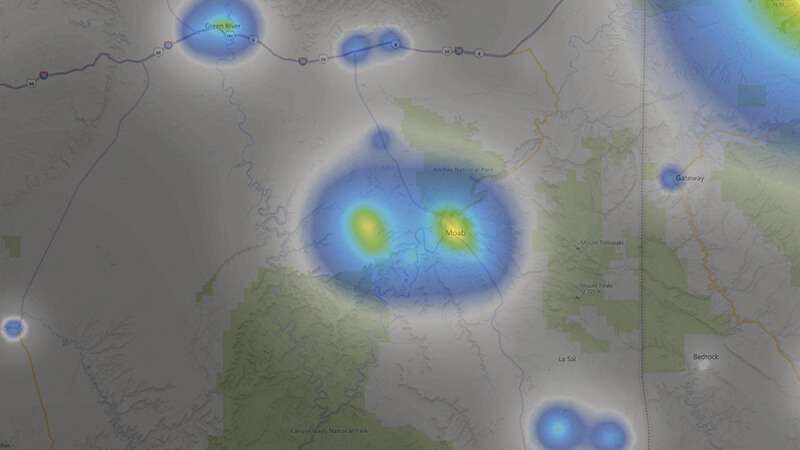 For the best stargazing experience in Moab, you'll want to pick the right place. The farther away from the lights of Moab, the darker the skies will be. Areas off the main road with few sky obstructions are best for stargazing.
Arches National Park is an excellent stargazing destination, one of only 115 Dark Sky Parks worldwide. Within Arches N.P., Balanced Rock Picnic Area, and The Windows are great spots to start your stargazing adventure!
BRING THE NECESSARY GEAR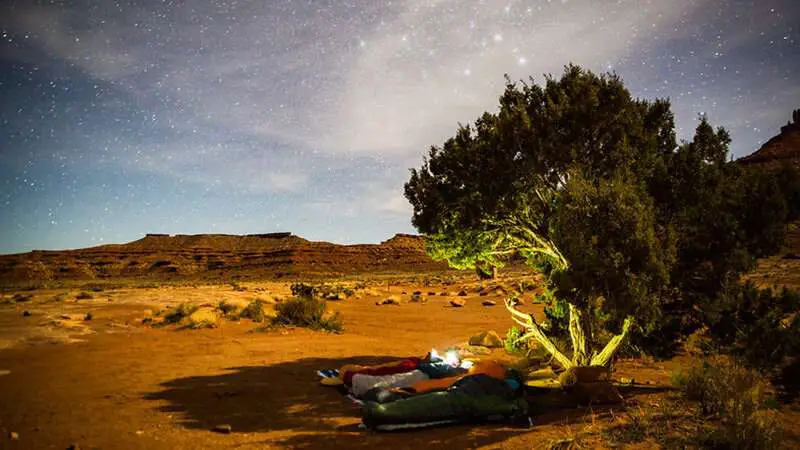 It's essential to bring the right gear for your stargazing adventure.
While you can certainly enjoy the night sky with your naked eyes, a pair of binoculars or a telescope can help you get a better look at the stars. Many rental options are available even if you don't own a telescope or binoculars.
If you'd like to photograph the night sky, consider bringing a DSLR camera and wide-angle lenses. You'll also need a tripod for any cameras or your telescope.
And don't forget warm clothes – it can get chilly in the desert at night!
FREE STARGAZING CHECKLIST
My 5-page Stargazing Checklist will enhance your astronomical observations.
Follow this free checklist to navigate the night sky with confidence, clarity, and a sense of preparedness for a rewarding stargazing experience.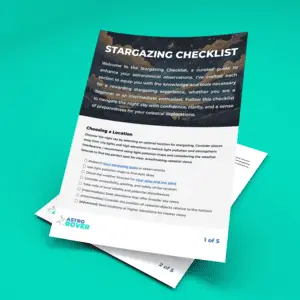 WHAT TO LOOK FOR IN THE NIGHT SKY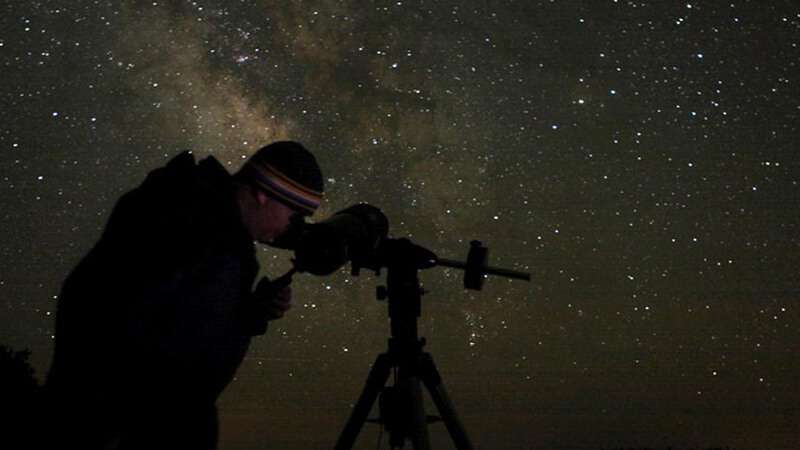 With so many awe-inspiring sights, it can be overwhelming to know where to start. To make the most out of your stargazing adventure, you should know what celestial objects and phenomena you may encounter during your night sky exploration.
There are a variety of stars, planets, galaxies, and nebulae that you can see in the night sky. For instance, you can see the Milky Way Galaxy along with several planets like Saturn and Jupiter. You may also be able to spot a meteor shower or two!
I recommend looking out for constellations like Ursa Major (the Big Dipper), Orion's Belt, and the Pleiades star cluster. All of these phenomena will make your stargazing experience even more magical!
THE INTERNATIONAL DARK SKY PARKS IN MOAB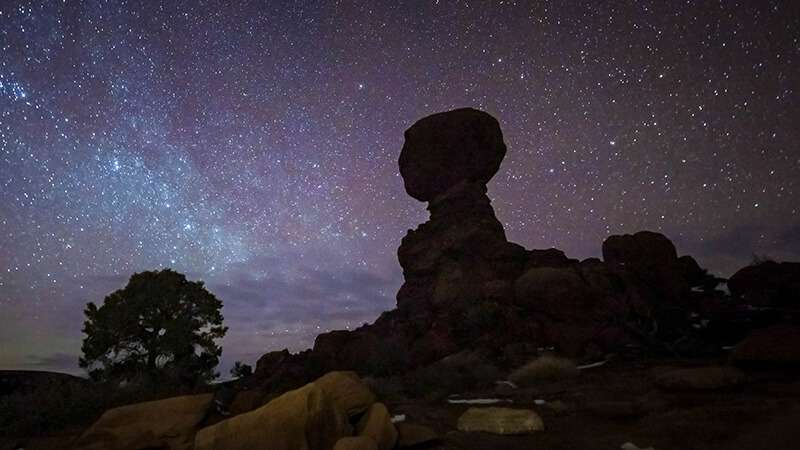 The International Dark Sky Parks in Moab are a unique and rare resource that offer millions of people the opportunity to view the night sky without light pollution.
These parks, including Arches and Canyonlands National Parks, are protected from light pollution thanks to the efforts of Moab Dark Skies, the Friends of Arches and Canyonlands Parks, and the National Park Service.
Their advocacy and residential and business outdoor lighting ordinances have ensured that people may appreciate this natural beauty without compromising safety. For more information, read my article on Light Pollution Effects.
As a result, Moab's night skies are preserved for future generations to enjoy.
BEST TIMES OF YEAR TO STARGAZE
If you want to experience the best stargazing in Moab, plan your trip for a new moon or within three days before or after. The night sky will be at its darkest, and you will be able to see all the stars.
Certain times of year are better for stargazing than others. For instance, winter nights are longer and cooler, reducing light pollution and making it easier to spot stars and planets.
LIGHT POLLUTION AREAS TO AVOID
When it comes to stargazing in Moab, it's essential to know where to go and what areas to avoid. Avoid areas with a lot of artificial light pollution, such as the urban center.
Instead, concentrate your night-sky viewing in places like Arches National Park, where you can experience the starry night sky with minimal light interference.
ARCHES NATIONAL PARK: WHAT TO LOOK FOR AND WHERE TO GO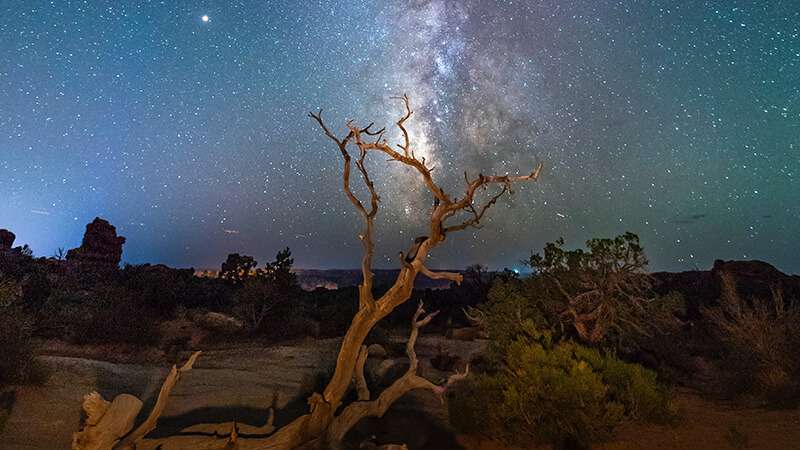 If you're looking for the best stargazing experience in Moab, Utah, then you will want to stargaze Arches National Park. For the complete list of places in Utah, read my article Best Stargazing in Utah.
This internationally-certified Dark Sky Park (2019) is a prime location for night photography and stargazing.
INTRODUCING ARCHES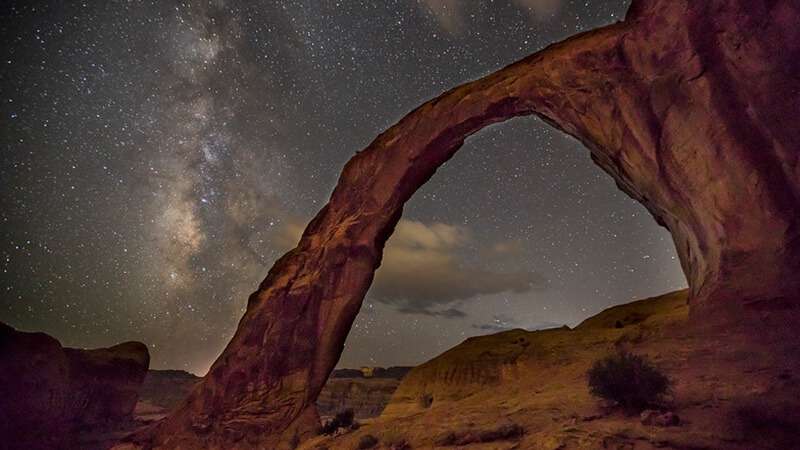 Arches National Park is a stunningly beautiful desert park located in Moab.
The Park boasts over 2,000 natural sandstone arches, as well as a variety of spectacular rock formations. You can explore the Park via the scenic drive and its many viewpoints or opt for longer hikes to explore some of the more remote areas.
Ranger-led programs and guided walks are available daily in the spring and fall, providing an opportunity to learn more about this special place.
Permits and reservations are necessary for some activities, and you should know the Park's fees, operating hours, traffic, and travel tips before arriving.
THE BEST SPOTS IN ARCHES
The Park is home to some of the best stargazing spots in Moab. Not only can you see the stars, but you can also get an excellent view of the landscape as you gaze up at the night sky.
From the prominent arches such as Landscape Arch and the Delicate Arch to the numerous viewpoints such as Balanced Rock Picnic Area, The Windows, and Panorama Point, the Arches National Park plan has you covered.
LANDSCAPE ARCH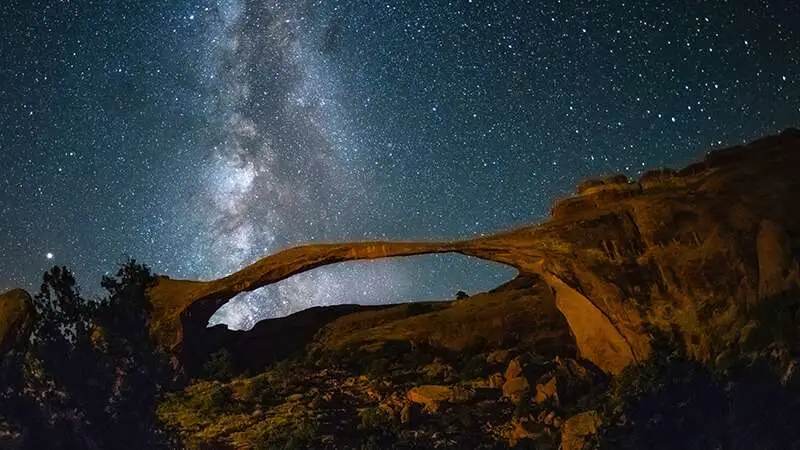 This awe-inspiring expanse is only 6 feet wide and is the longest natural rock span in the world. It's the longest arch in North America, with an incredible opening of 306 feet, beating out Zion National Park's Kolob Arch by a scant 3 feet.
You can visit Landscape Arch by taking a two-mile out-and-back easy trail over a well-maintained path in the Devil's Garden section of the Park.
DELICATE ARCH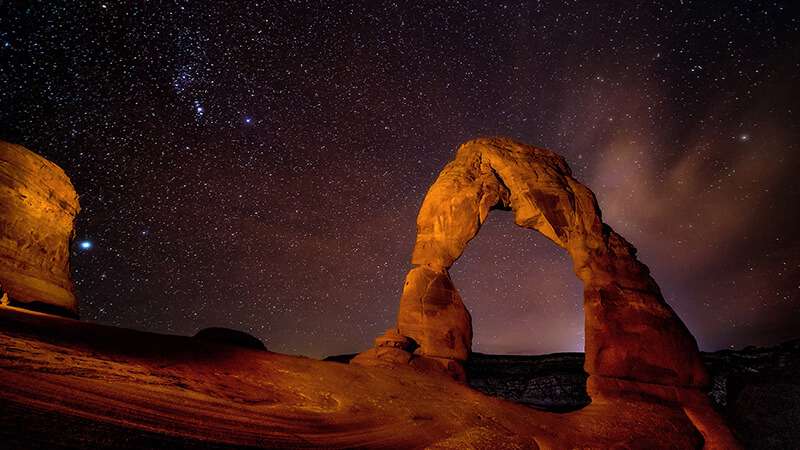 Delicate Arch has become a widely recognized symbol of the state of Utah and one of the most notable geologic features in the world.
To get the best views of Delicate Arch, you must hike 3 miles round-trip. The trail can get very busy! You won't believe how massive the arch is when you get there – its opening is 46 feet high!
BALANCED ROCK PICNIC AREA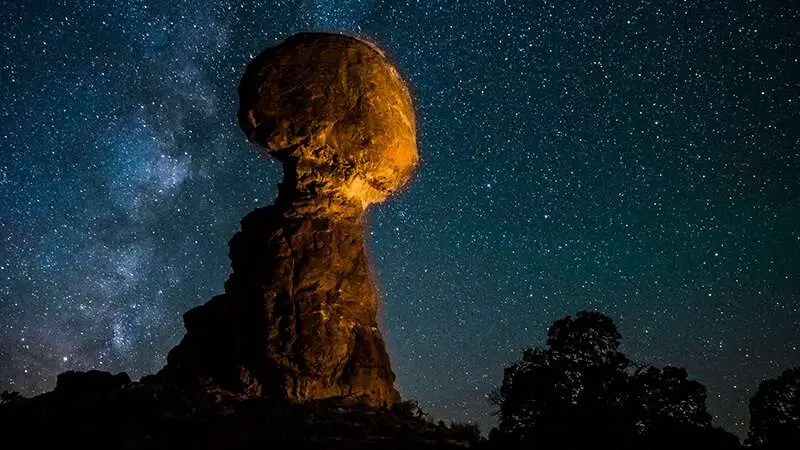 The Balanced Rock Picnic Area offers an ideal spot to take in the awe-inspiring view of the 3,600-ton Balanced Rock formation.
The picnic area contains multiple picnic tables, a covered canopy, and spectacular views of Salt Valley and Balanced Rock. You can enjoy a peaceful picnic or even catch a magnificent sunset as the Balanced Rock becomes saturated in a deep red-orange.
Stargazing and night photography are also popular activities in the area.
THE WINDOWS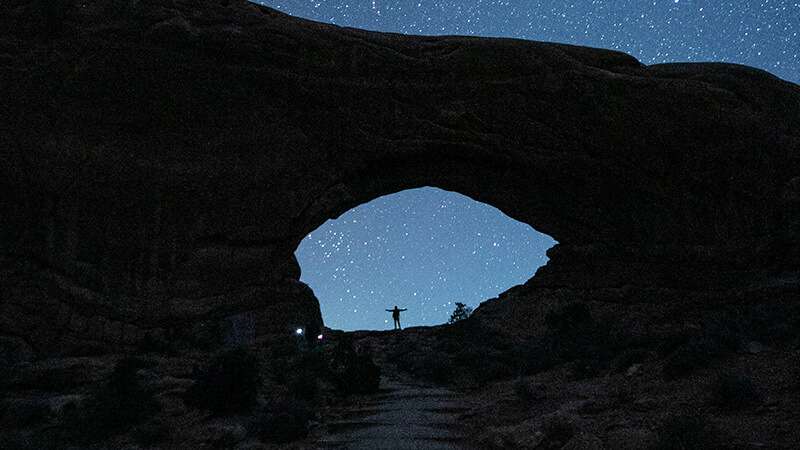 The Windows section of Arches National Park is a stunning and diverse area, boasting some of the most awe-inspiring expanses in the entire Park.
The North Window, Turret Arch, and Double Arch, alongside the Garden of Eden, Elephant Butte, and Parade of Elephants, offer a unique experience.
With plenty of activities to enjoy, such as hiking, sightseeing, stargazing, and photography, The Windows section will surely be a memorable experience for the whole family.
PANORAMA POINT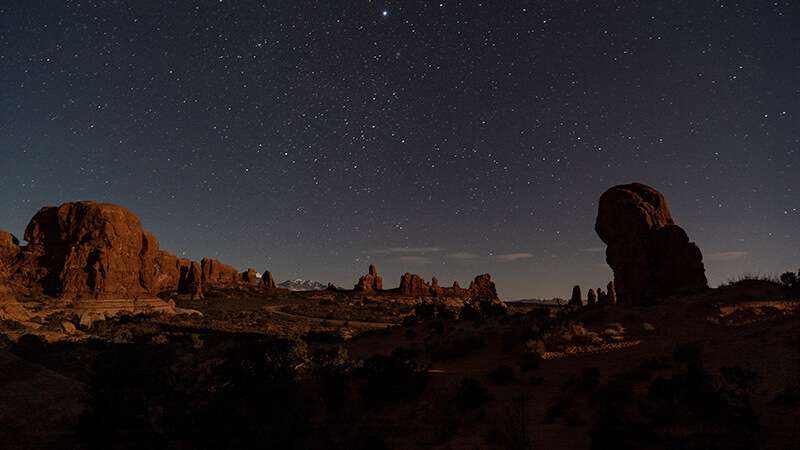 Panorama Point is a unique destination to take in the beauty of the La Sal Mountains, the Fiery Furnace, and even Devils Garden.
Located at the top of a hill, you can drive up to a point and enjoy sweeping views of the area. Panorama Point is an ideal spot to go stargazing with its accessible parking spots, picnic areas, and sidewalks.
TIPS FOR A SAFE AND ENJOYABLE STAY
Planning for safe and enjoyable stargazing is essential to experience Arches National Park's night sky in all its glory.
Be sure to arrive early to beat the heat and crowds. Pack water and snacks so you can stay hydrated, and dress warmly, as temperatures can drop rapidly after sundown.
Make sure to bring a flashlight or headlamp with a red filter, which will help preserve your night vision and won't disturb the stars or other park visitors.
To make the most of your experience, try planning your trip for winter when the air is usually at its clearest.
MARVELOUS STARS AND PLANETS AT DEAD HORSE POINT STATE PARK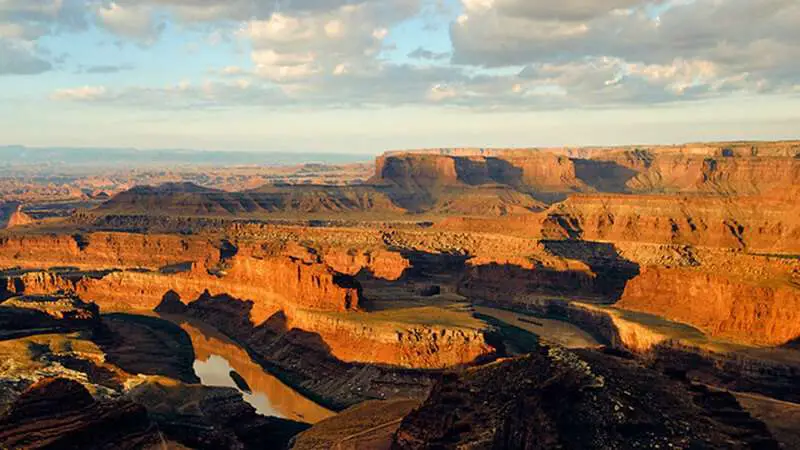 If you're looking for another, often less crowded spot in Moab, you'll want to check out stargazing at Dead Horse Point State Park.
Designated as an International Dark Sky Park in 2016, it's a very accessible spot to stargaze in the Moab area. With minimal light pollution and expansive views of the night sky, Dead Horse Point is a dream come true for stargazers.
Dead Horse Point was a good alternative for my wife and me since Arches was already fully booked. Overnighting here is far better than staying at one of the hotels in town!
I recommend staying here if the nearby area national parks are full.
OVERVIEW
Located just North of Canyonlands National Park, the Park is recognized as one of the few International Dark Sky Parks in the world and provides an ideal spot for stargazing. With plenty of space to spread out, you can easily find a spot to watch the sunset and observe the night sky.
This Park offers visitors a variety of activities, including camping, hiking, and wildlife viewing.
The Kayenta and Wingate campgrounds both offer picnic tables, fire rings, tent pads, and R.V. electrical hookups. The Wingate campground also has eleven walk-in, tent-only sites.
WHAT YOU CAN SEE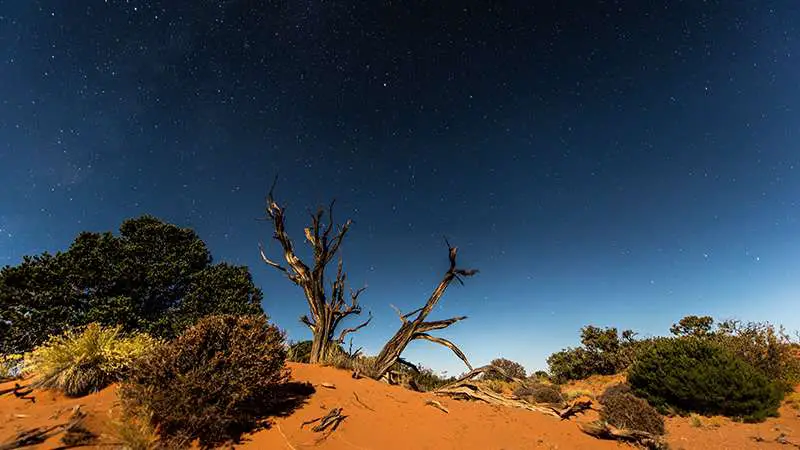 Dead Horse Point State Park offers a 360-degree view of the night sky, including an extraordinary view of the Colorado River that reminds me of being at the Grand Canyon in Arizona
When you visit, you can observe a range of celestial sights, including stars, planets, comets, meteors, and more.
HOW TO GET THERE
The good news is that Dead Horse Point State is close by and offers straightforward access for R.V. travelers.
To get to the Park from Moab, take US-191, turn left onto UT-313, and then drive until it ends at Dead Horse Point State Park. From there, you'll be able to marvel at the night sky with minimal light pollution and a breathtaking view.
NEARBY ATTRACTIONS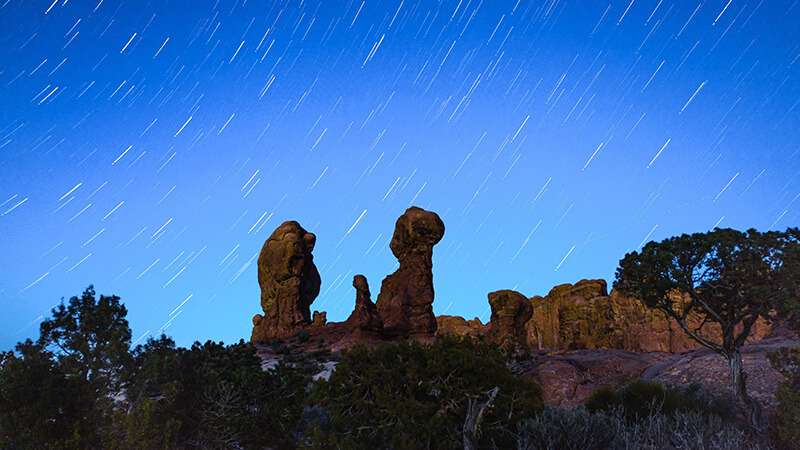 Remember to visit other parks in Utah. The rates of visitors per year at Capitol Reef National Park and Kodachrome Basin State Park are lower than the big ones near Moab, so these are good options for you.
Regarding what's nearby Moab, I'll cover Canyonlands National Park and Bridges National Monument.
CANYONLANDS NATIONAL PARK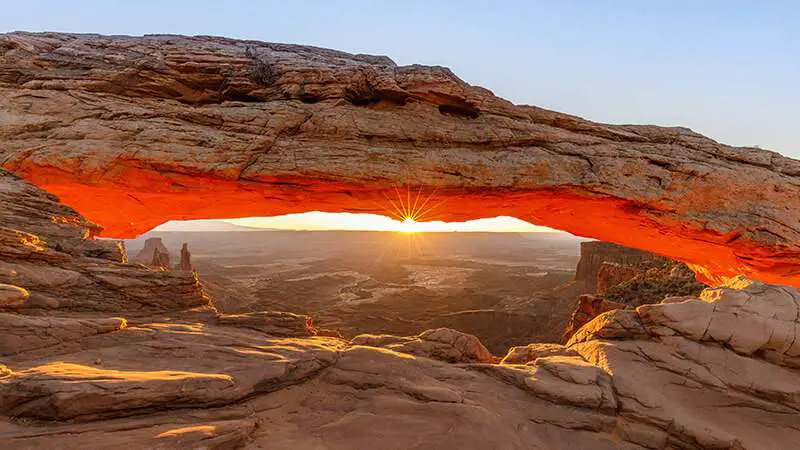 Stargazing at Canyonlands National Park is a special experience. Located just five miles (eight kilometers) north of Moab, along Highway 191, you can take in the stunning views of the three distinct districts – the Needles, Island in the Sky, and the Maze.
You'll be in awe of the expansive views from Slickrock Foot and the abundance of hiking trails that this Park has to offer. Explore plenty of daytime activities, such as hiking, mountain biking, and 4WD trails.
Canyonlands National Park is one of the few lucky parks certified as a Gold-Tier International Dark Sky Park (2015).
Canyonlands National Park is open 24 hours a day, year-round, but some facilities may close during the winter. There are no roads within the Park to link districts, and traveling between districts can take up to six hours by car.
It is best to bring what you will need for your visit as there are few services in the Park. Pets are welcome, but there are limits on where they can go.
Some activities, such as backcountry travel and river trips, require a permit.
It is essential to check the current conditions and weather before visiting, as the weather can change quickly.
NATURAL BRIDGES NATIONAL MONUMENT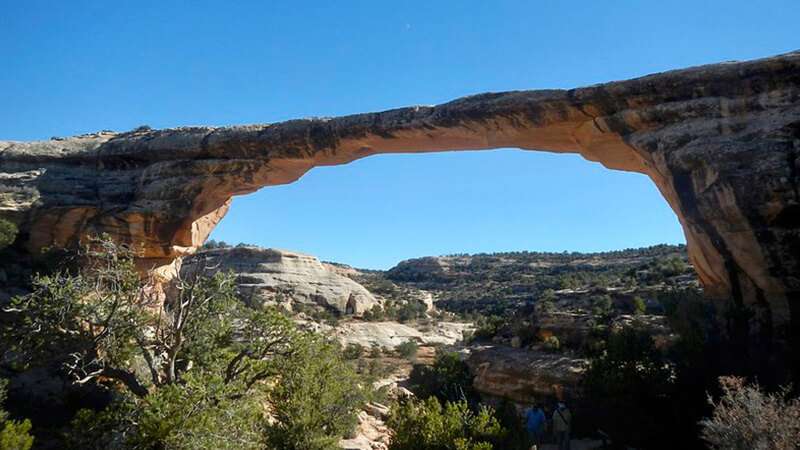 Stargazing at Natural Bridges National Monument invites you to ponder the power of nature and appreciate its beauty. This National Monument is a wonderland of beauty and power with three majestic natural bridges.
Take a drive along the nine-mile scenic highway and experience the area's stunning landscapes, including white canyons and tree-covered mesas. Get up close and personal with the natural bridges carved by water over thousands of years.
And remember to explore the concentration of Ancestral Puebloans ruins, which remind you of the area's rich history.
This national monument is the first International Dark Sky Park, designated in 2007. You can explore the night sky and go stargazing virtually anywhere in the Park, day or night.
Visiting Natural Bridges National Monument is an incredible experience.
The monument offers a one-way Bridge View Drive with overlooks of all three bridges and several short and long hiking trails for further exploration.
Plan to spend two to three hours exploring the area to make the most of your visit. There are limited parking spaces at each overlook and trailhead, so arrive early for the best experience. If you're towing a trailer, you can leave it in the visitor center parking lot.
Bridges National Monument is a short 2-hour drive south of Moab. You could either come back to Moab or continue your tours of other impressive Parks Utah has to offer.
CONCLUSION
Whether you book one of the many vacation rentals in the area or come by R.V., spending a few nights stargazing the dark skies of Moab will be well worth the trip.
If your travels take you further Southwest, read my articles on the best stargazing in Arizona, and specifically stargazing in Sedona, continues with California stargazing, including Death Valley and Joshua Tree.
Other popular spots include stargazing in Colorado and Florida.
Finally, for some magical experiences, read my articles about stargazing on the Hawaiian islands of Oahu, Maui, and Kauai.
FREQUENTLY ASKED QUESTIONS
CAN YOU ENTER ARCHES NATIONAL PARK AT NIGHT?
Yes, you can enter Arches National Park at night. The Park is open 24 hours per day all year round. However, the Park can be much busier during the spring, summer, and fall months when temperatures are comfortable, and the Rangers offer programs. During the winter, temperatures can be cold, with highs averaging 30° to 50° F. Despite this, the Park is still open, and visitors can enjoy the peace and solitude of the Park at night.
WHERE IS THE BEST STARGAZING IN UTAH?
You can't go wrong with the Big Five: Arches, Canyonlands, Capitol Reef, Zion, and Bryce Canyon. But if you want the best view, head to Cedar Breaks National Monument. This dark sky park offers an incredible view of the stars, Milky Way, and Perseid Meteor showers from its convenient pullouts along Utah's Upper East Canyon. And if you're up for a more adventurous stargazing experience, check out Dinosaur National Monument's Fossil Discovery Trail.