Telescopes have been used by people throughout history to explore the solar system and beyond. As an astrophotographer, I often get asked the question: "Can you see planets with a telescope?"
The answer is yes! You can use a telescope to see planets. However, there are a few things to consider. For seeing planets with telescope, it's important to keep in mind things like atmospheric turbulence, light pollution, and which type of telescope is best. Let's look into more details before you purchase a telescope that can see planets.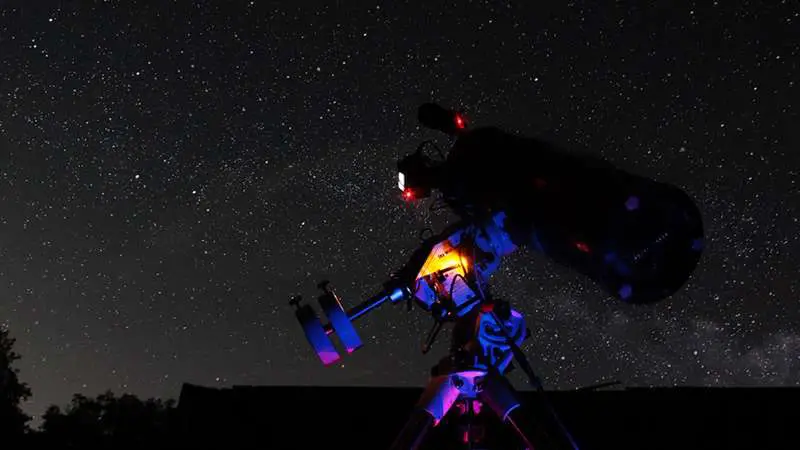 Amateur astronomers point their telescopes to the night sky and see various celestial objects. These include white dwarfs, red giants, planet nebulae, supernovae remnants, star clusters, and other deep sky objects.
From Galileo's discovery of four moons orbiting Jupiter to the moment in 1919 when Sir Arthur Eddington proved large objects in space bend light, telescopes have helped us understand more about the Universe.
In this quick guide, you get
A good overview of what's possible using different telescope configurations
Tips on how to see planets with a telescope
What can you see with a telescope?
Answers to many frequently asked questions about observing planets through telescope
By the end of this article, you'll have all the info you need for determining your first telescope for viewing planets.
Let's dive right in.
BASIC REQUIREMENTS FOR PLANETARY OBSERVATION
To see the planets of our solar system, you should meet some basic requirements.
MAGNIFICATION
As a general rule, the telescope should have a long focal length. The longer, the better. The best telescopes for observing planets will have a focal length starting at 2000 mm.
This doesn't mean a 1000 mm telescope or smaller isn't capable, it just means you'll have a harder time. Luckily, you can increase its magnification.
Magnification = Telescope Focal Length / Eyepiece Focal Length

The telescope eyepiece is important because it provides the required higher magnification for small scopes. The best way is to use a 5-10 mm eyepiece if you only have a small telescope.
For an even better way to magnify the image, read my article on how Barlow lenses work.
ALIGNMENT
The telescope must be properly aligned at the right time with the planet's position in the evening sky.
ATMOSPHERIC CONDITIONS
The weather conditions need to be favorable, and the atmosphere must be stable enough to allow for clear viewing.
Assuming these 3 basic requirements are met, observing planets with a home telescope can be an incredibly rewarding experience. With a little practice, you too can enjoy the beauty of the solar system from your backyard.
You will be able to see stunning details that are not visible to the naked eye, such as Jupiter's Great Red Spot or Saturn's rings.
Seeing the ringed planet of Saturn for the first time is an incredible feeling! You should read my article Can You See Saturn With A Telescope?
For more info on Jupiter, read my article How To Find Jupiter With a Telescope.
WHAT PLANETS CAN YOU SEE WITH A TELESCOPE?
Even if you don't have a telescope, you can still see the brightest planets in our solar system! The naked-eye planets (bright planets) are Mercury, Venus, Saturn, Jupiter, and Mars. For more info on Mars, you should read my article Can You See Mars With A Telescope?
Jupiter is the largest planet, and Venus is the closest planet.*
*Which One Is Closer?
Even though Venus comes the closest to Earth, on average Mercury is the closest due to it spending a larger percentage of its time close to the Earth. If you want the math behind this read the article in Physics Today.
If you want to get a closer look at the outer planets like Uranus and Neptune, then you will need to use larger telescopes with high magnification.
Which Ones Are Gas Giants?
Gas giants are comprised primarily of hydrogen and helium. Neptune, Uranus, Jupiter, and Saturn are the four gas giants in our solar system.
Telescopes come in all shapes and sizes, but even a small one will allow you to see things that you couldn't with your unaided eye.
And as technology improves, astronomers can use telescopes to spot previously unknown planets orbiting other stars!
All telescopes must be secured properly on mounts. Read my articles Types of Telescope Mounts and Equatorial Telescope Mount vs AltAzimuth.
WHY YOU CAN'T JUST POINT AND LOOK AT PLANETS WITH A TELESCOPE?
While it is true that you can easily see planets with a large telescope, there is a lot more to it than just pointing and looking.
For one thing, most telescopes are not powerful enough to show planets as anything more than tiny dots of light.
Even the largest telescopes can only show planets as small discs, not as round spheres like they appear in pictures. Keep in mind that stars usually appear as tiny dots even in a powerful telescope.
To see a planet's features, you need special techniques and filters.
Additionally, the planets are always moving relative to the stars. This means that they appear to drift across the sky over weeks or months.
To find a specific planet at a given time, you need to know its current position in the sky. You can use a star chart to help you find planets, but even then it can be difficult to spot them.
HOW TO FIND PLANETS WITH A TELESCOPE
What is the best telescope to see planets?
How to locate planets with a telescope?
Here are a few tips on how to see planets through a telescope.
First, let's go over some basics. A telescope with about 100 mm aperture will be needed to see anything significant beyond the Moon. A larger aperture would be better.
Here's a quick guide to what you can see per typical aperture:
70 MM
Neptune, but only as a bright star
100 MM
The Cassini division in the rings of Saturn
The polar caps of Mars, the red planet
The Great Red Spot of planet Jupiter
130 MM
Details on the surface of Mars
Atmospheric bands of Saturn
Phases of Mercury
150 MM
Spots in the atmosphere of Venus
200 MM
Galilean moons (the 4 largest moons of Jupiter)
Dust storms on Mars
250 MM
The dwarf planet Pluto, as a faint star
Next, you'll want to find a dark location with little light pollution. Once you've found a good spot, it's time to set up your telescope.
Point your telescope towards the horizon line and use the highest power eyepiece that your telescope has. Slowly scan across the horizon until you spot one of the brightest stars. That's likely a planet!
If you're not sure which planet it is, install the Stellarium app or use a star chart.
Now that you've found a planet, it's time to take a look! Adjust the focus on your eyepiece until the image is clear.
Take some time to enjoy the view and explore what you can see on the surface of the planet. If there are any moons visible, be sure to check those out as well!
With these tips in mind, you should be able to locate any number of planets through your telescope!
Beware of image orientation. Read my article Why is my telescope upside down?
WHAT ARE SOME CONSIDERATIONS FOR SEEING PLANETS WITH A TELESCOPE?
When it comes to seeing planets with a telescope, there are a few things to take into consideration.
Is the planet visible to the naked eye? If not, then you'll need a good-quality telescope to spot it.
Where are you located? Certain planets are only visible during a certain time of the year from certain locations on Earth.
Is the sky dark enough? If there's a full moon or a lot of light pollution, you might have a hard time seeing much detail. You want as much light as possible from the planet itself entering your telescope.
WHAT TYPE OF TELESCOPE IS NEEDED TO SEE THE PLANETS?
There are many different telescopes available. Each type has its own set of pros and cons that you should consider.
If you're brand new to the world of telescopes, then I recommend you read my articles What is a Newtonian Telescope?, Refractor Telescope vs Reflector, and Dobsonian Telescope vs Newtonian.
WHEN IS THE BEST TIME TO SEE PLANETS WITH A TELESCOPE?
There is no definitive answer to this question. It depends on several factors, such as the planet's position around the sun, the time of year, and your location on Earth.
However, in general, the best time to see planets with a telescope is during the early morning hours or late at night when the sky is darkest.
This allows for better visibility of faint objects, like planets.
WHAT ELSE CAN YOU SEE WITH A TELESCOPE?
There are many other objects besides planets that you can see with a telescope, like Jupiter's moons, the Cassini division of Saturn's rings, and the International Space Station.
You can use a telescope to study the Sun (with special filters) and observe eclipses. Read my article DIY Solar Filter Telescope.
With a larger telescope, you can see fainter objects such as nebulae, galaxies, and star clusters.
CONCLUSION
With a telescope, you can see planets that are otherwise too far away to be seen with the naked eye.
Telescopes offer different levels of magnification, so you'll need to configure one that's powerful enough to see the types of details on the planets you're interested in observing.
In general, however, most telescopes will allow you to see at least some of the planets in our solar system.
So get out there and start exploring the night sky!
FREQUENTLY ASKED QUESTIONS
WHY CAN'T I SEE PLANETS WITH MY TELESCOPE?
Your telescope could have low magnification. If distant planets appear to be orange or green dots in your telescope, then higher power eyepieces can help you see smaller planets that are further away from Earth.
CAN A TELESCOPE SEE THE FLAG ON THE MOON?
Unfortunately, no you can't see it with a telescope. The flag is 4 feet tall so you would need a telescope that is 200 meters in diameter to see it. Even the Hubble Space Telescope can't see the flag on the moon.
WHICH PLANET IS THE MOST DIFFICULT TO SEE WITH A TELESCOPE?
One of the five planets known since ancient times as 'wandering stars' is Mercury. Unlike its closest neighbor, Venus, it is very difficult to explore from Earth. Being the innermost planet in the Solar System, Mercury always appears too close to the Sun when viewed from Earth.
ARE HOME TELESCOPES WORTH IT?
Absolutely! However, If you're shopping for a telescope, make sure to get one that has a good size aperture. The size of the main mirror or lens is the most important thing you should look at. If you're serious about wanting to see the planets, a good idea would be to get an 8-inch telescope.
HOW EXPENSIVE IS A DECENT TELESCOPE?
If you have a budget of $500 or more, you're looking at high-quality telescopes. If you exceed that price point, the scopes become powerful and feature-rich. As mentioned above, I would recommend an 8-inch Dobsonian telescope, which costs about $700.