We've all done it before. We spotted an unusually bright light in the night sky and wondered if that was just one of the many stars up there or whether it was an actual planet.
If you've suspected one of these specks of light to be one of the outer planets like Neptune, you might be asking yourself, can you see Neptune with a telescope?
The answer is yes, but you'd want it to be clear. You can see Neptune using a powerful telescope or a pair of good binoculars with high magnification. Using a large telescope with a magnification level of about 700x, Neptune is a small blue disk in the sky with minimal detail.
In this article, you get
To learn more about how you can view Neptune with a telescope
The best time of the year to do so
News about Neptune's ring system
Images of Neptune through telescope
By the end of this article, you'll have all the information you need to observe Neptune through a telescope.
Let's dive right in.
NEPTUNE: AN OVERVIEW
Before I dive into whether you can get a glimpse of Neptune using a telescope, let's first have a brief overview of the planet.
WHERE IS NEPTUNE?
Of all the planets in our Solar System, Neptune is the furthest planet away from the Sun (excluding the dwarf planet Pluto), so it's the eighth planet from the Sun.
This ice planet is about 2.8 billion miles (30 astronomical units) from the Sun.
Being the farthest planet from the Sun, Neptune takes a staggering 248 Earth years to complete one full orbit around it.
THE ATMOSPHERE OF PLANET NEPTUNE
Neptune is one of the Solar System's giant planets. Neptune is the fourth-largest planet and one of the four gas giants. If you're wondering what Neptune's atmosphere consists of, the answer is mainly hydrogen, helium, and traces of methane.
Until 1989, astronomers were under the impression that Neptune had no moons orbiting it. That is until NASA's Voyager 2 proved that belief wrong when it detected a moon in the planet's orbit.
Unlike Earth, Neptune doesn't just have one moon; it has many. This ice giant has 14 known moons. The largest of these moons is Triton.
One interesting fact about Neptune's largest moon is that the time it takes to rotate on its axis is the same amount of time as it takes to orbit around Neptune.
CAN YOU SEE NEPTUNE THROUGH A TELESCOPE?
Can you see Neptune from Earth? Yes, but not with the naked eye.
Can you see Neptune from Earth with a telescope? Yes.
To see any extraterrestrial object from Earth, it must either emanate light or reflect light from the Sun.
Since Neptune is almost three billion miles away from the light source, it takes light from the Sun almost five hours to reach Neptune. For context, the Sun's light takes only eight minutes to reach Earth.
Therefore, your chances of seeing this farthest known planet with the naked eye are slim to none.
The only way to get a detailed look at giant Neptune is to use a powerful telescope or a good pair of binoculars. There are better options than the latter since all you'll see is a speck of light virtually identical to any star in the night sky.
Can you see Neptune through small telescope? Yes.
The absolute minimum magnification you'll need on your telescope to see Neptune, and get a good look at this distant planet, is 100 x magnification.
This amount of magnification is typically that of the small telescopes available to amateur astronomers. Even then, you'll barely be able to view the planet's bluish hue.
To learn more about magnification, read my article on how Barlow lenses work.
WHAT DOES NEPTUNE LOOK LIKE THROUGH A TELESCOPE?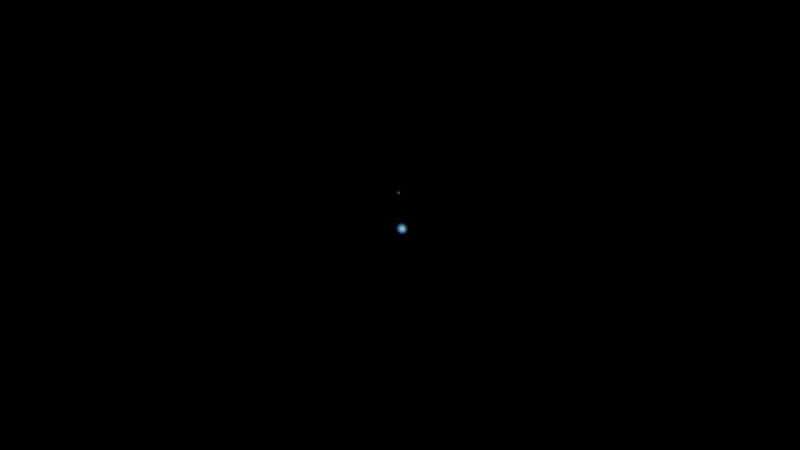 Let me start by making it clear that if you're expecting to see anything more than a distinct blue light in the sky when viewing Neptune, you're going to need a pretty sophisticated telescope.
HOW TO OBSERVE NEPTUNE?
The level of magnification that will allow you to see the planet with any significant level of detail is around 700 x magnification. For these larger telescopes to offer a focused image, they need to have an aperture upwards of 14 inches.
Focal Length / Aperture = Focal Ratio. Read my article on choosing the best focal ratio.
Advanced optical equipment such as this is costly.
Be prepared to shell out a considerable amount of money if you want the best view of the planet named after the Roman god of the sea.
Therefore, if you're going to have a go at locating and viewing Neptune with a relatively normal telescope, you should manage your expectations so that you're not disappointed.
WHAT IS THE BEST TIME TO SEE NEPTUNE WITH A TELESCOPE?
As I've already established, Neptune is a challenging planet to find in the vast night sky. Therefore, you should save your attempts to do so for the times in which the planet is most visible.
The best conditions for viewing Neptune occur mid-July and continue for approximately five months until November.
You should note that the optimum time during the day to locate Neptune can vary between months.
From June to September, this giant planet is most visible during the hour leading up to Sunrise.
On the other hand, Neptune has the most bright spots in the evening sky from November until December.
HAS THE JAMES WEBB TELESCOPE CAPTURED NEPTUNE?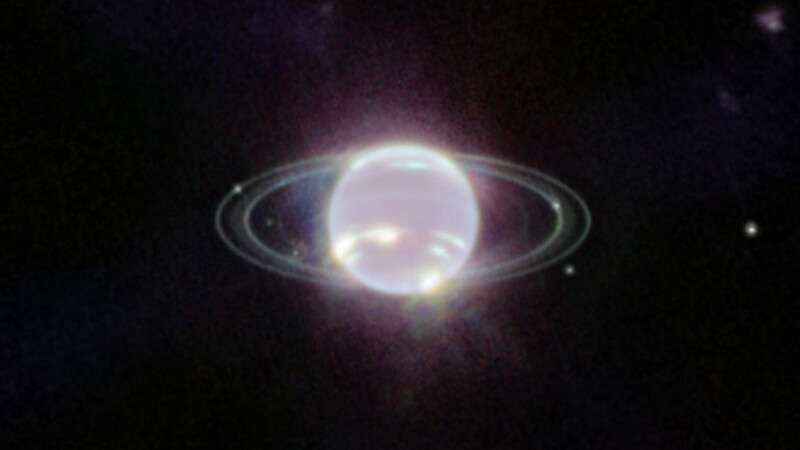 The James Webb space telescope is NASA's next big thing. This engineering marvel became functional six months after its launch into space in December of 2021.
This telescope is the most sophisticated and advanced one in the history of human civilization. It's so powerful that it allows NASA astronomers to get a first-hand view of the universe as far back as 200 million years before the Big Bang.
It also enables them to get the clearest images yet of planets that are further from the Sun than Mars.
Getting such images is in large part thanks to the way that the James Webb telescope operates. This telescope creates images using infrared, a wavelength of the electromagnetic spectrum that is invisible to the human eye.
By using infrared radiation, the James Webb telescope can create crisp images even through the thickest dust clouds.
RINGS OF PLANET NEPTUNE
The James Webb telescope has provided scientists with arguably the best images of Neptune that they've ever had. These images show rings of Neptune that scientists are seeing for the first time. These images show some of the planet's ring system that has eluded scientists for decades.
CONCLUSION
Yes, it's possible to see the most distant planet with a telescope, but it takes work. It's not possible with the unaided eye. To see the last planet in our Solar System, you'll need a larger scope than a simple 8-inch telescope.
FREQUENTLY ASKED QUESTIONS
CAN YOU SEE NEPTUNE'S RINGS WITH A TELESCOPE?
Yes, you can see Neptune's rings with a telescope, but you'd need the James Webb space telescope. The Voyager 2 space probe took photos of Neptune's rings as it flew past the planet in the late 1980s.
CAN YOU SEE NEPTUNE WITH YOUR EYE?
No, you can't see Neptune with the unaided eye. Even with a powerful telescope under clear skies, the giant planet Neptune only looks like a small disk against the dark sky. Neptune is the only planet you can't see with the naked eye.