Have you ever looked up at night and wondered which one is Jupiter? Or been curious to know what the planet might look like through a telescope? You may already be an amateur astronomer and wonder how to find Jupiter with a telescope.
The good news is it's easy to find Jupiter with a telescope, but there are a few things to consider to get the best views. Turbulence in the air, the general seeing conditions, and the distance Jupiter is from Earth will affect your results. Let's look into more details.
In this article, you get
Free resources to help you find Jupiter
11 tips for observing Jupiter with a telescope
An idea for when is the best time to observe Jupiter
A look at some example images of Jupiter through different telescopes
By the end of this article, you'll know how to find Jupiter with a telescope, and a lot more!
Let's dive right in.
HOW DO YOU FIND JUPITER IN THE SKY?
Luckily, Jupiter is one of the brightest objects you can see with the naked eye. This makes it one of the easiest planets to find in the night sky.
Planet Jupiter is the fifth planet from the Sun. It is the largest planet in our solar system. It will look like a bright star, but it's a massive planet. It's one of the four outer planets, which are all gas giants.
SOFTWARE AND APPS FOR FINDING JUPITER
The easiest way to find Jupiter in the sky is by using one of the many software programs available.
STELLARIUM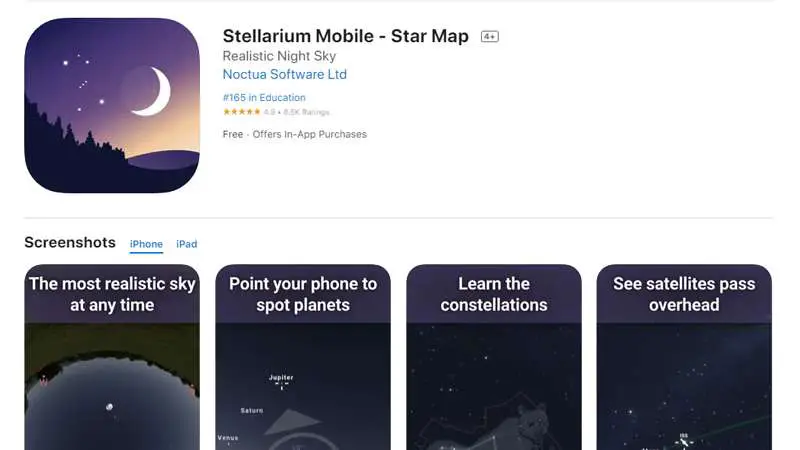 My personal favorite is a software called Stellarium. It's available both as software that you can download on your computer and as an app on your mobile device.
I prefer Stellarium over the other astronomy apps available. I like to use the software at home on my large monitor. Having the features be the same as what's in the app makes things easy when I'm outside. The Stellarium app is free for Android, but for iOS users, it costs about $10.
STAR WALK 2 FREE
There are many other apps available, and some of them are free. Star Walk 2 Free is one of the most popular ones. It's available for both iOS and Android. I used to use this one before I switched to Stellarium for the reasons I mentioned above.
OTHER APPS
Other apps for both iOS and Android include Star Tracker and SkyviewLite.
Finding Jupiter in the software or the app is as simple as using the search bar and typing in the word Jupiter. Based on your location on Earth and the day of the year, it will show you where Jupiter is in the evening sky.
The default setting on most of these apps is that it will show you the location of Jupiter at night for the current day. So if you search for Jupiter at 2 pm on Monday, the app will show you where Jupiter is after dark on Monday night.
The software or app will show you which direction you should be facing and how high in the sky you should be looking.
You will also be able to adjust the time in the software and app to see how the night sky will change as you move the clock forward. You can use this feature to figure out where Jupiter rises.
5 TIPS FOR OBSERVING JUPITER WITH A TELESCOPE
2. CLEAR SKIES
Another thing you'll want is a clear sky. If no or only a few clouds are forecasted, you will have a better experience. Depending on where you live, you'll want to take advantage of good weather.
3. REDUCING THE EFFECT OF THE ATMOSPHERE
The Earth's atmosphere is the most significant obstacle to a clear view of Jupiter. If you view Jupiter when it's at a high elevation above you, you'll look through less atmosphere.
5. TURBULENCE IN AIR
The air turbulence will be high if there's a lot of wind and thermal convection due to large temperature gradients. Your view of Jupiter will be blurry if the turbulence is high because the atmospheric seeing will be poor.
WHEN IS THE BEST TIME TO SEE JUPITER?
The best time to observe the gas giant is during its opposition.
JUPITER'S OPPOSITION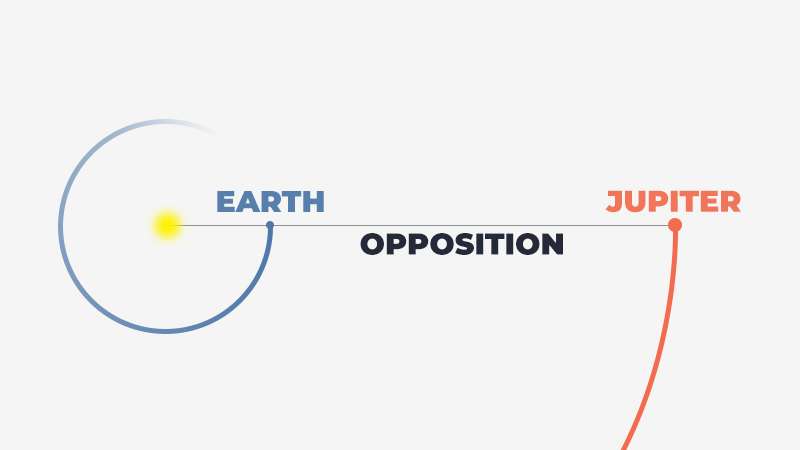 Jupiter's opposition is when Jupiter's orbit has its closest approach to Earth. And when the Sun is on the opposite side of Earth. The gas giant reaches opposition about every 13 months.
JUPITER'S FEATURES TO SEE WITH A TELESCOPE
JUPITER'S MOONS
Did you know Jupiter has 80 moons? It's true! Fifty-seven of them have official names. The other 23 are still waiting to be named.
THE GALILEAN MOONS
The four largest moons of Jupiter are known as the Galilean satellites. They are named Io, Europa, Ganymede, and Callisto. Galileo Galilei first discovered these natural satellites in 1610.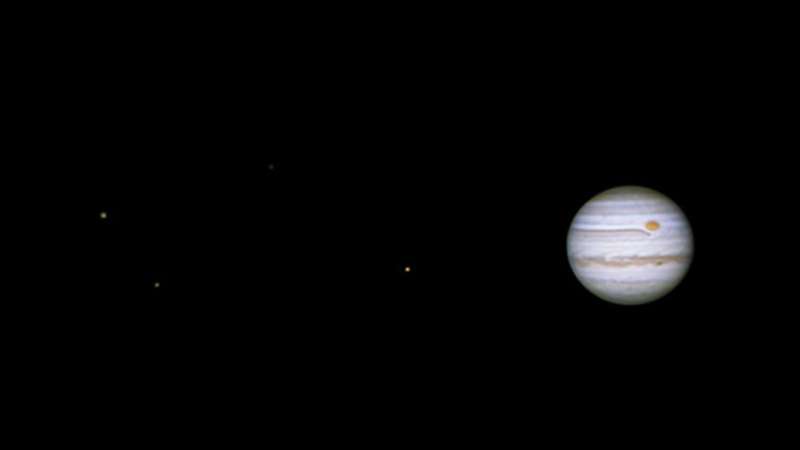 GREAT RED SPOT
Jupiter's Great Red Spot is visible with a small telescope. Due to the speed of the planet's rotation (roughly every 10 hours), the Great Red Spot is visible twice daily.
BELTS AND ZONES
Strong winds cause the horizontal cloud bands that you can see on Jupiter. The dark bands are called belts, and the light bands are called zones.
SHADOW TRANSIT
A shadow Transit is when one of Jupiter's moons casts a shadow on the face of Jupiter.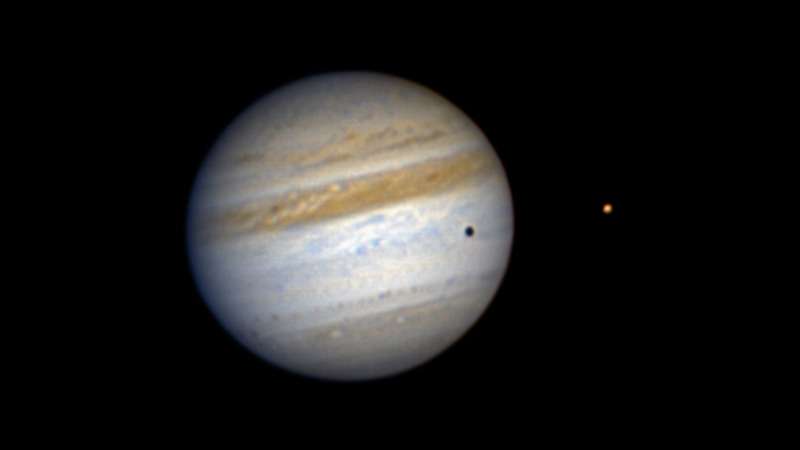 WHAT ARE THE BEST TELESCOPES FOR SEEING JUPITER?
You can see Jupiter with any telescope, but a larger telescope is best.
You'll want to choose a telescope with a large aperture so that you can see as much detail as possible.
You'll want to ensure that the telescope is powerful enough to magnify the planet sufficiently. For more info on magnification, read my article on how Barlow lenses work.
You'll also want to ensure that the telescope is stable to get a clear view of Jupiter without vibrations. Another factor is your telescope's focal ratio. Read my article what is considered a good focal ratio for a telescope.
If you're new to the world of telescopes, read my articles
And for more info about other planets, read my articles
WHICH FILTERS ENHANCE JUPITER'S APPEARANCE?
A blue filter will enhance the lighter areas, like the zones. A red filter will enhance the contrast in the belts and bring out more details in Jupiter's equator.
CONCLUSION
Although it may seem daunting initially, finding Jupiter through a telescope is relatively easy once you know where to look. With patience and practice, you'll be able to locate Jupiter and its four largest moons in no time.
There are also many interesting details on Jupiter's surface that you can see through a telescope, including the Great Red Spot and the planet's belts of clouds.
So grab your telescope and start exploring the solar system today! And if you want to observe the Sun, read my article DIY Solar Filter Telescope.
FREQUENTLY ASKED QUESTIONS
HOW CAN I TELL IF I'M LOOKING AT JUPITER?
You'll be able to tell if you're looking at Jupiter because it won't twinkle like the stars around it. Jupiter is the second brightest object in the night sky.
CAN YOU SEE JUPITER WITH A CHEAP TELESCOPE?
Yes, you can use any telescope to see Jupiter because it is a giant planet. A telescope with about 100 mm aperture will allow you to see great detail, including the Great Red Spot and its brightest moons.
CAN JUPITER BE SEEN WITH BINOCULARS?
Yes, you can see Jupiter with binoculars. Jupiter is the largest planet in our Solar System. You'll want binoculars with at least 7x – 10x magnification.
WHAT IS A GAS GIANT?
A gas giant is a planet made up of mostly hydrogen and helium. Our solar system has four gas giants: Jupiter, Saturn, Neptune, and Uranus. It also has four terrestrial planets, which are primarily rocks and metal.