When we look up at the night sky, we can't help but marvel at its vast expanse and all the mystery it holds. We wonder what the furthest planets away from the sun look like, including the seventh planet, Uranus. Therefore, you may be asking yourself, can you see Uranus with a telescope?
The short answer is yes! You can see Uranus with a telescope, but there are a few things to consider. In this article, I'll walk you through how to see Uranus with a telescope, the best time to try it, and some crucial considerations that will help you.
In this article, you get
An overview and history of Uranus
Details of what power telescope you need to see Uranus
Uranus telescope images
When is the best time you can view Uranus through telescope
Insight into the question, "Can you see Uranus without a telescope?"
By the end of the article, you'll get all the info you need to see Uranus through a telescope.
Let's dive right in.
URANUS: AN OVERVIEW
Before we get into the details of how you can see Uranus from telescope, let's first look at the planet itself.
WHO FIRST SAW URANUS THROUGH A TELESCOPE?
As with so many great discoveries, that of Uranus came by accident. In the late 18th century, the British astronomer William Herschel was scouring the starry night sky with his telescope in search of comets.
Little did he know that he was on his way to discovering the third-largest planet in the entire Solar System. The discovery came about when he noticed a celestial object with a green tint that looked different from the rest of the stars.
Once he tracked this object and realized it was orbiting the sun, he realized it was a planet. This planet was later named, as per the astronomer Johann Elert Bode's suggestion, after the Greek god of the sky.
Interestingly, Uranus is the first planet to be discovered using a telescope. Most of the planets in our Solar System were close enough to the sun to be visible to the naked eye.
Uranus' largest moons are called Titania and Oberon. Their names are from Shakespeare's characters. Most moons of Uranus have names from characters from the works of Shakespeare and Alexander Pope.
FINDING URANUS IN THE NIGHT SKY
The planet is currently in the constellation of Aries and has a solar orbital period of 84 Earth years.
CAN YOU SEE URANUS WITH A TELESCOPE?
Can Uranus be seen at night with a telescope? Uranus is indeed visible through the lens of a telescope. You need a telescope to see Uranus.
Can Uranus be seen at night without a telescope? Seeing Uranus with the unaided eye is virtually impossible, even if you have excellent eyesight. Using a large telescope or a pair of binoculars with high magnification is the best way to catch a glimpse of this distant planet.
Can you see Uranus with binoculars? I don't recommend using binoculars if you want any detail of the planet other than a faint light in the sky. Uranus through binoculars will be disappointing. 
Uranus is 1.8 billion miles (19.8 astronomical units) away from the sun, making it the 2nd furthest planet from the center of the Solar System. In turn, it's virtually impossible to view Uranus with your own eyes without the help of any magnifying equipment.
HOW TO GET THE BEST VIEWS?
To get a peak of this distant giant planet, you will need a telescope with at least 150 x magnification. To learn more about magnification, read my article on how Barlow lenses work.
Furthermore, you'll need a 6 to 8-inch telescope to get a clear image. Read my articles What is Focal Ratio on a Telescope? and What is a Good Focal Ratio for a Telescope?
You'll need a telescope with a good-quality camera to capture the moment. For information about your telescope mount requirements, read my articles Types of Telescope Mounts and Equatorial Telescope Mount vs AltAzimuth.
When pinpointing Uranus with your telescope, consider light pollution. You'll need to take your equipment to a spot where your view of the sky is unimpeded by street and city lights.
Clear skies are particularly vital for amateur astronomers using a small telescope. The best viewing conditions are total darkness.
Additionally, the higher the elevation you can set up your telescope, the better chance you'll have the best views of the planet.
WHAT DOES URANUS LOOK LIKE THROUGH A TELESCOPE?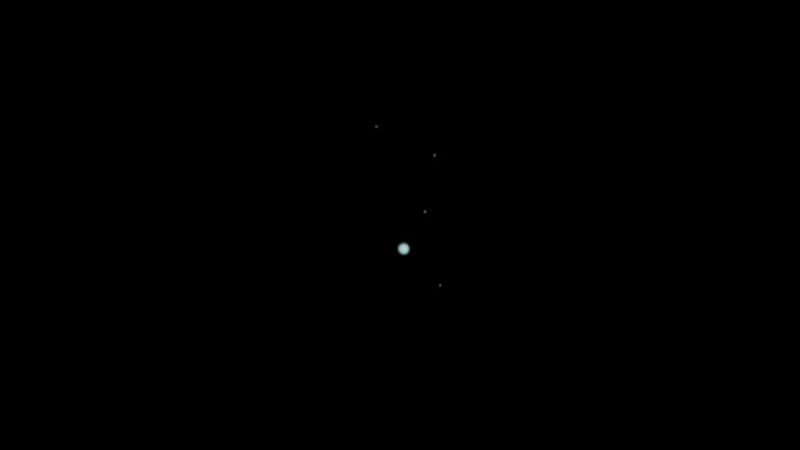 What Uranus looks like when viewed through a telescope largely depends on the magnifying power your telescope is packing.
A typical backyard telescope only has a magnification level of 100x. You'll see a tiny blue-green disk in the sky at this magnification.
With larger telescopes magnifying 150x to 200x, you'll see the planetary object reflecting this light from the sun. If you go beyond 200x magnification, you'll start to see distinct surface features of the planet. You might even see some faint rings.
WHAT IS THE BEST TIME TO SEE URANUS WITH A TELESCOPE?
Getting a glimpse of Uranus with even the best telescopes is already hard enough. If you're using an amateur telescope, you might miss it entirely. Therefore, to give yourself a fighting chance, you should try it during the optimal times of the year.
WHEN CAN YOU SEE URANUS IN YOUR HOME TELESCOPE?
These times offer the ideal conditions for the planet to shine the brightest in the heavens. Generally, these times occur near the start of each year and from the fall until December.
You also need to consider the time of day when you're trying to catch a view of Uranus. The best time of day to view the planet is different depending on the month.
JANUARY TO MARCH
From January to March, your best bet at viewing Uranus with your telescope is in very dark skies.
APRIL TO JUNE
From April to Mid-June, it's virtually impossible to view the planet because it's at its closest point to the sun during this time.
JULY TO SEPTEMBER
As June closes, Uranus becomes a visible planet again a few hours before dawn.
OCTOBER TO NOVEMBER
The night hours become the ideal time to see the planet again during October and November.
DECEMBER
Finally, your best chance of seeing this ice giant in December is in the evening sky.
The above guidance may seem like a lot, but the good news is that there are plenty of mobile apps you can use to help you. They allow you to pinpoint the right time to bust out your home telescope and view the distant blue planet Uranus.
You can also use a star chart to locate Uranus and other giant planets.
If you're interested in seeing other planets with a telescope, read my articles:
HAS THE JAMES WEBB TELESCOPE CAPTURED URANUS?
NASA is always at the precipice of technological advancement. The world's leading space agency may have outdone itself again with the James Webb space telescope. However, this marvel of engineering was costly. Its development cost $10 billion.
This telescope is by far the most powerful one ever built, putting the Hubble Space Telescope to shame. After years of development, it finally launched into space on December 25th, 2021.
Six months after that, NASA's astronomers started reaping the benefits of the James Webb telescope and the stunning images it has provided.
This telescope lets scientists glimpse how the universe looked billions of years ago, shortly after its creation through the Big Bang. It also allows them to get crystal-clear images of distant planets that were previously unattainable.
Although the James Webb telescope hasn't captured any images of Uranus yet, it's only a matter of time before it does. This telescope's unprecedented ability to capture planets in high focus is because it operates using infrared radiation.
By utilizing this technology, the scientific community is eagerly waiting for the first images of Uranus they'll have since the ones captured by Voyager 2 in 1986.
CONCLUSION
The good news is, yes, you can see Uranus with a telescope.
To do so, you'll need a larger scope with a magnification of at least 150x.
December and January are the best times to see Uranus through your telescope.
FREQUENTLY ASKED QUESTIONS
CAN YOU SEE URANUS' MOONS WITH A TELESCOPE?
Yes, you can see Uranus' moons with a telescope. There are 27 known moons of Uranus, all visible with a telescope. The largest moon, Titania, has a diameter of 1,578 kilometers, making it the eighth-largest moon in the solar system. The smallest moon, Cupid, has a diameter of just 50 kilometers.
WHY IS URANUS A BIT BLURRY?
Uranus is a bit blurry because of the way Uranus' atmosphere scatters light. When light particles hit Uranus' atmosphere, some are scattered back into space while some are refracted or bent. The light that is scattered is what makes Uranus appear blurry when viewed through a telescope.