Stargazing is an exciting activity that people of all ages love. The skies above Julian, California, offer a spectacular view of the stars, making it a perfect spot for amateur astronomers. Whether you're new to astronomy or an aspiring expert, Julian provides plenty of opportunities to marvel at the cosmos.
In Julian, you can attend the Julian StarFest, an annual event that features several stargazing activities suitable for all ages. Besides, the clear mountain air and dark skies make the Observer's Inn Sky Tours an excellent experience for you to observe planets, the Moon, and various celestial objects.
Get ready to explore the universe's wonders right in Julian, California.
In this article, you get
To learn what makes Julian an excellent International Dark Sky Community
Helpful information about the Julian Starfest
A quick look at nearby stargazing opportunities
By the end of this article, you'll have all the info you need to have a fantastic Julian stargazing experience and more!
Let's dive right in.
Julian Stargazing Basics
Astronomy in Southern California
Southern California, especially Julian, is known for stargazing. This small, historic mountain town is perfect for exploring the cosmos. Several events and observatories are dedicated to astronomy like the Julian StarFest held each August.
Dark Skies and Light Pollution
The International Dark Sky Association (IDA) works to protect dark skies worldwide. Julian and other Southern California locations benefit from these efforts, creating ideal stargazing conditions. Here's what makes this region unique:
Low light pollution: Julian is far from big cities, meaning fewer lights to interfere with your stargazing experience.
Dark Sky community: People in Julian appreciate the night sky and work to keep it free from light pollution.
IDA involvement: The International Dark-Sky Association helps communities like Julian maintain their dark sky status.
When looking for the perfect stargazing spot, consider areas with minimal streetlights and surrounding buildings. Remember, the darker the location, the better for observing the stars.
Some tried-and-true places include:
Menghini Winery is known for hosting the annual Julian StarFest.
William Heise County Park offers stunning views of the night sky.
As you explore Julian's celestial wonders, keep these simple tips in mind:
Bring a red flashlight to help you see without ruining your nocturnal vision.
Dress warmly, as nighttime temperatures can drop.
Be patient; your eyes take some time to adapt to the darkness.
Julian Starfest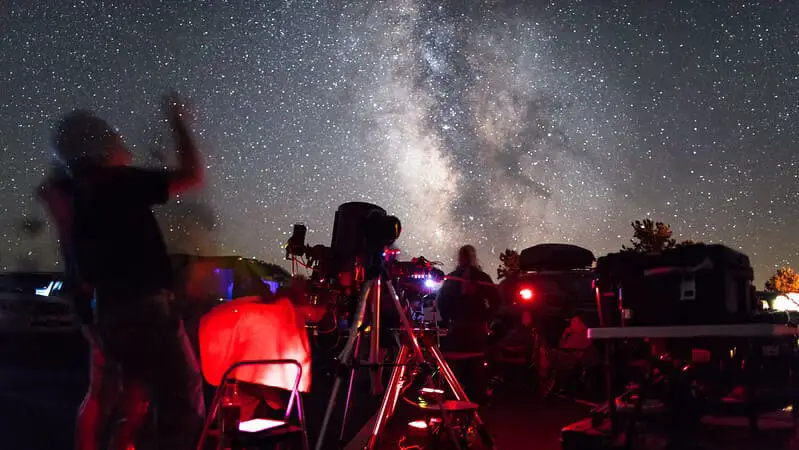 Starfest Overview
The Julian Starfest is a fantastic event held in August for stargazing enthusiasts. Located at the Menghini Winery in San Diego County, visitors can enjoy incredible night skies filled with stars and the Milky Way. After a two-year break due to the pandemic, the Julian Starfest returns for everyone to enjoy!
Camping and Facilities
You can set up camp and sleep under the sparkling sky at the event.
There are three main camping types:
Tent camping
RV camping
Car camping
Remember to bring your sleeping bag, warm clothes, and snacks to enjoy while gazing at the stars. Clean restrooms and showers are available, so you'll be comfortable during your stay.
Public Star Parties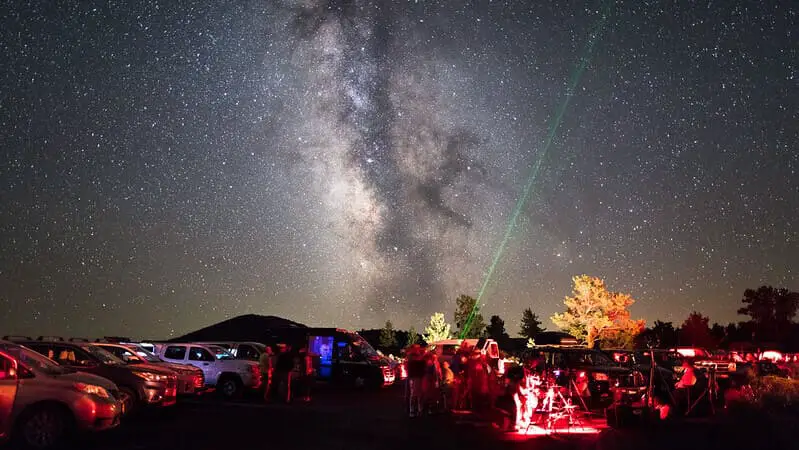 One of the coolest parts of attending the Julian Starfest is the Public Star Party. You'll have an incredible experience viewing faraway celestial objects such as the Lagoon Nebula. The Julian Dark Sky Network members provide telescopes, making it easy to see our universe's beauty up close.
Volunteers
The amazing group of volunteers helps make the Julian Starfest possible. They coordinate events, set up telescopes, and share their love for astronomy with everyone. Be sure to say "thank you" when you see them!
As you prepare for this unforgettable adventure, check the event website for updates or additional information. Once you've enjoyed the wonders of the Julian Starfest, you'll be excited to explore even more incredible astronomical events and activities.
Best Stargazing Locations Near Julian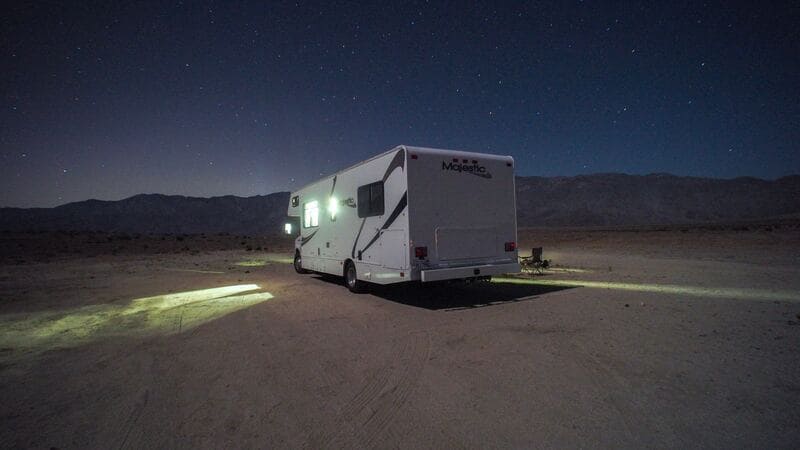 Anza-Borrego Desert State Park
Enjoy a fantastic night sky view in the International Dark Sky Park of the Anza Borrego Desert. Just a short drive from Julian, this park offers a peaceful setting away from city lights. The nearby town of Borrego Springs is equally impressive.
Palomar Mountain
Palomar Mountain offers stunning views of the stars in a serene environment.
Here are some tips for a great visit:
Try different trails for various viewpoints
Be mindful of wildlife
Keep noise levels low to not disturb others
Little Blair Valley
Little Blair Valley is an excellent spot for stargazing near Julian.
To make the most of your experience, remember to:
Arrive early to find a good spot
Use a stargazing app to identify constellations
Bring snacks and water
Cleveland National Forest
The Cleveland National Forest is a fantastic location for observing the night sky
A few helpful tips for your visit:
Obtain a forest adventure pass
Explore various viewpoints along the way
Be aware of local regulations, such as campfire restrictions
Now that we've covered these excellent stargazing spots, it's time to pack your bags and get ready to explore the breathtaking nighttime wonder of Julian and its surrounding areas.
Telescopes and Observatories
The Role of Telescopes in Stargazing
Telescopes play a significant role in stargazing, enabling you to explore the night sky more deeply.
These fantastic tools can:
Show you the mesmerizing beauty of the Moon's surface
Help you spot various planets like Jupiter and its moons or Saturn and its rings
Unveil the incredible sight of distant galaxies and nebulae
Even as a beginner, you can use telescopes to enhance your stargazing experience. Choosing the right telescope for you depends on your budget and stargazing goals.
Mount Laguna Observatory
You can experience some of the best stargazing opportunities at Mount Laguna Observatory.
The Observatory, run by San Diego State University, is home to cutting-edge telescopes that allow experts to explore deep into space. Although it's not open to the public, you can join one of their occasional star parties to explore the Observatory and enjoy a memorable night under the stars.
San Diego Astronomy Association
The San Diego Astronomy Association (SDAA) is a group of enthusiasts passionate about astronomy. They often organize public events like star parties and educational outreach programs for you to attend.
You can:
Visit their beautiful site at Tierra Del Sol
Engage with fellow stargazers during their events
Attend informative talks and workshops
By joining SDAA and participating in their events, you'll learn valuable tips and tricks to improve your stargazing experience. Remember that you don't need to be an expert to attend these events. They are suitable for everyone, regardless of your level of expertise.
In the next section, I'll explore more stargazing spots around Julian, where you can practice your newfound love for amateur astronomy.
Other Nearby Locations for Stargazing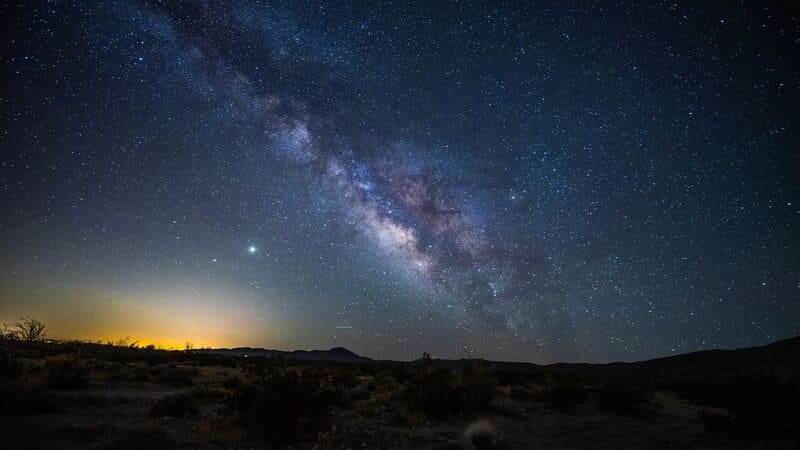 Torrey Pines State Natural Reserve
Torrey Pines is an excellent spot for stargazing in San Diego. With its beautiful landscapes and dark skies, you'll enjoy a nighttime show of twinkling stars.
Here are some tips for stargazing at Torrey Pines:
Arrive early to find a nice spot
Bring a blanket or chair for comfort
Use a stargazing app to identify constellations
Cowles Mountain
Cowles Mountain offers incredible views of the night sky. The hike to the summit is beginner-friendly, and you'll be rewarded with a stunning panorama of stars.
To make the most of your stargazing experience:
Start your hike before sunset
Carry a flashlight for safety
Take water and snacks along
Tierra del Sol
Tierra del Sol is a beautiful, remote place to gaze at the stars. The lack of light pollution ensures an unforgettable stargazing experience.
Here's what you need to know:
The best time for stargazing is during a new moon
Bring warm clothes, as temperatures can drop quickly
A telescope or binoculars can enhance your experience
Joshua Tree
Joshua Tree National Park is an excellent location for stargazing. The park's unique landscape and clear, dark skies create a magical atmosphere.
Keep these tips in mind:
Arrive during the day to get a feel for the park layout
Choose a campsite away from the park's main roads and lights
Join a ranger-led stargazing event, if available
After exploring these fantastic stargazing locations, you'll be eager to discover even more in California.
Orange County Stargazing: Free Map
There are plenty of stargazing spots in my article on the Best Stargazing in Orange County.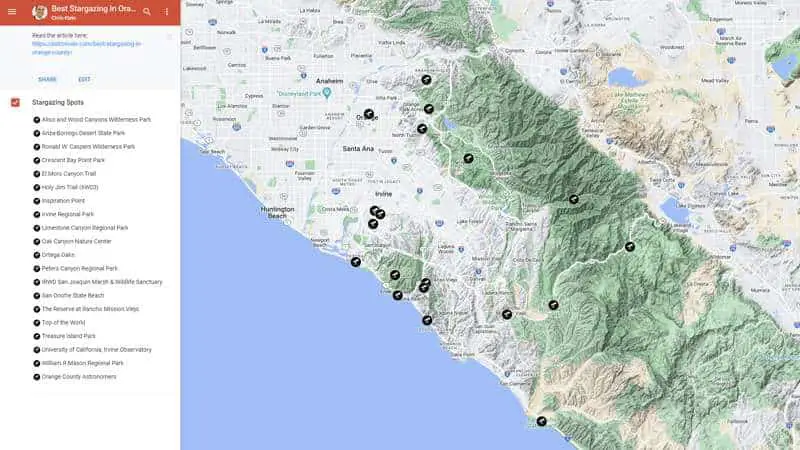 Orange County is known for its beautiful beaches and vibrant city life and offers exceptional stargazing opportunities for astronomy enthusiasts and stargazers like us. Despite being close to the bustling city of Los Angeles, Orange County still provides a relatively clear and dark sky, allowing for awe-inspiring celestial observations.
California Stargazing: Free Map
For even more locations in the Golden State, read my article on the Best Stargazing in California.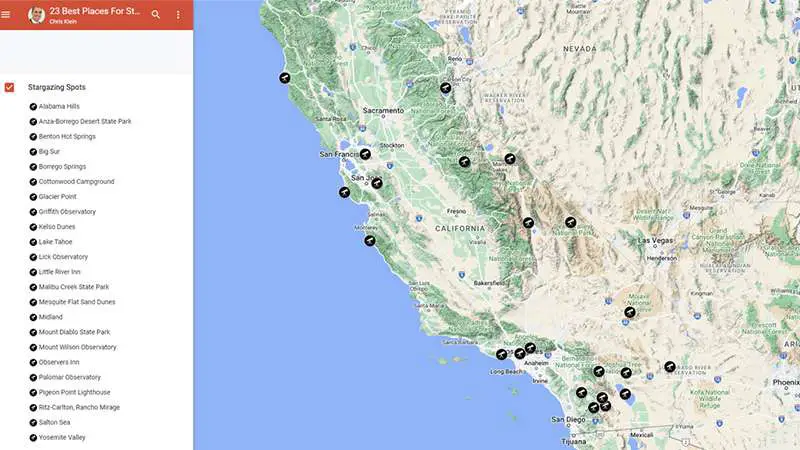 From the majestic mountains to the stunning coastline, California's vast expanse provides an ideal backdrop for exploring the wonders of the night sky. 
Summary: Stargazing Julian
Thank you for reading my article about Julian Stargazing.
Nestled in the picturesque mountains of Southern California, this charming town provides a tranquil setting away from the city lights, allowing you to immerse yourself in the wonders of the night sky.
Julian's unique location also provides an opportunity to explore nearby stargazing hotspots. Within a short distance, visitors can venture to the Cleveland National Forest or Anza-Borrego Desert State Park, where even darker skies await. These areas offer a chance to escape into nature and marvel at the celestial wonders above.
Furthermore, Julian is not only a destination for stargazing but also a hub for astronomical education and events. The town hosts stargazing gatherings, workshops, and lectures, where enthusiasts can learn from experts and share their passion with like-minded individuals.
So, pack your telescope, grab a blanket, and prepare to be mesmerized by the celestial wonders awaiting you in Julian, California. Embark on a journey through the cosmos and let the enchanting night sky inspire you to reach for the stars.
Happy Stargazing!
Additional articles about California for you to enjoy in my USA Guides series: