Stargazing at Lake Tahoe is a magical experience that captures amateur astronomers' and casual stargazers' imaginations. Picture yourself lying on a blanket under the stars, surrounded by towering pines and the peaceful sound of the lake's gentle waves. With its clear skies and stunning natural surroundings, there's no better place to marvel at the beauty of the cosmos and contemplate our place in the universe.
Nestled in the Sierra Nevada mountains, Lake Tahoe is renowned for its stunning natural beauty and breathtaking views. The lake's crystal-clear waters reflect the majestic peaks surrounding it, creating a postcard-perfect scene that draws visitors worldwide. And when the sun goes down, the stars come out, making Lake Tahoe one of the best stargazing spots in the country.
In this article, you get
A detailed list of the best stargazing Lake Tahoe offers
A select list of stargazing tours you can take around Lake Tahoe
Answers to frequently asked questions about star gazing in Lake Tahoe
By the end of this article, you'll have all the info you need to plan a perfect Lake Tahoe stargazing adventure.
Let's dive right in.
Best Lake Tahoe Stargazing Spots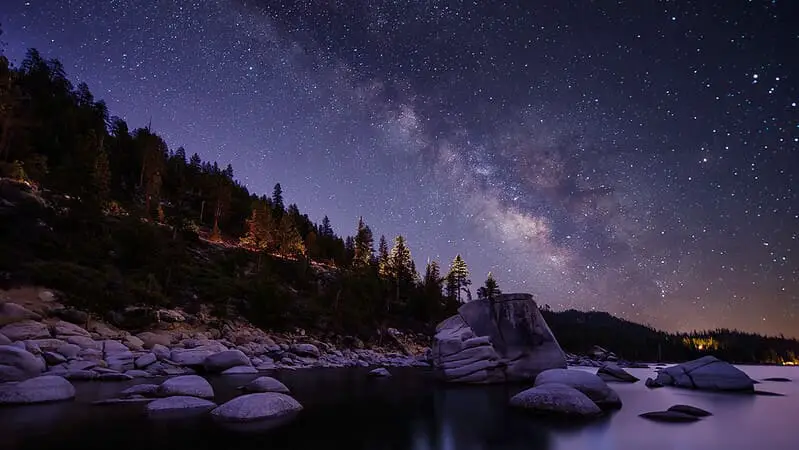 Baldwin Beach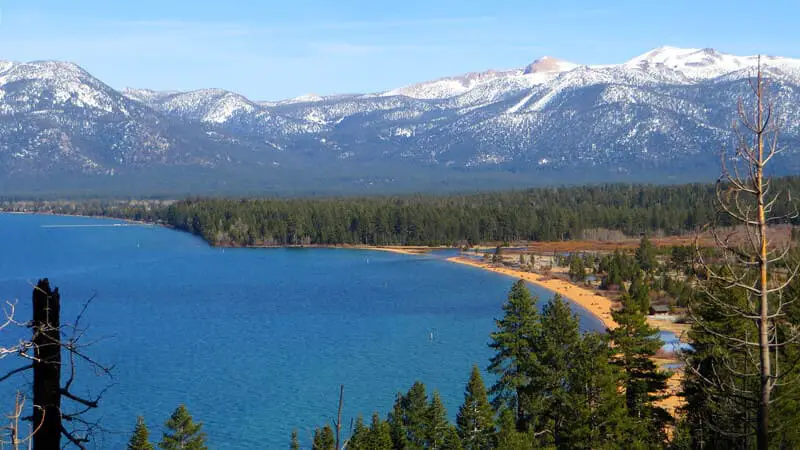 Baldwin Beach is a popular stargazing spot in Lake Tahoe that offers easy access and a stunning celestial experience.
Baldwin Beach is located near Highway 89, making it easily accessible for stargazers looking to enjoy the crystal-clear skies above the beach.
This beach provides uninterrupted views of the night sky. Lay out your blanket on the sandy shore, and when you visit during a new moon, you'll see a sky filled with countless stars and the chance to spot celestial objects like satellites and meteor showers. 
Barker Pass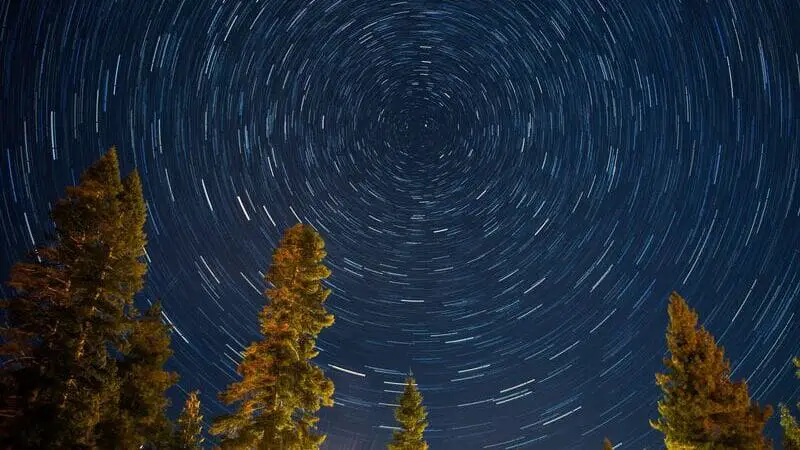 For a mountaintop stargazing adventure, head to the Barker Pass. This area offers minimal light pollution and a breathtaking view of Lake Tahoe below because it's at a higher elevation.
As the sun sets, watch the city lights twinkle while you eagerly await the appearance of the stars. With the expansive sky above you, you can observe constellations, planets, and even the occasional shooting star.
Burnt Cedar Beach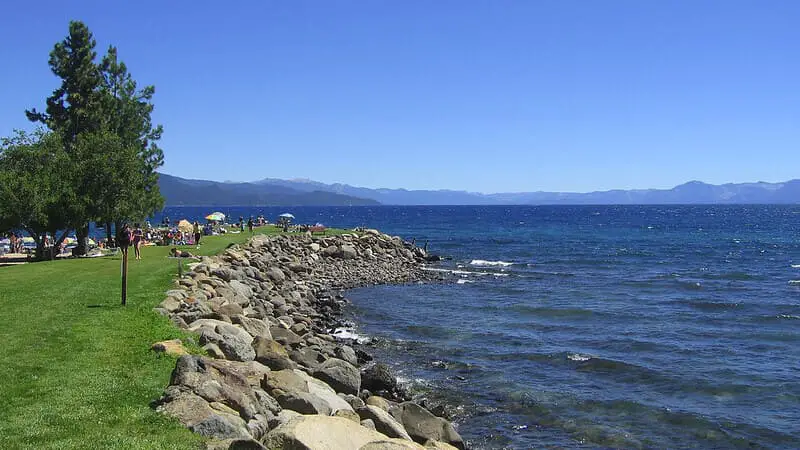 In North Lake Tahoe, Burnt Cedar Beach is a hidden gem for stargazers. This picturesque beach provides clear and unobstructed sky views, making it an ideal spot for a peaceful night of stargazing.
Take in the soothing sounds of the lake lapping against the shore as you marvel at the twinkling stars above. The tranquil ambiance of Burnt Cedar Beach creates the perfect setting to escape into the wonders of the cosmos.
Camp Richardson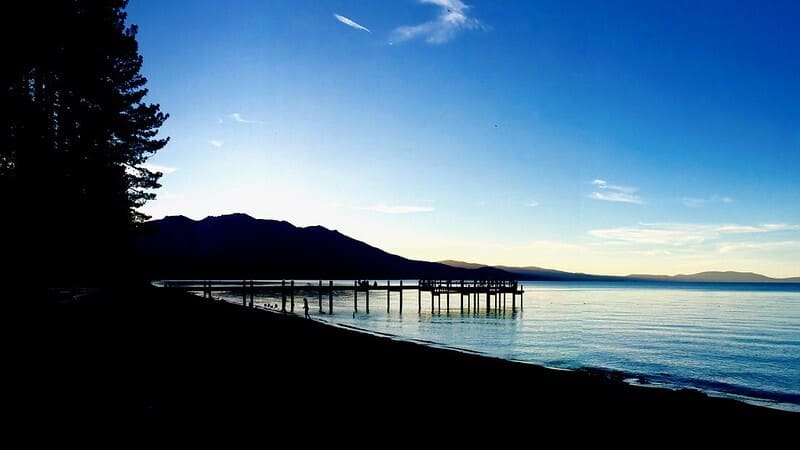 Camp Richardson is conveniently located near Highway 89 and is accessible via Camp Richardson Road, providing stargazers with a cozy camping spot and an ideal location for stargazing.
Nestled along the shores of Lake Tahoe, this scenic spot offers sandy beaches and a serene atmosphere, setting the stage for a magical night under the stars.
As you lie back and gaze upward, you'll be captivated by the vastness of the cosmos while the gentle sound of waves lulls you into a state of tranquility.
Commons Beach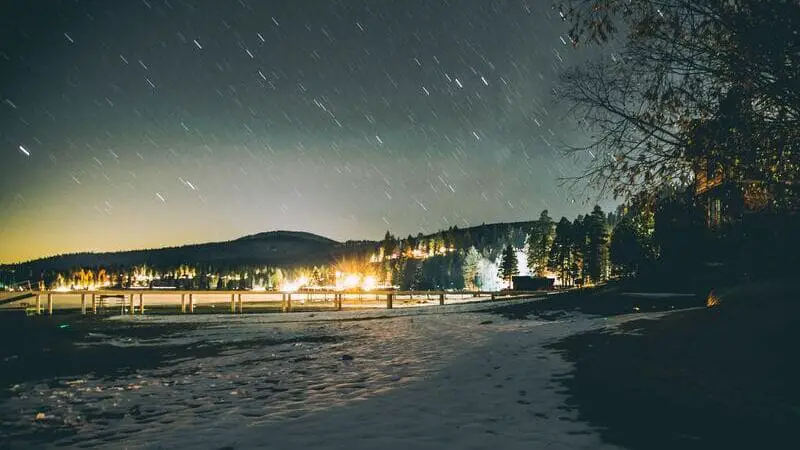 Commons Beach is near Highway 28, providing a lovely park setting for stargazing adventures during the summer months.
This park comes alive in the summer with community events, including outdoor movie nights and live music performances.
As dusk falls, find a cozy spot on the grass, and marvel at the stars illuminating the night sky above the park. The vibrant atmosphere and celestial wonders create a memorable stargazing experience for all.
D. L. Bliss State Park
Nestled on the shores of Lake Tahoe along Highway 89, D.L. Bliss State Park provides a breathtaking backdrop for stargazing.
As you gaze upward, you'll witness the brilliance of stars reflecting on the lake's calm waters, creating a truly enchanting experience connecting you with the universe's vastness. This park offers plenty of viewpoints, allowing you to find a secluded spot to lay out your blanket and immerse yourself in the celestial views.
Emerald Bay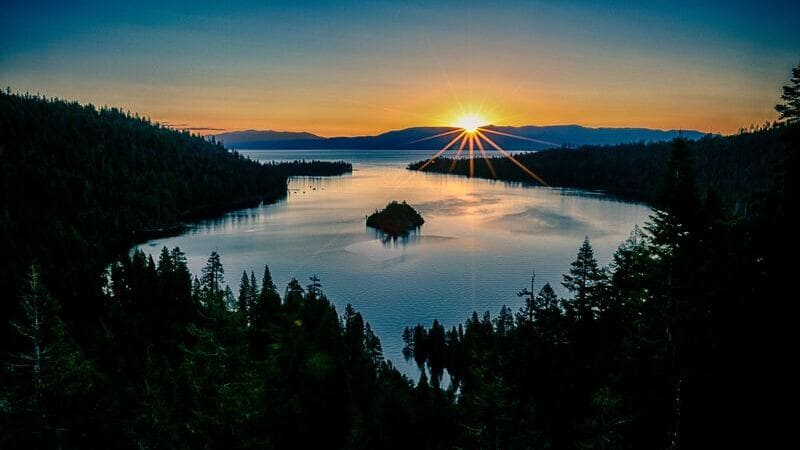 You can reach Emerald Bay by taking Highway 89 to this must-see location with its picturesque scenery and clear night skies. Surrounded by majestic mountain peaks, this bay offers a picturesque setting for stargazing.
As you gaze upward, the celestial bodies twinkle against the backdrop of the towering mountains, immersing you in a magical celestial spectacle that will leave you in awe of the grandeur of the universe.
Historic Stateline Fire Lookout
The historic Stateline Fire Lookout offers a panoramic view of Lake Tahoe and the surrounding mountains, making it an excellent vantage point for stargazing enthusiasts.
Perched high above the lake, this lookout provides an unobstructed night sky view. As you gaze outward, you'll be treated to a sweeping celestial panorama, showcasing the universe's vastness and the starry night's beauty.
The lookout is near Kingsbury Grade (State Route 207).
Hope Valley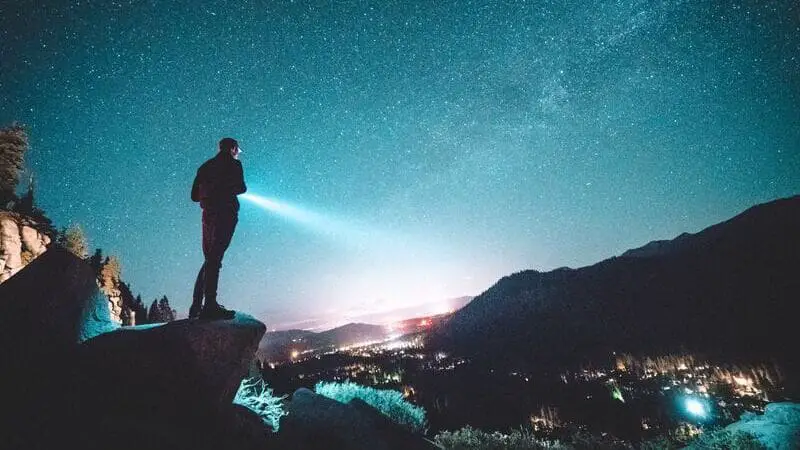 Hope Valley is located south of Lake Tahoe and accessed by driving along State Route 88, providing vast open skies and breathtaking night sky views away from the main highway.
Hope Valley offers minimal light pollution, making it a prime spot for stargazing. Escape the main route and venture into the valley, where you'll find ample road pullouts and forest service roads.
As you take in the breathtaking views of the night sky, you'll feel a sense of peace and serenity from being surrounded by the quiet beauty of nature.
Indian Creek Reservoir
Indian Creek Reservoir provides a serene lakefront location for stargazing near Lake Tahoe. The tranquility of the surroundings and the dark skies make this spot perfect for catching a glimpse of shooting stars and meteor showers. Settle into a comfortable spot near the water's edge and be mesmerized by the celestial wonders that unfold above you.
Lake Forest Beach
Lake Forest Beach is near Highway 28, providing a quiet beachfront location for stargazing enthusiasts with minimal light pollution. This beach offers a serene space to observe the starry skies above the lake. Take a stroll along the sandy shore, find a cozy spot, and let your eyes wander among the stars as you embrace the peace and beauty of the night.
Monitor Pass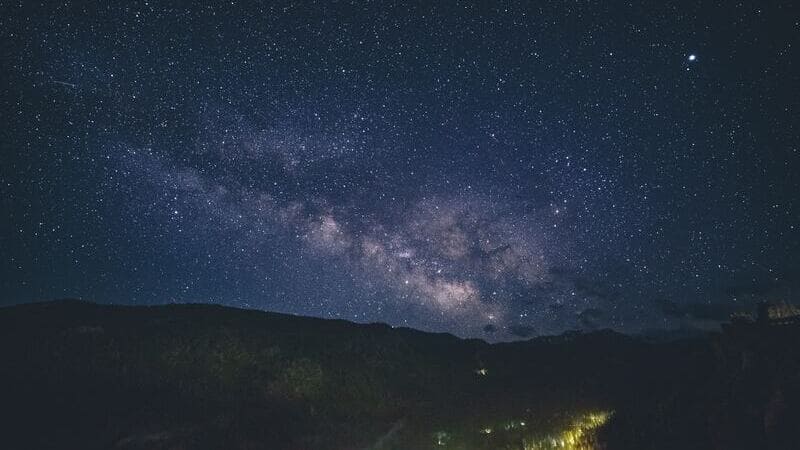 Monitor Pass is accessible via State Route 89, leading you to this mountaintop location with excellent visibility and breathtaking night sky views.
The elevation of this spot offers excellent visibility, allowing you to spot even the faintest celestial objects. This spot is far enough away from any of Lake Tahoe's light pollution, allowing you to be captivated by the sheer brilliance and magnitude of the night sky.
Nevada Beach
Nevada Beach is a beloved spot along the shores of Lake Tahoe, offering a perfect setting to enjoy the sunset and watch the stars emerge.
With minimal light pollution and a vast, open beach, this location provides optimal conditions for stargazing. As daylight fades, find a comfortable spot on the sandy shoreline and prepare to be dazzled by the countless stars that adorn the night sky.
Northstar California Resort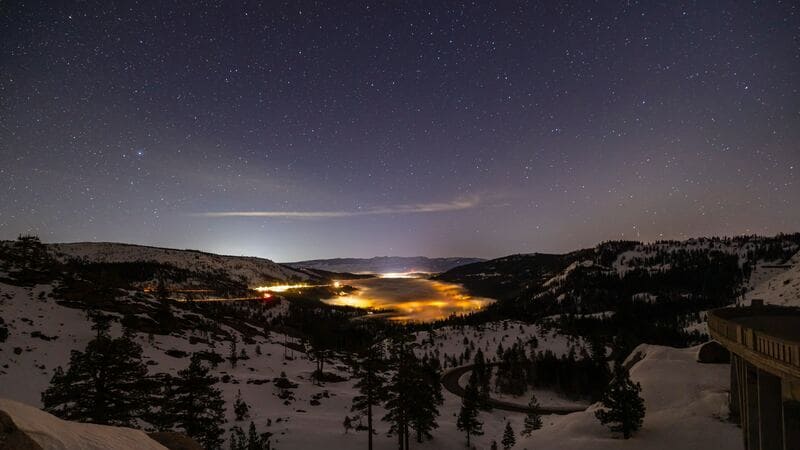 Northstar California Resort is a family-friendly destination and fantastic for stargazing enthusiasts. The resort's stargazing tours teach you about constellations and planets that fill the night sky.
Gather with your loved ones under the sparkling canopy of stars, and let the knowledgeable guides introduce you to the universe's wonders.
Northstar California Resort is conveniently situated near Northstar Drive, providing easy access for families and visitors to join guided stargazing tours during the summer months.
Red Lake
You can reach Red Lake by driving along Highway 88, offering a peaceful and secluded spot surrounded by mountains, perfect for stargazers seeking a unique atmosphere.
Majestic mountains surround this reservoir and provide a unique and serene atmosphere to enjoy the starry night sky. Lay out your blanket near the water's edge and allow yourself to be enveloped by the stillness of the surroundings as you gaze at the stars above.
Sand Harbor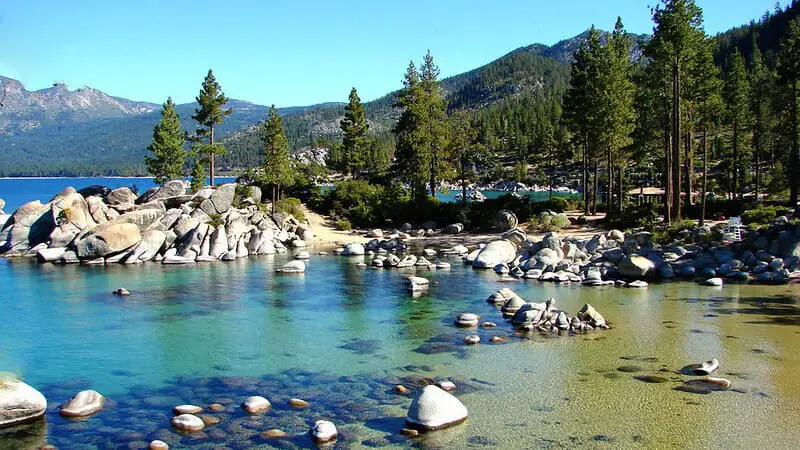 Sand Harbor is located near Highway 28, providing a fantastic spot to stargaze along the shores of Lake Tahoe.
Its south-facing beach offers a beautiful sunset view and a starlit sky perfect for wish-making and wonder. Find a comfortable spot on the sandy beach, listen to the gentle lapping of the waves, and let the magic of the night sky unfold before your eyes.
Sandy Beach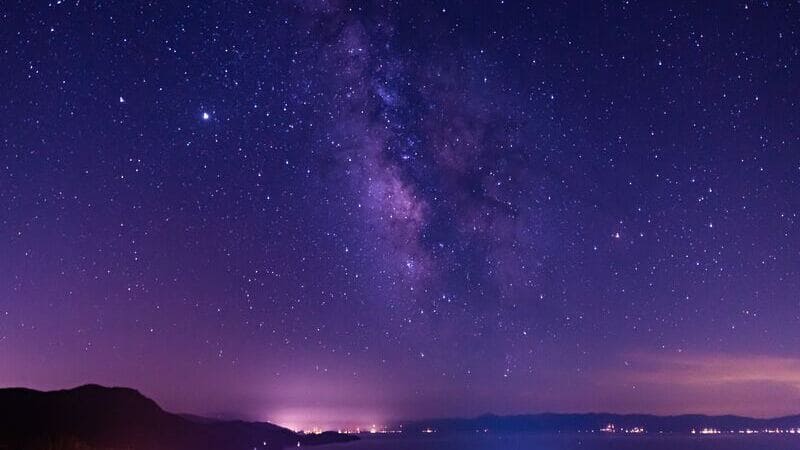 Sandy Beach is situated near Highway 50, offering a more secluded beachfront location for a quiet night of stargazing by the clear, star-filled sky.
Tucked away from the crowds, this tranquil spot allows you to immerse yourself in the beauty of the star-filled sky. Lay out your blanket, sip on a steaming cup of hot cocoa, and feel the gentle breeze as you revel in the clear, mesmerizing view of the celestial wonders above.
Secline Beach
You can access Secline Beach by driving along Lakeshore Boulevard, leading you to this beautiful beachfront spot with its dark, pristine sky.
Take a leisurely walk along the sandy shoreline and let your gaze wander among the stars as you bask in the tranquility of the surroundings. Away from the hustle and bustle, this quiet location offers a serene and dark sky perfect for capturing the awe-inspiring beauty of the cosmos.
Slide Mountain
Slide Mountain is situated near Mount Rose Highway (State Route 431), offering an elevated vantage point with minimal light pollution and breathtaking night sky views. As you stand atop this majestic peak, the expansive panorama unfolds before your eyes.
The absence of city lights allows you to witness the full brilliance of the stars, creating a truly awe-inspiring experience that will leave you with a newfound appreciation for the wonders of the cosmos.
Spooner Lake
You can reach Spooner Lake by driving along Highway 28, leading you to this peaceful spot with its serene atmosphere and impressive backdrop of stars.
Situated in a picturesque alpine setting, this tranquil lake offers a calm place to relax and observe the celestial wonders. Find a quiet spot along the shoreline, and let the captivating beauty of the night sky take your breath away.
Tahoe Meadows
Tahoe Meadows is nestled away from the main attractions of Lake Tahoe via Mount Rose Highway 431, providing you with a secluded spot to admire the thousands of stars twinkling above. As you settle into this peaceful environment, you can focus solely on admiring the thousands of stars twinkling above. Enjoy the silence of the night, and let the vastness of the universe unfold before you.
Now that you have a comprehensive list of Lake Tahoe stargazing spots prepare for unforgettable nights filled with celestial wonders. The following section will explore tips for enhancing your stargazing experience.
Organized Lake Tahoe Stargazing Events and Tours
Tahoe Star Tours
Tahoe Star Tours offers guided night sky tours on select Thursday and Saturday evenings during the summer months. As you explore the moon, planets, and stars, knowledgeable guides will deepen your understanding of the cosmos. You and your family can enjoy these events at the new Spooner Lake Visitor Center.
Some features of a Tahoe Star Tours experience include:
Expertly guided stargazing sessions
Available binoculars for an enhanced experience
Fun for the whole family
Dark Skies Cosmoarium
Consider visiting the Dark Skies Cosmoarium at Northstar for a more structured stargazing event. Operating on Thursdays and Saturdays from June to September, it will give you the opportunity to:
Learn about the constellations
Discover extraordinary astronomical sights
Delight in the wonders of the night sky
Tahoe Adventure Company
Have you ever wanted to gaze at the stars while floating on water? Now's your chance with the Lake Tahoe stargazing tour the Tahoe Adventure Company offers.
This unique experience lets you:
Ride on a translucent kayak or paddleboard
Enjoy a 360-degree view of the lake and the night sky
Experience Lake Tahoe like never before
Stargaze Tahoe
A trip to Lake Tahoe is only complete with spending an evening stargazing at Sand Harbor. With Stargaze Tahoe happening on Thursdays and Sundays until the end of August, you can:
Get expert guidance from astronomer-led events
Admire the starry sky over Lake Tahoe's crystal-clear waters
Appreciate the beauty of the Milky Way
So, make room in your Lake Tahoe itinerary for one of these fantastic stargazing experiences. After all, nothing compares to witnessing the wonder of the cosmos in such a breathtaking location.
Free Google Map of the Best Lake Tahoe Stargazing Spots
Here is your free map of the best stargazing spots around Lake Tahoe.
Frequently Asked Questions
What are the best stargazing locations?
Ah, the best stargazing spots in Lake Tahoe! You're in for a treat. Let's start with Baldwin Beach, where you can lay back on the sandy shores and spot countless stars during a new moon. Another gem is D.L. Bliss State Park, offering stunning viewpoints and secluded spots for an enchanting celestial experience. And don't forget about Emerald Bay! With its breathtaking mountain backdrop, it's a must-see for stargazers like you.
What is the impact of light pollution?
Light pollution, oh boy, it's a stargazer's nemesis! You see, when there's too much artificial light, it makes it hard for us to enjoy the full beauty of the night sky. Those bright city lights can wash out the stars and make them harder to see. But fear not! You can immerse yourself in a celestial wonderland by heading to remote spots like Hope Valley, away from all those pesky lights.
When is the Milky Way visible?
The Milky Way, our magnificent celestial highway! To catch a glimpse of this starry marvel, you'll want to plan your stargazing adventure during the summer months when it shines its brightest. The best time to spot it is usually from late spring to early fall when the nights are warm, and the skies are clear. Imagine lying on the beach at Nevada Beach, looking up, and seeing that stunning ribbon of stars stretching across the sky. It's like nature's own light show!
Are there Stargazing Tours available?
Absolutely! You're in luck if you're itching for a guided stargazing adventure. Northstar California Resort offers unique tours during the summer. Join their knowledgeable guides as they unveil the secrets of the night sky, pointing out constellations and planets along the way. It's like having your very own cosmic tour guide! So, grab your family or friends, and prepare for an astronomical journey you'll never forget.
When is the ideal season for stargazing?
Summer and early fall are the best time to indulge in celestial wonders in Lake Tahoe. Picture this: a warm, clear night at Burnt Cedar Beach, with gentle waves lapping the shore as you gaze at the star-filled sky. Ah, bliss! So, pack your telescope, plan a trip between June and October, and prepare for some out-of-this-world stargazing adventures!
What are the best dark spots in Nevada?
If you're seeking prime stargazing locations, look at Lake Tahoe. Hope Valley is a fantastic option, with its wide-open skies and minimal light pollution. Another gem is Sheep's Flat Recreation Area, offering a secluded spot away from the bustling attractions. And remember Slide Mountain, where you can escape the city lights and bask in the glory of the starry night. These spots will make you feel like you're in your planetarium!
Summary: Stargazing Lake Tahoe
Thank you for reading my article about the 21 best Lake Tahoe stargazing spots.
No matter where you choose to stargaze in Lake Tahoe, bundle up and bring plenty of warm layers. The mountain air can get chilly even in the summer. And remember, always leave no trace and respect the natural environment so future generations can enjoy the wonder of Lake Tahoe's starry skies.
Happy Stargazing!