Stargazing is an exciting activity for everyone, especially when you can find the perfect spot away from the city lights. One such spot is the Templin Highway Stargazing Area, just a short drive from Los Angeles. Here, you'll discover a world filled with stars, far from the glow of the city, and you might even learn a thing or two about the night sky.
I've been to the Templin Highway stargazing area, and it's an incredible place for amateur astronomers like you and me to observe the stars. With its accessible location, just a 45-minute drive from downtown Los Angeles, you'll feel like you've entered a completely different universe.
So, grab a blanket, bring your telescope, and get ready to explore the wonders of the night sky along Templin Highway.
In this article, you get
Helpful information about the stargazing area near Templin Highway
A list of nearby stargazing spots you may also wish to consider
A quick look at nearby events for observing the night sky
By the end of this article, you'll have all the info you need to head out along the Templin Highway to explore the night sky.
Let's dive right in.
Templin Highway Stargazing Area: Overview
Location and Access
Templin Highway, also known as Templin Hwy, is a stargazing paradise near Castaic, a short drive from Los Angeles.
To get there, drive north from the city, and you'll reach this wonderful area nestled between Santa Monica Mountains to the south and Angeles National Forest to the north. I recommend this spot because it's accessible and easy to find.
The Ridge Route, a two-lane road that runs along Templin Hwy, offers many pull-outs. These are safe places for stargazers to park and enjoy the night skies.
Using these designated areas is vital so you stay safe and aren't in the way of other people or cars.
Light Pollution and Dark Skies
One of the biggest challenges for stargazers in the L.A. Basin is finding a spot where the skies are dark enough for clear views.
Templin Highway is a goldmine for night sky enthusiasts like us, as it lies in a Bortle Class 4 zone, which means the skies here are darker than in other areas close to the city.
A relatively low Bortle class is essential because less light pollution lets you see more stars and celestial objects. Being aware of light pollution is crucial for enjoying stargazing.
Here are a few tips to make the most out of your night sky experience:
Use red lights instead of white ones when observing, as they don't interfere with your night vision as much.
Let your eyes adjust to the darkness for at least 20 minutes before starting to observe.
Avoid using electronic devices with bright screens, as they impair your ability to see faint stars.
Alternative Stargazing Locations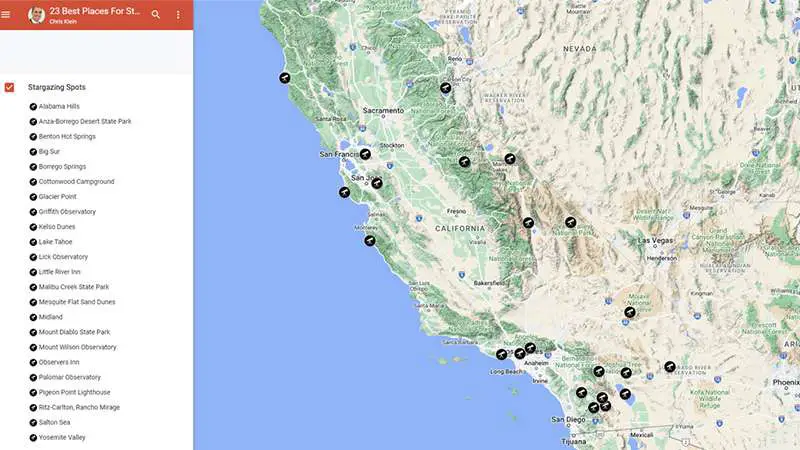 For a complete look at the best spots in California, please read my article on the best star gazing California offers. There are plenty of excellent stargazing locations in the state of California.
In the below sections, I'll highlight a few extra special ones.
Los Angeles and Surrounding Areas
Los Angeles may be known for its bright city lights, but you can still find some great stargazing spots nearby. One of my favorites is the iconic Griffith Observatory in Griffith Park, which offers excellent views of the stars above through its telescopes. If you prefer to be closer to nature, the Santa Monica Mountains and parks like Topanga State Park and Malibu Creek State Park provide a more scenic backdrop for your stargazing adventures.
To escape even more light pollution, you can head up to the Angeles Crest Highway in Angeles National Forest or drive further north to Big Bear or Antelope Valley, where the city lights of Los Angeles start to fade away.
San Diego and Southern California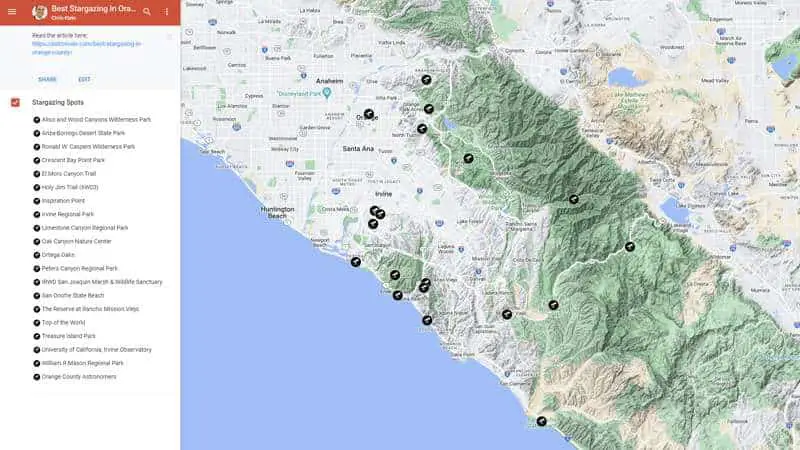 San Diego and the surrounding areas in Southern California also offer excellent stargazing opportunities. My favorite locations include the San Gabriel Valley, Red Rock Canyon State Park, and Dark Sky Parks in Orange County. These spots are perfect for enjoying the stars with less light pollution than you'd find closer to the cities.
For more details, please read my article on the best stargazing orange county offers. And if you like Star Parties, be sure to read my article on Stargazing Julian, home of the annual Starfest.
National Parks and State Parks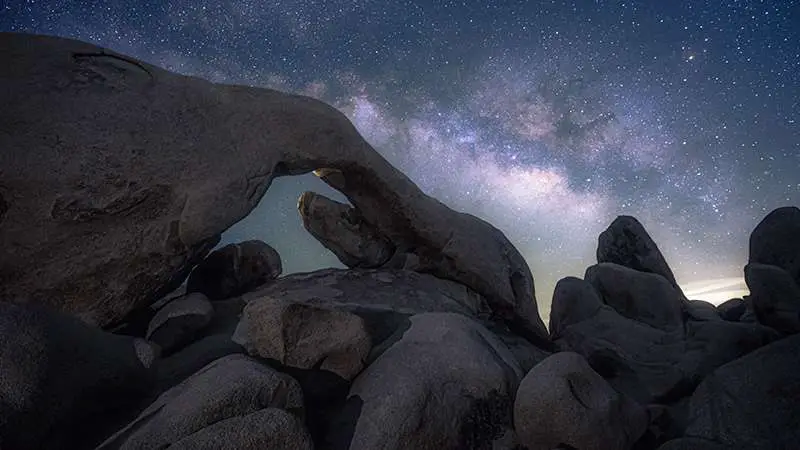 California's National and State Parks offer some genuinely unforgettable stargazing experiences if you're willing to travel further. One of the best places in the state for stargazing is Joshua Tree National Park, where the night sky is breathtaking, thanks to its remote location and low light pollution. Another great option is Death Valley National Park, famous for its dark skies and otherworldly landscapes.
Mount Wilson in the Angeles National Forest and the Heritage Museum of Orange County also offer excellent stargazing opportunities, educational programs, and events so you can learn more about the night sky and astronomy.
As you can see, Southern California has unique stargazing locations to suit every level of amateur astronomer. So grab your telescope or binoculars, and head to one of these spots for a night of stargazing adventure.
Local Astronomy Clubs and Events
Antelope Valley Astronomy Club
If you're ready to learn more about stargazing and meet other people who share your passion for the stars, there's no better place than the Antelope Valley Astronomy Club. They hold monthly gatherings in the Palmdale area, providing unique stargazing experiences. You'll love learning more about the night sky in a fun and fascinating environment.
Great for beginners
Monthly gatherings
Access to expert guidance from experienced amateur astronomers
Griffith Observatory Events
Another great place for stargazing events is the famous Griffith Observatory in Griffith Park. They host various events throughout the year, from special lectures to public telescope viewings. These events are educational and exciting, so you'll learn about astronomy while enjoying the best Los Angeles offers in stargazing spots.
Some of the exciting events you can expect at Griffith Observatory include:
Public telescope viewings
Special lectures
Astronomy-themed exhibits
Stargazing Tips and Best Practices
Ideal Moon Phases and Weather Conditions
Stargazing along Templin Highway is a fantastic experience, but planning is essential.
I recommend going during a new moon or when the moon is in a crescent phase. Less moonlight makes the sky darker, making it easier to see stars, constellations, and the Milky Way. Also, choose a night with clear skies and good weather. A calm, dry night with little cloud cover will provide the best night sky views.
Astrophotography Tips
If you're interested in capturing stunning images of the stars, try these tips for successful astrophotography:
Use a tripod: This will keep your camera steady and ensure your photos appear sharp and clear.
Use a wide-angle lens: A wide-angle lens allows you to include more of the stunning night sky in your photos.
Set a long exposure: This helps capture faint light from distant stars and constellations.
Play with the ISO settings: Higher ISO settings will help capture more light in your photos, but be cautious, as an ISO setting that's too high might result in noisy, grainy images.
Remember your telescope to get a closer look at the stars, planets, and other celestial objects when stargazing. But if you don't have one, don't worry! You can still enjoy the beautiful night sky with just your eyes or a pair of binoculars.
Also, remember to put safety first. Pack a flashlight (preferably one with a red light setting to preserve your night vision), a warm blanket, and a folding chair for comfort. Make sure to let someone know where you'll be.
Stargazing can be a fun and educational experience, and with these tips, you'll be well prepared to enjoy and capture the wonder of the night sky along Templin Highway.
Summary: Templin Highway Stargazing
Thank you for reading my article about the Templin Highway Stargazing Area. I've visited the area and found it an excellent spot for amateur astronomers. This location near Castaic offers clear skies and minimal light pollution, perfect for catching a glimpse of our amazing night sky.
Grab a blanket, some warm clothes, and your telescope to enjoy a fun night of stargazing. Just park in a designated pull-out, so you and other stargazers can safely enjoy the celestial show.
Happy stargazing!
Additional articles about California you may enjoy