Are you an amateur astronomer looking to view the Milky Way in California? Are you planning a camping trip and hoping to catch a glimpse of the night sky? Ever wonder, "What months can you see the Milky Way in California?" If so, this article is for you!
The ideal time to view the Milky Way in California is during the summer months, from late April to August. During this "Milky Way Season," the galactic center is visible for more than 4 hours per night, making it the perfect opportunity to see our home galaxy in all its glory.
In this article, you get
The Milky Way galactic center rise and set times per month in California
Recommended dark sky locations for stargazing in California
Some tips on how to maximize your Milky Way viewing experience
By the end of the article, you'll have all the info you need for observing the Milky Way in California and more.
Let's dive right in.
WHAT MONTHS CAN YOU SEE THE MILKY WAY IN CALIFORNIA?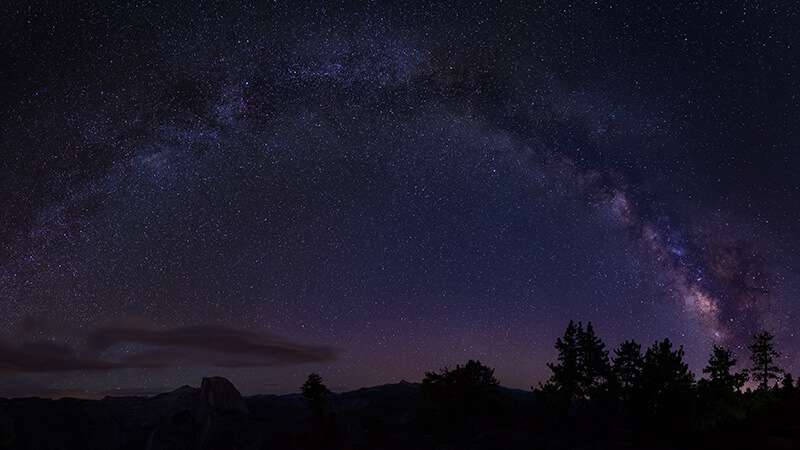 The Milky Way pops during the late evening or early morning hours, during a new moon, especially during the "Milky Way season."
As you can see below, the Milky Way galactic center is visible nearly every month, but only during certain hours. The best months are April to August, when the Milky Way core is visible for four or more hours.
The Milky Way Galactic Center rise and set times for the middle of each month, as seen from Los Angeles:
January 5:23 am – 5:30 am
February 3:21 am – 5:13 am
March 2:31 am – 5:40 am
April 0:30 am – 4:54 am
May 11:32 pm – 4:14 am
June 9:50 pm – 3:57 am
July 9:46 pm – 3:42 am
August 9:12 pm – 1:40 am
September 8:25 pm – 11:38 pm
October 7:43 pm – 9:40 pm
November 6:16 pm – 6:38 pm
December not visible
IS THE MILKY WAY VISIBLE EVERY NIGHT?
The Milky Way is visible every night in California. It may not be easy to see with the naked eye from your location.
The ideal time to observe the Milky Way is during the astronomical night.
The astronomical night is the darkest portion of the night and is usually a few hours after sunset and a few hours before sunrise.
It's also essential to be an area of minimal light pollution.
WHEN IS MILKY WAY SEASON?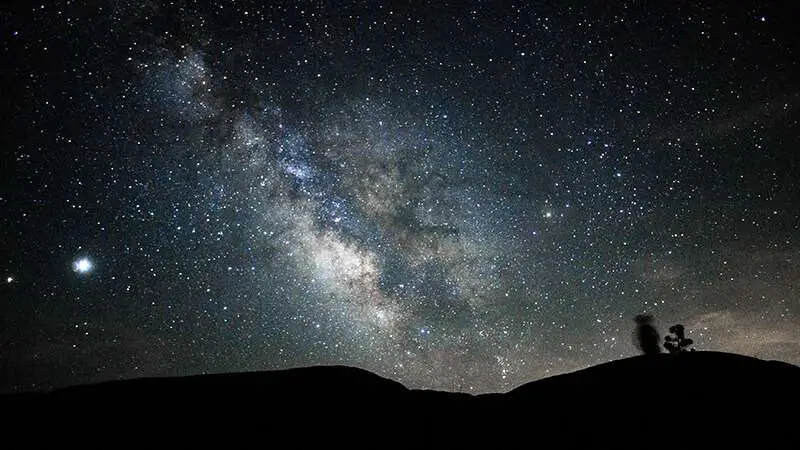 Even though the Milky Way is visible year-round, its galactic center is not.
Milky Way Season is the best time to watch the Milky Way in California.
Milky Way Season is when the center of the Milky Way is visible.
At the heart of the Milky Way is the Galactic Center, the brightest and most spectacular part of the Milky Way.
WHERE IS THE DARKEST SKY IN CALIFORNIA?
Location Matters for optimal viewing.
If you're in a rural area with no light pollution, you can easily see the Milky Way in its full glory any time of year. If you're in an urban area, I recommend driving a few hours to a dark location.
Several locations in California are known for their dark skies and good conditions for stargazing.
Here are a few options:
Please read my article on the best stargazing in California for a complete list.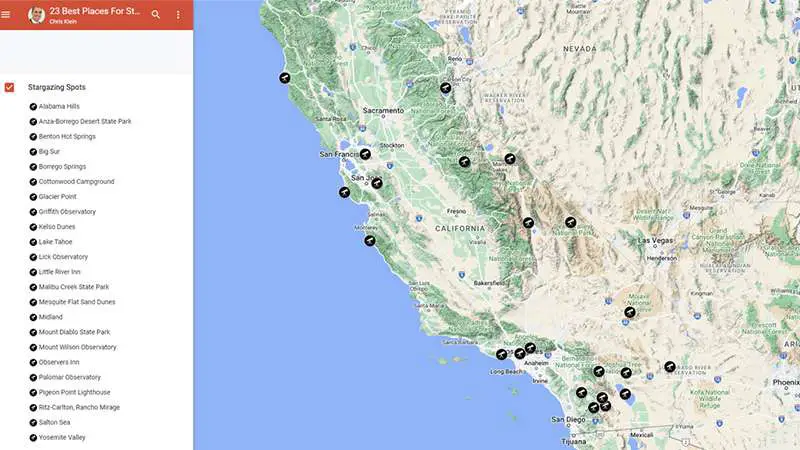 Before heading to your preferred stargazing location, check the weather forecast, including cloud cover.
HOW TO SEE THE MILKY WAY
Here are some tips for maximizing your viewing experience:
Stay away from city lights: Bright lights in towns can make it difficult to see the Milky Way. Look for a location away from city lights. Consult a California Dark Sky Map to find a good location.
Go out on a clear night: Check the weather forecast and try to plan your stargazing trip on a night when clear skies are expected.
Use Red Light: White light can be troublesome when stargazing because it interferes with your night vision. Use a red light or a flashlight with a red filter to maintain night vision.
Look up: The Milky Way is a faint band of light in the night sky. It's easy to spot with the naked eye, but you can also use binoculars or a telescope for a more detailed look.
HOW RARE IS IT TO SEE THE MILKY WAY?
The Milky Way is visible every night. It may be difficult to see due to cloud cover, light pollution, and other factors.
Finding a location with dark skies and good viewing conditions is usually possible. Seeing the Milky Way in brightly lit and light-polluted areas is difficult.
It's best to move to a location that has minimal light pollution. You may however still be able to see the brightest star in California. To learn more, read my article What is the brightest star in the sky in California?
SUMMARY
The Milky Way is a breathtaking sight in California during certain months of the year. The best viewing times are typically from late April to August when the sky is clear and the Milky Way galactic center is most visible.
With a bit of planning and a clear sky, you can experience the beauty of the Milky Way and all the wonders it has to offer.
Remember to find a location away from city lights and bring a pair of binoculars to enhance your viewing experience. Take the time to appreciate the vastness of the universe and the small place we occupy in it.
It reminds us to live in the present moment and cherish the beauty of nature surrounding us.
Happy stargazing!